Why Telecom Companies Need a Great 5G User Experience
Clifford Stoll once remarked, "It's no coincidence that drug addicts and computer aficionados are both called 'users.'" According to a 2018 Deloitte survey, smartphones are U.S. consumers' most favored mobile device. People are more glued to computers than ever, and our favorite computers can make calls, send text messages and travel with us everywhere.
But even though we love our phones, we don't always love our phone service providers. Many people continue to express dissatisfaction with telecommunication companies. Out of almost 600 survey participants, more than 50 percent said that if companies like Google, Facebook, Apple or Amazon offered widely available phone services at affordable prices, they would switch.
Providing a positive 5G user experience could be the key to overturning these negative perceptions.
For many years, telecom companies did not have to over-stress about the user experience they were providing. They utilized a simple business model: build the biggest network you can and charge people according to the demands they made on it. The companies made most of their revenue through voice calls (with a premium charge for long-distance). This system worked for decades.
As wireless connectivity developed and began to evolve, things began to change. Streaming and online services began encroaching on territory previously held by telecommunication companies. Now, with services like Netflix, Amazon and Apple using telecom capabilities as a platform to offer their own solutions and subscriptions, thereby cutting into the telecoms' revenue, telecom companies need to be innovative in terms of their services and capabilities. They need to lean into the new generation of wireless: 5G.
In a Jabil-sponsored survey of more than 200 telecommunication stakeholders, 60 percent expressed confidence that 5G will be mainstream within two years. We've already discussed at length how 5G will benefit several key industries, but this technology also poses several advantages to individual consumers: faster speeds, lower latency, greater coverage…this list goes on. Telecoms can take advantage of these capabilities to improve the experience for their users. Download the full report.
Create a Seamless Experience with Enhanced Mobile Broadband
Although customers may not fully realize or appreciate all the potential applications and new services 5G will provide, they are willing to invest in technology that will solve an existing pain point. And one of the most common pain points is a desire for a faster, more seamless experience.
In our survey, participants voted faster, better video as the biggest short-term driver of 5G. Video is currently the most consumed media type online, garnering at least 60 percent more engagement than alternative forms of content.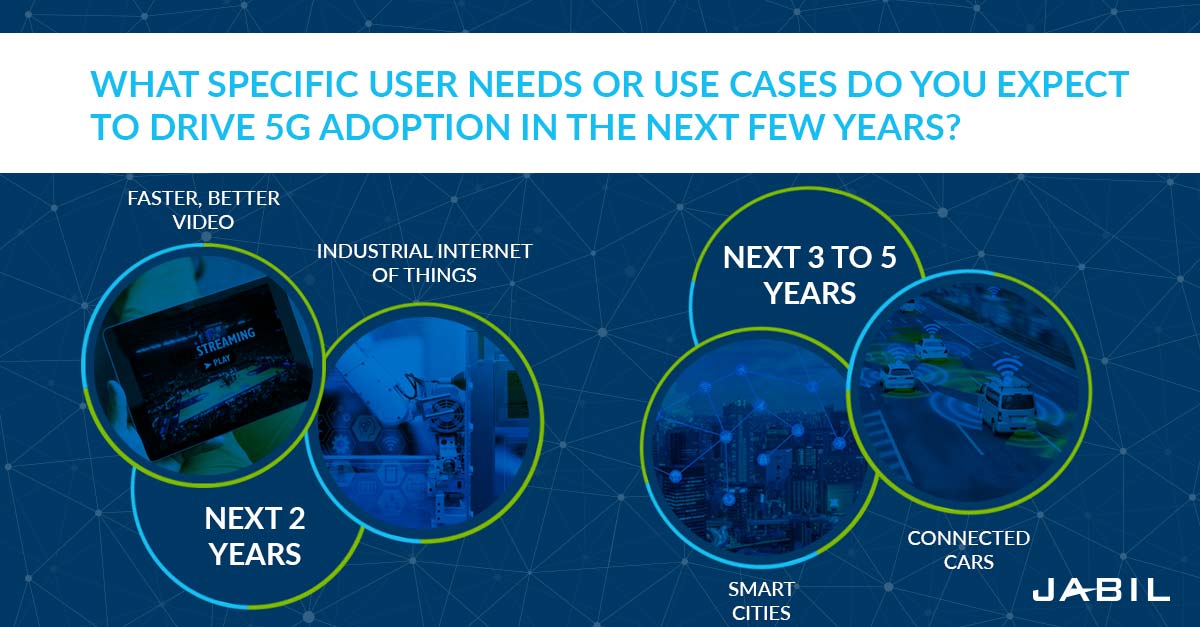 A clear, uninterrupted phone call won't inspire customers to make another phone call, but a seamless video may prompt them to play another. With 5G, the time it takes to download a full-length film will be reduced to seconds.
Can you picture a world where buffering doesn't exist? Where you never have to watch a loading screen slowly inch toward 100 percent? Even though this outstanding level of performance is hard to imagine, it's possible with 5G and one of its three primary drivers: enhanced mobile broadband (eMBB).
Consumers are expending mobile data more than ever; according to Ericsson, globally, data traffic in networks has grown at an annual rate of 65 percent over the last five years, and between 2017 and 2023, the rate of data usage is projected to increase at a compound annual growth rate of 40 percent, assuming the current grid.
Subscribe to the Jabil Blog
Sign up for weekly updates on the latest trends, research and insight in tech, IoT and the supply chain.
But just because there are more demands on networks does not mean that consumers are lowering their standards. In fact, customers expect their service to be faster and better than ever before. Service quality should grow in tandem with usage.
As the rate of data usage continues to grow, customers will need networks in place that can support this influx of traffic. In other words, the future technological landscape will require eMBB.
Essentially, eMBB will provide a fiber-like experience over a wireless radio link. It is designed to offer greater capacity, lower latency and data rates that are up to 20 times faster. With these increased capabilities, telecoms may have the power to annihilate the frustration of buffering.
Simplify Complex Network Technologies
Products, services and capabilities are growing more and more complex. A business building may need two separate networks today: a private one for its employees and a public one for visitors. In the future, they may need more – one for facilities (smart building), one for security, etc.
Just as companies need to manage multiple clouds and cloud platforms to fulfill processing, they will also need to manage not only multiple networks that they own, but also a variety of network connections to third party providers. Utilizing software-defined networking (SDN) and network function virtualization (NFV) is a solution that is here today. These technologies allow the network to be virtualized and disaggregated, which allows flexibility and responsiveness in network architectures.
While the physical complexity of the network and embedded technologies will not be reduced, the utilization of SDN, NFV, network slicing and others provide promise that the management and operation to be simplified.
Personalize with Network Slicing
We can already see it in retail, connected home, healthcare and other technologies – people want companies to cater to them personally. They want a digital butler who can anticipate their every want. Network slicing, a substantial driver of 5G, will allow customers to establish more personalized networks and carriers to create new business models. In addition, the elasticity of network slicing will help address cost, efficiency and flexibility.
Technologies like SDN and virtualization are allowing traditional structures to be broken down to customizable elements that can be spliced together to attain the ideal level of connectivity with each element operating on an individual architecture. In other words, telecommunication can tailor the functionality they provide to each device. This will allow operators to offer different types of services for different segments of customers. This technology enables connectivity on an as-a-service, on-demand basis, thereby enhancing operational efficiency, reducing time-to-market and enabling new revenue streams such as "burst bandwidth." Imagine when you want to watch a movie on your phone, you order the movie and extra bandwidth with it.
While telecommunication companies still offer a valuable and popular product, consumers' enjoyment of Internet-based companies that use telecom networks to deliver their own services threaten their amount of profits. Telecoms will have to focus their attention on offering services that address customers' pain points and attempt to monetize these over-the-top applications. The need for a seamless experience, simple network technologies and networks that are cost-effective and tailored to meet their personal needs are some areas to focus. By offering a positive 5G user experience, telecoms can remain competitive in the industry, drive revenue and retain customer loyalty.
Download the 5G Technology Trends Survey Report
Insights from 200 telecommunications decision-makers on 5G adoption, predictions, opportunities and challenges.
Published on February 28, 2019