Additive Manufacturing Applications: The Real Value of Additive
In recent years, additive manufacturing applications have grown beyond enabling rapid prototyping to accelerating a much broader range of design, engineering and manufacturing functions to full-scale parts production. But some still think the advantages of additive manufacturing accrue mostly to the specific product development stages, with analyses centered around direct cost and time savings in each.
However, the real value and cost-savings of additive manufacturing applications are best understood when assessing the ongoing, cumulative downstream benefits. Using 3D printing in key parts of the design and manufacturing processes can have an outsized impact on the overall economics of the product development process — from the aerospace industry to the automotive industry.
Rapid Prototyping
Additive manufacturing applications in prototyping bring early wins into the product design process. 3D-printed prototypes can be created faster and cheaper than more traditional methods and require much less time for new product introductions.
Faster prototyping cycles also give companies the opportunity to create, test and evaluate more varied designs in shorter amounts of time. We saw this proven on a customer project at Jabil, where we were able to go through 19 enhanced design iterations for one part in the time it would have taken us to do one with traditional methods.
It's easy to see how additional design-and-improve cycles can lead directly to better final products. These benefits reach far beyond just the savings of time and money in the prototyping phase; the better product is likely to have more competitive advantages, generate more satisfied customers and create a stronger brand. All of these together create a virtuous cycle resulting in higher revenues and margins.
In many product segments, it's easy to see how even small additional gains in market share can translate into significant increases to both the top and bottom lines.
Design for Additive Manufacturing
As the use of additive in serial production increases, the resulting "freedom of design" allows companies to realize improved products as compared to those which were previously constrained by the requirements of traditional manufacturing processes.
According to Jabil's 2021 3D Printing Trends report, a survey of over 300 decision-makers at companies with more than $500 million in revenue, the use of the additive manufacturing process for production parts has increased steadily over the last four years. Today, more than 50% of participants produce functional or end-use parts using additive manufacturing, compared to 18% in 2017.
Approximately what percentage of your 3D printing is currently producing functional or end-use parts?
Percentage of Functional or End Parts Produced with 3D Printing
Design for additive manufacturing (DfAM) empowers engineers to create more functional, complex geometry that can be both stronger and lighter. It unleashes a wave of design innovation. Using additive manufacturing enables companies to create better, lighter, more complex parts and products that simply were not possible or cost-effective to make using subtractive manufacturing methods. These, in turn, enable new ranges of products with increased functionality. In many cases, DfAM enables companies to significantly reduce the number of discrete parts required for final assembly.
Jigs, Fixtures & Tooling
Companies are using additive to solve common manufacturing issues, enabling them to get to market faster and ultimately outperform the competition by realizing early-mover advantages. Through additive manufacturing technology, companies can address inevitable slowdowns, line shutdowns, obsolete parts and expenses in the creation of jigs, fixtures and tooling.
Additive manufacturing is changing the way jigs, fixtures and tooling are created. Instead of using traditional machining to create them, which often include the administrative overhead costs involved with outsourcing (vendor relationship management, bidding processes, etc.), additive has provided a path to easily create them in-house. The obvious benefits are lower part costs and faster turnaround times along with lower warehousing and inventory costs.
But production lines are very expensive resources. Having them operate below optimum capacity is a loss many times greater than the actual fabrication cost savings of a specific part. 3D printing jigs, fixtures and tooling means not only faster delivery and faster response; it also means production lines can get back to operating sooner and more efficiently. Those aggregated financial benefits eclipse the cost savings associated with the actual creation of jigs and fixtures.
As a global contract manufacturer, Jabil has seen significant savings from 3D printed parts, fixtures and tooling. Jabil's Auburn Hills, Michigan site reports that using additive applications for customization of tools and fixtures has led to an 80% reduction in time spent and a 30% reduction in tooling costs. That, in turn, reduces the bill of materials, simplifies supply chain management, cuts work in process (WIP), and reduces manufacturing costs — adding ongoing and cumulative benefits that continue to accrue long after the design phase.
Additive Manufacturing Applications
Jabil Auburn Hills
More importantly, as down manufacturing lines can incur lost revenue of up to $100K per day, being able to 3D print components quickly makes direct and significant contributions to the bottom line.
Production Parts
The economics of using additive manufacturing to make production parts has advanced, offering companies efficiencies and cost savings on larger and larger batch sizes each year. As Jabil's Vice President of Digital Manufacturing John Dulchinos points out, "3D printing technology is getting better and more cost effective every year. The break-even points this year are 10, 20, 30% better than last year. We're going to continue to see that kind of compounded annual growth rate."
These improving economics are part of the reason more companies use additive manufacturing applications for serial production. Almost half of the participants in the Jabil survey say that their company uses 3D printing to manufacture more than 50,000 parts annually. Almost 20% produce more than 100,000 parts annually.
The ability to employ 3D printing to create larger quantities economically accelerates the value of DfAM. Again, this leads to better, more functional and competitive final products that can continue to deliver higher sales and revenue. And it's a significant reason that additive manufacturing applications are on the rise.
In the last year, approximately how many parts has your company produced using 3D printing? Choose the one answer that most closely applies.
use 3D printing to manufacture more than 50,000 parts annually
use 3D printing to manufacture more than 100,000 parts annually
Maintenance & Repair Operations
Using additive in maintenance & repair operations (MRO) has similar advantages to those in jigs, fixtures and tooling. Printing locally to shorten the time needed to get the part to the location where it is needed provides significant efficiencies while simultaneously reducing the costs of producing individual parts and inventory expenses. Furthermore, a situation may arise where companies have to contend with older parts that have been discontinued or are very expensive to otherwise acquire.
This all contributes to the financial gains through the reduction of unplanned equipment downtime. Expensive assets are back online faster, achieving greater overall equipment effectiveness and production rates. Additionally, PwC reported in The Future of Spare Parts is 3D that "3D printing will ultimately make it feasible for suppliers to realize an average saving of 20% in total cost of ownership" —a significant reduction.
Seeing the benefits beyond each product stage
Leading companies adopting additive manufacturing applications are seeing beyond conventional manufacturing methods, but sometimes missing the cumulative downstream benefits of additive.
Faster iterative prototyping leads to better products
Fewer design constraints allow for increased innovation
Production lines are up and running sooner so better designed products are hitting the shelves faster
Lower costs—both discrete and ongoing—coupled with better designs and earlier market entry opens the door to higher margins, additional revenue and greater market share
Better designs and fewer components also contribute to fewer failures in the field which can improve customer total cost of ownership and brand loyalty
Additive manufacturing enables all of these within the manufacturing industry.
The ongoing cumulative benefits of adopting additive manufacturing start with more conventional cost and time savings, then accelerate as additional advantages accrue. The chart below shows the potential applications and results: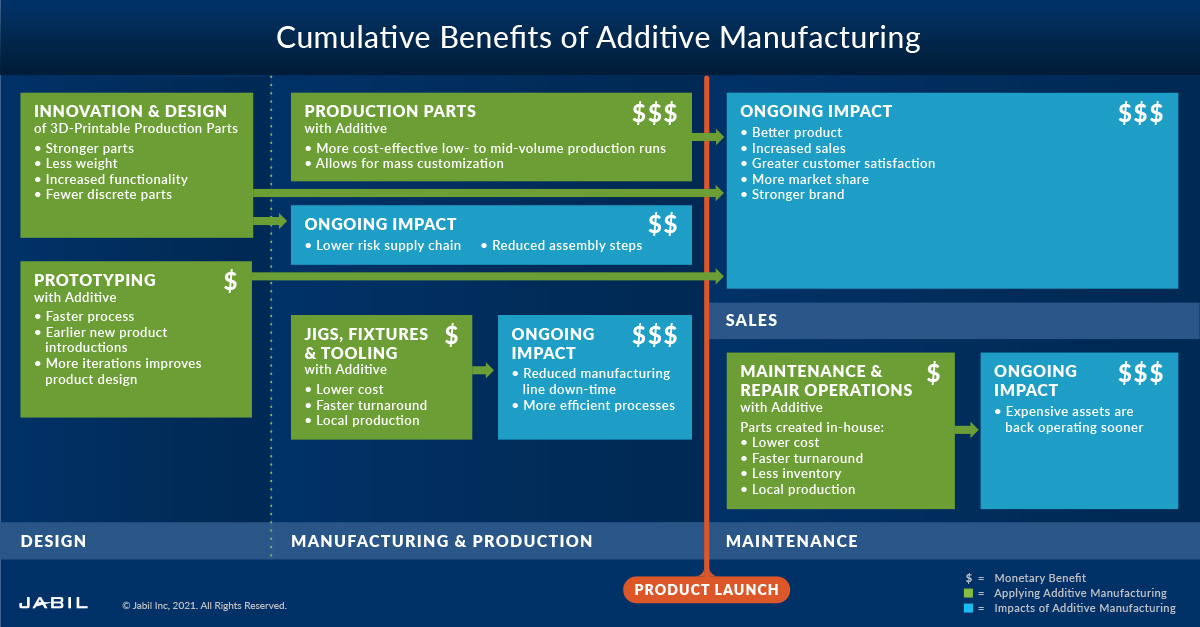 While additive manufacturing provides both clear cost and timing advantages in multiple, discrete stages in the product lifecycle, the cumulative benefits that have a multiplying affect over the total life of a product are far more meaningful. We expect these benefits to grow as new metal additive manufacturing materials or engineered additive manufacturing materials with custom mechanical properties are introduced. As Riccardo Sabatini said, with just information, raw material and some energy, it's possible to produce something completely new—with imagination as the only limitation.
Download the 3D Printing Technology Trends Report
Jabil's third biennial report includes insights from over 300 individuals responsible for decisions around 3D printing at manufacturing companies on technology adoption, opportunities and challenges.