Digital Transformation is No Longer Optional. Data is Key.
Digital Transformation is No Longer Optional. Data is Key.
For six months now, the world has experienced so much uncertainty that, for many of us, it is hard to imagine sitting in a crowded auditorium, stadium or concert hall. COVID-19 is disrupting almost every aspect of our lives.
Just look at grocery stores. Back in 2019, there weren't many stores that accepted contactless payments. Now, because many consumers don't want to handle cash or even touch a surface that might harbor pathogens, grocery stores are quickly implementing contactless payment options. This is just one area of our economy that is rapidly shifting toward digital. And at the heart of this digital transformation is data.
I believe that any organization can make this transformation successfully, but we must understand that it isn't just about the tools. There are four foundational areas that go together: data, people, processes and technology. If you pull all these elements together, your organization can build a base for tackling some very sophisticated projects involving artificial intelligence (AI) and machine learning.
It's All About the Data
Data, of course, is at the core. But once you start basing business decisions on it, it better be correct, especially now, when you might not have the time or funds to cover mistakes. So, nurturing a data culture is critical.
In a recent episode of the Tech. Ideas. People. podcast, I shared some thoughts on building a powerful and scalable data culture along with my supply chain colleague, Jason McLellan. You can listen to it below and learn how we built one at Jabil for driving business in a post-pandemic future:
A recent article in Forbes examines how Commerzbank established a chief data and analytics role for the organization and how it has enabled rapid return on investment that also allows it to explore new business models.
At the center of Commerzbank's success was the top-down buy-in for big data and analytics. Once Kerem Tomak, Commerzbank's executive vice president of big data, had leadership commitment to transform Commerzbank's digital infrastructure, he reimagined everything.
Tomak replaced legacy systems and hired people to incorporate things like deep neural networks, algorithms and APIs. He incorporated data analytics capabilities that uncovered new insights and added value. Once the infrastructure was in place, Commerzbank was able to build all sorts of sophisticated tools for making better business decisions. For example, they built a smart pricing decision support system to help manage margins. Now, they're focused on exploring new digital business models.
People Create Business Value, Not Tools
Just as it takes top-down buy-in from leadership to create a winning data culture, success also relies on understanding what really drives business value. In the book "Leading Digital," there is a chart illustrating four levels of digital mastery.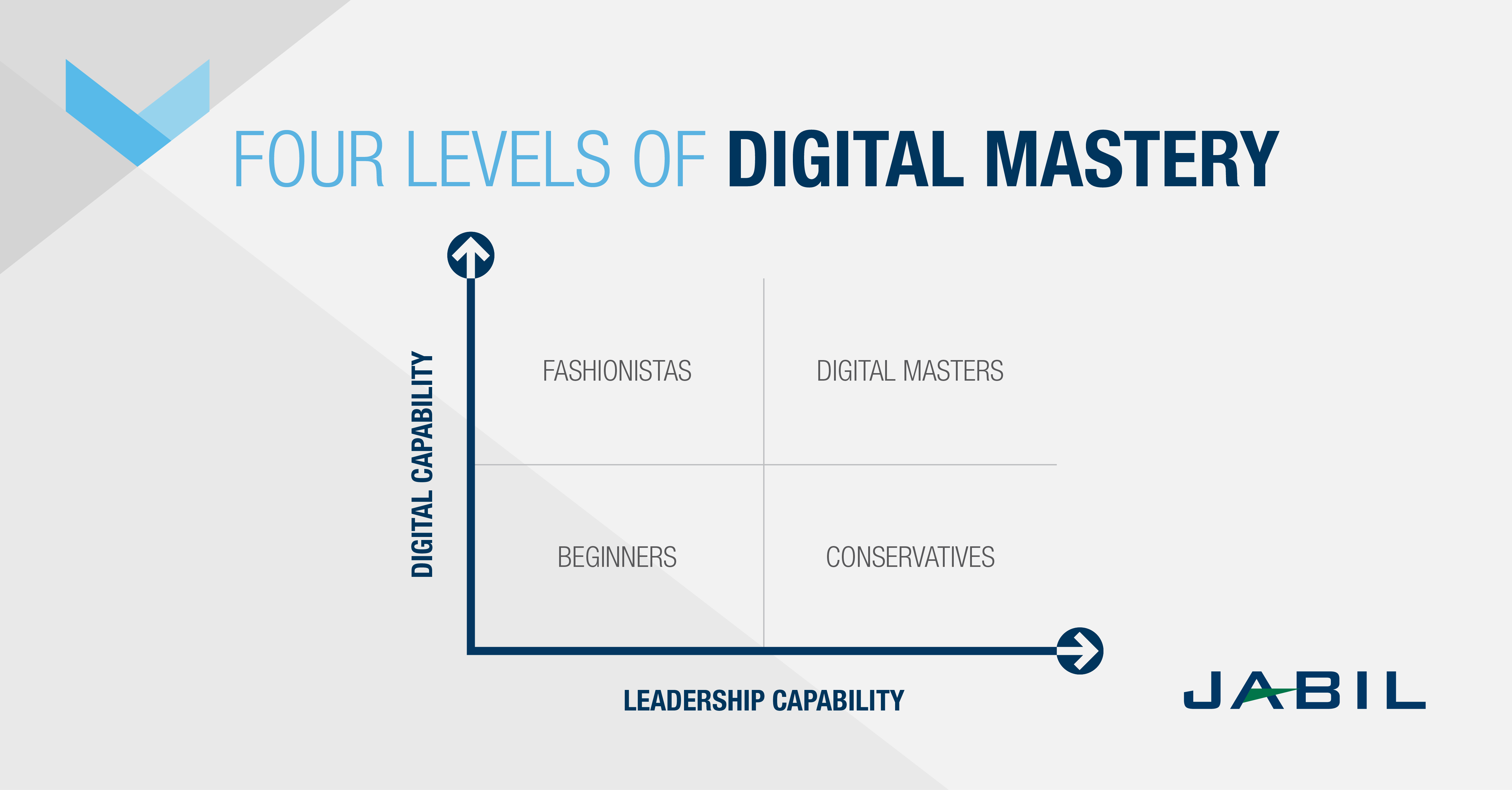 The more digital and leadership capability an organization had, the more it trended toward digital mastery. However, without strong leadership, some organizations tended to end up in the "fashionistas" category – these organizations buy the trendy new digital tools without figuring out how to leverage them for real value.
But for those of us who understand how to connect our people across the organization, we create synergies that are really powerful. For example, Jabil's IT teams work side-by-side with business teams across the organization on projects ranging from retail and supply chain to healthcare and fulfillment.
The IT skillsets are indispensable for these projects because they aren't found within our business units. Sometimes business teams and IT teams have very different ideas about data strategy. So, we take time to find common ground. Then, we simply connect those who already have the skills and those wanting to learn and create collaboration opportunities.
"We take time to find common ground. Then, we simply connect those who already have the skills and those wanting to learn and create collaboration opportunities."
Process is Key
Again, COVID-19 is putting everything into context for us. If you are a hospital administrator right now, you need to prepare for the right number of beds, personal protective equipment (PPE) and more. It's data at the heart of these decisions.
So, putting processes in place means that when you need insights, the data you're using to build those descriptive analytics dashboards is correct. Thankfully, the business relationships are already established, so your team can move quickly and thoughtfully around a shared mission. This is how we'll win the future.
Building a data culture is a gamechanger. Working together to create new value and helping to connect people to share ideas gives me energy. It's exciting.
Technology – It's a Journey
Creating a data culture isn't transactional—it's a journey. You can't simply purchase and install it. But once you've got it, technology can be your wings. There are some sophisticated tools for digging into AI and machine learning, but one thing to consider is that you're not going to build capabilities to rival Microsoft or Amazon just by purchasing some tools.
Nurture your data culture by investing in your people, being absolutely scrupulous about data quality, building relationships across the organization and developing processes for these so there's always continuous improvement.
Then, start creating synergies by expanding collaboration to build a common data culture while connecting analytics initiatives with strategic business outcomes. This transformation is what is happening at Jabil, where we are influencing the data culture and improving our analytics maturity.
Once you've built your data culture, you'll be in a much better position to make decisions when the next disruption occurs. In fact, you'll have achieved digital transformation. You'll not only create resilience for your business, but you'll also make better decisions for your customers and maybe even discover new business models. And if you don't make the transformation, you might not be in business much longer.
Subscribe to the Jabil Blog
Sign up for weekly updates on the latest trends, research and insight in tech, IoT and the supply chain.