How the CPG Supply Chain Can Benefit From Smart Packaging
New technologies are ever more within reach of traditional product brands, providing them with opportunities to enhance their processes and interactions with consumers. In the highly competitive Consumer Packaged Goods (CPG) space, the slightest change has the potential to transform a company's revenue and profits. With a forecast of $721 billion by 2020 in the U.S. alone, there are some untapped opportunities in CPG. One of them? Smart packaging.
Across every product segment, packaging innovations continue to be driven by fierce competition on the shelf and online. But for brands that take the leap, smart packaging could present unprecedented opportunities. Increased customer loyalty is a commonly discussed benefit; however, CPGs could also experience more efficient processes and lower operational costs. Here are three ways smart packaging can transform the CPG supply chain:
1. Inventory Reduction Through Smart Packaging
In the digital age, data is king. CPGs already receive plenty of data about point-of-sale and consumer demographics. While this data may provide useful insight on buying patterns, it doesn't enable the type of decision-making that can transform the CPG supply chain. CPGs need consumption data—the information on how, how often and how much their product is utilized by the end-user—to close their knowledge gap.
CPGs carry a massive amount of inventory in the market to make up for the lack of data. After all, while consumers have their favorite brands and preferences, they can easily switch to another brand when their go-to product is not available on the shelf or online. Therefore, the product must always be available when the consumer is searching.
This trend, however, leads to a significant amount of inventory across the supply chain pipeline. From the point-of-sale to distribution centers to manufacturing settings, each step must be equipped properly to support the next. Carrying excess inventory comes at a high cost. More inventory means more labor, more space and more costs to protect the goods against liabilities. That is a significant amount of margin—whether you're selling shampoo or coffee pods.
Through the data generated by smart packaging, CPG brands receive appropriate end-user data that can help them position inventory in the right places and the right channels. This real-time data can have remarkable benefits for the CPG supply chain and enable long-term predictive analytics. With lower inventory levels, CPG brands can reduce their working capital and reach better margins for their business—all while keeping customers happy.
Subscribe to the Jabil Blog
Sign up for weekly updates on the latest trends, research and insight in tech, IoT and the supply chain.
2. Smart Packaging for a More Sustainable Supply Chain
Brands take their commitment to the environment very seriously, and rightfully so. With heightening consciousness about product waste streams, manufacturers and consumers alike are demanding consumables that are friendlier to the environment. Sustainability plays a critical role in packaging, especially when considering that the mass production of plastics has created 8.3 billion metric tons of waste in just six decades.
From the materials chosen to the processes used to design, make and deliver products to ensure the most environmentally friendly options, sustainability should always be a priority in packaging. At Jabil, for example, we apply the Reduce, Reuse and Recycle approach to packaging strategy.
In the Reduce, Reuse and Recycle model, the objectives are to:
Determine the most efficient way to deliver the product and materials in the packaging
Question the fundamental reason for the packaging itself
Design packaging that has a longer life than the product initially shipped in it
Break packaging down through grinding or melting to secure elements that can be used in other products
Beyond minimizing the packaging to reduce its end-of-life environmental impact, smart packaging could also help boost recycling rates.
3. Enabling a Direct-to-Consumer Channel with Smart Packaging
Research says that having fewer choices is better. In a study by psychologist Sheena Iyengar, shoppers were presented a display table with 24 varieties of jam and received a $1 coupon off any jam when they sampled it. On another day, shoppers saw a similar table, but only with six varieties. While the large display attracted more interest than the small one, people who saw the large display "were one-tenth as likely to buy as people who saw the small display," according to the study.
As consumers, we're inundated with choice – but having 10 different detergents across 5 different brands doesn't make that choice any easier. In fact, facing that many choices may lead to buyer's remorse or cause the consumer to not buy at all. Smart packaging can help solve this conundrum for CPG brands.
Auto-replenishment is not a new idea. Amazon has been running with its Dash Button, which automates orders for specific brands of goods within your home for years. Out of Tide Detergent? Push the button. Want to reorder your favorite coffee pods? Push the button. Need more Bounty Paper Towels? You know what to do.
In a few short years, Dash-initiated purchases quadrupled by early 2017 and had measurable impact on product sales. For example, brands like Ziploc saw more than 50 percent of their Amazon sales through the Dash Button. Cottonelle's share of wallet in its category doubled to 86 percent in 2016 alone. There is great potential lurking here for brands with the appetite to take advantage of technology.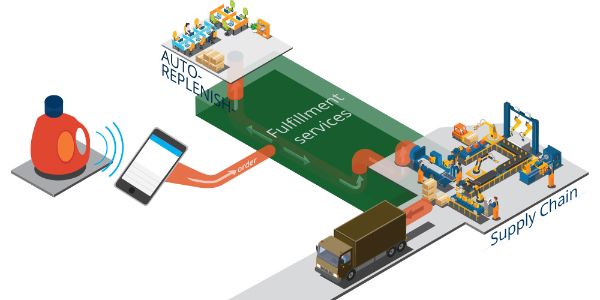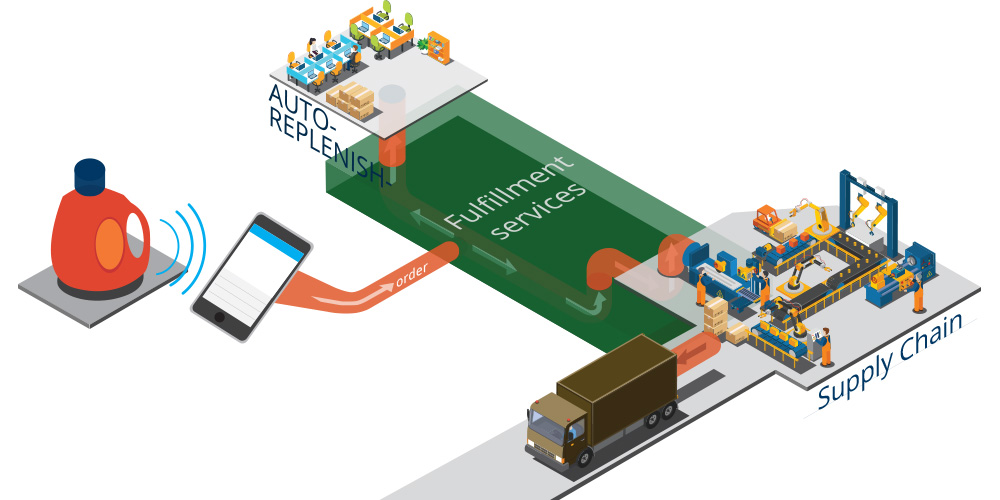 In May 2018, Jabil joined the Amazon Dash Replenishment Service (DRS) Solution Providers Program, enabling systems integrators to bring new DRS-enabled devices to their customers. The idea is simple. Instead of utilizing the extra step of pushing a button to reorder your favorite soap, let smart packaging do all the hard work and notify you when it's time to reorder. When package contents are running low, the packaging system uses DRS to trigger the order from Amazon, making sure consumers never run out of their favorite products. This eliminates a trip to the store, as well as the decision-making associated with buying or reordering products. And that ensures repeat sales for brands – no matter how many competitors they may have!
As the cost of electronics drop, smart packaging will move beyond high-end products to be incorporated into many of the day-to-day products we use. As consumers get more familiar with the concept, we can expect brand loyalty to increase, as proven by some of the Dash Button examples. But for CPG brands, the benefits go well beyond loyalty to "auto-replenishment" of revenue and profits. That's the value of smart packaging data.
Dash Replenishment Service