Automotive Light Manufacturers - Enabling the LED Revolution
LED technology created by automotive light manufacturers has changed the way the industry uses lighting. Exterior vehicle lighting is now a distinctive feature, and sophisticated lighting architectures are enabling innovative functions like the glare-free adaptive high-beam. This moves lighting from a simple and traditional feature, to a brand differentiator, something that can really distinguish one automaker from another.
Every new technology delivers opportunities to differentiate, particularly for those early adopters, and the use of LED's in exterior lighting has been no different. Industry brands, with support from automotive light manufacturers, are developing signature lighting designs with complex three-dimensional forms and LED light patterns. But with these complex designs comes increased cost. Interconnecting and assembling multiple PCBAs and LEDs in different positions within a single housing is complex and expensive. Challenges also exist for reducing the space requirements while integrating additional thermal management components, bulky plastics and PCBA holders.
Expansive Design, Simplified Manufacturing
This is where packaging solutions for angle mounting LEDs really step up. In integrating functions provided by individual parts into one multifunctional component, car makers can significantly reduce the complexity of lighting manufacturing processes while maintaining a sophisticated lighting design. All this design and build simplification also drives the cost down. What's more, reduced complexity has positive impact on reliability.
Jabil, an automotive light manufacturer, has developed a patented packaging solution for angle mounting LEDs on PCBAs for the brands they work with, delivering design and manufacturing support. Jabil's highly reliable packaging solution is AEC Q101 compliant and can provide beam directions from 20-90 degrees, in various light source colors with scalable power ranges from 0.25W to 0.8W. This packaging solution enhances system optical efficiency with the same thermal management.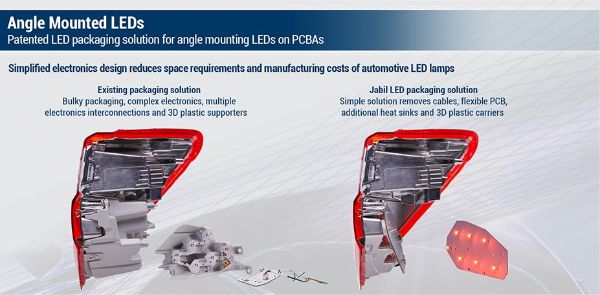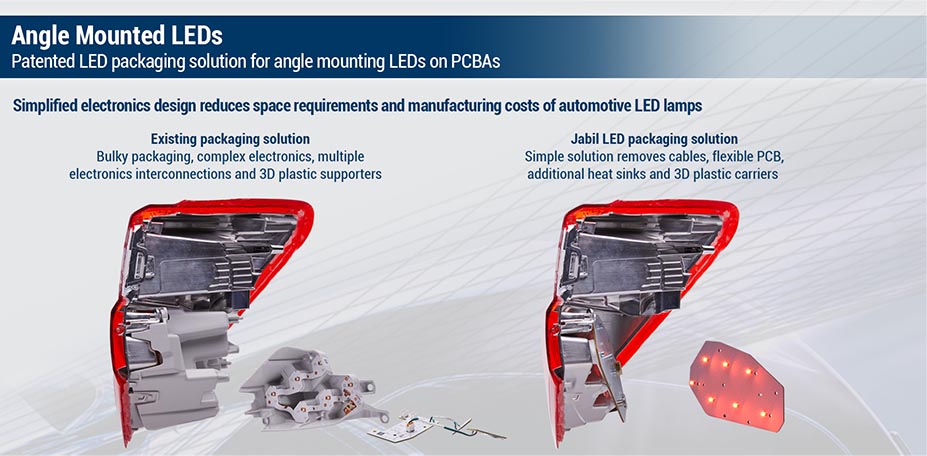 Enabling Design Freedom
Design teams at global automakers can embrace the new design freedom that angle mounted LEDs enable, creating lamps that are extremely reliable and allow them to differentiate with different forms and visual effects, while being slimmer and lighter.
These custom solutions are much more visually dynamic and simpler to build. Cables, flexible PCBs and heat sinks are removed which results in fewer manufacturing steps. The value of increasing speed to market should never be underestimated, and simpler manufacturing supported by Jabil's additive manufacturing capabilities bring the product to market quickly and more reliably.
Creating technical solutions for the brands that trust and depend on Jabil is what we do, and our angle mounted LED packaging solution delivers added value and leverages the strength of Jabil's enterprise. The combination of industry experience and expertise, with technical know-how in LED application, combines perfectly, to deliver a real game-changing solution for our customers.
Jabil's patented packaging solution for angle mounting LEDs on PCBAs delivers design freedom and flexibility, reduced space requirements, a simpler, better manufacturing process, and more efficiency in optical design. Automotive light manufacturers are here to innovate and transform the industry.
Subscribe to the Jabil Blog
Sign up for weekly updates on the latest trends, research and insight in tech, IoT and the supply chain.