Microsoft and Jabil Collaborate to Create Predictive Analytics Quality Assurance Platform
On Monday, April 25, 2016, Jabil was featured by Microsoft at the Hannover Messe 2016 industrial fair in Hannover, Germany. In a Keynote presentation, Satya Nadella, CEO of Microsoft, announced that Jabil built its predictive analytics solution on the Azure machine learning platform. He shared the story of Microsoft's partnership with Jabil and the value it provides in saving our customers money, diminishing scrap and rework, and allowing for unprecedented quality and speed-to-market.
"Even if there is a mistake made in the first step of production, they're able to connect back to the cloud, use machine learning, detect that mistake, and correct it before it goes all the way to the end of the production line. Just imagine now, the idea that you can detect this because you are able to use computing power in the cloud to run your production floor operations more efficiently is by itself revolutionary," said Satya Nadella in his keynote.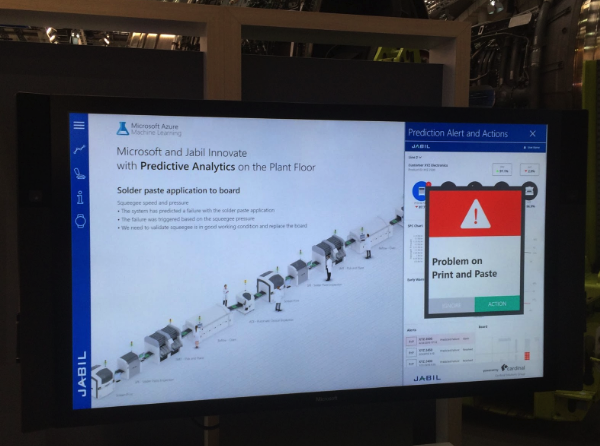 Demo of Jabil's collaboration with Microsoft Azure Machine Learning
Jabil has rolled out the platform in two of its mega sites in Penang, Malaysia and Guadalajara, Mexico, and plans to deploy the solution to its facilities worldwide.
"Since deploying the Microsoft predictive analytics solutions we have seen at least an 80 percent accuracy rate in the prediction of machine processes that will slow down or fail, contributing to scrap and rework savings of 17 percent," said Clint Belinsky, vice president, Global Quality, Jabil. "As our customers constantly look for ways to innovate, it is very impactful to show them a predictive solution that will ensure quality and increase their speed to market."
In digital manufacturing, quality assurance across the assembly line is imperative. Identifying errors, slowdowns, and potential failures before they occur rather than after they are detected can help companies be more proactive and improve productivity.
Subscribe to the Jabil Blog
Sign up for weekly updates on the latest trends, research and insight in tech, IoT and the supply chain.