4 Key Technology Insights from Retail Executives
"Times and conditions change so rapidly that we must keep our aim constantly focused on the future," Walt Disney once famously said. This quote perfectly encapsulates the transformation that has been shaking retail to the core for the last decade.
The retail industry has been thrown into an era of disruption due to new enabling technology, which has changed the expectations of customers and increased the complexity with which they acquire products. As a result, retailers worldwide are transforming their businesses by improving operational efficiencies and engaging with customers in new and exciting ways, while creating new business models and sustainable revenue streams. E-commerce and social media have empowered customers, changing their dynamic with brands and retailers.
It's the natural selection of retail, and the options are clear: adapt to today's shopping environment or cease to exist. As a result, some of the largest US retailers are now a distant memory. Meanwhile, companies like Amazon and Walmart have grown into industry-leading giants.
With all the transformational change the industry is experiencing, it's easy to think that retail executives may be focused on the nuts and bolts around operational execution and efficiency. These are critical to running a retail business. But in my conversations with executives, there is always a common thread: customer experience. Providing an exceptional customer experience is the essential element that everything else rests on.
At Jabil, we recently conducted a follow-up to our 2018 study on the future of retail technology. This year's study features more than 300 retail-decision makers; more than a quarter of whom were retail executives. Download the full report: The 2020 Future of Retail Technology.
In just two years, retail executives have shown stark changes in attitudes, perceptions and where they think the retail industry is headed. Here are the top insights from retail executives:
1. Retail Executives are Adjusting Omni-Channel Plans
While executives may not be clear on what types of technologies to invest in, many understand the importance of an omni-channel strategy. Historically, brick-and-mortar stores only had their physical locations. When they added an online division, they quickly realized that the messaging and value proposition were moving in a different direction than their physical stores. Likewise, online-only retailers didn't think they needed to utilize a brick-and-mortar strategy. This dynamic is evolving as retail executives are honing on their omni-channel plans.
Today more than six out of 10 executives say they are focusing their technology investments equally in e-commerce and in-store technology. Just two years ago, less than half said they were investing in these channels equally.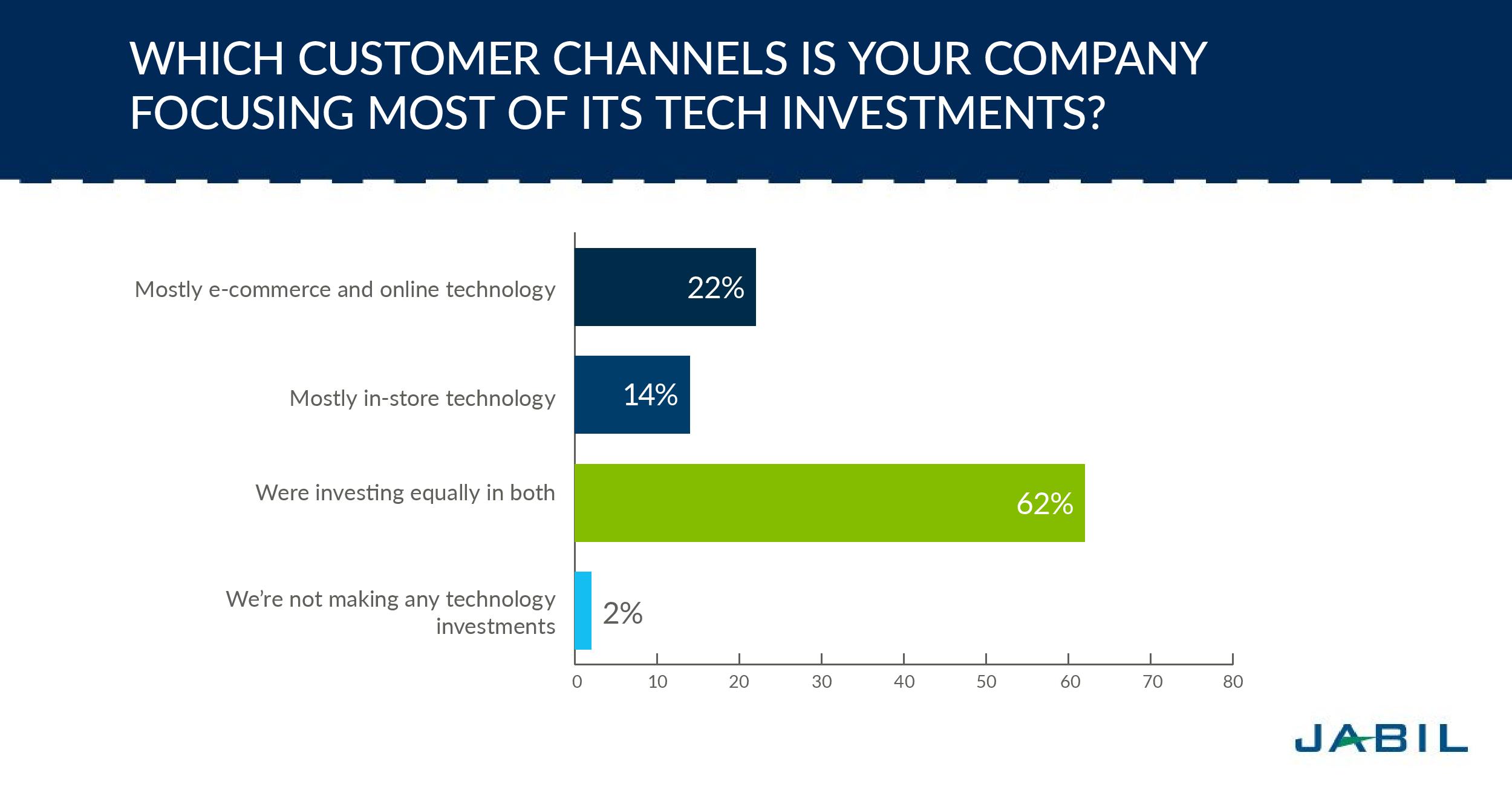 Although retail executives understand the importance of omni-channel retail, their approach to these investments have evolved slightly. The percentage of executives who say they're investing in online and in-store technology as an integrated solution has decreased. Instead, executives increasingly see their online and in-store technology investments as separate initiatives with some integration touchpoints.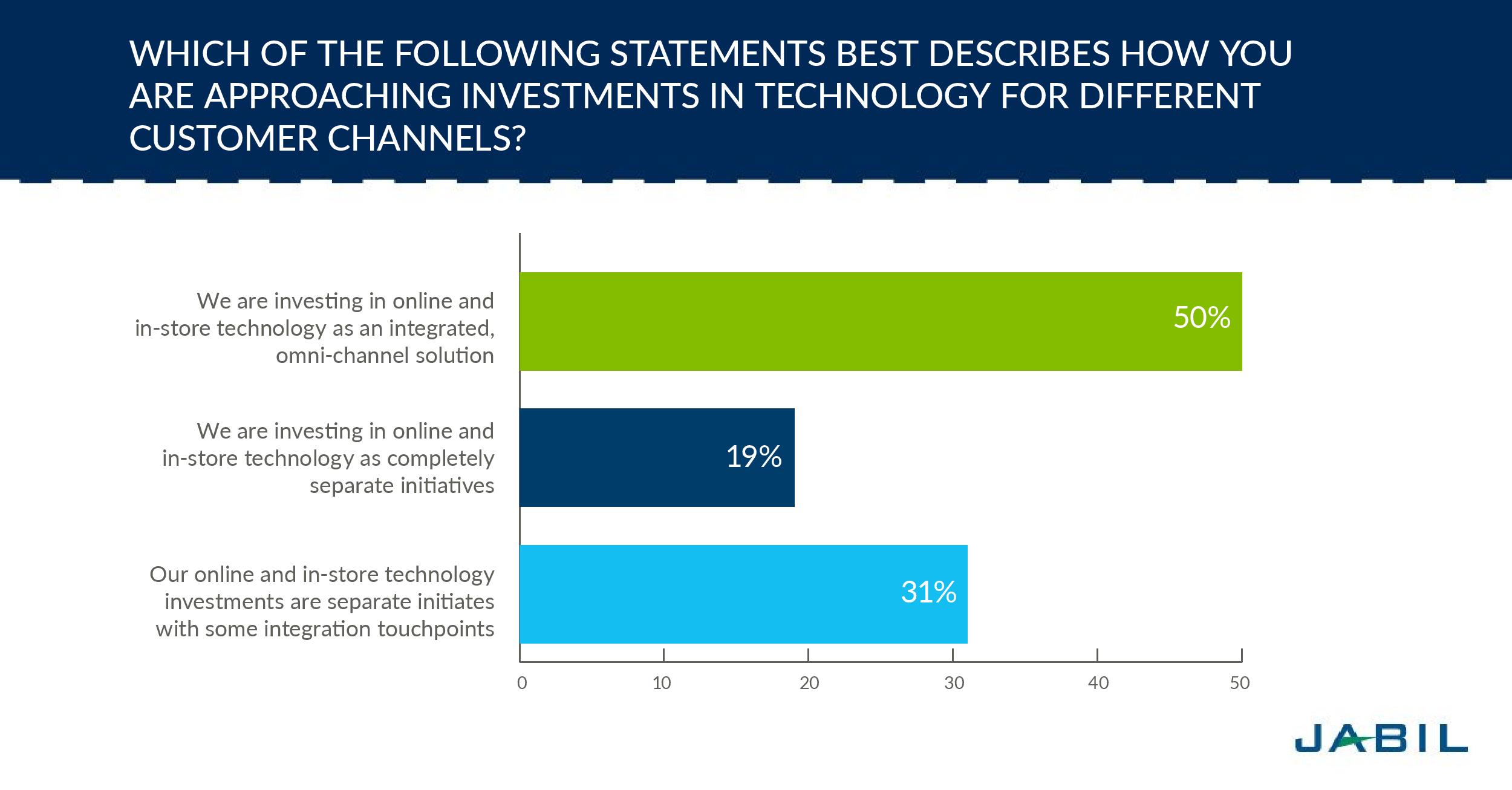 Perhaps this speaks to the different experiences provided by each channel. In order to provide exceptional customer experiences across channels, investments may need to be separate. However, determining what makes sense for each retailer's format is a tough call. As retailers determine how to navigate today's technology landscape and marry that to their unique business model, 87% of retail executives say they have made changes to their technology plans. Just over half have made minor course corrections, while 35% have made significant changes as they have learned more.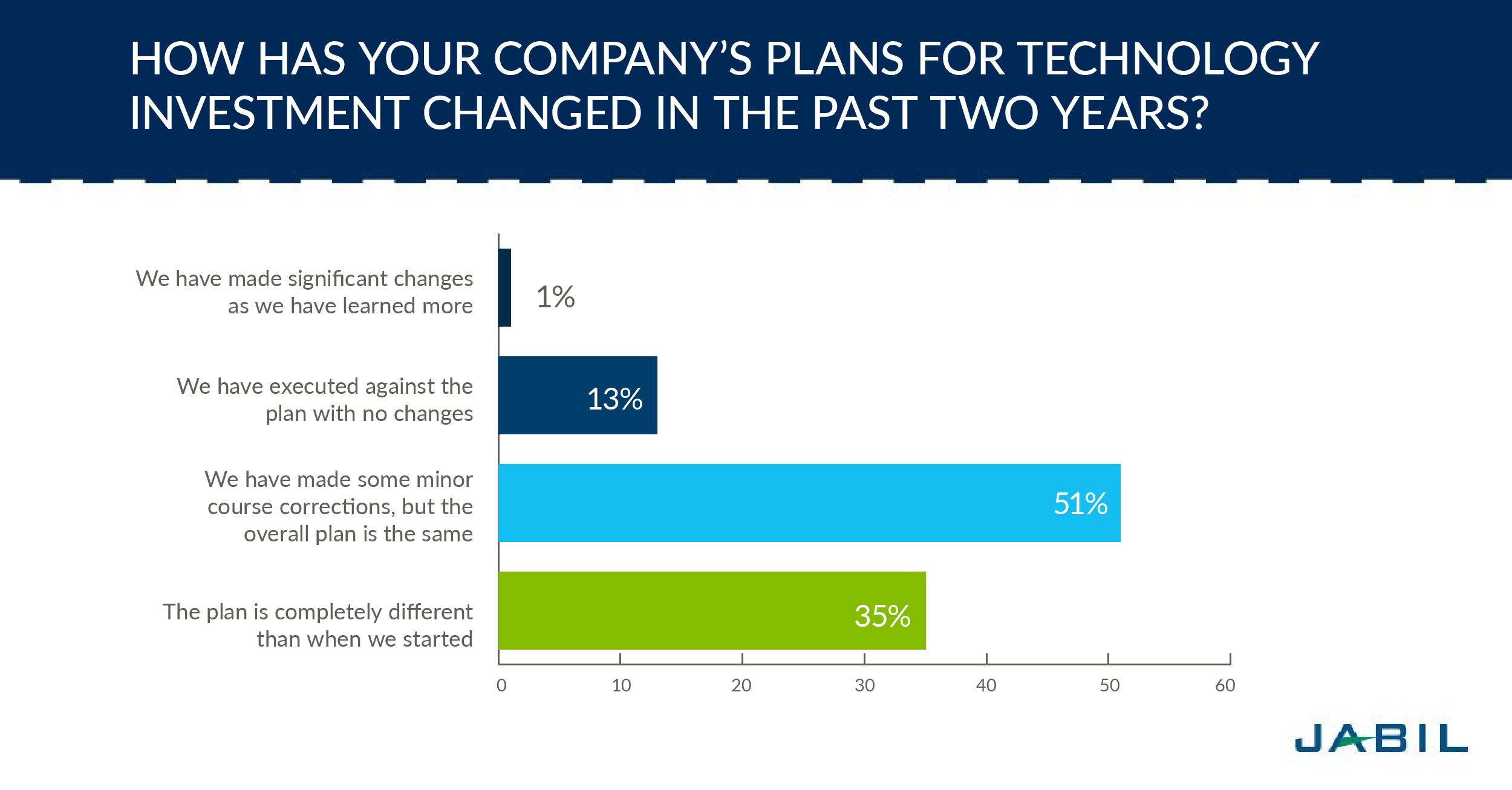 No matter where the investments are made, executives have one goal in mind: to deliver a customer experience seamlessly across all platforms that will increase brand engagement, sales and margins.
2. Digital Transformation is a Bigger Focus for Retail Executives
As I mentioned earlier, technology is a critical piece of improving the customer experience. For many in the industry, that means taking on digital transformation—the process of innovating the retail business model to blur the physical and digital lines. Investing in an omni-channel strategy is just one part of a digital transformation.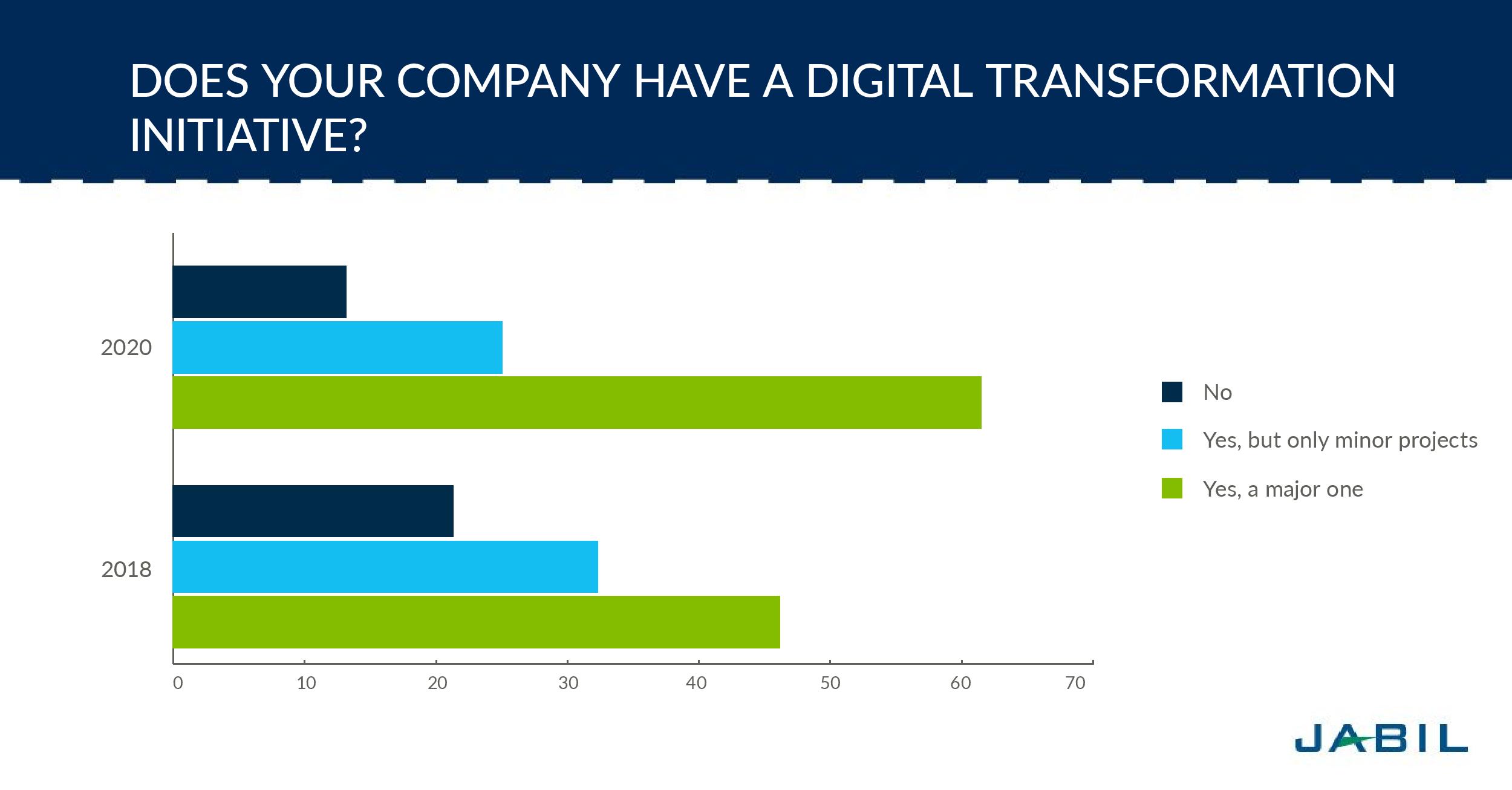 Today 87% of retail executives say their company has a digital transformation initiative, compared to 79% two years ago. There has been a sharp increase in major digital transformation initiatives as retailers find their footing in their new reality. Still, 13% of retail executives from the Jabil survey say they don't have a digital transformation initiative. It will be interesting to watch how this decision will play out over the next few years. Will these retailers become irrelevant with the likes of Sports Authority and others, or will they find alternative routes to success?
Subscribe to the Jabil Blog
Sign up for weekly updates on the latest trends, research and insight in tech, IoT and the supply chain.
Along with an increase in digital transformation initiatives, retail executives expect to increase their company's spending on store automation technology in the next two years. More than half (51%) expect their spending to increase significantly (more than 10%), while 44% expect a more modest increase on their spending.
3. Technology Winners are Clear in Customer Experience and Operational Efficiency—For Now
Regardless of the type of investment—analytics or operational efficiency—technology impacts the customer experience and therefore has a direct correlation to sales, margins and return shoppers. Ninety-nine percent of executives said that successful technology innovation was critical to their success.
From a customer experience perspective, retail executives believe the biggest technology opportunity is in specialty kiosks and edge retail solutions. These investments are physical manifestations of the e-commerce investment and growth of the past decade and leverage connectivity to improve efficiencies, better understand the customer and help unlock lifetime value and loyalty.
Next, retail executives believe in the power of frictionless retail through self-checkout stations. Finally, they believe electronic shelf labels are an important part of delivering a seamless customer experience in the store.
On the operational efficiency side, three in four retail executives agree inventory accuracy systems are key to success, followed closely (68%) by analytics to optimize channel and product inventory strategies. More than 3,200 items are out of stock at any given time in a grocery store? and the average out of stock levels have not improved drastically over the last 15 years. In a tight-margin business like retail, improper inventory management can cost retailers 3 to 5% of their margins. Therefore, having enough inventory in stock is critical to ensure a positive customer experience.
While retail executives agree on the technologies they're implementing or considering to improve customer experience and operational efficiencies, improving analytics is another story. Although 94% of participants say they are considering or implementing technologies to improve analytics, there is no clear "winner." In-store sensors, big data, AI, data visualization and location-based mobile targeting were all selected as tech to improve analytics by more than half of retail executives.
Retailers are faced with the challenge of picking solutions, gathering hundreds or even thousands of data points and then having no way of translating that into actionable insight. This continues to be an ongoing challenge and priority for the industry.
Retailers are notoriously slow and conservative at adopting new technologies, and it's understandable. When you're working with razor-thin margins, it's hard to make big bets on technology. That is why I believe most retail industry executives will want to be fast followers in technology, rather than leaders – which is a double-edged sword in a highly competitive market.
One thing is for sure: we're going to continue to see better integration of online and in-store, and the retail experience is going to become more fluid. The conversation will not be around what specific technologies retailers invest in; it will be around who delivers the most relevant customer experience with the technology they've implemented. That will be the determining factor for retail leadership.
4. Retail Executives are More Confident in Their Own Teams
While technology innovation and digital transformation is a key focus for retail executives, they haven't been fully confident their teams can deliver on those promises. However, there have been some strong improvements in this area in just two years.
Whereas two years ago, only 30% of retail executives said they were fully confident in their organizational structure and partner relationships to deliver needed technology innovation for their organization, today 60% agree with that statement.
So, what's changed?
According to a KPMG CEO Outlook survey, retail executives are confident about the growth prospects of their companies over the next three years and expect mergers and acquisitions and third-party strategic alliances to "drive growth, on-board new digital technologies and innovations and to improve the customer experience."
As retail executives feel more confident in their ecosystem of employees and external partners, their overall confidence may be rising. In addition, the power within retailers have historically been with those in merchandising, marketing and sales. But as the retail industry gets more comfortable with the omni-channel approach, operations are more critical than ever before.
Times and conditions in the retail industry are constantly evolving but the general innovation mindset has been lacking a cohesive strategy. In order to make the technology innovation process more efficient, retail executives need to draw a clear technology map, get ahead of their plans and be proactive. A whole ecosystem of partners are out there to prepare them for what's coming next.
Download the 2020 Future of Retail Technology Survey Report
Insights from 306 global retailers on their technology investments, omni-channel strategies, technology implementation experiences and more.