Case Study: Skullcandy Cuts Total Time-to-Market in Half
Portable media players and your CD collection may be a thing of the past, but the headphone evolution is making its mark on music lovers. The original headphone design and functionality have evolved dramatically over the years, and the revenue in the headphones segment is expected to grow steadily year-over-year. Skullcandy is positioned in a sweet spot for today's market conditions.
In 2003, Skullcandy, a major headphone producer, became a household name for younger consumers around the world. The company made a mark on the industry by introducing industrial designs with a level of complexity that redefined immersive audio experiences. Skullcandy has experienced hyper-growth following a rapid succession of iconic product introductions and designs that have embodied technology innovations and leading-edge features to support premium, multisensory experiences that take multimedia content to entirely new levels.
To stay a market leader with sustained relevance and innovation while introducing more game-changing products means the bar is raised with every new release. "Competition never stops," said Jason Hodell, CEO of Skullcandy. "There's an intense battlefield right now, and the only way we'll continue to win is to focus on our target consumer and what they want".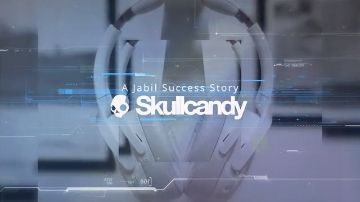 SKULLCANDY CASE STUDY
Customer Focus is the Key to Success
"Our goal is to make all forms of media more fun and engaging for our customers," Hodell explained. "If we continually build products that solve their problems, they'll choose Skullcandy before the rest."
This was certainly the case when Skullcandy began the production of its Crusher 360 headphone, a limited-edition wireless model touting an immersive audio experience. The Crusher 360 features patented Skullcandy know-how to deliver a unique sensory vibration, providing "bass you can feel." But building a device with pressure drivers, deepest bass experience, digital signal processing and accelerated charging capabilities takes more than product know-how.
"The level of technical complexity in our products is increasing exponentially," said Jeff Hutchings, vice president of product for Skullcandy. "Today, it's really a computer on your head. Having a partner that can play in that realm is really crucial."
The elevated expertise needed in acoustics, tuning and electrical engineering to build this sophisticated product was beyond the reach of several early manufacturing partners. "We'd worked on this project for a few years with different manufacturers that couldn't make our vision a reality," recalled Dylan Priest, director of sourcing for Skullcandy.
It was time for a partner that could deliver results based on the Skullcandy's goals, a partner that could pick up where the previous manufacturer left off. That's when Skullcandy decided to work with Jabil, which has superior acoustics experience along with its vertical integration capabilities.
"From injection molding to surface-mount technology, all the way to assembly, finished goods, and pack-out, we were looking for a very well-rounded, all-encompassing partner," said Jason Luthman, product line manager at Skullcandy. Jabil was the ideal partner.
Jabil teams in Silicon Valley and Wuxi, China played a major role in the development of the Crusher 360. The Wuxi facility has strong expertise with audio and acoustics; for Skullcandy, acoustic tuning is at the forefront of each product. "There's a whole bunch of dependencies that go into fine-tuning to get the right results," said Hutchings.
Through the new partnership, Jabil helped put the project back on track to meet Skullcandy's stringent cost and quality requirements, making the transition from one factory to another seamless in the process. "Jabil literally took over the inventory of parts and delivered the final product on time and at cost, which was remarkable," Hodell remembered.
The Jabil team met with Skullcandy's existing supplier to determine how best to address problems and achieve successful completion. "Jabil's ability to pivot quickly, pick up the pieces, fill in the gaps and really be a soundboard for problem-solving played a gigantic role in getting that product to market," Luthman said. As a result, Skullcandy secured an exclusive distribution pact for Crusher 360 with Best Buy, the biggest consumer electronics retailer in the world, for an upcoming holiday season.
But Skullcandy's determination to innovate complex products doesn't end there.
Subscribe to the Jabil Blog
Sign up for weekly updates on the latest trends, research and insight in tech, IoT and the supply chain.
Strong Partnerships Make for Even Stronger Products
Skullcandy's experience with Jabil on the Crusher 360 headphones helped build a trusting, confident relationship for future projects. When the time came for Skullcandy's first foray into active noise control (ANC) with its premium Venue headphones, Skullcandy knew who to turn to.
Together, Jabil and Skullcandy started from custom-tuned driver selections, graduating into mechanical designs while addressing a host of dependencies to fine-tune product design and achieve ideal results.
The venue features a custom ANC system based on Skullcandy's custom-tuned acoustics and industrial design. "Acoustic tuning is a critical aspect and really at the forefront of every product that Skullcandy produces," Luthman said. "So, having a complement in Jabil is critical to making sure we hit our golden standard for those targets."
Jabil's San Jose team suggested design improvements, some of which took Skullcandy by surprise, to deliver more consistent performance. Overall collaboration and complementary expertise were huge factors in expediting Venue's development.
"Normally, you have nine months just for the industrial rotation phase," Hutchings explained. "We only gave ourselves 10 to 11 months to go from zero to mass production. With Jabil's help, we cut our total time to market in half."
In addition, during a visit to Jabil's Blue Sky Innovation Center in San Jose, the Skullcandy team saw how Jabil's supply chain expertise would address supply constraints in the commodities market. "One of the issues we face is commodities that are constrained," Priest said. "So, to have a real-time look into these situations and think out-of-the-box together enabled us to find a solution for the commodities needed to fulfill the bill-of-materials of the headphone."
The result was a product that continues to receive positive buzz and broke records for pre-sales. While it typically takes more than a year to create a brand-new product, Jabil helped Skullcandy go from ideation to production in half the time, delivering results for the holiday season.
The Jabil teams weren't afraid to get gritty and dive into the deep-end with Skullcandy to get the best possible results, and for that, the holidays were even brighter for Skullcandy's loyal customers.
"Jabil has been an incredible partner on some of the most complex projects and products Skullcandy has ever produced," Luthman concluded.