Automotive Lighting Software: Enhanced Efficiency and Design
The world has great expectations for the automotive industry over the next decade. As city infrastructures improve, connectivity and technologies advance, and strides are made toward fully autonomous vehicles, the way people use and interact with vehicles will completely transform.
The new technologies that will enable this transformation are starting to become well known – including cameras, sensors, connectivity components and intelligent software. However, one standard, yet unappreciated feature, is also enjoying a technological revolution: automotive lighting.
Keeping in line with overall automotive sales, industry experts anticipate the enhanced automotive lighting software and hardware segment to grow to $35.9 billion by 2022, at a 5.7 percent compound annual growth rate. Two technological trends are contributing to this growth and transformation of automotive lighting:
Replacing traditional light sources such as halogen bulbs with flexible efficient LEDs
Adaptive front automotive lighting software systems that adjust lighting patterns based on environmental conditions.
While these technologies are at different stages of development and implementation across markets, industry players are now "active in the development of LED headlamps and variable-beam adaptive headlight systems," according to Just Auto.
For example, a technology known as 'laser matrix' is improving the safety of high-beam driving. The technology combines laser lights, digital light processing and micro mirrors into a lighting architecture that has both light and dark zones. The system automatically masks-out areas in front of the vehicle, such as on-coming cars, to avoid blinding drivers and pedestrians; and intensifies light into traffic signs or dangerous situations. It's effective and efficient automotive lighting software at work!
Another emerging lighting solution is the ability to mount LED's at variable angles directly onto circuit boards to enable advanced lighting designs and customization. Not only does it simplify production, and reduce material costs, it simplifies the complexity of lighting systems and enables the designers vision.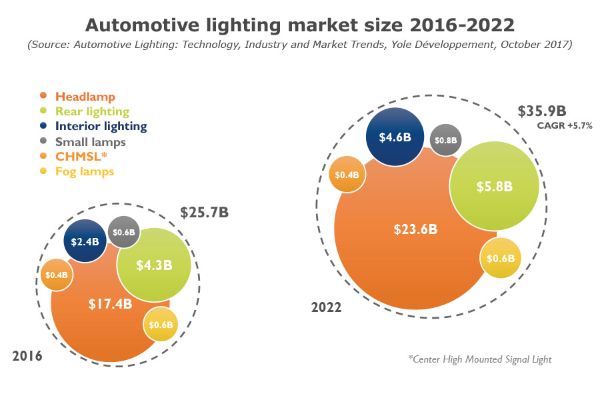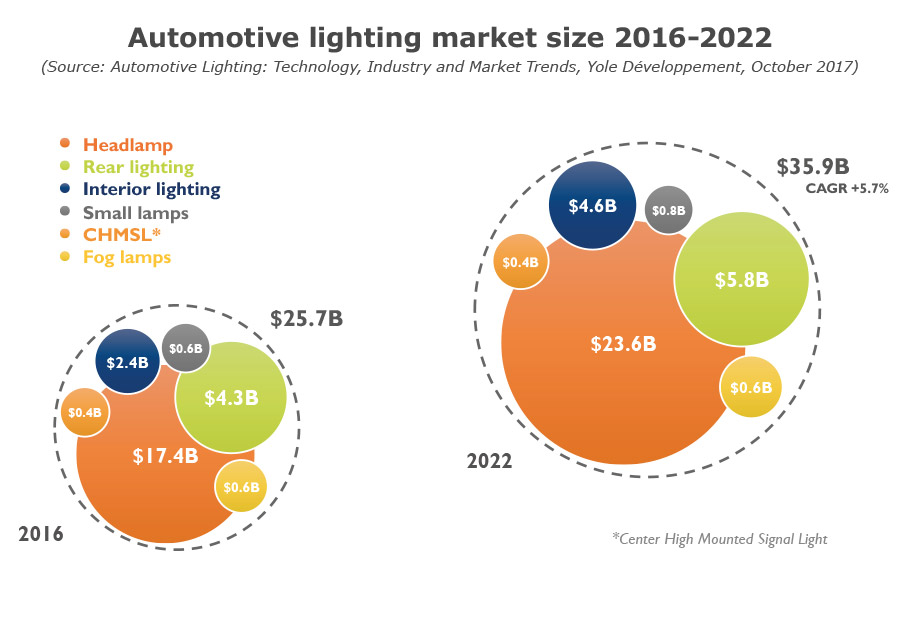 Automotive Lighting Evolves with the Times
LEDs bring many advantages to the table – most importantly they use 75 percent less energy and last 25 times longer than incandescent lighting. Since the introduction of the first full LED headlamp in 2007, the technology has also allowed lighting to "become a distinctive feature" and has "enabled innovative functions like the glare-free adaptive high beam," according to Power Electronics.
Adaptive automotive lighting software and systems are using input from a variety of sensors that measure factors such as speed, vehicle yaw, steering wheel angle and ambient lighting conditions and other vehicles on the road. These intelligent systems help improve driver vision and are an early sign of what's to come in a new world of fully autonomous vehicles.
Subscribe to the Jabil Blog
Sign up for weekly updates on the latest trends, research and insight in tech, IoT and the supply chain.
But it is not just technology trends that are pushing automotive lighting forward. The automotive industry's focus on regulations, safety and environmental impact are also critical influences. As a result, research and development budgets for lighting have grown significantly for car makers.
As new lighting technologies are tested, new use cases and opportunities are being developed for laser lights, LED headlights and OLED. While some of the lighting requirements may not change in our cars, one does wonder: how will lighting be handled in fully autonomous cars?
While there are many indeterminants at this time, the future design of how passengers and drivers interact with their cars will open up new windows of opportunity for automotive lighting.
Download the Managing Automotive Technology Trends Survey Report
Insights from 126 automotive OE decision-makers on technology adoption, opportunities and challenges.