Additive Manufacturing Delivers Local Production Via the Digital Thread
FROM SUBTRACTIVE TO ADDITIVE
Rethinking How We View Manufacturing
Global manufacturing can face challenges from sourcing and fulfillment to customs and transportation. With each obstacle the draw of manufacturing a finished product as close to the end user as possible becomes ever more appealing. With additive manufacturing, powered by the digital thread, locally efficient, highly-customized, small-batch production becomes a reality.
Why produce locally?
Local manufacturing and compressed time-to-market are just a couple of the advantages of such geographically-targeted production. And think about the improvements in quality you can experience by producing locally. Would you rather get a report on quality initiatives or walk over, pick up a part and hold it in your hand?
Compliance also becomes a strategic benefit, as a part can meet the same QA and QC requirements at each location.
Why the digital thread?
The digital thread upends the infrastructure-laden, equipment-bulky, bureaucratically-driven processes of traditional legacy manufacturing. It enables companies to design parts in one location and manufacture them in another. Instead of shipping parts, a digital file is sent to a local print factory to 3D print a production part.
Can you find a factory close to the end users you wish to target? Consider that the Jabil Additive Manufacturing Network continually weaves its digital thread in more than 120 facilities in 29 countries. People, processes, plants suppliers, partners, and customers are all connected through a seamless system. Our entire network of 3D printers is linked across the globe to support our customers' requirements of local production. This allows our customers to overcome challenges such as compressed product lifecycles, time-to-market pressures and customization demands. And with dedicated expertise centered on additive Materials, Processes and Machines (MPM), we continually evolve materials and equipment to deliver the best approach to align with your requirements.
Jabil Additive Manufacturing Network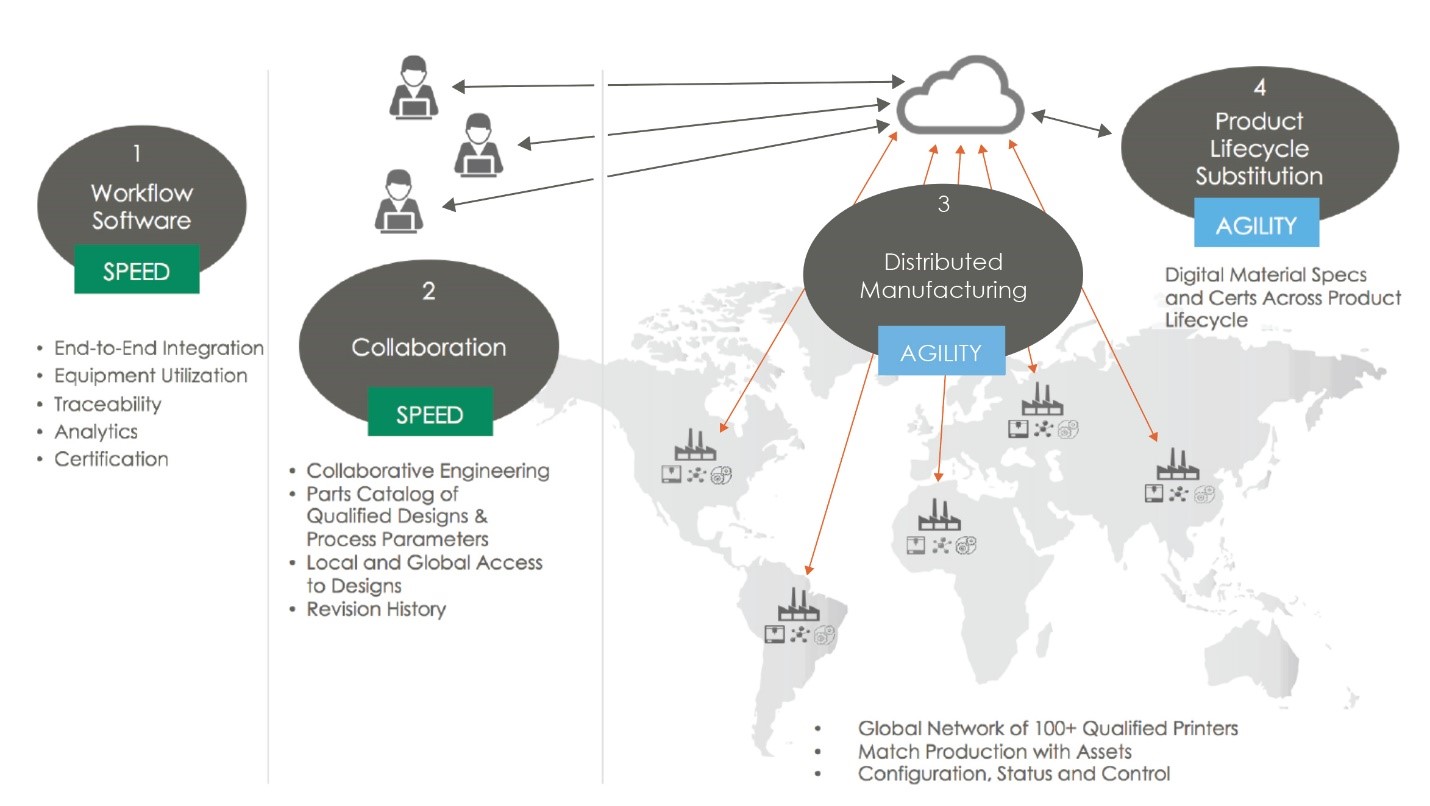 The Power of the Digital Thread
The entire Jabil Additive Manufacturing Network is harmonized with digital production systems. Our information systems permit the integration of design, production and financial systems to collapse the product realization cycle—no matter where the product is to be consumed. This digital thread is imperative in realizing a secure and effective distributed manufacturing strategy. With services such as Jabil's Intelligent Digital Supply Chain (IDSC), the company is leading the digital renaissance of manufacturing.
The digital thread enables companies to quickly see where production capacity is available and avoid production bottlenecks. They can 3D print production parts close to factories that are assembling the final product and easily manage compliance with various regional and country-specific regulations. Build market agility and lower costs by shipping a digital file instead of a physical product. And you can trust the Jabil Additive Manufacturing Network as all design files are secured to ensure consistent, certified products that follow applicable quality management systems when produced in multiple geographies.
Small Batch Performance
It can be cost-prohibitive to provide new products and parts at low volume. With traditional manufacturing approaches, it is not economically feasible to produce a low- or mid-volume production run of a unique part and still break even.
However, with local production capabilities and the digital thread, it is now not only cost-effective but also is a manageable customer expectation to request a low volume production run. The costs are lower, the room for error is eliminated, QA and QC are maintained throughout, and the customer has the opportunity to receive a customized part with minimal wait time.
Rely on additive manufacturing to give you the production freedom to meet unique customer requests for one-off products, customized low- or mid-volume production runs and an easily delivered variety of part designs with limited overhead and cost concerns.
Part Consolidation and Inventory Reduction
Consolidating parts is an obvious advantage of digital-thread enabled additive manufacturing. Additive manufacturing processes can produce geometric shapes that would otherwise require assembly of multiple parts. When designers think of the entire product holistically instead of just one part, costs can be saved while making the overall product more effective and efficient.
The amount of physical inventory that a business must maintain can also be reduced considerably by printing parts only when needed. Distribution centers can stop storing thousands of parts to meet potential demand to storing only a handful and printing production parts to meet demand and only when surplus starts to dwindle. Additive manufacturing transforms the way the world looks at manufacturing and provides companies with bold, new possibilities. Companies who leverage the digital thread and produce products locally understand the advantages and will blaze a new path forward in modern manufacturing.
Simply More Efficient Manufacturing
Additive manufacturing adds material in layers instead of removing material like with CNC machining. Creating products layer by layer is inherently less wasteful than traditional subtractive methods of production. With this highly-efficient approach, weight of products can be substantially reduced, and unused materials in the print bed can be reused.
The following are just a few of the ways our additive manufacturing capabilities can integrate more efficiency into your manufacturing process. Through the digital thread and additive manufacturing, you can:
Reduce tooling and fixture costs
Reduce inventory
Produce reliable end-use parts that meet qualifications and certifications
Consolidate parts (BOM) for significant cost savings
Optimize distribution and build products closer to consumption
Realize sustainability goals and lower environmental impact
Make just-in-time manufacturing a reality
The digital thread has the power to shrink and simplify your entire supply chain. When production is local your distribution infrastructure is minimal. Inventory overhead drops, small batch runs become possible, parts become lighter and more effective in usage, and you can go to market with a whole new level of speed and agility. Parts on-demand and produced just where you need them. This is what additive manufacturing and the digital thread can deliver to your doorstep.
Contact us with your questions about local production, the digital thread and the comprehensive benefits of additive manufacturing. This is the ideal time to start producing locally and serving customers exactly where they are located.