Event Risk
Understand and Minimize Unexpected Disruptions for Revenue Continuity
Quickly Respond to Sudden Supply Chain Disruption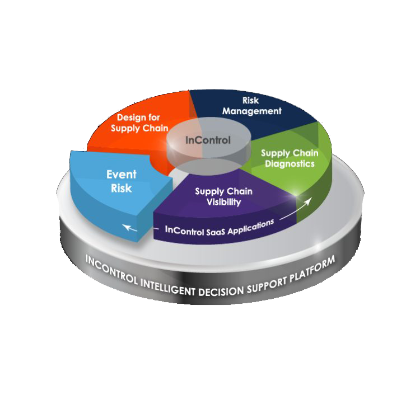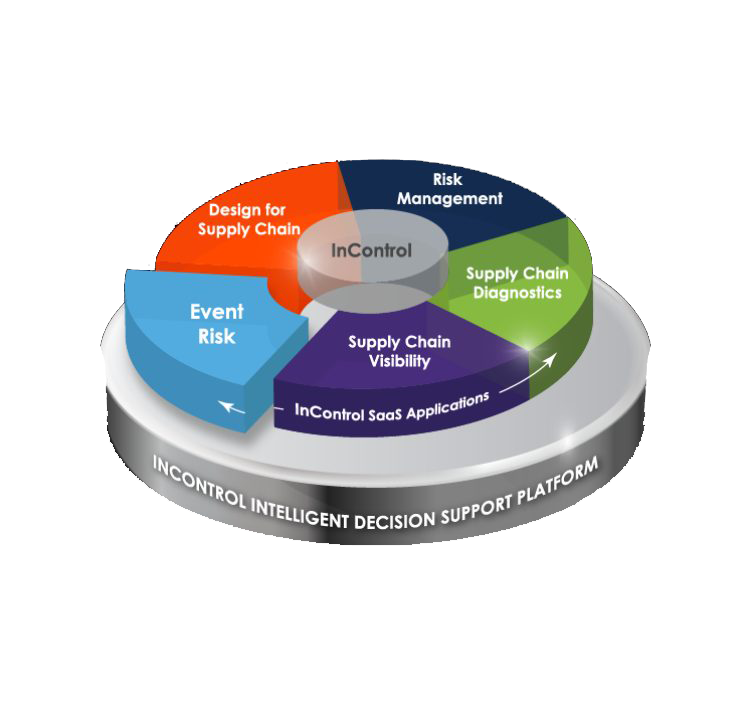 Jabil InControl™ Event Risk is a supply chain rapid-recovery application - what used to take weeks querying and aggregating data from different sources after a disruption now happens in real-time and can be solved in a matter of minutes. When unforeseen disruptions occur, it immediately alerts managers — by SMS, email, and phone — and graphically displays the actionable information they need: specific fiscal and time impacts on suppliers, customers, and SKUs; part-level breakdowns with recovery options; and, imagery of affected regions.
Know Before the Competition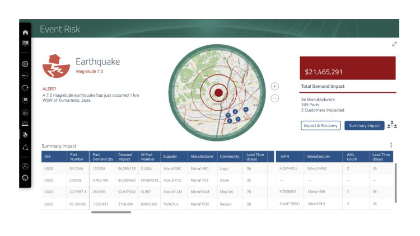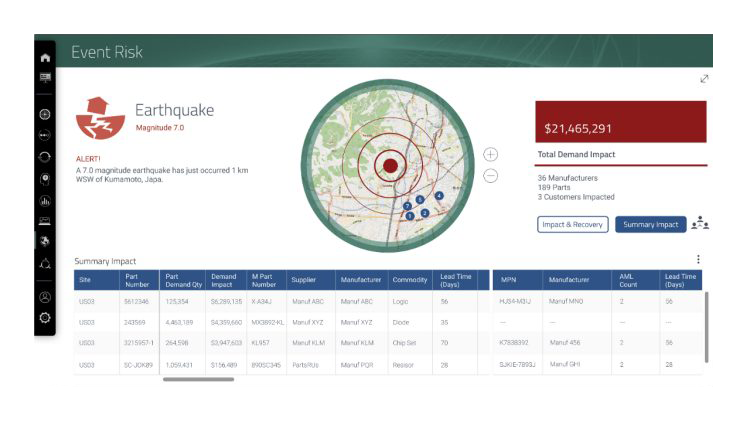 When a disruptive supply chain event occurs, immediately see affected areas, an impact summary, and detailed recovery recommendations by supplier and part. The summary of the demand impact encompasses manufacturers, customers, and SKU's.
Collaborate for Enhanced Speed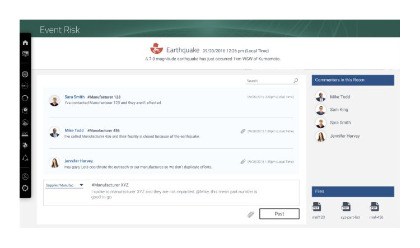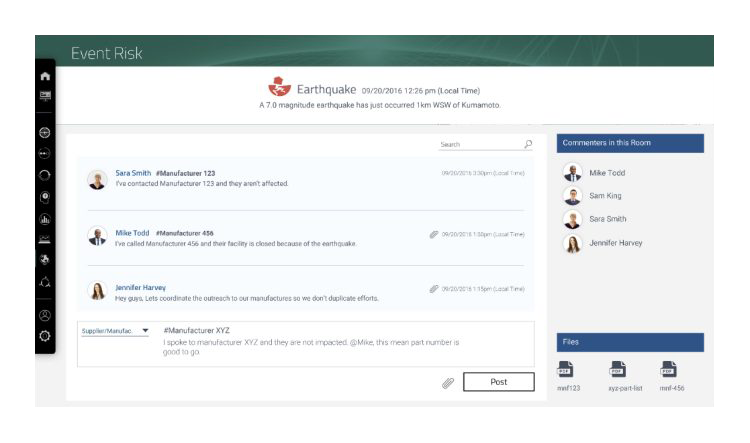 The Recovery Room, a real-time collaboration hub, lets users post important updates such as which suppliers have reported in or been contacted, the status of at-risk resources, and any changes customers can expect
Understand Movemement of Supply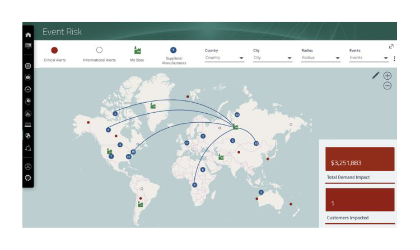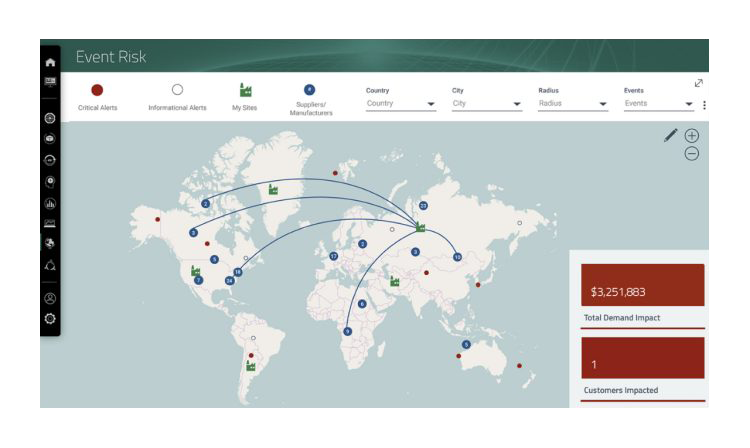 Visualize how disruptive supply chain events such as geo-political turmoil or natural disasters, could potentially alter movement of supply. Draw a shape on the map to focus on specific regions, suppliers or sites.
See the Solution in Action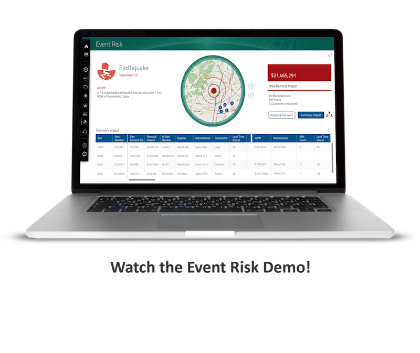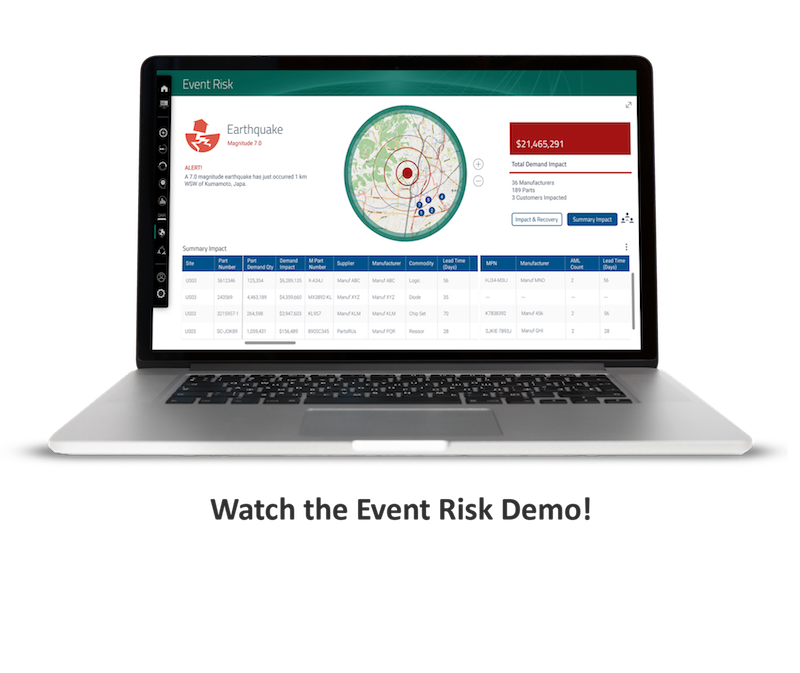 To learn how the Event Risk application drives improved business outcomes, watch the application demo video. This quick overview illustrates how supply chain professionals can leverage the Event Risk application to quickly assess the impact of any events and kick-start the recovery process, ensuring no revenue is lost.