Connected Packaging Services
Specialized services designed to accelerate your move to Connected Packaging
Getting Started is the Hardest Part
Connected Packaging offers next-generation technology and consumer experience but getting there can be overwhelming. Jabil's Connected Packaging Services have been designed to guide CPG customers through the process of ideating, developing and launching this transformative new solution into the market.
DOWNLOAD THE SOLUTIONS BROCHURE
PACKAGING INNOVATION SPRINT

A virtual and interactive multi-day workshop designed to deliver proof of concept. Jabil will work with innovation teams to identify customer pain points & personas, define data, develop a strong business cases, and detail next steps. This will result in high-impact, low-risk ideas to move forward with.
PROTOTYPING & ENGINEERING SERVICES

As a joint development initiative, this service leverages Jabil's diverse background in design, engineering, and manufacturing. This will provide CPG customers with the resources to design functional, reliable, and low-cost products, giving them the confidence to drive their ideas to completion.
Commercialization Services
PROTOTYPE VALIDATION SERVICES

Jabil works with your innovation team to create 10-15 prototypes to test with friends and family. During the trial, we determine what is working and begin to understand the analytics on purchasing and device data. This provides our customers with enhanced early-stage visibility into product effectiveness before moving on to the Connected Trial.
CONNECTED TRIAL SERVICES

Connected Trial Services provide the second layer of validation with a further refined product and a larger sample size. This sophisticated pilot program allows our customers to understand how larger cohorts of consumers interact with their device. The insights gained from the Connected Trial inform the marketing and product development tactics required for a successful market launch.
MARKET LAUNCH SERVICES

To alleviate stress and reduce risk, Jabil will assist in supply chain engagement, manufacturing scalability, and mobile app rollout. As a one-stop shop, Jabil helps CPG customers orchestrate the operational aspects of their market launch, leaving brands with more time to focus on impactful marketing and communications.
DEVICE SUPPORT SERVICES

Our Managed Support Group provides prompt support directly to end users for product-related issues such as device malfunctions and service problems. With a proactive approach, Jabil's support services think for the consumer, giving CPG customers peace-of-mind, and providing insights based on requests received.
The Journey Starts With the Innovation Sprint
Quickly develop proof of concept with this multi-day virtual workshop designed to identify customer pain points & personas, define critical data needs, develop a strong business case and detail next steps for commercial development.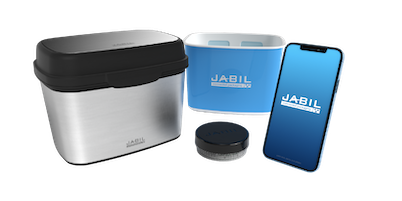 DOWNLOAD THE FACT SHEET