YT-Touch™
The smallest POS terminal to cover all your needs
YT-Touch™
The YT-Touch™ is the smallest POS terminal that enables a customized payment experience to suit any brand image. With a full-screen colorful touch display, this mPOS is available in two flavors: connectivity via smartphone using low energy Bluetooth, or as a fully autonomous device using local WiFi or 4G cellular networks.
Half the Size of a Smartphone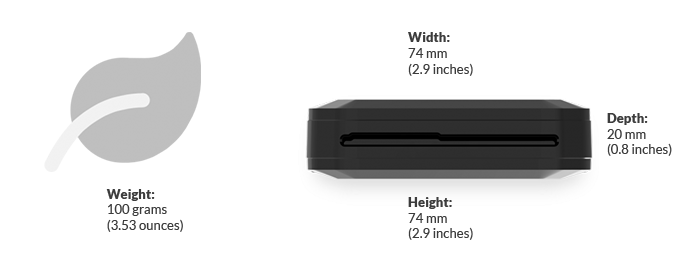 Super-Colorful 2.4" All-Screen Display
320 x 240 pixel resolution
Color Display – STN display for better contrast and amazing readability under all light conditions.
Wide Range of Colors – Unrivaled choice of colors for dynamic visuals on the terminal.
Capacitive Touch – Better reliability and sensitivity to light touch for easier interactions of payments.
Seamless Payments
Contactless and QR code are available. Accept all type of payment methods, from debit and credit cards to QR code wallets. Also, make the most of your customer's smartphone with convenient Apple and Google Pay payments.

All in a Day's Charge

Long-lasting battery life. Hardware and software work together to enhance battery efficiency. With the latest fast-charge technology, terminals can be charged in less time and process over 200 transactions in a single charge.

It's all about Performance
YT-Touch™ has the most secure chip ever in the history of POS. YTSEC is the first system-on-chip to manage PCI and EMV security. It also works in the most power-efficient way possible to ensure the battery lasts longer. In fact, YTSEC is so advanced that it's years ahead of the pack.

Bluetooth Low Energy
Ensures smooth device pairing with your smartphone
BLE 4.2 – Android & iOS SDK

4G LTE
Low battery consumption while providing deep indoor coverage
4G Cat M1/ Cat NB2, 2G EGPRS

Faster Wi-Fi
Wi-Fi 4 (802.11n) for a fast connection up to 70m indoor and 250m outdoor.
Wi-Fi: 802.11 b/g/n/e/i (upto 150 Mbps), 2.4 GHz

USB-C Port
Fast and convenient charging through your PC or Power supply. 50% charge in just 1 hour.

Nano SIM
Connects to your favourite mobile network

QR Code
SmartMatrix technology to display digital receipts and payment coupons.