Procurement Technology Services
Built By Practitioners, For Practitioners.
On-Demand Webinar:
How to Deliver Procurement's Strategy using Guided Buying
Watch Now
Streamline procurement processes with a proven partner
For decades, Jabil has served thousands of brands as a design, engineering, manufacturing, and supply chain partner. Today, we employ more than 250,000 people across the globe and manage an unrivaled supply chain ecosystem. Jabil handles millions of procurement transactions across the world with technology and know-how that make Source-to-Pay processes as fast, efficient, and profitable as possible.
And now, our Source-to-Pay services extend the valuable benefits of the vast Jabil ecosystem to you. As fellow practitioners, we understand all too well the headaches and hassles of inefficient purchasing. To help you save time and ensure success, we've developed three areas of Source-to-Pay services for software selection, implementation, and optimization:
Strategic Assessment Services
In the early stages of your process, Jabil will provide consultation to assess procurement performance, consider software selection, and identify functional improvements. Our team will help you develop a procurement roadmap that matches your company's unique strategic needs and goals.
Services include: ROI development, early-stage assessments, procurement roadmap development, documentation review and recommendations.
Implementation Services
When you have identified your technology choices, Jabil will help you implement the software, develop processes, and train your staff to operate in the most productive way. As practitioners ourselves, we "get it" when your staff explains current challenges, outlines gaps in technology or knowledge, and struggles with tasks that are needlessly time-consuming. Our implementation and training services cover the entire supply chain and are designed flexibility to fit your company's specific needs.
Software supported: Based on Jabil's own global, source-to-pay experience and environment, we do not limit assessments, however, we do limit implementation services to the following software options:
Coupa for AI classifications, sourcing, supplier information management, procure to pay, invoicing, analytics, and spend guard
ScanMarket for sourcing
WalkMe for Digital Adoption Platform
Services include: AI classifications, strategic sourcing (ScanMarket, Coupa), supplier info management, invoicing, analytics, Spend Guard, geographic expansion, digital adoption platform (WalkMe).
Click here to schedule a Coupa Training Course
Optimization Services
It's never too late to make your procurement processes more efficient. If you have already implemented technology, Jabil can still help you get smarter, faster, and more streamlined. Jabil also provides resources to keep your source to pay functions operating if you lose institutional knowledge through personnel changes. Jabil provides staffing that will administer your system temporarily or on a long-term basis to ensure the quality and continual improvement of your system. We apply our decades-long, global expertise to help you find new ways to apply technology, identify needless inefficiencies, and optimize every step in your supply chain.
Services include: strategic roadmaps; application management for integrations, release management, and user experience; staff augmentation for electronic invoicing, help desk, supplier enablement, catalog enablement, and category management; value-based training; and organization design.
Click here to schedule a Coupa Training Course
Our Source to Pay Services Span the Globe Across Jabil's 100+ Sites

Jabil's Implementation Success
When we call ourselves practitioners, it's not just the day to day of sourcing and buying. Jabil also recently implemented Coupa as our own business spend management software. That experience enlightened our Source-to-Pay experts about the opportunities for improvement in the wider procurement universe.
"We want to show other companies that it's totally doable to implement Coupa and change the way you do things. We remember being nervous at the start, and we want to work with others in that situation and show them how they can do it right. We feel that our experience of having implemented in some of the most challenging jurisdictions globally allied with our deep functional experience uniquely positions us to help many other companies realize their own strategies," explains Heidi Banks, Jabil Sr. Director of Procurement.
Read the Jabil-Coupa case study 
Watch the Jabil-Coupa Case Study Video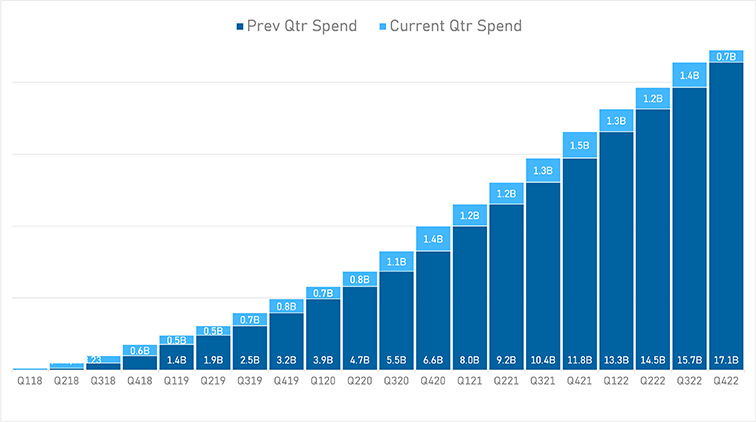 TOTAL SITES BY QUARTER (FY)