Supply Chain Managed Services
Tap into Jabil's global, optimized supply chain network and keep things moving.
Optimal supply chain management is a strategic imperative, driving improved quality and cost savings from raw materials through delivery to the end-user. Increased global outsourcing, the rise of big data, and the need to simultaneously support many different market segments make today's multi-tier supply chain networks extraordinarily complex. Only the most adept, informed, and capable practitioners can successfully understand and handle lightning-fast market changes, unpredictable events, and baffling compliance and regulatory requirements.
Jabil's Supply Chain Managed Services will help you do just that. For the last 50+ years, we've designed and optimized global supply chains for our manufacturing customers. Now we're extending these services to all businesses that want stay focused on their core competency while outsourcing supply chain management to a reliable, proven partner.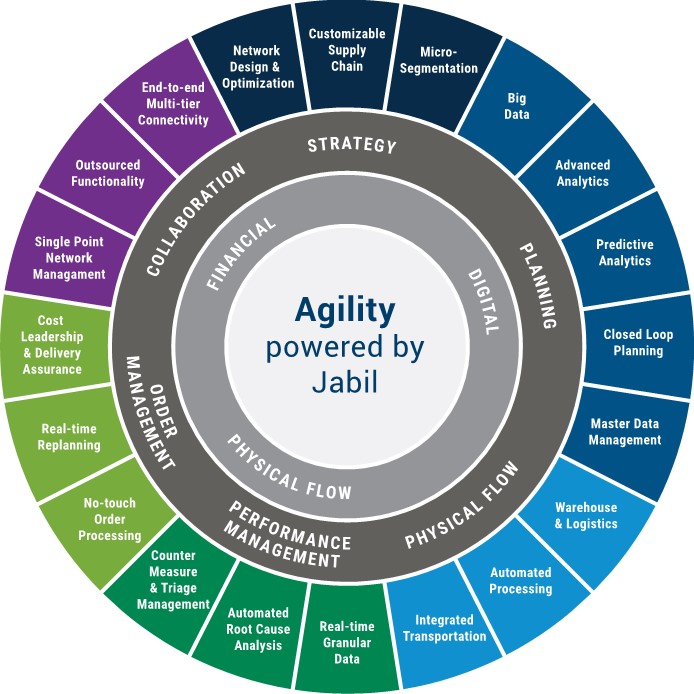 Built on proven infrastructure, personnel,
and technology, we'll create and manage
your supply chain to be resilient, optimized,
cost-effective, and simplified, helping you
meet your financial and operational goals.
You'll have access to a dedicated customer
command center with near-real-time
dashboards, providing end-to-end visibility
for total supply chain orchestration.

A single agile partner to manage your end-to-
end supply chain activities.
Leverage Jabil's global infrastructure to
eliminate financial waste, digitize the
orchestration, and synchronize the physical
flow across the entire supply chain network.
Customer Benefits
Partner with a Proven Supply Chain Leader
Tap into the know-how, relationships, and global network we've built over the last 50+ years. Jabil experts offer comprehensive supply chain managed services, allowing our customers to focus on driving their competitive advantages — instead of trying to solve the nuances of supply chain complexity.