Employees Empower Children with Autism
According to the Global Autism Project, there are 70 million people with autism (2017), and many Jabil sites around the world have focused their community outreach efforts on helping those affected by it. Concentrating their efforts on Jabil Cares' focus area of Empowerment, sites from Poland, Pune, Shanghai and Vietnam have taken action, providing these children with the necessary tools to grow and succeed.
At Jabil Kwidzyn, the site donated computers to the Rehabilitation and Education Center, an organization dedicated to youth in Poland with intellectual disabilities and autism. Because of their donation, caregivers at the Center can better explore individualized forms of communication that support each child's developmental and educational needs. "The Center is currently caring for seven young boys who have autism – that is seven lives we were able to positively impact," said Malgorzata Skalska, administrative assistant.
While some sites donate objects to help support educational growth, other sites focus on supplying necessities to the local organizations. Jabil Vietnam supports Te Phan Orphanage – home to 70 children with both physical and mental disabilities, including many children with autism. The site has provided financial support for over the past three years to help with food and clothing costs, while also organizing annual holiday gift-giving events.
This long-term support is also seen at Jabil Pune, which has nearly two dozen employees visit a local organization every quarter to make art, play and share meals with the children. Employees spend a day at Niwasi Mukbadhir Vidhyalay, a school for 48 children with autism.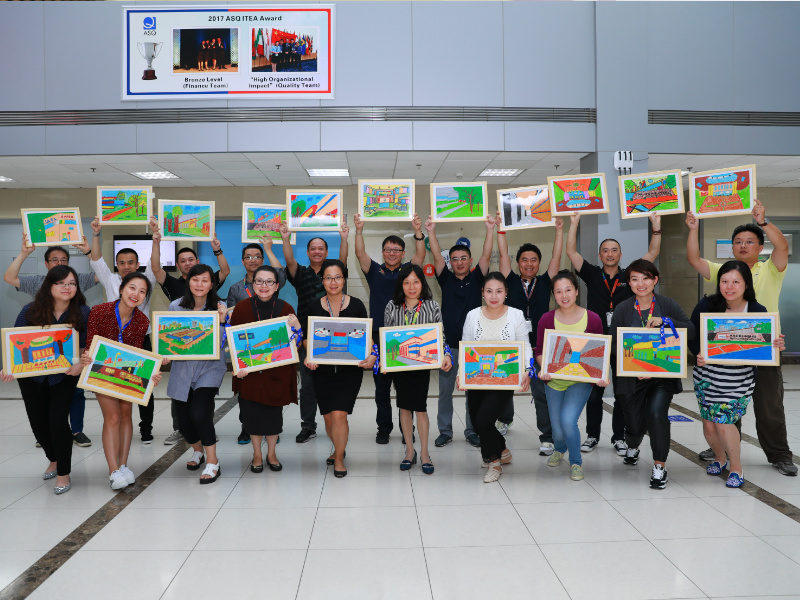 Jabil sites conduct outreach activities in many forms and the Shanghai facility took an artistic approach to their support of the AiHao Autistic Rehabilitation Center. Employees organized an auction to sell artwork created by the children at the Center and donated the funds back to the organization. More than 200 children were positively impacted by the donations. "Every child with autism has talents and should be continually encouraged," said Xiaorong Jia, employee relations supervisor. "And our employees are passionate about supporting them!"
Jabil Cares, our community outreach and volunteerism platform, supports localized efforts around specific causes related to Education, Empowerment, and the Environment.