Jabil Vienna Precision Mechanical Prototyping
Jabil Vienna specializes in mechatronics – precision mechanics and electronics – with comprehensive design, manufacturing, supply chain management, and aftermarket services. We provide a one-stop solution for diverse industries including automotive, storage, industrial, and medical.
TO OUR EMPLOYEES, CUSTOMERS, INVESTORS AND OTHER STAKEHOLDERS

At Jabil, sustainability is the integration of environmental health, social equity, governance and economic growth to create thriving, healthy, diverse and resilient business operations for our employees and the communities in which we live and work...for this generation and generations to come.
We understand our responsibility to be good stewards of natural resources and positively contribute to global environmental and social challenges. We listened to our stakeholders and developed our strategy and goals in alignment with the social and environmental challenges they care about most, and the areas we believe we can make the biggest impact.
We have established three pillars that form the foundation for our global sustainability efforts:
OUR SUSTAINABILITY PILLARS
OUR
AWARDS & PARTNERSHIPS
Forbes' 2021 Green Growth 50 List
Newsweek America's 2021 Most Responsible Companies
EcoVadis Gold Status, positioning Jabil in the top 5% of companies assessed
Forbes' 3rd annual list of America's Best-in-State Employers, ranking No. 8 for the state of Florida
Recognized as a "Best Place to Work for Disability Inclusion" by Disability:IN
Finalist PR News CSR & Diversity Awards – Best CSR Event – Day of Service with the Tampa Bay Buccaneers
Named one of the "Most Sustainable Companies in Jalisco" by The Ministry of Environment and Territorial Development
2021 Sustainable Medtech Company of the Year Finalist
OUR
SGD CONTRIBUTION
We contribute to the achievement of the
following UN Sustainable Development Goals:

SUSTAINABILITY REPORT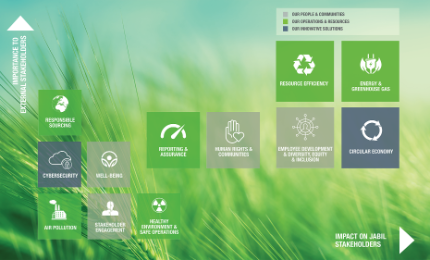 SUSTAINABILITY REPORT
In 2021, we developed a new global strategy that's designed to take our sustainability efforts and impact to the next level. Our 2021 Sustainability Report details our refreshed strategy, new pillars, goals and metrics, as well as the stories of our employees and partners who help bring our purpose to life.
OUR FIVE-YEAR GOALS
DRIVING MEANINGFUL ACTION

We are driven to make a difference for our people, our customers, our communities and our world. Everyone at Jabil plays a role in helping achieve our sustainability goals. Through our sustainability efforts, we can make ANYTHING POSSIBLE and EVERYTHING BETTER for this generation and generations to come.
DIVERSITY, EQUITY & INCLUSION
25%

OF LEADERSHIP POSITIONS HELD BY WOMEN

40+

ESTABLISHED PROGRAMS FOR PERSONS WITH DISABILITIES
EMPLOYEE HEALTH & WELL-BEING
5

ESTABLISHED
WELL-BEING PROGRAMS
AT ALL MANUFACTURING SITES

90%

OF MANAGERS TRAINED ON MENTAL HEALTH RESILIENCY
HUMAN RIGHTS
RBA
ANNUAL GLOBAL SITE AVERAGE RBA SCORE THAT EQUATES TO A SILVER STATUS RATING
COMMUNITY VOLUNTEERISM
1 MILLION
VOLUNTEER HOURS IN CALENDAR 2022
OUR
Operations & Resources
CLIMATE ACTION
25%
REDUCTION IN OPERATIONAL
GREENHOUSE GAS (GHG) EMISSIONS
HEALTHY ENVIRONMENT & SAFE OPERATIONS
77+
TARGET EHS INDEX SCORE
RESOURCE EFFICIENCY
6%
AVERAGE GLOBAL REDUCTION OF OUR ACQUIRED OR PURCHASED WATER
20% OF APPLICABLE SITES GLOBALLY ACHIEVE 90% OR MORE LANDFILL DIVERSION
*Scope 1 and scope 2 GHG emissions

CIRCULAR ECONOMY
6
TOTAL CIRCULAR ECONOMY PROJECTS ENGAGED
CYBERSECURITY
8+
ACHIEVEMENT OF ANNUAL AVERAGE CYBERSECURITY SCORE