A Global Mission to Inspire Future Manufacturers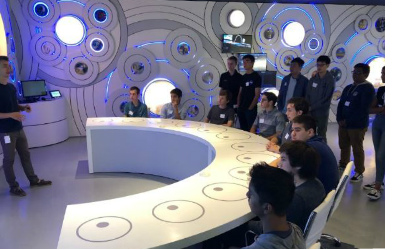 How can we as individuals impact the future of the entire manufacturing industry? Following Jabil's culture of giving back to the community and inspiring others, employees around the world have taken initiatives to teach youth and empower students to build a successful career path in the manufacturing field.
Celebrating manufacturing means paying it forward for the next generation of manufacturers. Our San Jose Blue Sky employees, partnering with NextFlex, welcomed more than 125 students from seven high schools to showcase the diverse aspects of working in the field, from prototyping to engineering to fulfillment. By demonstrating the innovative technologies that are used to design and build products, employees ignited a passion in the youth with one of the students asking, "What do I have to study in school to get to work here?"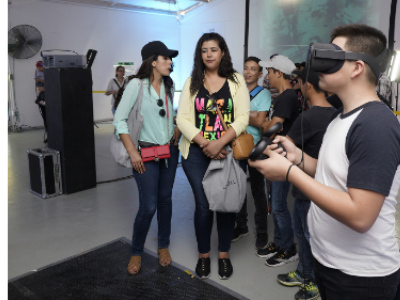 With a similar goal of demonstrating how technology and manufacturing work together, Jabil Chihuahua employees set up stations to educate children about what products Jabil makes and how these items positively impact the lives of others. Also, Fernando Saenz, senior multimedia design specialist, mixed new technologies to create a virtual reality video where the children would feel like they were on the production floor.
Some sites brought students right onto the production floor, like in Kwidzyn, where engineers took students 'behind the scenes' to see our products come to life. Similarly, at Jabil Huangpu, students from the Suyuan Experimental School toured the factory, bringing the magic of manufacturing to life by showing them 3D printing and robotic arm technology. "It was very exciting to see so many students who had a chance to experience Jabil's operations and have the chance to learn about advanced technology. I was so proud to be a part of this and hope we convinced many of them to pursue a career in manufacturing, engineering or technology!" said Chunxi Li, human resources specialist.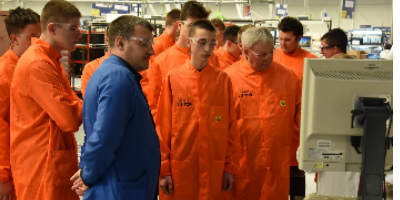 Sometimes it's about providing opportunities where nothing of its kind existed before. In Penang, employees accompanied children from an orphanage home to the Penang Tech Dome where they experienced activities and got to explore their inner fascination with science.
We're seeing a trend amongst our United States facilities to continue their investment in local robotics teams through the purchase of materials and project mentorship. You'd be surprised to learn many robotics teams are looking for guidance on documentation, finance and writing. It's becoming a great way for Jabil employees in many career focus areas to get involved.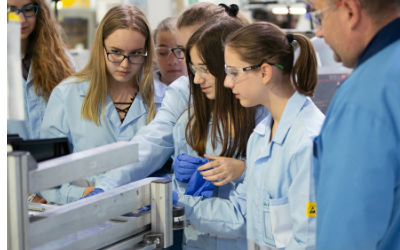 Our sites in Auburn Hills and Clinton have supported robotics teams for almost a decade, but a new opportunity in St. Petersburg at a local independent day school for students with neurodiversities caught an employee's attention. Stephen Kowski, a manager in our Radius Innovation group, provided his expertise to start a robust initiative that connects students with others in the area through friendly competition. Along with coworkers from the St. Petersburg campus, Stephen brings innovation to the students to encourage them to expand their creativity through different science, technology, engineering and math projects.
Our Jabil Cares community outreach and volunteerism platform is opening new opportunities for employees to connect with the next generation around some amazing technology, shared pathways and mentorship. At Jabil, our doors are always open to inspire the next generation to dream big.
Jabil Cares, our community outreach and volunteerism platform, supports localized efforts around specific causes related to Education, Empowerment and the Environment.