E-Waste Management: An Industry Ripe for Disruption
Electronic waste processing is an industry that hasn't seen much innovation or disruption for decades. Sure, the industry has improved and evolved, but it's longing for fundamental change. Today, this industry still relies on energy-consuming, traditional shredding and mapping processes carried out by expensive, colossal machines. Printed circuit boards (PCBs) are chopped up into smaller particles for separation to overwhelmingly contaminated downstream processes. In other words, there needs to be a better way.
The problems of e-waste are growing at unprecedented speeds and existing solutions barely scratch the surface of this crisis. The annual accumulation of e-waste is predicted to grow by nearly 8 million tons to surpass 57 million tons by 2021, according to the New York Times. This marks e-waste as the world's fastest-growing trash stream—worse than product packaging.
The aspiration toward a circular economy has been top-of-mind for leading brands, where existing components are recycled or reused. This mindset should be established from the beginning with environmentally friendly and cost-effective materials that will easily enable their reuse.
Telecommunications companies like Verizon, AT&T and T-Mobile have been utilizing take-back programs for obsolete products for more than 20 years already. Since these companies own the assets, they are incentivized to gain as much value out of them as possible. When properly done, materials corresponding to 92 percent of the total product mass is recycled, 5 percent is sent to energy recovery and less than 3 percent ends up in specialized landfill, according to a conference paper penned by a team at Nokia.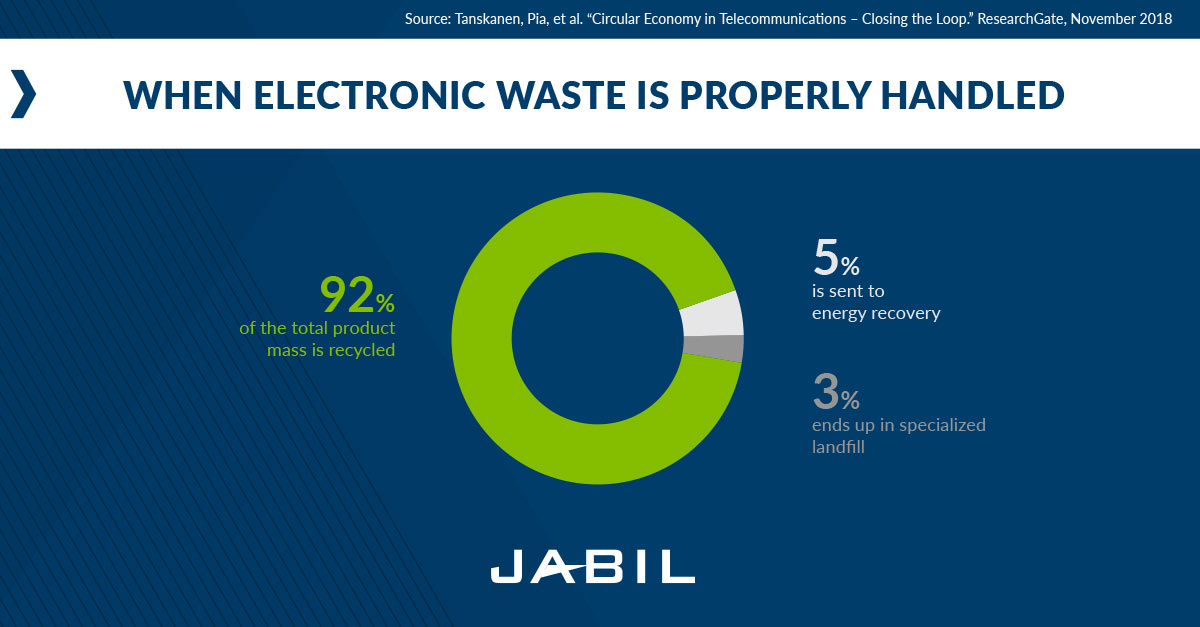 In the highly fragmented e-waste management industry, however, there is a lot of work to be done. Here are the main challenges that need to be addressed:
Changing the Product Mindset for Better e-Waste Management
The international recycling symbol (the 3 arrows in a triangular cycle) represents the three foundational principles of minimizing environmental impact, through reducing, reusing and recycling. Today, much activity is focused on recycling in the electronic waste supply chain. This creates an incomplete solution and fails to maximize the economic value of e-waste. Complete solutions should include ways to reduce and reuse components through refurbishment and/or part-harvesting activities.
For example, experts say there is more gold in one ton of cellphones than one ton of ore—80 times more, in fact. Responsibly recycling this electronic waste provides the opportunity to extract valuable materials (gold, copper, among others) for reuse, while preventing the negative environmental impact if they were disposed of improperly. In addition, it is the fastest and most economical way of reusing materials. Just a quick online search will show you the numerous companies that have had to pay millions in fines for mismanaging electronic waste—whether they played a direct role in the waste mismanagement or not.
But just as important as proper electronic waste recycling are the materials used in these products. For example, plastic is a very costly material. In electronics, different plastics are mixed to achieve the qualities required for their application. This same material, however, limits the reusability of that product when coming out from the e-waste. It's an expensive process to recycle the blended plastic and significantly limits further application.
Sometimes there are additional components tied to the plastic, such as cable assemblies, over-molded parts or even a combination of electronics and plastic. The only way to deal with these materials is to chop, separate and smelt them, which isn't an environmentally friendly option. This means it's time to change the product mindset for more efficient and effective e-waste management. Industry research is currently focused on material sciences to replace materials in the PCB, making it more environmentally friendly.
The historical product lifecycle has been linear (design, build, sell, use and dispose), which creates both environmental and health impacts at the production and disposal ends. Vast amounts of energy and hazardous substances are required in the mining and manufacturing of products, and the demand for resources has been linked to dangerous work conditions. Furthermore, the disposal and recycling of electronics can expose people and the environment to toxic chemicals when e-waste is not recycled properly.
At Jabil, we believe there is a fourth principle to minimizing environmental impact: rethink. It takes a lot of time, money and dedication to examine the entire product lifecycle and rethink how products should be designed, made, delivered and reused. But this whole process should be rethought at the beginning to better plan for optimal end-of-life for every piece and component that is included in the product and how they are put together.
Subscribe to the Jabil Blog
Sign up for weekly updates on the latest trends, research and insight in tech, IoT and the supply chain.
Integrating e-Waste Management into the Supply Chain
The issue is clear: the supply chain for end-of-life is not as well developed as the manufacturing front. The lack of timely visibility is a big challenge. Sometimes there isn't any. Many companies don't clearly understand their assets and products throughout the recycling process, or when they do it's too late. This makes it incredibly difficult to integrate everything—from their assets to their operations—together. It all comes down to data. Better electronic waste data leads to better management, more innovation and regulation. But it doesn't stop there.
As part of the industry's product mindset change, we must also recognize that recycling shouldn't be a separate industry or a different segment. It's just another part of the supply chain ecosystem. And there are great supply chain solutions out there for manufacturing for the "front-end" that can be reused what we could consider the "back-end." Or, in other words, e-waste recycling.
Many consumer electronics brands are concerned that their products end up in unintended hands. Following the substantial investments brands make in their research and development, intellectual property can get leaked through the recycling process. So, protecting the brand, protecting the Intellectual Property (IP) and protecting their customer's data is an absolute priority.
Managing e-Waste Is More than Recycling
Thinking about the current state of electronic waste and many of the players, there is an element missing from the recycling solutions available: scale.
With e-waste management, companies deal with a fragmented set of service providers that lead to inconsistent experiences. As a result, brands are looking for service providers with advanced supply chain capabilities, tools and techniques to manage the e-waste ecosystem for them.
I frequently hear the same concern from consumer electronics companies: "We're not looking for a recycler. We are looking for a partner that can help us become a better company. We are looking for a partner who can help us address the end-to-end problem and make it more sustainable, cost-effective and environmentally friendly." This is exactly why partnerships are key to electronic waste management. Providers like Jabil Environmental Technologies are taking steps to build sustainable partnerships that will, in turn, structure the ecosystem to provide solutions with full transparency and visibility—but this all requires a service provider that can simplify complexity. That's the only way we can march toward a more sustainable future—together.
Jabil Environmental Technologies
Jabil Environmental Technologies provides brands with the confidence, capabilities and vision to transform their electronic sustainability operations.
LEARN MORE