Sustaining Strategy for the Medical Device Industry
In today's medical device industry, healthcare manufacturers are facing more and more complexity managing their product portfolios. Medical devices have become increasingly digital and connected, requiring smaller, smarter and more sophisticated electronics. This digital healthcare transformation, along with other macro trends, has put pressure on medical device companies and their manufacturing partners to be more agile, strategic and informed with a predictive eye toward both technology impacts and potential supply chain risks.
What's a winning strategy for Original Equipment Manufacturers (OEMs) in the medical device market answering innovation's call with new product introductions (NPIs) while also keeping their existing and successful medical technology products relevant throughout their lifecycle?
When the goal is to sustain and ensure the most competitive profile for a customer's products it's clear: Proactive outperforms Reactive. Sustaining engineering is the key to making that happen.
Sustaining Engineering — What is it?
Sustaining engineering is the technical support of a product from the time it moves into manufacturing until the product is retired. It's a way to harness future momentum downstream in the product cycle to best ensure the product's relevance will be optimized in a crowded and competitive field of challengers.
An unforeseen shift in a single component's availability, or perhaps the entry of a more nimble competitor, has the potential to catalyze an inflection in the market and put at risk an existing portfolio of products — many with long and successful performance histories delivering valuable therapy and medical care.
With the appropriate strategy, sustaining engineering is a systematic approach to staying relevant by leveraging market intelligence in combination with technical capabilities — an antidote for a product owner or portfolio manager under pressure for being "stuck in the past" or underperforming in their product segment.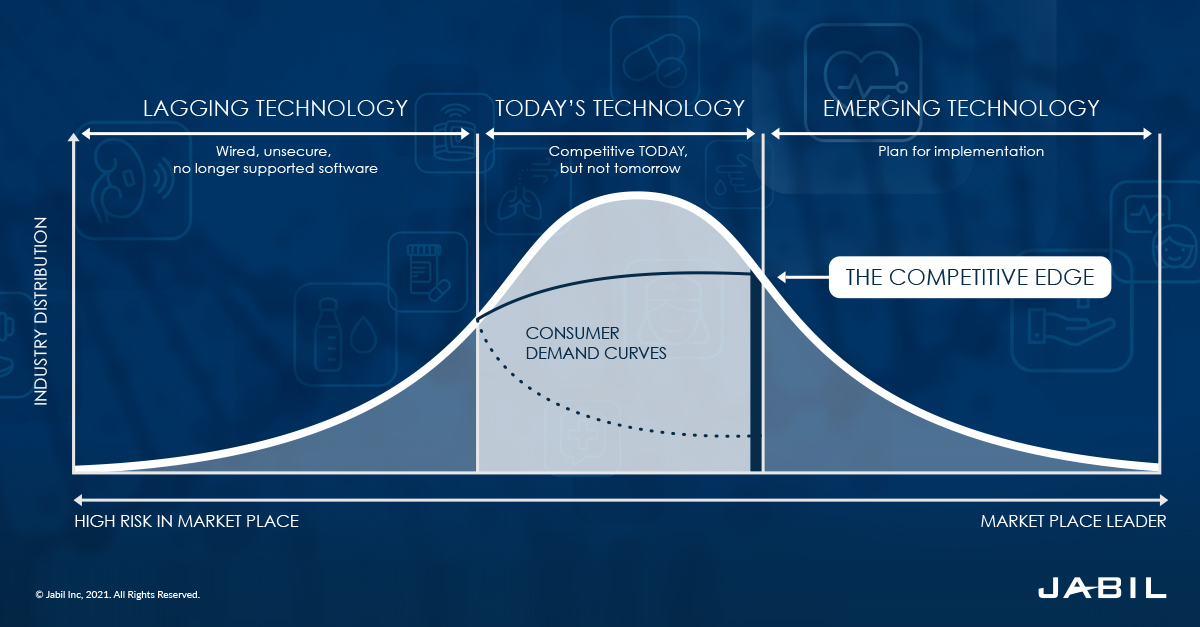 The Time is Now for the Medical Device Industry
Technology is just one of the macro trends causing a paradigm shift for the healthcare industry. Value-based care (VBC) driven reimbursement models, increased industry consolidation and technology-native competitors have all created enormous headwinds for anyone still using last year's navigation chart.
Medtech industry device manufacturers simply cannot afford any time in the market where their product isn't relevant — there's too much competition and innovation.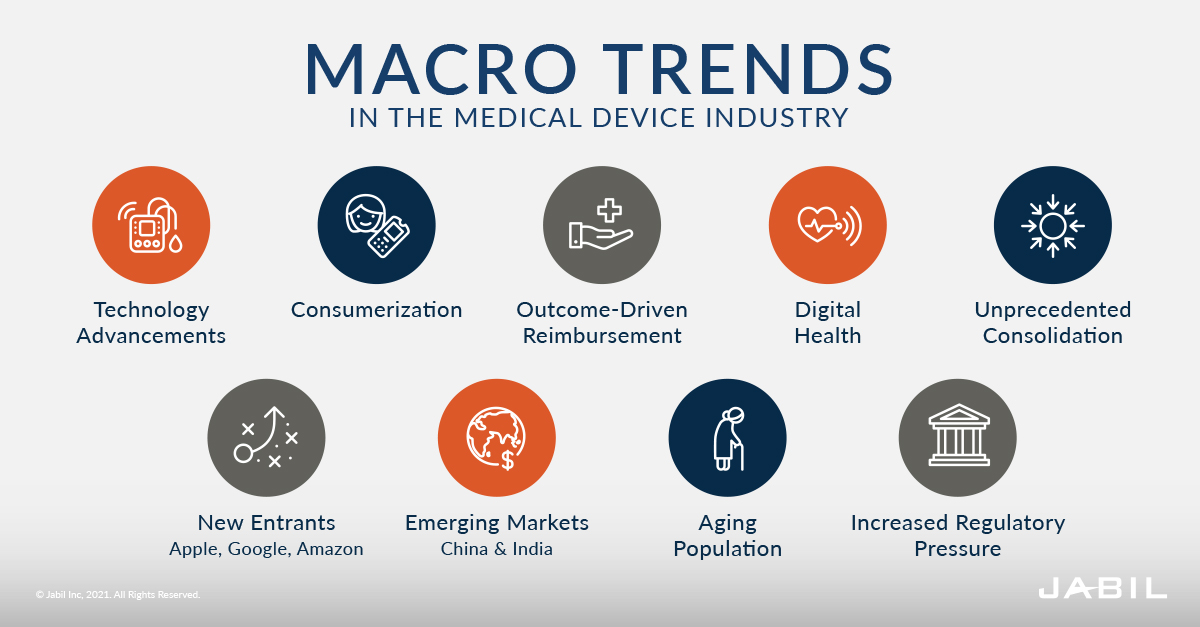 Yet, reactive approaches continue to be practiced. Older technologies still hold a place in product roadmaps without a viable strategy to maintain some level of relevance, and manufacturers continue with last-time buys to keep the old workhorse shuffling down the line.
This isn't viable any longer.
What is viable is competitive relevancy. In the medical device industry products typically have lifecycles ranging from eight to 10 years or even longer. Timelines for new device development is anywhere from three to seven years, and once a new product is in design "lockdown," the regulatory registration and approval timelines are from 1½ to three years depending on the device classification or innovation. All of these timelines are likely being juggled simultaneously in a customer's product portfolio, and all of them need to be accommodated proactively.
Jabil has been tracking healthcare's product cycle statistical trends for the last few years. In 2018, 76% of digital health solution providers had product development and launch cycles that were less than 36 months. In 2020, 87% said the same thing. The 2021 Digital Health Technology Trends Report, based on a survey of 210 healthcare decision-makers, proves the trend with 85%. More impressively, 50% said their product cycles were less than 18 months, up from 41% in 2020.
On average, how long is your company's product development and launch cycle for digital healthcare solutions?
For medical device manufacturers, the evidence is consistent and clear: A once-a-decade upgrade cadence is not sustainable — they need to iterate every two to three years to stay relevant and competitive.
Modular Design Is the Way to Go
Modular design in healthcare is a sustaining engineer's north star. It enables incremental, planned upgrades, profitably developing product variants with reduced development costs, and offering more solutions to the market for addressing a wider range of unique and specific patient wants and needs.
The automotive industry is an excellent case study demonstrating the value of modular design. The overall architecture of a car is comprised of many separate pieces or modules. The architecture, however, is not limited to one particular vehicle; its modules can extend into literally an entire dealer's showroom of cars. It is about flexibility and technology relevance.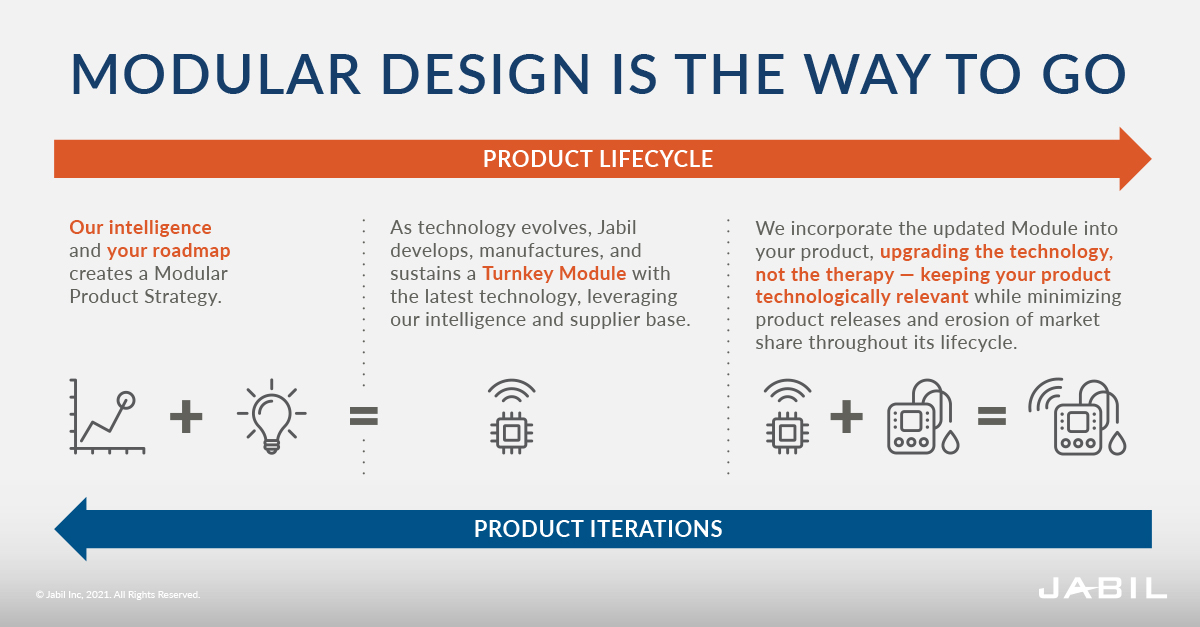 Design that leverages modular product architecture provides the best course for healthcare OEMs to ensure their products are keeping pace with evolving healthcare changes. The entire product management strategy must have supply chain impacts and technology relevance at the forefront or risk losing traction against faster, more agile competitors.
Jabil has exposure across the many product and therapy domains in healthcare, but we are additionally deeply experienced in the transportation industry as well as consumer electronics and a vast number of other segments. This cross-Jabil perspective offers tremendous value to our healthcare customers, in effect providing eyes and ears to help ensure they don't run into component obsolescence issues, technology irrelevance or other sourcing complications which inevitably result in excessive or unplanned costs.
Harmonizing Product, Supply Chain and Development Strategy
As a world-leading manufacturing services provider dedicated to solving complex product design and development challenges, Jabil works to make the right device architecture and technologies available at the right time; this is the competitive edge we secure for our customers through Jabil's Predictive Lifecycle Management Strategy.
Jabil invests in resources and tools to stay in the loop with healthcare and non-healthcare industry trends that impact our customers' medical devices. We leverage our supply chain ecosystem, and we develop and maintain strong relationships with key commodity and technology suppliers to monitor technology roadmaps. We use these insights to forecast when changes will occur through our next-gen InControl supply chain optimization tool.
Additionally, to reduce reactive, unplanned re-spins when managing obsolescence, value engineering, and other product maintenance activities, Jabil works to ensure effective design for manufacturability (DFM) strategies are being planned during forecast product updates to drive even more efficiency throughout the product lifecycle.
This allows us to help our med device customers better understand and manage their real costs for sustaining engineering — not only the direct costs, but also the drag on new product innovation and the cost of inefficient processes.
Jabil Innovation and Design Teams
Jabil has an answer for meeting requirements like this and similar customer inquiries through Jabil's Healthcare Innovation & Development (JHID) team, as well as the entire range of engineering talent across all Jabil divisions. Together, we are one of the largest product development partners in the world, with more than 3,000 strategy, research, design, technology and engineering experts on call to help Jabil customers solve their most complex challenges and accelerate the right ideas to market while reducing risk and maximizing their return on investment.
Expectations are changing as healthcare continues its shift to a market addressing patients. In this new ecosystem, patients act more like consumers, with increased demands for what's "current" and, often, what's convenient. In-home healthcare delivery is one of the more urgent macro trends in recent years, certainly due to COVID-driven needs for remote-enabled care.
Product designs that put ease of use and human factor insights front and center are providing value far beyond simple convenience. Seamless and connected engagement for patients with their providers and ancillary support systems is a potent driver for improved adherence and compliance to treatments. This is a critical value extending to the entire ecosystem of healthcare stakeholders. Continued momentum in this direction hinges on designers and engineers being able to continue pushing back on the limits of smaller form factors.
Speaking broadly, technology-based innovations in healthcare support the improved delivery of therapy. The technology is not the therapy; it's an enhancement. And the technology is evolving at a pace distinct and more rapidly iterative than the therapy.
These same technologies are also enhancing product experiences in other industries, like consumer technology, automotive and transportation, aerospace, and the smart home. All these industries are experiencing fast-paced evolution due to connectivity and automation technologies and all are increasingly incorporating the same sensors, processors, memory, drivers and power sources for their products.
The lifecycles and road maps for these components are not created or driven by healthcare — they're driven by the faster paced, more consumer-focused industries, possibly with less regulatory requirements. Competition for what's available now is certainly critical, but recognition and insight about what's going to be available later is even more impactful.
We in healthcare must be agile with our design strategies, leveraging road map insight within and outside healthcare so we can proactively adapt and change as needed.
How Intelligence Informs Execution
We've seen that seamless technology integration is key to delivering the type of predictive and preventative healthcare experiences which are increasingly becoming key to a patient's journey to increased health and wellness. The path to this future relies on emerging technologies and communication enhancements, such as 5G networks; patient care and disease state platforms built with cloud technology; and a growing roster of Internet of Medical Things (IoMT) devices.
Intelligence — whether it's via trend watching or monitoring component markets via our supplier relationships — is the key that unlocks the value of modular design strategy and lifecycle management disciplines for our customers.
Take as an example the coordination required to migrate a product from technology A to technology B (e.g., Bluetooth Low Energy (BLE) to 5G) without significant redesign or regulatory impact or any product demand shortages. To do this migration or change seamlessly, a strategy using insight and intelligence must be defined and started at design with the appropriate architecture.
Jabil's InControl — A Very Powerful Tool
Jabil's supply chain executives have supported the build out of an exceptionally powerful tool that's become Jabil's ace in the hole for delivering invaluable insights for our customers. InControl's next-gen performance ups the ante even further. Intelligence comes from everywhere, and we bring it all together to inform our predictive execution.
For customers needing speed and flexibility for changes in their product portfolio, Jabil can leverage everything we know from our experience as trusted stewards across 330 leading brands and 27,000 supplier and technology partners.
Supply Chain Orchestration
InControl uses cutting edge analytics and machine learning to guide our customers in bypassing potential revenue disruptive sourcing and product relevance issues.
Jabil's Healthcare Innovation & Development (JHID) team works together with Jabil's supply chain team to capture the intelligence our customers need for making the most informed and strategic decisions. We partner with customers to plan how often — and what it will cost — to redesign. We can also proactively, and frequently, look 10 years ahead to figure out what the impact on revenue might be due to a foreseeable problem with the components in their current bill of materials (BOM).
When budgeting for a new product, non-recurring engineering (NRE) must be considered in any analysis of a new product's potential profitability. Also, what's the existing state of their design and any other inputs, such as market demands or regulatory changes? Then we use our intelligence and analytics to estimate redesigns and advise our customer, comparing the potential revenue at risk versus the redesign cost.
We track long-term technology trends across a range of commodities (i.e., microcontrollers, memory), and we use the same algorithms developed by life insurance actuaries for their mortality tables (aka "death curves") to determine risk. We determine where the component or part is in its lifecycle; how many years to end of life (EOL); how many years of technology relevance it has left; and pull in preferred supplier status reports. From this, our algorithms will project out and advise our customer of when a redesign is needed.
Healthcare manufacturers are trying to navigate a competitive landscape in uncertain times. Their decisions regarding EOL schedules, component alternatives, lead times and commodity allocations can all potentially put revenue at risk. Our customers have questions. InControl gives us the intelligence and answers to secure their next best actions. InControl changes sustaining strategies from a traditional reactive approach to a must-needed proactive strategy.
Sustaining Your Competitive Advantage
Medical device manufacturing will always have unique challenges with regulatory requirements, factory certifications, and standards changes and compliance. These are the concerns that have always been native to healthcare. The market's shift to embracing more quickly iterative technology has just added another layer to the balancing act required to sustain prior investments while still being mindful of positioning the product pipeline for the next great innovation that's already on its way.
Jabil's Predictive Lifecycle Management Strategy is a powerful synthesis of technology, supply chain intelligence and engineering expertise, and it is a valuable solution for OEMs looking to hone their competitive edge in a rapidly changing market.
Download the 2021 Digital Health Tech Trends Survey Report
Insights from over 200 digital health decision-makers on the barriers, opportunities and the future of digital health.