Lean Six Sigma: Predictable Manufacturing & Dependable Quality in a Changing World
Supply chain disruptions. Labor shortages from workforce turnovers and health-related absences. Rising prices of goods and transportation. Now more than ever, your organization needs business partners that are committed to quality, efficiency and cost-effective production.
Manufacturers and technology providers that strive for zero defects and the elimination of waste are poised to meet these challenges head on. For Jabil, this is already our default mode of operation, with a global Lean Six Sigma team dedicated to creating and fostering a workforce of problem solvers, where employees are focused on continually driving improvements in quality, delivery and cost.
But it's not just about our output. At Jabil, we've embedded Lean Six Sigma methodologies into our culture and leadership in order to ensure that the people we work with and those we serve consistently receive our absolute best.
Lean Six Sigma: The Best of Both Worlds
Lean Six Sigma combines the mindsets and methodologies of problem-solving from Lean and Six Sigma to create a complementary system that delivers a deeper look into maximizing customer value while reducing waste. Lean is a way of thinking about creating value by analyzing processes to eliminate waste and make workflows more efficient. Rooted in the scientific method of problem solving, the main objective of any Six Sigma implementation is quality improvement through the reduction of variation and defect rates in production processes. A "six sigma" process occurs when no defects are expected in 99.99966% of all chances to produce them.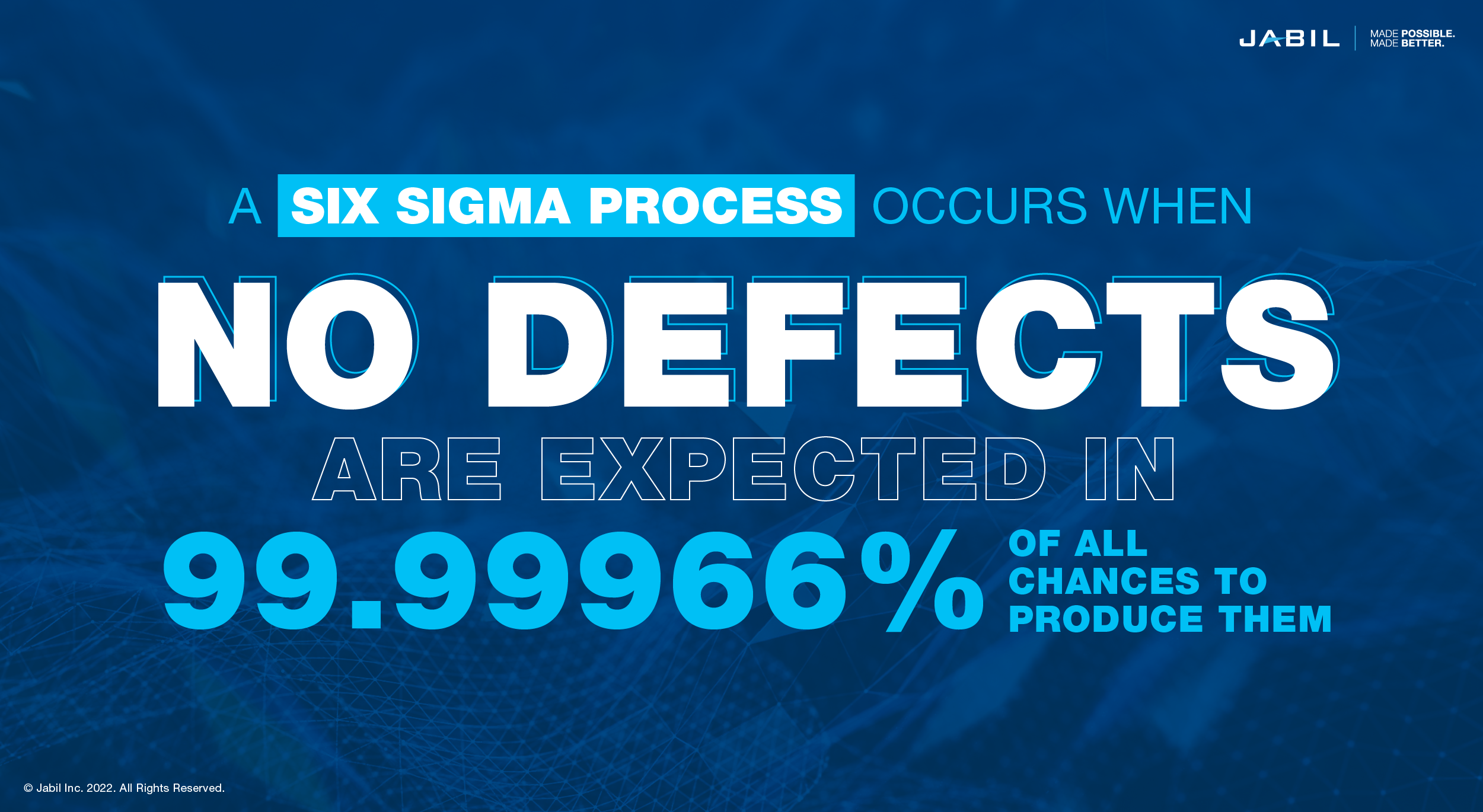 The primary difference between Six Sigma and Lean is where the inefficiencies and defects are believed to come from. Six Sigma practitioners believe that waste and defects are the result of variations in the process and can be remedied by eliminating variations. Lean proponents typically look for defects that result from incorporating unnecessary steps into the production process and seek to eliminate those steps, thereby reducing the opportunities for errors to occur.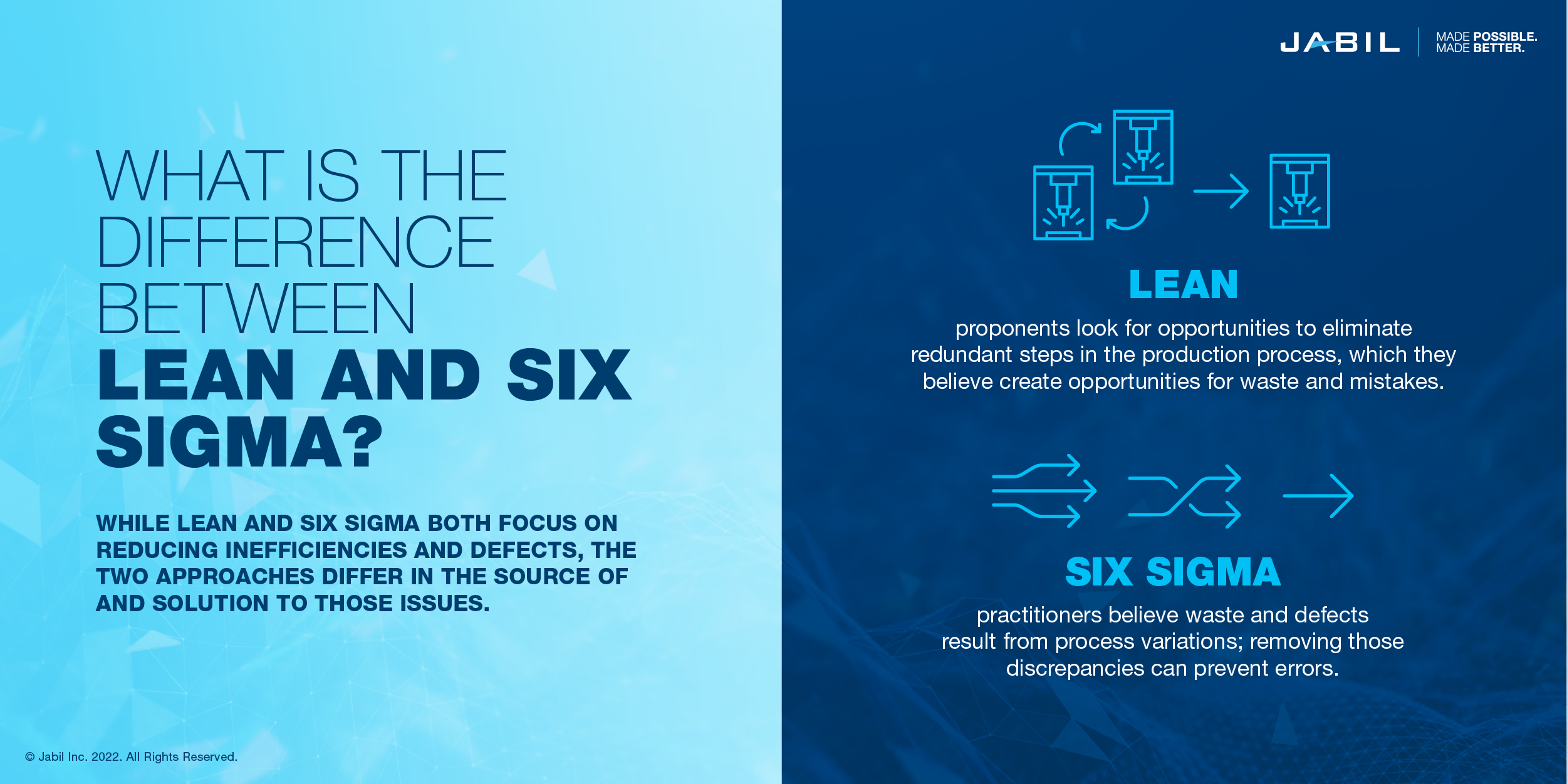 The areas of waste that Lean Six Sigma focuses on can be remembered with the mnemonic device DOWNTIME:
Defects: Products that don't meet quality standards.

Overproduction: Exceeding demand or producing more than was ordered.

Waiting: Process bottlenecks and lulls.

Non-Utilized Talent: Ineffectively using or misallocating human resources.

Transportation: Inefficient shipping methods.

Inventory: Holding on to a surplus of product or raw material, instead of employing a just-in-time (JIT) system.

Motion: Unnecessary moving of product, material, equipment or people.

Extra Processing: Doing more work than is needed.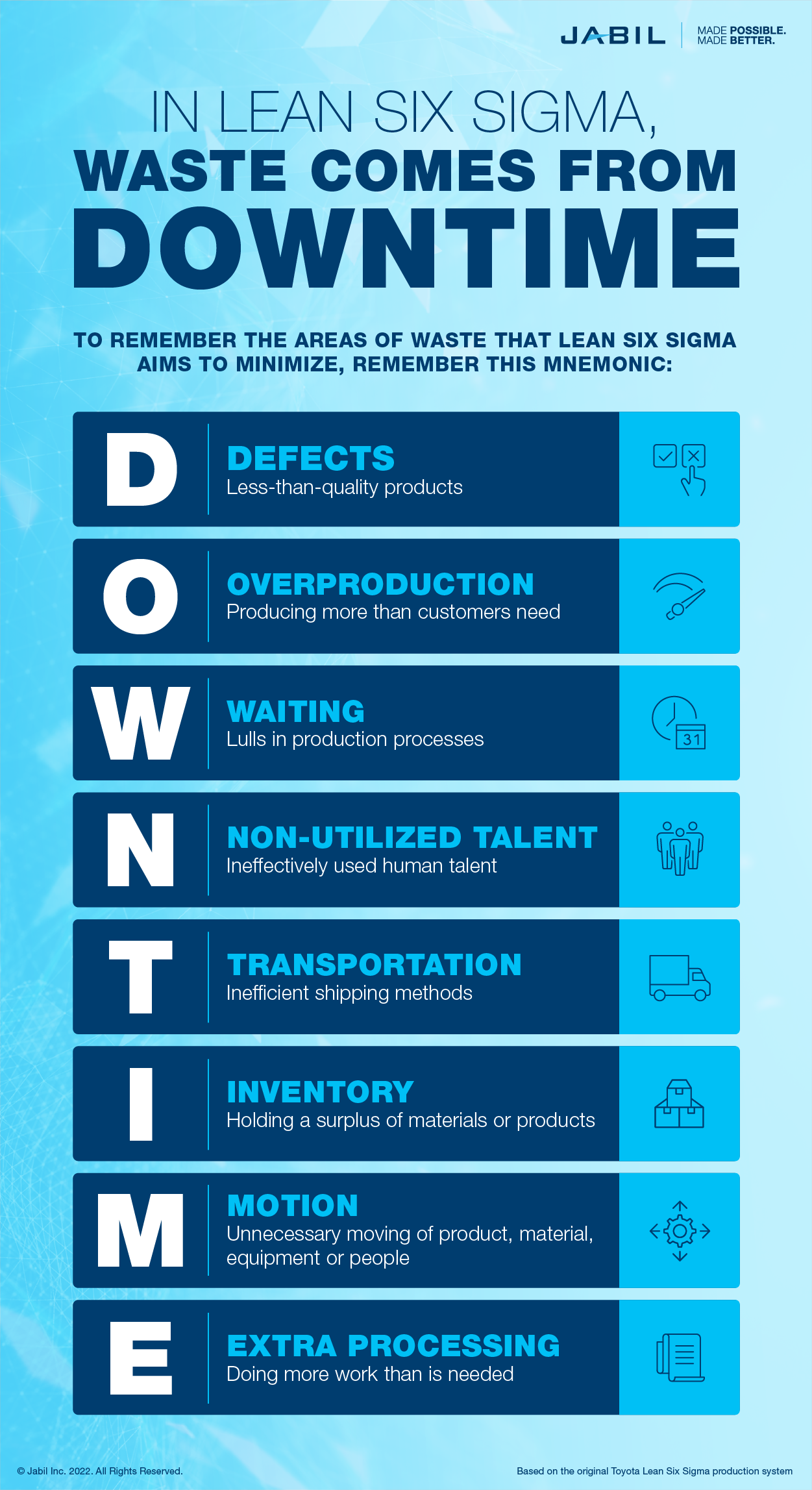 Waste reduction is a cost and time-saving endeavor, but it is just one piece of a holistic Lean Six Sigma strategy. The true goal of this approach should always be to deliver operational excellence.
Creating a Culture of Operational Excellence with Lean Six Sigma
While some business approaches are short-lived trends, Lean Six Sigma has stood the test of time and remains more relevant than ever. At Jabil, Lean Six Sigma is not merely a "flavor of the month." It permeates how we operate daily and is part of our DNA.
Jabil offers a comprehensive Lean Six Sigma training program designed to enhance our employees' knowledge of lean and six sigma. Students can learn the theory and methodology and immediately apply their knowledge. Through simulation and practical application in the work environment, employees are reinforcing a bias for action and empowering change.
At Jabil, we offer Lean Six Sigma certifications one can achieve:
Shop Floor Engagement — for direct labor employees, provides foundational Lean knowledge and understanding of Jabil's shop floor management practices. Assimilates new employees into Jabil's continuous improvement culture and supports the company's Lean transformation.

Lean Bronze — for all employees and provides foundational Lean training of Lean Six Sigma principles, systems and tools for eliminating waste.

Lean Silver — designed to create Lean experts to lead Lean transformation. Silver certified candidates are the future subject matter experts (SMEs) and leaders of the organization.
Six Sigma Green Belt — intended to provide basic Six Sigma tools and how to apply them, give candidates knowledge to support black belts and skills to facilitate basic Six Sigma projects.

Six Sigma Black Belt — provides an industry-leading approach that can tackle complex problems and deliver breakthrough performance. Black belt candidates will be able to perform advanced statistical analysis and problem solving. They are the mentors of green belt candidates and the organization's Six Sigma experts as well as complex project leads.

Lean Leadership — provide a high-level overview of Lean and Six Sigma principles for those in leadership roles; create Lean leaders that embrace Lean; drive a continuous improvement culture and support transformation from the top down; arm leaders with a Lean toolbox.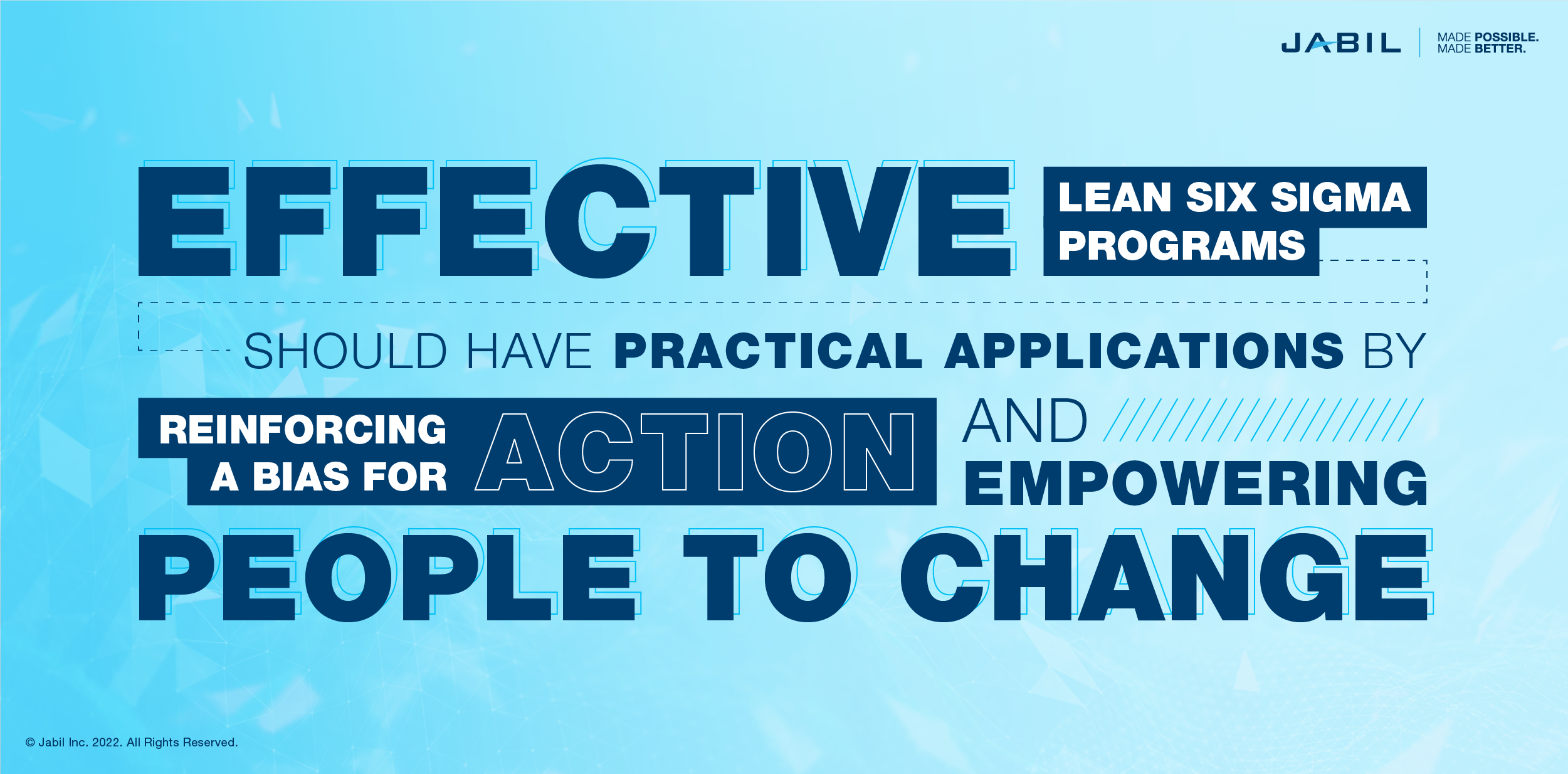 There are four principles or predominant characteristics of an organization that uses Lean Six Sigma effectively to improve quality and generate operational excellence:
Creates a culture of continuous improvement that expands across the entire site and all functions.

Embraces problem solving and encourages all employees (indirect labor and direct labor) to challenge the status quo and be innovative.

Has a clear site strategy and vision. All employees can speak to how their role plays a meaningful part in achieving the site goals; improvement initiatives are linked to the strategy.

Develops a highly aligned team of servant leaders working together to achieve a common goal with the focus on process and behaviors; performance goals are achieved as a result.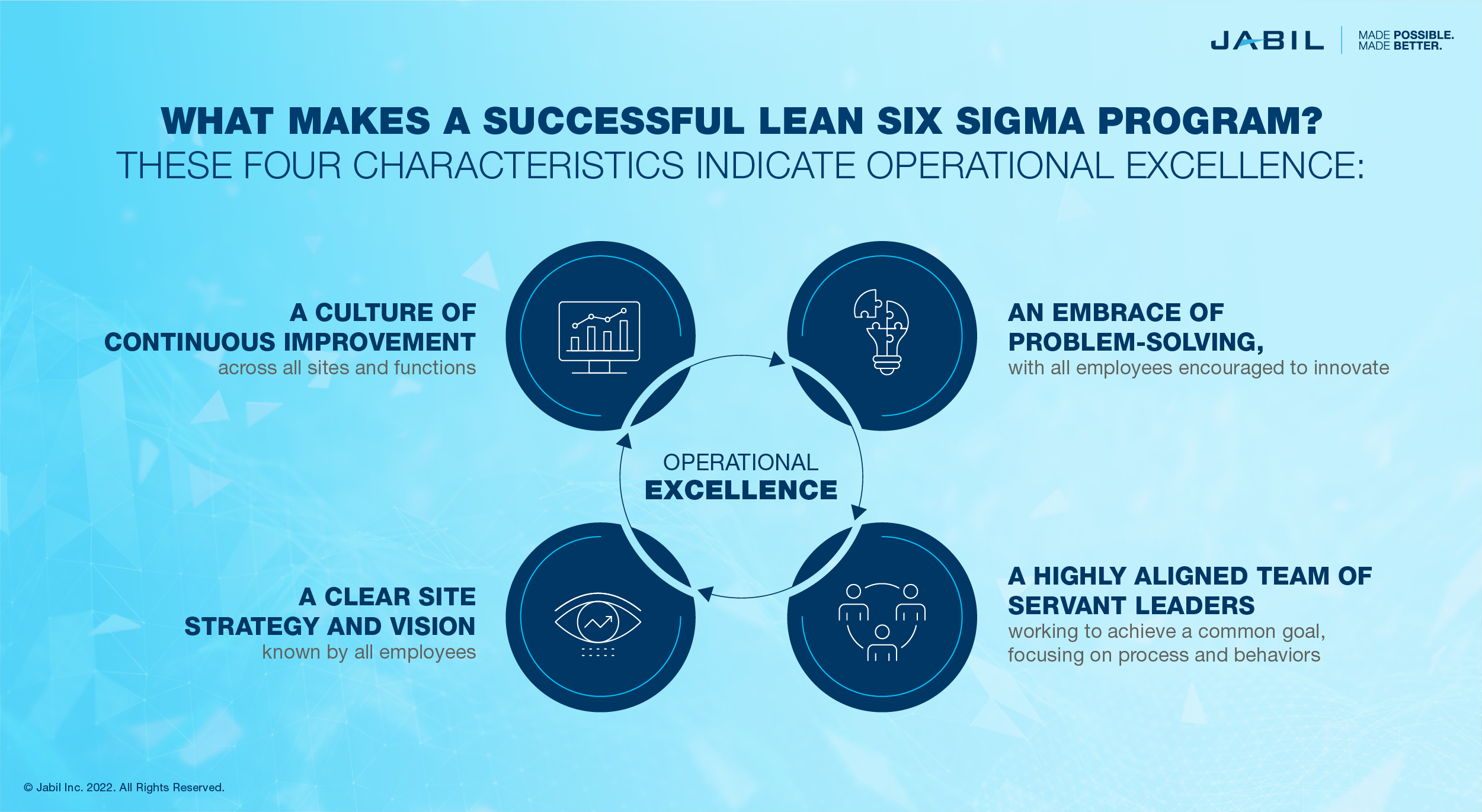 To increase the effectiveness of your strategy, a good place to start is with a plan for an organized workplace. Ensure your house is in order with the right inventory and tools in their proper places and clean, clear aisles. Engage all employees on the manufacturing floor by teaching or coaching each of them on how to identify waste and solve problems before they arise. Through this, employees gain a more thorough knowledge of processes and become a better teammate while learning to see from new perspectives and even gaining opportunities to advance.
For businesses, inefficiencies are driven out, the flow of information and products are optimized, and floor space is maximized — all of which cut costs and increase revenue. Companies who are well-versed in the application of Lean Six Sigma are better prepared to adapt to demand volatility and are better positioned to attract and retain skilled employees.
To celebrate some of the company's standout practical applications of these principles, Jabil holds an annual continuous improvement challenge called "Deliver Best Practices" that rewards, recognizes and shares innovative improvements throughout the company. The competition recognizes achievements in four areas: employees; social and environmental; operations; and beyond the factory.
A focus in these four areas of "Deliver Best Practices" helps every Jabil site foster a culture of quality and operational excellence. In 2021, Jabil's Bray, Ireland, facility was awarded the Shingo Prize, the world's highest standard for organizational and operational excellence. This achievement speaks to the power of an organization's commitment to continuous improvement through Lean Six Sigma principles.
Lean Six Sigma principles have helped Jabil deliver the highest quality products, services and supply chain management processes in the industry. Applying these concepts consistently can help increase efficiencies in areas beyond manufacturing. Here are just a few examples:
Operations:

Eliminate defects
Reduce cycle time
Reduce machine downtime
Improve labor and equipment effectiveness


Supply Chain:

Improve on-time delivery
Reduce inventory and logistics costs
Reduce lead time
Improve supplier quality


Human Resources:

Enhance employee on-boarding
Reduce cost-to-serve
Reduce new hire cycle time


Information Technology:

Improve security
Improve information accessibility
Improve business process management
Loading image ...
In today's post-pandemic world, none of us can afford to waste time, materials or human resources. In addition, COVID-19 mitigations and expanded remote work has created new challenges companies may not have anticipated. Implementing – or continuing to utilize – a process such as Lean Six Sigma can help ensure that quality and safety endure.
Because Lean Six Sigma focuses on improvement, its principles and tactics can be applied across nearly any industry. Organizations that implement Lean Six Sigma are likely to reap financial savings, increased efficiencies and improved employee retention, while delivering a better customer experience.
How can Jabil's Lean Six Sigma team help your business? Contact us.