Commercial Drone Manufacturing
Power your fleet to go farther and see more with smart, reliable Jabil solutions.
The growth rate forecast for the commercial drone market is expected to be 40% from now until 2030.* For now, industries as diverse as entertainment and agriculture are adopting drones at the highest rates. Today, drones are delivering retail packages and other industries that require far-ranging inspections like utilities, real estate, communications networks, and construction sites are also adding drones to their toolbox.
So how do you keep up with this rising demand? Jabil can help speed your time to market by providing necessary capabilities in materials, power management, optics, sensors, molding, assembly, and electro-mechanical manufacturing. Today, Jabil provides many of these solutions to top automotive brands to support autonomous driving features which are similar to drones used in beyond-visual-line-of-sight (BVLS) missions.
Working with Jabil provides you with the confidence of a proven partner with expertise in many key features of modern drones. The technology and capabilities associated with drones have exploded far beyond the hobbyist. Used in the critical industrial, agricultural, and defense sectors, today's drones have sophisticated on-board intelligence that includes:
Real-time remote control

Video streaming

Environment-sensing capabilities

Autonomous self-landing

BVLS (Beyond Visual Line of Site)

Battery power management
Each of these features require solid experience in complex technologies and high-quality operations. Jabil is ready to take some of your burden by providing Drone manufacturing solutions that ensure a reliable drone—produced at scale and at speed—operating at top performance.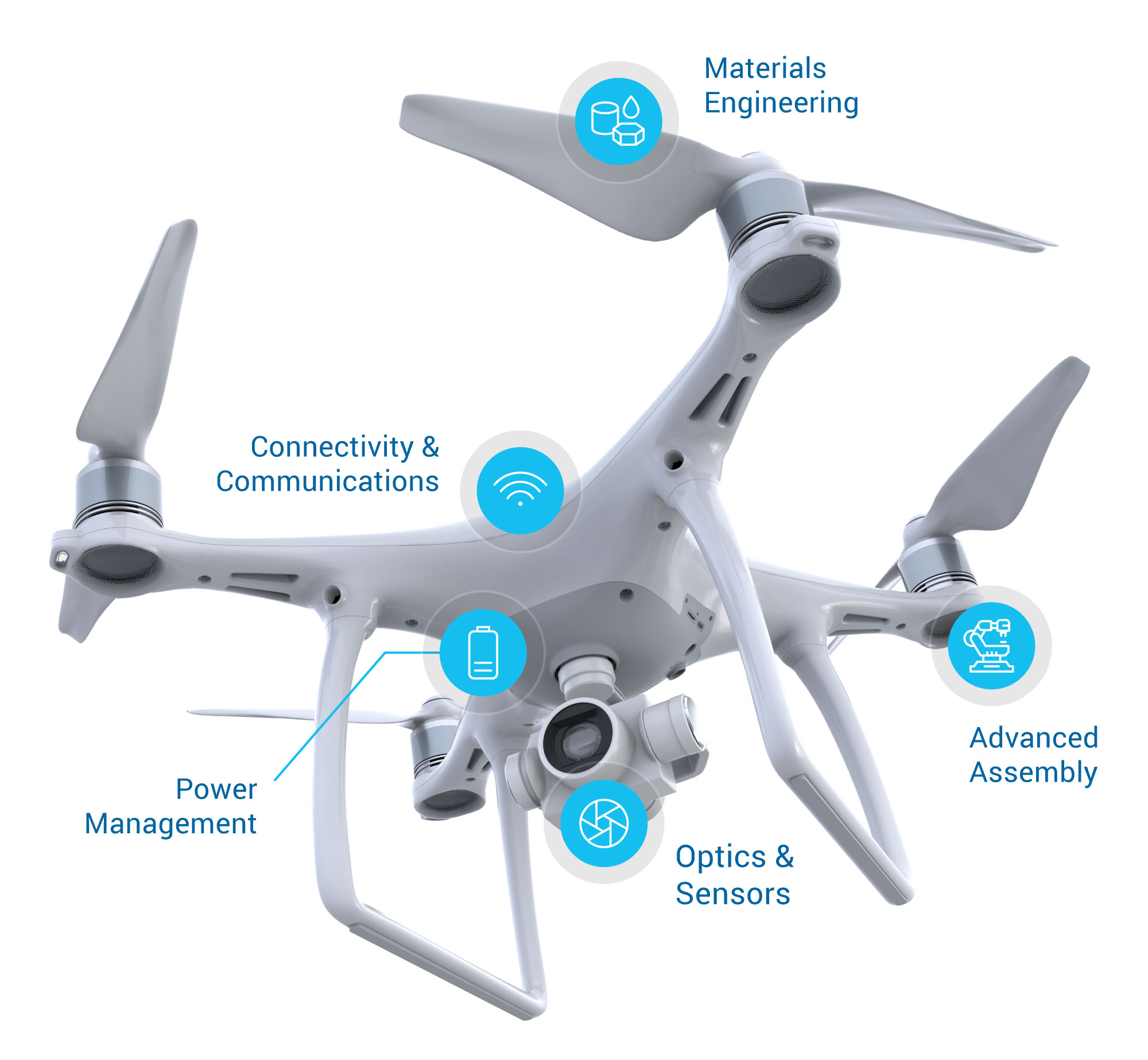 Jabil's drone manufacturing solutions address all aspects of the complex drone ecosystem applying individual capabilities through integration, testing, and final packaging.
Capabilities
Optics
Interior Cameras

Exterior Cameras

Thermal Imaging

Active Alignment

360-degree Cameras

LiDAR

Radar
Manufacturing
Electronics Manufacturing Services (EMS)

High Mix, Low Volume

Build to Print

Industrialization

Ruggedization
Quality & Safety
Commercial-level Testing

AS 9100

ISO Certifications

VDA Certifications
Supply Chain Services
BOM Optimization

Procurement Intelligence

Resource Planning

Orchestration & Analytics

Transportation & Logistics
Gain Supply Chain Advantages
By contracting with Jabil, your product and development teams can optimize design for supply chain risk/performance, testability, and manufacturability. Jabil has the skills to take the concept and walk it through engineering, supply chain, and manufacturing ‒ i.e., the prototype skillset to drive through to production. The resulting design will drive costs down, enable high quality levels within manufacturing, allow appropriate testing, and expedient ramp to mass production.
Power Management Requires Automated Manufacturing
To manufacture power and charging technology, automated assembly is critical to ensuring the integrity of its multi-board, multi-cable, complex mechanical assembly into an environmentally sealed end product. Maximized efficiency, quality of the finished product, and repeatability during production can be achieved through Jabil's highly automated manufacturing. With the right expertise, even complex product assemblies such as battery junction boxes, on-board chargers or traction inverters can be produced using highly automated manufacturing techniques.
Tap Into Specialized Manufacturing
Power management and charging electronics manufacturing require a significant amount of expertise, competence, and specialized processes, equipment, and facilities. Re-purposing existing factories and labor takes substantial investments in buildings, equipment, and know-how. Therefore, it makes sense to partner with the manufacturing specialists at Jabil who have already made investments and built expertise in complex, regulated industries.