Jabil Elevates Materials Sustainability with Introduction of PLA 3110P Powder Based on NatureWorks' Ingeo Biopolymer
NatureWorks' Ingeo biopolymer helps convert atmospheric carbon dioxide into new performance powder, resulting in a smaller carbon footprint than incumbent materials
First to market PLA-based powder fulfills need for general prototyping, thermoforming, and compression fabrication, such as dental molds
Sampling program accelerates adoption of advanced engineered materials
ST. PETERSBURG, Fla. – April 26, 2023 – Jabil Inc. (NYSE: JBL) today introduced PLA 3110P, a novel powder based on a renewably sourced biomaterial that offers a bio-based alternative to petrochemical-based powders, such as Nylon-12 (PA 12). Developed in collaboration with NatureWorks, a leading manufacturer of polylactic acid (PLA) biopolymers, the new Jabil PLA 3110P material is made with NatureWorks Ingeo™ PLA and leverages Jabil's "beaker to box" material innovations to deliver the first-ever PLA-based powder optimized for powder-bed fusion technologies.
"Breakthroughs in material innovations are being driven by the need for better performing polymers," said Luke Rodgers, senior director of R&D for additive manufacturing at Jabil. "We applied advanced morphology control to produce this sustainable and bio-based powder based on NatureWorks' Ingeo biopolymer. Together, we are enabling an entirely new class of PLA material for the growing ecosystem of open additive manufacturing platforms."
Turning Greenhouse Gases into Performance Polymers
Jabil and NatureWorks collaborated to create, test, and validate Jabil PLA 3110P powder by combining NatureWorks' expertise in PLA technologies with Jabil's experience in developing polymer formulations, novel compounds, and material system integration. As a result, the new engineered material can advance sustainability initiatives while providing a low-carbon alternative to nylon-based materials.
"We are excited to join Jabil in launching the first Ingeo-based powder for open selective laser sintering (SLS) printing platforms," said Salvador Ortega, global industry manager for NatureWorks. "Our Ingeo material is a lower-cost alternative with a carbon footprint that is 89% smaller than PA 121, which makes it well suited for a wide variety of additive manufacturing applications."
According to research firm SmarTech Analysis, polymer additive manufacturing technologies are forecasted to move into a multitude of industries over the next decade, with print production growing to nearly $26 billion annually by 2030. With the launch of the new Jabil PLA 3110P material, customers now have more material choices for making prototypes as well as manufacturing brackets, jigs, fixtures, and tooling. Moreover, the new PLA powder is an eco-friendly option for producing the precision geometries needed for thermoforming and compression molds, including custom dental impressions.
Jabil continually applies polymer science advancements to elevate commodity resins with value-added attributes. Over the past two years, Jabil has introduced patent-pending materials, including PA 0600, which provides the high strength and stiffness associated with Delrin® or alternative POM materials without the risk of exposure to formaldehyde emissions when the material is overheated. In 2022, Jabil released the award-winning PK 5000, which features high-impact strength, high-abrasion resistance, and improved elongation over other nylon materials. The polyketone resin used to make PK 5000 is an eco-friendly, low-carbon material made from carbon monoxide, which can further reduce carbon footprints.
In addition to advancements in materials, Jabil continues to extend its global additive manufacturing platforms and solutions to complement the company's world-class manufacturing capabilities. Jabil has deployed hundreds of 3D printers — from desktop models to highly sophisticated industrial systems — to address a vast range of prototyping, tooling, and serial production demands.
Sampling Program Now Available
To accelerate availability of its specialized engineered materials, Jabil has formalized a sampling program to provide customers with printed files and materials for a broad range of manufacturing requirements. Samples of Jabil PLA 3110P powder made from Ingeo are available, along with samples of Jabil PK 5000.
Parts made with Jabil PLA 3110P, Jabil PK 5000 and Jabil PA 0600 will be on display at RAPID'23, May 2-4 in Chicago (Booth 2140). Additionally, Jabil experts will be available to share updates on the company's capabilities encompassing part design using Design for Additive Manufacturing (DfAM) and part consolidation, along with the latest in prototyping and serial production.
1Comparison between the global warming potential of PA-12 and Ingeo PLA biopolymer.
PA-12 data source: Life cycle assessment of a PA12 powder material for additive manufacturing, Fraunhofer Institute, November 7, 2022. Ingeo PLA biopolymer data source: Life Cycle Inventory and Impact Assessment data for 2014 Ingeo™ Polylactide Production. Industrial Biotechnology, Vol 11, No. 3. Pg. 167-180. June 2015.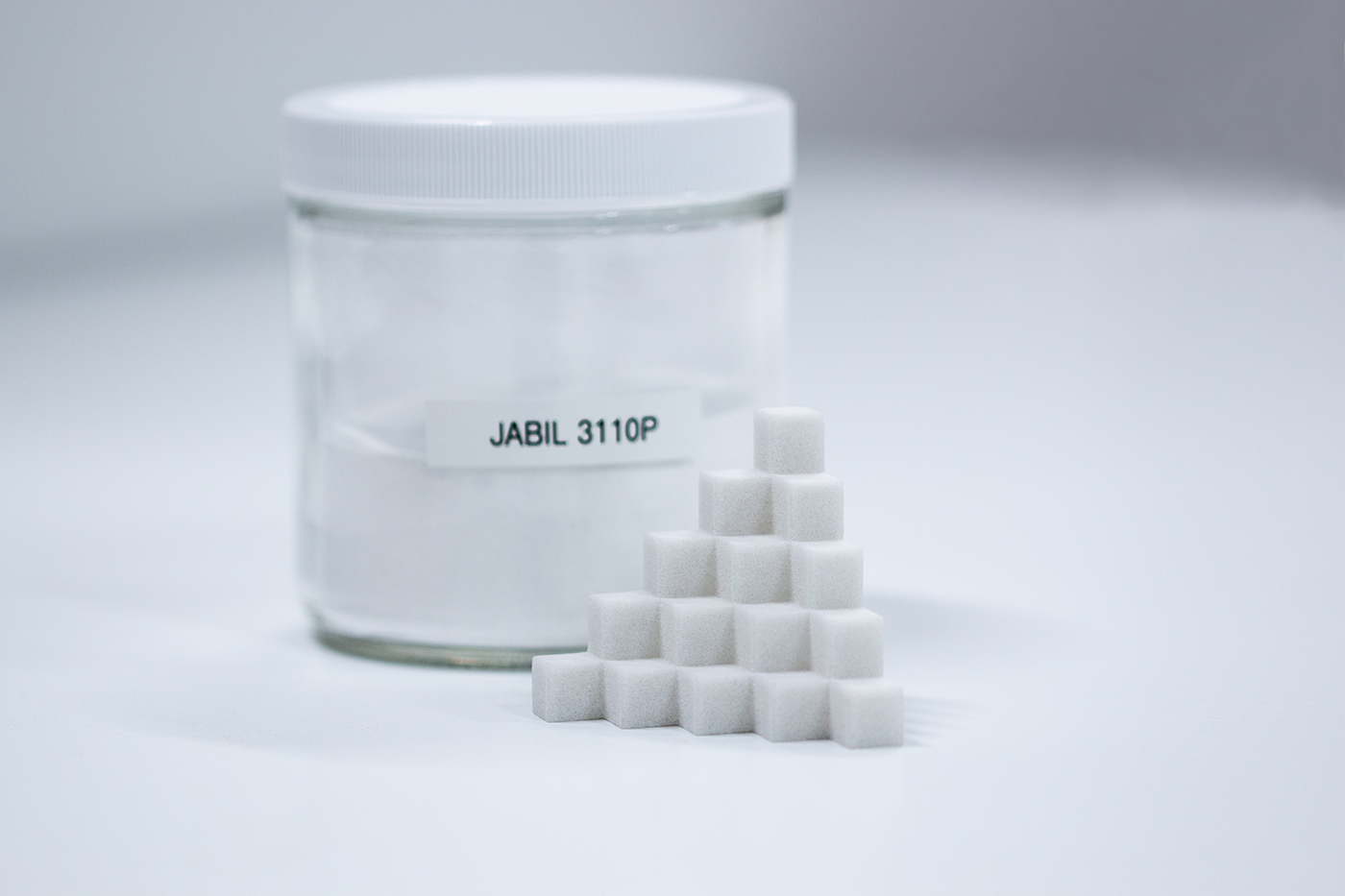 About Jabil:
Jabil (NYSE: JBL) is a manufacturing solutions provider with over 250,000 employees across 100 locations in 30 countries. The world's leading brands rely on Jabil's unmatched breadth and depth of end-market experience, technical and design capabilities, manufacturing know-how, supply chain insights and global product management expertise. Driven by a common purpose, Jabil and its people are committed to making a positive impact on their local community and the environment. Visit www.jabil.com to learn more.