Our Process
Integrated Automation Solutions
Engaging for Success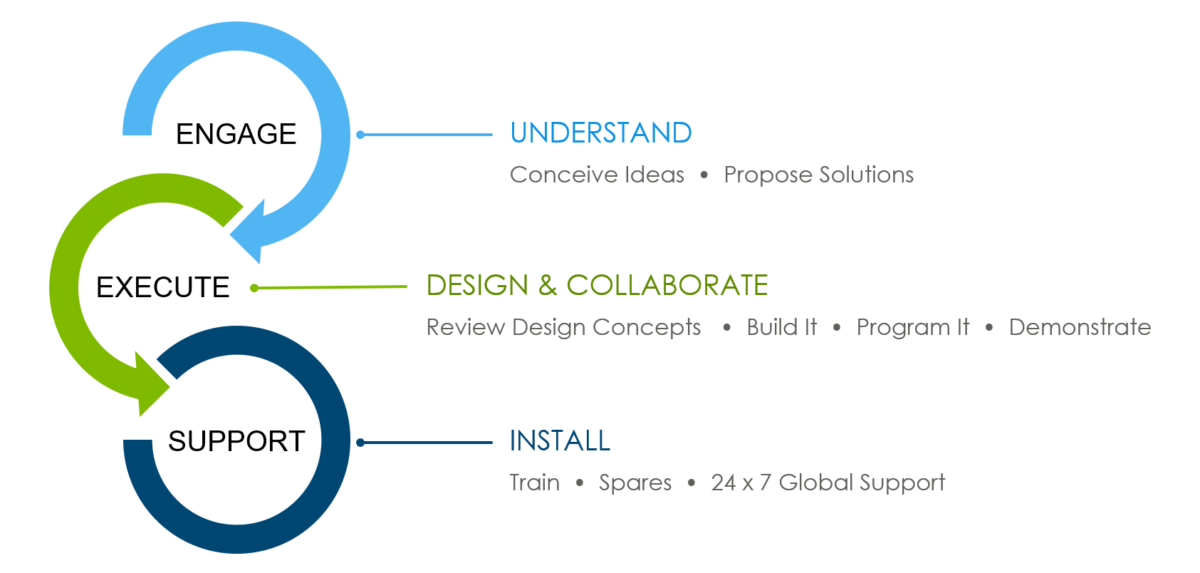 UNDERSTAND
We always seek first to understand the customers environment, needs and constraints. You are the ones who live in the production environment and have a visceral understanding of what will work and what won't.
Information input at this stage is invaluable – product design details, materials & process requirements, equipment specification – all contribute to a complete understanding of the customers wants and needs.
DFX-DFAA
Jabil Precision Automation engineers can support Design for Automatic Assembly (DFAA) activities with our customers' products to provide suggestions that will enable better assembly processes and more robust final products.
BRAINSTORM & CONCEIVE
Jabil Precision Automation engineers draw on years of experience and industry exposure to develop a conceptual solution for the problem at hand. This typically involves a multi-discipline team and a lot of time at the whiteboard.
SOLUTION PROPOSITION
We review our solution concept with you to be sure we are aligned. That is followed by a formal written proposal with a scope of work and pricing for the complete effort.
Execution
PROJECT KICKOFF
Our project management staff and the engineering team meet with your team to launch the project; reconfirming expectations and establishing the timeline for the project.
COLLABORATE & INNOVATE
The assigned cross functional engineering team jumps in to move from the original concept to a working design model. This can involve as much collaboration as you choose, and you will be well informed throughout the process.
DESIGN REVIEW
The design review is a check-point to be sure you concur with our team that design solution we are presenting is fully aligned with your production needs and project specifications.
BUILD IT!
We get to work bending, welding and cutting chips to build your machine. Purchased materials are sourced and added to the assembly. Motors, sensors and actuators are installed, wired and calibrated.
PROGRAM IT
Our expert software engineers load and test their program material and the machine comes to life.
TEST IT!
Each system is rigorously tested for proper functionality and optimum performance. It is at this point that our seasoned test engineers put their experience to work to make sure your machine is tuned to perform reliably in production.
DEMONSTRATE THE SOLUTION
Every machine gets a Factory Acceptance Test; preferably with you present. This is another check-point to confirm that the solution we are delivering matches what was specified, proposed and agreed to at the design review. With your approval, the machine is shipped.
PROJECT MANAGEMENT
Our PM staff diligently schedules each project down to every resource to make sure we can provide a reliable schedule. Material and labor costs for every project are closely tracked within an enterprise level ERP system, enabling our staff to continuously improve our project management accuracy, much like we do with our equipment.
INSTALL THE EQUIPMENT
When your completed machine is delivered to you, we make sure it's installed and working to peak performance before we declare the installation successful. You'll get engineers and techs working side-by-side with your technical team and operators to install and test the equipment.
Support
TRAINING & DOCUMENTATION
Our staff will be there to train you to get the most out of your new automation equipment. We provide a full documentation package to allow you to support and maintain the equipment for years of service.
SUPPORT BY PHONE
We offer round the clock phone support with immediate response or a call back within 2 hours.
SUPPORT WITH PARTS
Jabil Precision Automation can supply your spare parts, or you can procure them directly, which ever provides the most expediency for you.
SUPPORT WITH ONSITE HELP
Jabil Precision Automation field service engineers are available when called upon; for remedial support, application process support, additional training, or upgrades.