Supply Chain Network Optimization
Jabil's Network Optimization Puts You Back in the Driver's Seat
The Impact of Change on Your Supply Chain
An optimized supply chain network means minimized cost and risk along with improved service and the fastest-possible throughput. Yet increased global outsourcing, the rise of big data, and the need to simultaneously support many different market segments make today's multi-tier supply chain networks extraordinarily complex. Rapidly changing global trade and tariff challenges introduce new risk factors that must be managed.
How do you understand the variables that impact on your supply chain performance? How do you model and flex those variables to increase value?
Jabil's Supply Chain Services Ensure Network Optimization
To meet these challenges, Jabil's Network Optimization service simulates and optimizes footprint scenarios, factoring every facet of the network, from raw material sources to end-customer locations. By providing rich scenario modeling – customizable for any supply chain – Jabil's Network Optimization solution enables reliable, fact-based decision making with remarkable accuracy. This service leverages:
Activity based modeling to explore optimal solutions
Customized constraints and configurations for real-life simulation
Deterministic sensitivity to show tipping points between scenarios
Find The Tipping Point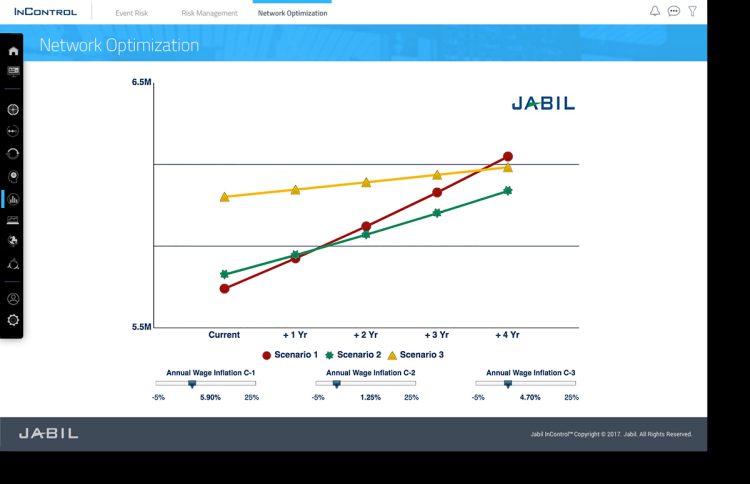 A sensitivity analysis of major macroeconomic cost-drivers allows businesses to find tipping points and understand future costs. Intuitive visualizations simplify complex algorithms enabling accurate decision making at the speed of digital.
Understand The Big Picture
Comprehensive, activity- based simulations illuminate even the most complex supply chains with easy-to-understand maps, graphs and dashboards. The calculations driving these simulations are validated by experienced, global supply chain experts.
Quantify The Intangible
Interactive dashboards, with custom controls built specifically for each business, provide immediate data-driven insights into supply chain risk and cost. Visualize changes in distribution, sourcing options, taxes, duties and more, in seconds.