Supply Chain Technology Stack: A Digital Roadmap to Resilience
Over the past few years, the global supply chain has resembled less a series of interconnected links than a line of dominoes, with an accelerating force knocking down each subsequent tile. The organizations that have best withstood these opposing forces tend to possess a strong supply chain technology stack.
While technology stacks are common in most industries, the recent series of worldwide supply chain disruptions — from COVID-19 to the Russian invasion of Ukraine and fluctuating oil prices — highlight a pervasive need for organizations to invest in supply chain technology. With a well-planned technology stack in place, businesses can integrate logistics data and pivot quickly, strategically and efficiently when supplier issues or part shortages arise. In calmer times, they can streamline operations and free people from "busy work."
Supply chain professionals across industries are increasingly finding value in data-rich digital platforms. In a global supply chain survey conducted by Jabil and IndustryWeek in January and February 2022, more than eight in 10 (82%) respondents said they have already invested in or plan to invest in supply chain technologies to mitigate future disruptions.
Organizations are increasingly bringing digital transformation technologies (such as cloud, the Internet of Things, blockchain, artificial intelligence and machine learning) to the forefront. In the midst of supply shortages, transportation challenges and more, the pandemic exposed the need for transparent, data-driven systems to streamline complex protocols. By providing this capability through a technology stack, solid competitive advantages emerge — including enhanced supply chain resilience.
Download the Supply Chain Readiness Report.
Five Supply Chain Technologies to Consider
Exposing potential weaknesses in a supply chain before they become problems allows for a solutions-based approach. Technology can help organizations strategically prepare for the future's inevitable challenges while minimizing the impact of those disruptions as much as possible. Whether the outside stressor is COVID-19, increased regulations or component shortages, a technology stack designed to meet these threats head-on offers alternatives — different suppliers, components, logistics routes or even different processes to deliver the products your customers expect.
After careful consideration of the business needs, teams should look to solutions that empower resilience and implement the appropriate stack effectively. Successful completion of this aim results in proactive and reactive response, compliance, scalability and efficiency.
How a technology stack achieves the intended benefits is diverse and varied. Multiple categories of solutions exist that serve to strengthen supply chain resilience. Here are five supply chain technologies companies should consider implementing to prepare for the next disruption.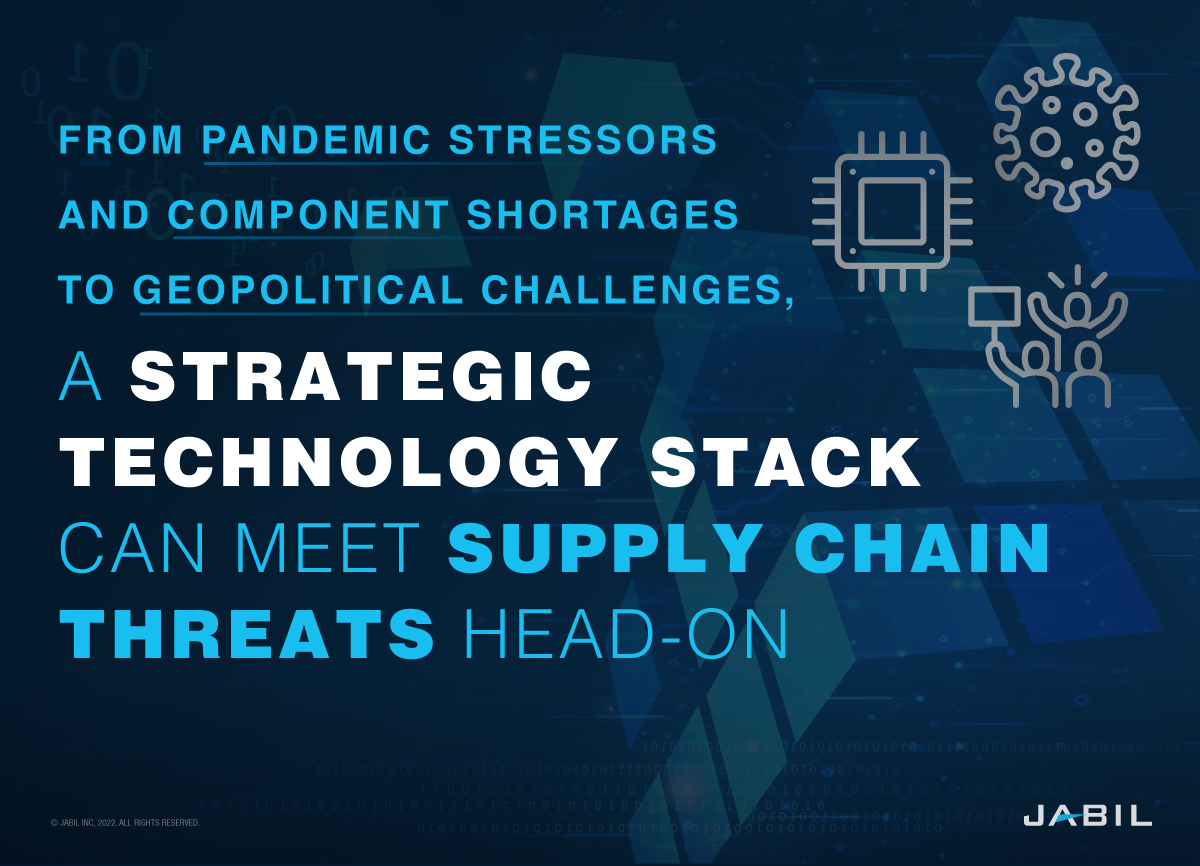 1. Supply chain orchestration
More than a quarter (27%) of survey respondents implemented technologies to manage risk during the pandemic to improve their supply chain performance. This is likely because the events of the past few years have caused many organizations to face a stark reality: Their supply chain was not prepared to navigate disruptions on a massive scale, usually due to a lack of transparency and flexibility built into their plans.
Only 31% of respondents rated their organization's ability to handle disruptions as "excellent," saying they have end-to-end visibility across their supply chain and can adapt quickly. Exactly half rated their resilience as "good," explaining they don't have full end-to-end visibility but have made significant investments in their capabilities, including technology. Nearly a fifth, 18%, said they have only an "acceptable" ability to handle disruptions, lacking the visibility necessary to handle another major event.
These answers hit on the most important element of supply chain risk management — visibility. The purpose of supply chain orchestration and analytics platforms is to use real-time data and intelligence to provide a transparent view into every step of the supply chain and minimize risk. There are no surprises when critical information about materials and products, like cost, availability, locations and lead times are available at your fingertips in one digital platform.
Any supply chain orchestration platform your organization chooses should accomplish three main goals:
Provide actionable insights driven by real-time data
Create greater visibility into supplier readiness, security of supply, and inventory
Allow supply chain teams to work with engineers and other teams cross-functionally to design the most sustainable, cost-effective product life cycle and supply chain
Jabil's intelligent supply chain decision support solution combines expert knowledge and data from supplier relationship managers (SRMs) and global commodities managers (GCMs) with commodity-level market data. Together, these two groups of data are joined to create analytical models that the platform uses as the base to make optimized supply chain decision recommendations and identify potential disruptions in the technology lifecycle.
Another key building block for a truly digital supply chain is the implementation of intelligent procurement.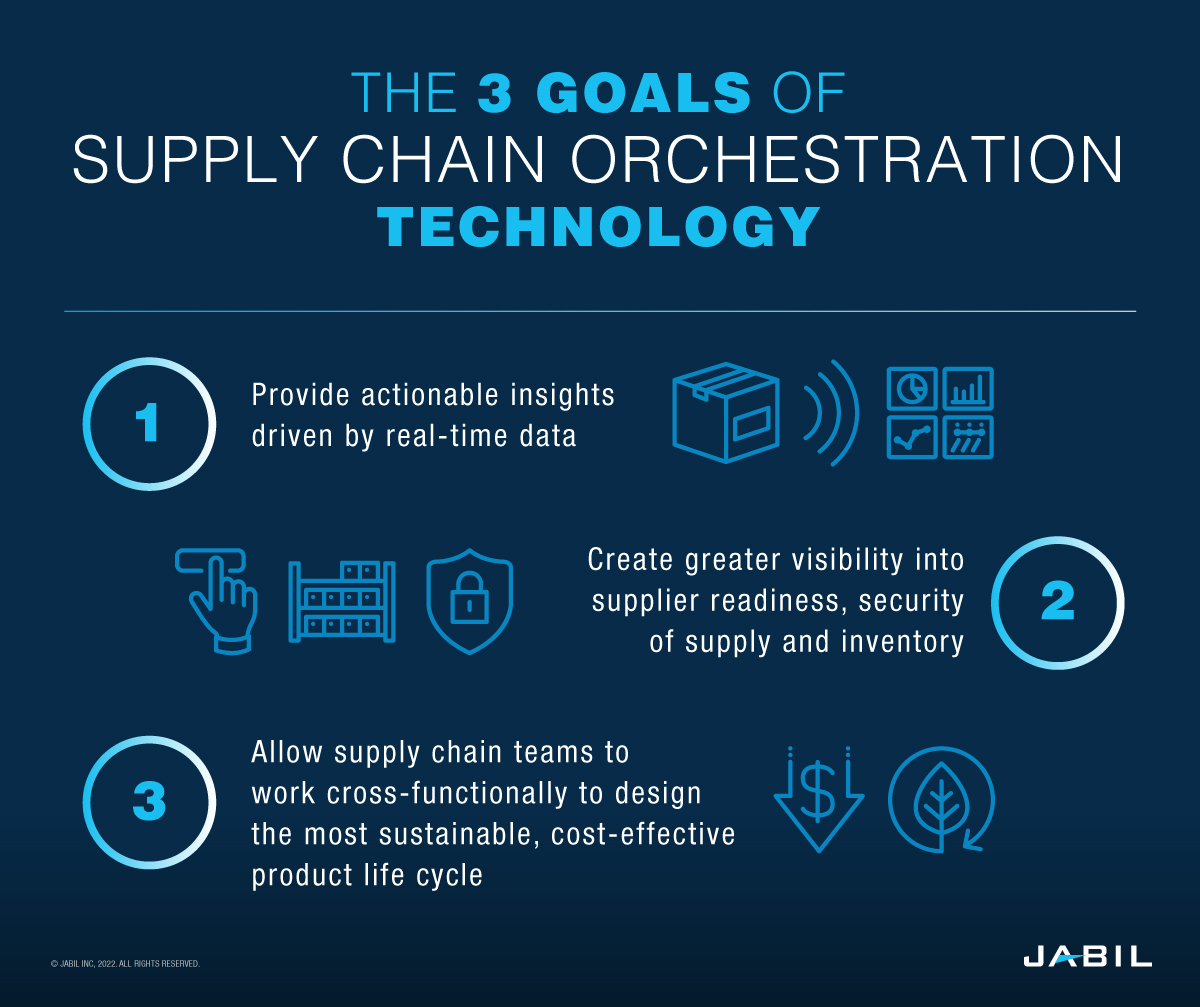 2. Procurement intelligence platform
Better sourcing, better buying and better decision-making related to commodity management and sourcing opportunities: that is the catalyst of a procurement intelligence platform. A complement to supply chain orchestration technology, the platform continually sifts through data, interpreting it and identifying commodities and suppliers.
Direct and indirect sourcing opportunities become clear with this type of platform. A filler of compliance gaps and an overall time-saver, procurement intelligence platforms operate within comprehensive rules and regulations to streamline a requisitioning and purchase order system.
Many businesses have come to understand the benefits of a data-driven, multi-sourced procurement operation as they've faced component shortages and delays over the past few years. Organizations dependent on a single source or without an intelligence platform in place may have found themselves scrambling for suppliers.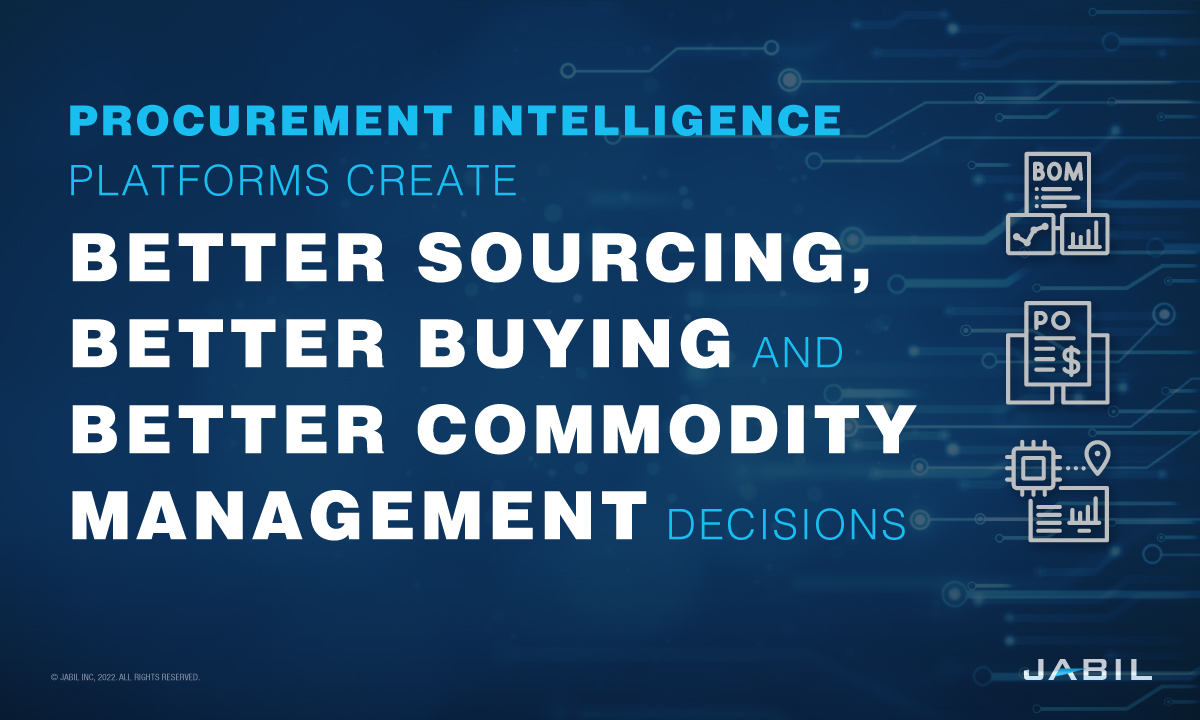 A procurement intelligence platform ensures up-to-date, accurate information is easily accessible. This visible information makes alternative choices clear, allowing for a steady workflow that is as unaffected as possible by delays. When a link in the supply chain breaks, supply chain leaders know what options are available, and the chain can be quickly mended. Every touchpoint on the procurement continuum is made visible, and a business can pivot when procurement channels erode.
In the Jabil and IndustryWeek survey, 46% of respondents said they are extending technological capabilities or sharing technology platforms to increase visibility, all in an effort to improve collaboration with their suppliers.
Suppliers are also facing shortages and delays of everything from labor to raw material. To keep supply chain operations flowing smoothly, long-range demand forecasts generated with the help of intelligent technology are becoming a requirement for OEMs and their vendors.
3. Demand planning and forecasting
One of the major causes of pandemic-era supply chain planning challenges has been unprecedented levels of demand for physical goods — particularly goods that require electronic components and chips.
In an attempt to provide sufficient components and materials for this new level of demand, suppliers have begun requesting significantly more lead time from OEMs — up to 18 to 24 months before requested delivery, instead of the traditional six months or less.
OEMs, in turn, must get a handle on their anticipated demand for a time well into the future and build the possibilities for disruption into that forecast. To meet this new requirement, a full quarter (25%) of survey respondents have implemented demand planning or forecasting technology since the pandemic began, while 54% plan to implement it within the next one to five years. Demand planning and forecasting technology provides component and product alternatives to reduce inventory cost, allowing supply chain managers to make fast, high-quality decisions.
It's important to remember that technology should just be one piece of a resilient supply chain strategy. At Jabil, we look at it through the lens of people first, then processes and technology. So, solid demand planning and forecasting starts with people — ensuring you're picking the right supplier partner that will be able to meet your organization's needs in your timeframe. Once your supplier is in place, collaborate to standardize your processes and implement technology.
There are many worries that might keep supply chain leaders up at night; I don't think a demand forecast should be one of them. Though you absolutely need to create one, you can rest assured that it will be incorrect to some degree. Whether you get it wrong, or your customer gets it wrong, it's never going to be completely accurate.
I think about demand forecasts this way: I drove myself to work today, so I have a car that's working. I've got my updated phone and my laptop, and last time I was at the store, there was food on the shelf. This all points to the fact that supply chains are working even though forecasting will never be accurate. But it's important to double down on investments in demand planning technology to ensure you have your arms around your forecasts to the best of your ability.
One area of the supply chain where you can count on technology to deliver more precise data is the factory floor. Thanks to next-generation connectivity, supply chain teams can more clearly connect the dots between demand for a component, its procurement and its use in manufacturing.
4. Cloud computing and the Internet of Things
With the advancements in 5G that cloud computing enables, which in turn vastly expands the possibilities of the Internet of Things, it's more possible than ever to keep supply chains in constant contact with the factories they're serving. More than a quarter (26%) of Jabil and IndustryWeek survey respondents have implemented cloud computing solutions during the pandemic to improve their supply chain performance, while nearly as many, 22%, have added IoT technologies.
It's critically important to have an enterprise resource planning (ERP) system that leverages this ability to connect to the factories. The factories are where the action happens, generating data that you can turn into actionable insights, intelligence and decisions that drive better supply chain outcomes.
An ERP can integrate into broader Factory of the Future capabilities that rely on IoT connectivity, like artificial intelligence, machine learning, augmented reality and virtual reality. These tools also orchestrate and provide visibility into the movement of materials once they enter the factory, a view of the supply chain that commodity managers traditionally may have lacked.
Edge computing — done in decentralized processors away from traditional data centers or clouds but closer to the device requiring the connection — facilitates the function of these powerful, ultra-low latency IoT devices at the core of this connected future where supply chains and factories work in harmony. Gartner predicts that 25% of supply chain decisions will be made across intelligent edge ecosystems by the end of 2025.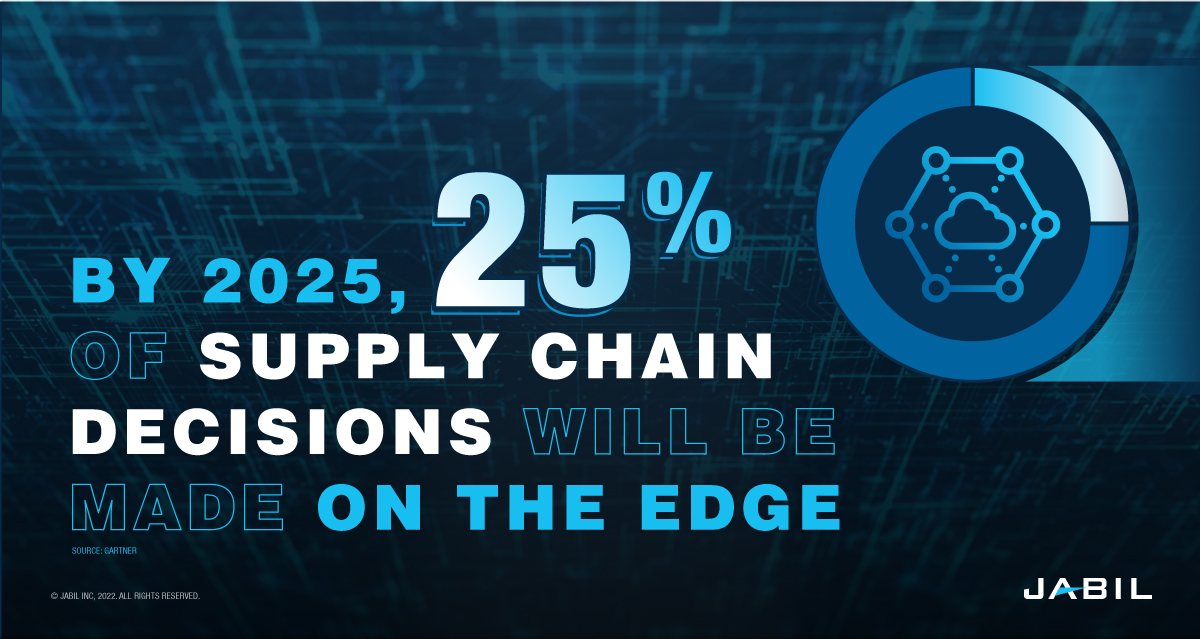 Visibility could be increased through the creation of a real-time ledger on the blockchain using edge computing, or tiny IoT sensors built into components and materials could provide constant updates on the parts' location to supply chain and factory systems built on the edge. With edge computing, data is kept close to the source, reducing the potential for connectivity challenges or security threats. Data travels faster and more reliably on the edge, making it easier for supply chain leaders in warehouse and logistics operations to understand which products are in their facility and make real-time, analytical decisions.
Logistics operations can also benefit from processing on the edge. The artificial intelligence and machine learning used by smart robots in warehouses depends on the highly reliable connections that edge computing provides.
The previously mentioned Gartner report estimates that 75% of large enterprises will adopt some sort of intralogistics smart robots in their warehouses by 2026. But automation is just a piece of an optimized logistics technology stack.
5. Transportation management and warehouse management systems
In today's world, it's table stakes that your end-to-end logistics revolve around a robust transportation management system (TMS), driving your freight optimization. Nearly a quarter (23%) of Jabil and IndustryWeek survey respondents said they have implemented transportation management systems since the start of the pandemic, while a similar 21% said they have implemented warehouse management systems (WMS). Only 24% of respondents said they have no plans to or don't know if they'll implement either of these systems moving forward.
Again, the goal of adding these systems to your technology stack is end-to-end visibility. Transportation and warehouse management systems should be integrated with your automated ERP to keep information about the location and movement of materials and products before and after they are in your factory all in one place for all stakeholders to find at any given time.
At ports, dockworkers and truck drivers could have detailed information about how much is in each container for a particular OEM or that would be going to a particular warehouse. Meanwhile, warehouse supply chain managers would know exactly how many shipments are coming in per day and per hour to schedule workers efficiently.
An intelligent TMS should consolidate orders and freight to optimize each shipment, saving money and reducing the environmental footprint of each. Land, sea and air routes can be created more efficiently, saving carbon emissions, labor costs and time from order to delivery.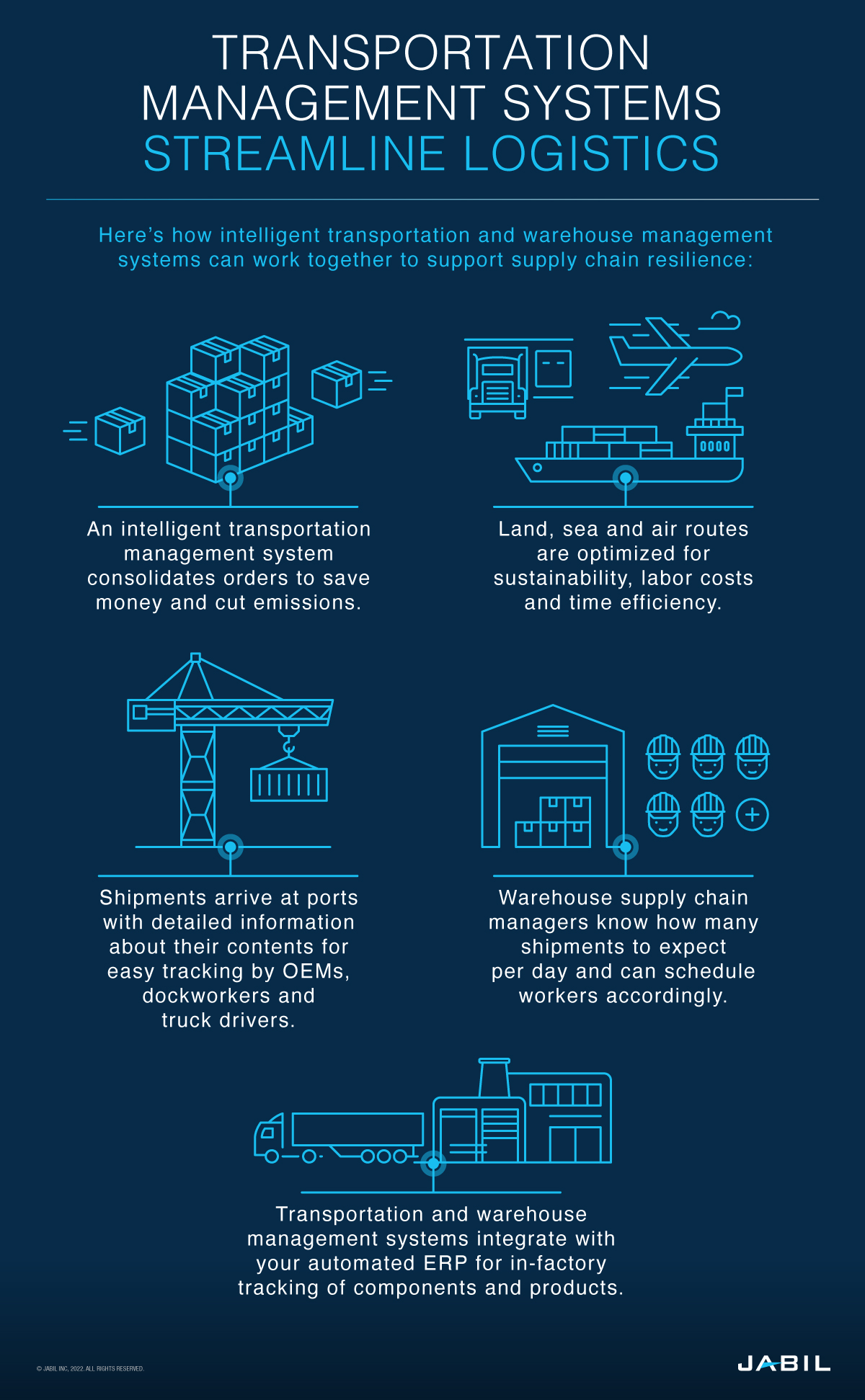 As all of us in the supply chain world adjust to this new era of constant disruption, it's worth taking the time to think about how your organization can leverage technology to prepare for the next hurdle. I don't think it's ever too late to invest in your people and processes and develop a supply chain roadmap that can be aided and accelerated by your technology stack. The platforms necessary to meet today's challenges might be clear to you and your supply chain partners — but what about the technologies necessary to overcome the supply chain challenges of the future?
What Technologies Could Be Added to an Intelligent Supply Chain Technology Stack in the Long Term?
While respondents in the Jabil and IndustryWeek survey are already implementing a wide array of technologies to overcome the challenges of a global supply chain, they were also interested in technology that expands upon the capabilities of those tools. Here are a few examples of what they plan to explore over the next five years:
Artificial intelligence and machine learning
More than half (58%) said they plan to implement data-driven automation over the next one to five years. As the Factory of the Future is more fully realized, artificial intelligence and machine learning can be used to capture and analyze supply chain data right at the manufacturing line level, allowing supply chain managers to make highly informed, quick decisions.
Robotics
The adoption of AI and ML technologies will also be critical for the deployment of robots throughout the supply chain, which just over half (51%) of respondents expect in the next one to five years. Robots have already become an integral part of warehouse logistics, especially the use of robots in retail warehouses.
The role of automation is expected to grow in the coming years, potentially bringing advances like automated ports and the increased automation of long-haul trucks.
Blockchain
Exactly half of respondents plan to invest in blockchain technology to improve their supply chain capabilities over the next five years. By providing a tamperproof, traceable ledger of all activities in a given supply chain — from payments and loans to orders and inventory — that all parties involved in that value chain have access to, the blockchain could help companies create a truly visible end-to-end supply chain.
This should be the goal of any organization's supply chain technology stack: visibility. Supply chain roadmaps, and the technology stack used to create them, must be continually reevaluated for efficiency, effectiveness and relevancy in an ever-shifting landscape. A strong supply chain technology stack can help an OEM move toward a position of cost leadership and offer a competitive advantage for their customers.
With a clearer view of the current ecosystem and potential hazards ahead, organizations can then leverage their people and processes to build supply chain resiliency and navigate disruptions as they come.
Global Supply Chain Readiness Report: The Pandemic and Beyond
Insights from over 700 decision-makers at OEMs across seven key industries that pinpoint how the pandemic has been impacting supply chains and how organizations are changing in response.