SHOWCASING OUR COMMITMENT TO HEALTHY ENVIRONMENT AND SAFE OPERATIONS
Jabil is committed to the safety, health and well-being of our employees. Our goal is to ensure each and every person goes home safely every day.
As part of Jabil's safety initiatives, our Environmental, Health and Safety (EHS) team is implementing an enterprise Industrial Hygiene (IH) and Occupational Health/Medicine (OH) software platform that enables higher levels of operational and sustainable performance by end of calendar year 2022. Our objective is to design and implement an Occupational Health & Safety system that facilitates standardized reporting; assesses and mitigates the potential risk to our employees; and helps leaders make informed decisions to implement controls to ensure we are providing a safe and healthy workplace.
The software will allow us to centralize employee health information in one place to be easily accessible and visible to the EHS and OH teams. In addition, we aim for a fluid workflow between sites and countries, enabling the best protection of health in structured documentation, allowing us to analyze data and trends to identify and address potential problems. Employee data privacy is of the utmost importance. For this reason, we have engaged outside experts and advisors to conduct a thorough review to ensure the software and our implementation plan comply with the strictest data privacy laws and regulations.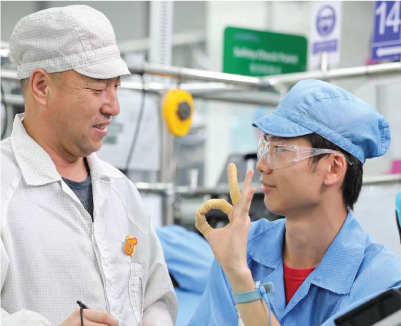 With our world-class, digitized health and safety systems, we will bring our safety culture at Jabil to the next level, elevating the confidence and trust in our employees and our customers.