A Smart Appliance Case Study: Fisher & Paykel
It makes perfect sense that one of the smartest men in the world would also have the smartest house. Bill Gates' home is the mecca of all smart homes. But it's not the house that makes it smart; it's what's in the house.
Upon entry into Gates' home, guests are presented with a pin that communicates with sensors around the house. The pin can track the guests' location, ideal room temperature, lighting preferences and even allow music to follow them as they make their way through the house. Gates designed his home in a way the technology wouldn't disrupt or distract them, but instead make them feel more comfortable. In a sense, that has always been the ultimate goal of the smart home.
Today's smart home technology only scratches the surface of what's to come—it's a step toward what's possible with a full ecosystem of technologies working together, just like an orchestra. Future smart appliances will be more efficient, leading to lower energy costs as well as boast convenience and comfort. They will seamlessly communicate with each other and gain a heightened awareness of their own functions and features.
In a 2018 survey of over 200 decision-makers responsible for the delivery of their company's connected home and building solutions, 44% said the most significant market opportunity to them was smart appliances.
Fisher & Paykel is well-positioned to seize the market opportunities presented by smart appliances. The company is quickly becoming a household name in the premium appliance market, thanks in large part to an unflinching focus on product quality and technological innovation. Since 1934, this New Zealand-based organization has consistently challenged conventional appliance design to deliver a slew of game-changers in terms of appliance look, feel and function.
"We strive to ensure there's a real consumer benefit for every technology we invest in, so before we think about putting a certain technology into an appliance, we first determine the actual consumer benefit," President of North America for Fisher & Paykel Kevin Dexter said.
Increasingly, Fisher & Paykel is equipping products with embedded sensors, capacitive technologies and streamlined human-machine interfaces.
"You run into more than a few challenges when applying electronics to household appliances with cooling and heating elements," Shane Rehm, vice president of product for North America, explained. "It's not a matter of just getting electronics to work in harsh environments, but you must attain the highest product quality levels so it works for 15-plus years inside a fridge or even across a number of operation points."
To best support its burgeoning product portfolio and aggressive growth trajectory, Fisher & Paykel decided to partner with a global manufacturing solutions provider. Here are three ways partnering with Jabil supported the company's goals:
1. Overcoming the Electronic Component Shortages
One of the challenges Fisher & Paykel faced was navigating the electronics component shortage. The shortage was threatening their lead-times and market goals.
The demand for electronic components is growing at unprecedented speed. Components for smart appliances across the board are experiencing shortages, including small commodity-type capacitors and resistors, as well as custom integrated circuits (IC), which are more complex and have longer lead times.
The best strategy for companies like Fisher & Paykel that are facing this obstacle is to leverage supplier relationships by tapping into alternate suppliers and safety stock. This helps with aggressive production timetables without sacrificing product quality.
"Jabil's global supply chain team has really good market intelligence about what's happening in the industry," Neil Cheyne, general manager of electronics, reliability and compliance, said. "We're constantly getting updates on suitable vendors, so we often have a choice of multiple suppliers at a cross-section of prices, which is really valuable."
Having solid supplier relationships and a network optimization strategy is vital for companies enduring a component shortage. Network optimization provides a powerful modeling approach proven to reduce supply chain costs and improve service levels. A network optimization exercise enables companies to make logical decisions toward expected or unexpected events.
With the time saved and extra parts procured, Fisher & Paykel was able to direct its focus on the customer impact of its product design.
2. Driving Customer Experience through Design
Smart appliances can help develop deeper relationships with the consumer by contributing to the customer experience in several ways, such as providing tips on how to use the product, gathering feedback on product quality and enabling access to related goods and services.
The product's design will dictate how customers interact with it. Each feature should be introduced with clear customer benefits and in a way that takes advantage of the core functionality of the appliance.
Most consumers value the improved control, energy efficiency, reliability and convenience of smart home devices. They want their appliances to communicate with users and each other. Even though interoperability is crucial, companies may also want to rethink the design of their devices with privacy in mind.
Introducing new and improved functionalities to better improve the customer experience presents various challenges. Collaborating with a partner that has the design expertise and understands the end-user can ease frustrations.
Fisher & Paykel's sleek, modern designs are complemented by practical functionality that delivers customer value without adding complexity.
With Jabil's supply chain and design support, they were able to develop a product using Thin-Film Transistor (TFT) display technology, which uses transparent semiconductors and electrodes to create detailed images with rich colors and sophisticated graphics. TFT displays are now a crucial part of their products' user experience. The technology uses less energy, offers superb visibility and quality, provides fast response times and limits eye strain.
During development, the group collaborated on compressing timelines to meet an aggressive production schedule without sacrificing quality.
"That was a wonderful kind of collaboration," Cheyne reflected. "We were able to deliver a pretty complex piece of design on time."
3. Future-Proof Your Success through Partnerships
An effective way to solve smart home technology challenges is by investing in expert help. Almost all Jabil survey participants identified partners as an important part of their strategy. Six in 10 respondents said manufacturing partners with expertise in connected devices are vital to their connected home strategy.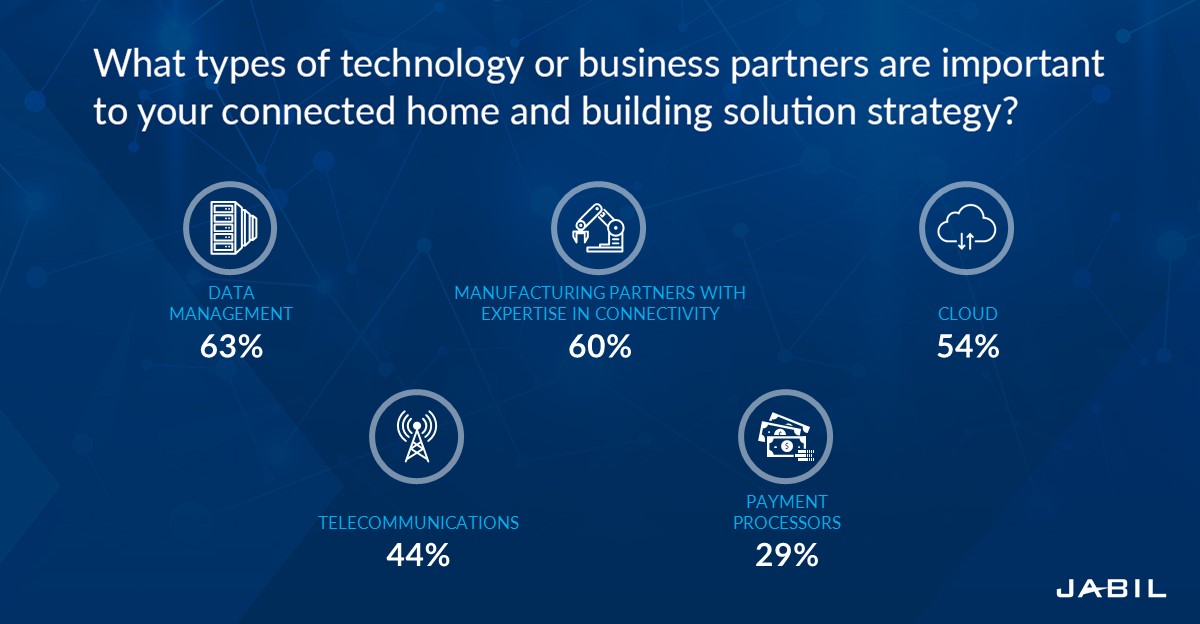 Fisher & Paykel has a flat organization globally and locally, which enables people to be proactive and pragmatic problem-solvers. It was crucial their smart home solutions partner have the same qualities.
"I see those same attributes in Jabil; they're very approachable and accountable in the things we agree to do," Dexter said. "No problem is too big or small to pick up the phone and be solved. For me, these are the key components of a truly great relationship."
Jabil and Fisher & Paykel shared a very relaxed communication style that worked best for the two teams. This partnership style allowed Fisher & Paykel the freedom to call the Jabil team and ask them any question, whether it was about a current project or a future product.
"Jabil is a great partner as we think about the longevity and success that can be had over the long term," Dexter concluded. "As Fisher & Paykel expands globally into the premium appliance business, this partnership is going to deliver great dividends."
What works for one company may not work for another. It's wise to understand exactly what you need for your smart home product and out of your strategic partner before starting the relationship. Finding a strategic partner that aligns with your company's values and goals is pivotal in ensuring long-term success.
The smart home market is certainly an exciting one—and opportunities with smart appliances are plentiful. However, there is still plenty of work to do to introduce more smart devices into the average home. Companies should continue innovating and pushing the boundaries of smart home solutions to bring the capabilities of Gates' home into every home—one appliance innovation at a time. And having a partner in that endeavor certainly doesn't hurt.