3D sensing now fully integrated into optoelectronic ecosystem
Yole Development has announced a 3D sensing revolution by the end of 2017, and recently published a report 3D imaging & sensing 2017. Part of the story is the rise of AR/VR applications. We took the opportunity to discuss with Irvin Stein, VP from Jabil Optics to learn a little more about things to come and the involvement of Jabil as a premium provider in this space.
Enable GingerCannot connect to Ginger Check your internet connection
or reload the browserDisable in this text fieldEditEdit in Ginger1Edit in Ginger×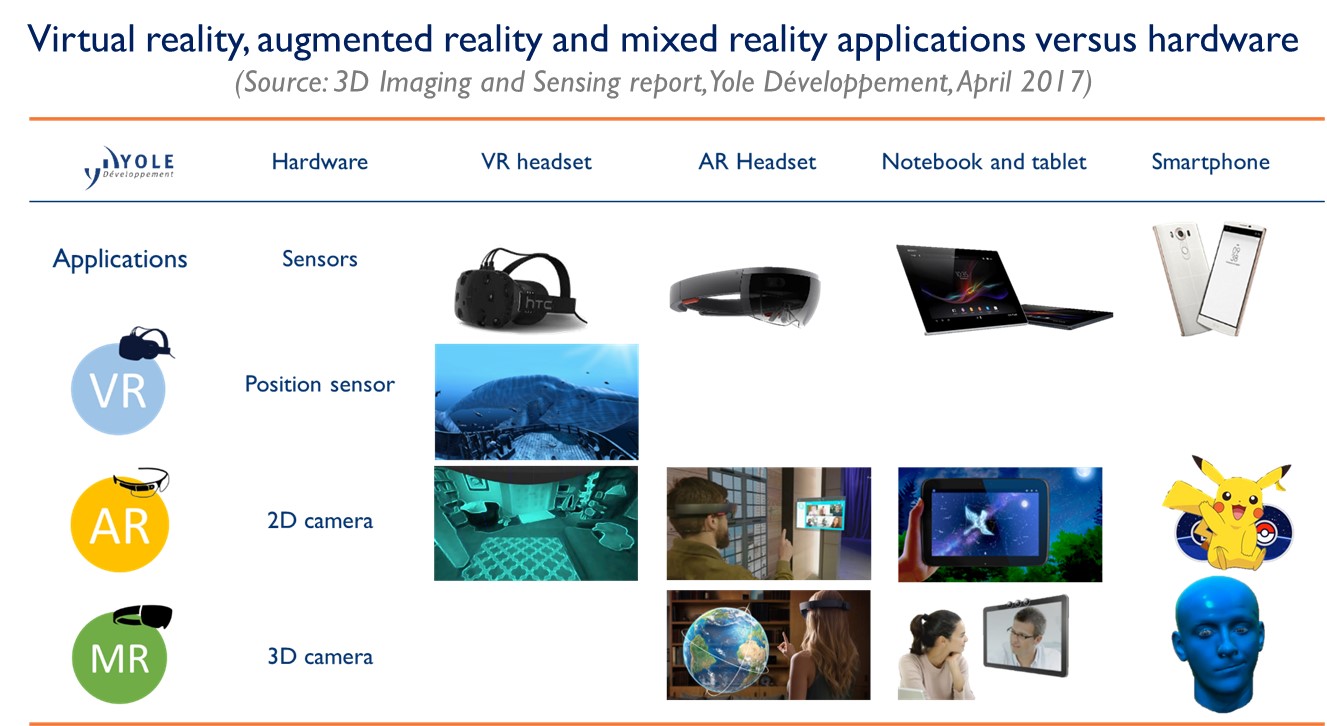 Yole Development: Can you present Jabil Optics offering and the company itself?
Irvin Stein: Jabil Optics is a division of Jabil Inc. operating under the Consumer Lifestyles Division of the Company. As an JDM manufacturer of optoelectronic devices, we provide a full set of capabilities, ranging from innovative design all the way through precision manufacturing into mass production of those products. The Jabil Optics team is integrated into a broader optoelectronics ecosystem, allowing for the development of premium solutions leveraging our in-depth knowledge of optical systems and optoelectronic technologies. Talking of some of the capabilities, Jabil Optics is able to delivers advanced optical design and engineering services, process development, supply chain management, and precision manufacturing for leading brands in the mobility, automotive, AR/VR, and security markets.

YD: How large is your R&D versus your Operations?
IS: Jabil optics has become a quite sizable entity as it reaches 400 people including 150 R&D engineers. The operation side which is relying more heavily on indirect labor exceeds 4,000 people. We have reached a 1 to 10 ratio R&D versus Operation meaning that from the customer point of view we can cover both of the needs and fully address design for manufacturability issues.
YD: What are the key application opportunities Jabil Optics is positioned to support?
IS: As leading manufacturer of optoelectronic devices our core product portfolio includes cameras and camera module addressing use cases such as High Quality Image Capture, Action Sports Capture, Video Conferencing, 3D and 360° video. We also cover differentiating devices such as Head-Mounted Displays, Automotive products such as Head-Up Displays, Laser Matrix Headlights, LiDARs and for Security & Authentication, facial & Gesture Recognition. Lastly, we deliver on projection systems such as Pico Projectors including Laser with DLP but also 3D cameras based on time of flight, structured light and stereoscopic for a variety of applications for Mobile such as face unlock, and selfie-bokeh effects.

YD: How much of the business is oriented on 3D imaging & sensing?
IS: As a percent of production revenue it is currently less than 25% however as a percent of current engineering services engagements it represents nearly 50%.
YD: You advertise a lot around the active alignment capability, why is it so important?
IS: Active alignment technology allows high yield manufacturing and high uniformity output for camera modules and projection systems. It uses an active feedback loop during positioning of the optical elements during manufacturing to produce precise and optimal results. It is a critical technology for today's miniaturized/ Wider FOV optical systems and allows you to achieve the best possible image quality.
YD: How much more complexity is there in a 3D imaging & sensing devices versus a standard 2D camera?
IS: If we consider the scanning mirror solution for 3d sensing they are complex because they involve a large number of components and the complexity of manufacturing increases in parallel with the number of component. Structured light solutions are similarly complex because there is already a 2d camera on board as well as a projector. The growing trends toward miniaturization also increases the complexity. Considering that scanning mirror solutions have some moving parts this also adds to the process complexity. This is why process development is so important when selecting a vendor partner.
YD: How important is it to have a one stop shop supplier? What is the key benefit?
IS: When selecting a one stop supplier responsibility is clear and logistics are simplified. Because we design the machine being used in the manufacturing it gives us the opportunity to do a system level design and consider the process capability. Design/ Develop/ Deploy for Optics and Electronics at the same time.

YD: Yole is expecting a market revolution in 3D imaging & sensing, how much do you think this could be related to biometry, and what could be the key hardware parameters to support this revolution?
IS: We agree biometrics are a key solution for security and authentication. High res 3D sensing will provide very high fidelity identification devices. Jabil Optics is well positioned to provide solutions targeted in a number of vertical markets including security, automotive, AR/VR, and mobility. Our indigenous design of a 3d sensor is even able to distinguish the differences between identical twins.
While biometrics will likely be the key enabler of this technology this will only be the beginning. Once the data (point cloud) is available to the App developers then the possibilities are endless from personalized avatars for game play, eye/head tracking, reduced bandwidth on video calls, bokeh effect selfies and video, etc.
Once the phone is aware of its surroundings this will become a new standard for data input to the phone.

As Vice President, Irv leads worldwide operations for Jabil Optics. This includes overall P&L responsibility and management of the design, engineering, process development, manufacturing, supply chain, marketing, and business development of the entire organization. Irv is a 10-year veteran of Jabil and has led several new technology developments in emerging markets. He is a visionary and entrepreneur who understands the importance of investing in new technologies that extend Jabil's value in customer relationships. Prior to Jabil Irv worked in Global Purchasing for Xerox Corporation. Irv has a degree in Finance and did his undergraduate work in Procurement with an emphasis on digital supply chain optimization.
Source : www.yole.fr / www.jabil.com
Related Links