Trevor Neumann
Vice President of Business Units & Business Development, Automotive and Transportation
In this role, Trevor has P&L responsibility for Jabil's automotive and transportation portfolio within Europe as well as Japan and Korea. He additionally oversees the division's development strategies — building new customer relationships, strengthening existing ones and supporting future growth technologies for the sector.
Since joining Jabil in 2018, Trevor's sales and business development leadership has fostered performance and growth across the division's account teams, particularly as a driver of new technologies, such as infotainment, connected services solutions and electrified vehicles for Jabil customers.
Prior to joining Jabil, Trevor held the role of vice president, global business development for Aeris, a global leader in connectivity solutions. Trevor played a key role in building the company's automotive OEM business from scratch, achieving multiple customer awards and establishing joint ventures for delivering connected car platform solutions. Trevor also served as vice president, global customer management, at SiriusXM and at Harman as a senior manager for Asia/Pacific business.
Trevor holds executive session certificates in financial accounting from Harvard Business School and a second in business process design for strategic management from the MIT Sloan School of Management, both in Cambridge, Massachusetts. He earned his bachelor's degree in business administration from Ferris State University.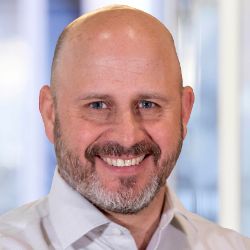 Read The Latest From Trevor Neumann