Seven Automotive Connectivity Trends Fueling the Future
Innovative automakers, software developers and technology companies are leading a radical transformation in the automotive industry. They are refining and redefining existing technologies and introducing new, exciting concepts like artificial intelligence, V2X and automotive connectivity to give us a future driving experience that is safer, more efficient, and more luxurious than any we've ever known.
Aside from electrification of the powertrain, most automotive technological advances have been focused – and rightly so – on making cars safer with innovations such as rear-view cameras and sensors enabling driver-assistance systems as well as lane departure warnings and emergency brake assist. In addition, consumers have come to expect and rely on technologies such as GPS navigation, keyless ignitions and Bluetooth connectivity.
But beyond these developments, today's automakers, software developers and leading technology companies are striving to create a unified, fully integrated and highly personalized connected vehicle experience. In fact, it is only through car connectivity that the potential of autonomous, electrification and shared mobility trends can be completely realized.
What Will the Fully Connected Car Look Like?
The fully connected car will rely on three pillars: infotainment, telematics and infrastructure. Infotainment consists of heads-up displays, audio, in-car entertainment and more. It will build a bridge between the drivers and passengers and the vehicle, giving real-time insight into functionality. Telematics connect the car to the cloud, allowing it to gather and share data on driver behavior and car function. Finally, infrastructure bridges the car and the environment, allowing the vehicle to perceive the presence of pedestrians, traffic lights and even communicate with the driver's smart home.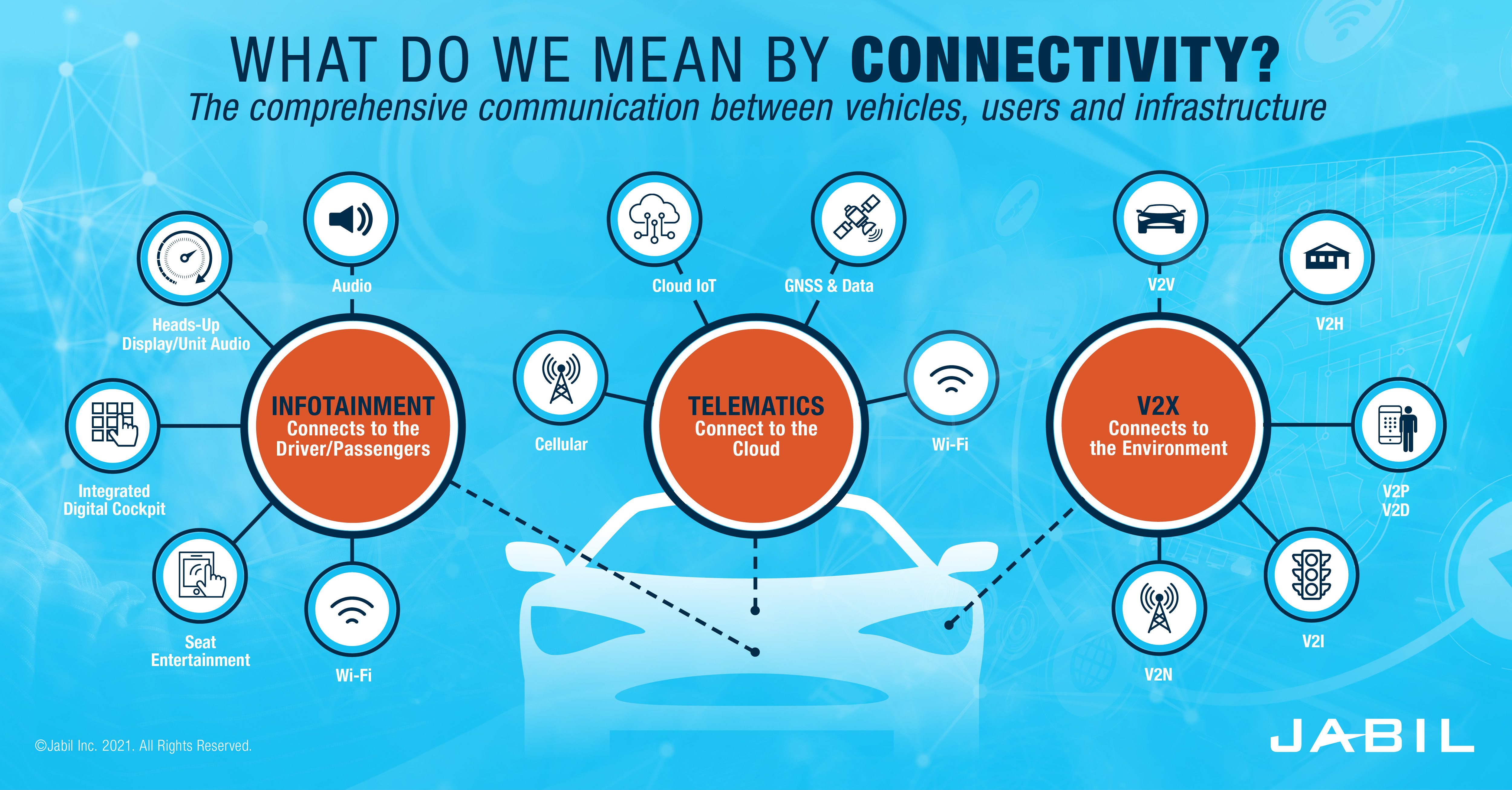 There's a good chance your next car will be every bit connected as your smartphone, with access to the Internet and the Cloud. Don't be surprised if at some point in the not-too-distant future, Internet access will be as important as fuel efficiency, engine power or range when you purchase your next car.
What Technologies are Driving Connected Car Adoption?
In the next five years, 75% of all cars produced will be connected, an increase from 50% today. As we prepare for the not-so-distant future, let's look at the seven most talked and written about automotive connectivity trends that are shaping the way we will soon take to the road.
by 2025 more than 75% of all new cars sold will be connected in some fashion
1. Vehicle Connectivity is the Foundation of Autonomous Vehicles
"Driverless," "Level 5 autonomous" and "self-driving" are all terms that mean the same thing: a vehicle that can drive itself with no human intervention required, at least under some circumstances.
An entirely autonomous car (Level 5) transports a person to their destination without any need for driver supervision. Inside the vehicle are all the entertainment, information and connectivity that someone would have in their home, office or even favorite coffee shop. Every personal comfort is taken into consideration, from the temperature of the interior to the tinting of the windows to prevent glare and even the personalized adjustment of ambient lighting to create the perfect mood to go with the music playing through the satellite radio station.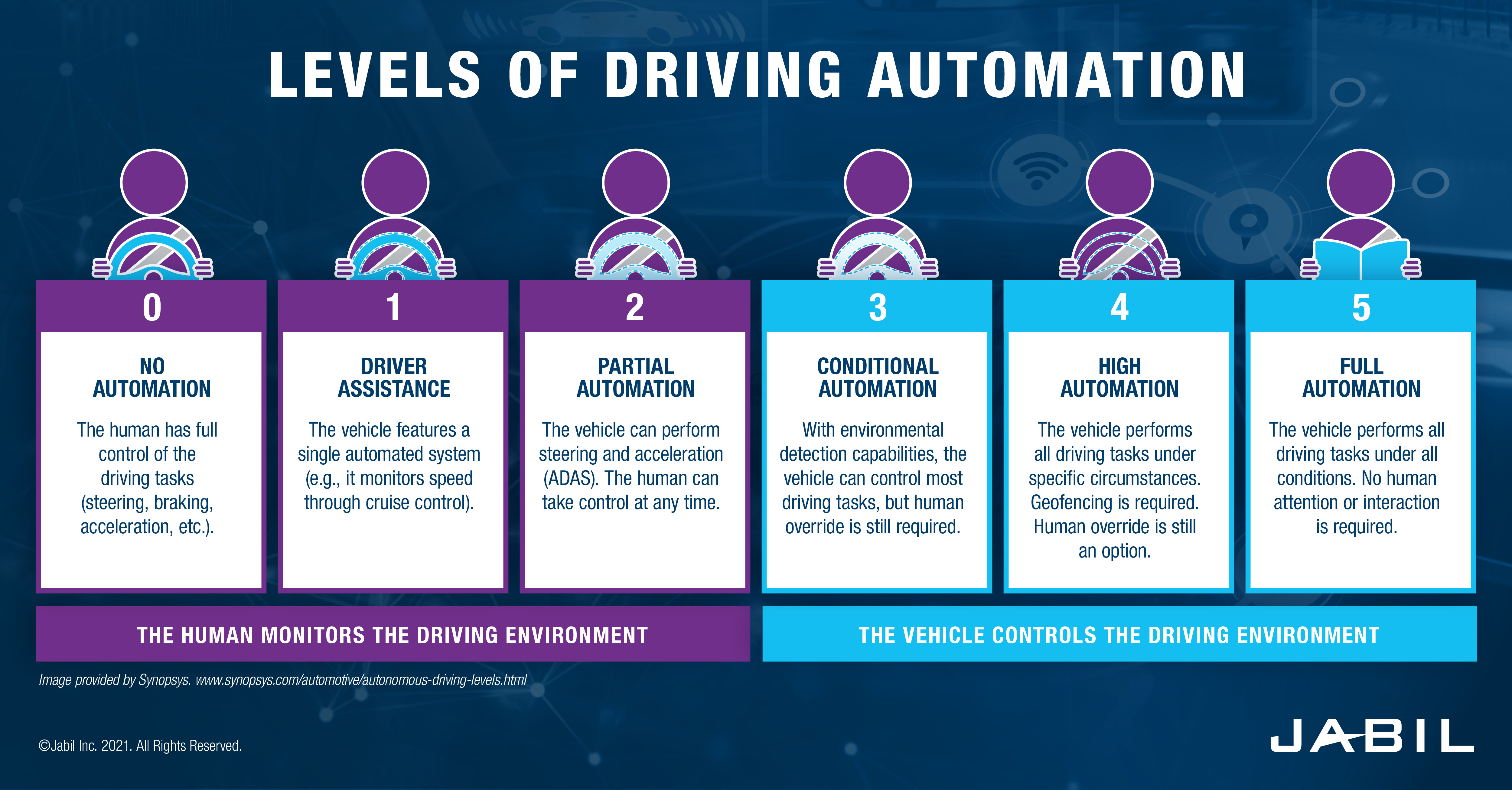 Even if the car is not driverless, the driver is still connected with the world around them through a digital cockpit platform while sensors positioned around the car provide a cocoon of safety in the thickest of traffic. Vehicle-to-Vehicle (V2V) and Vehicle-to-Infrastructure (V2I) technology allow the car to communicate with other cars and infrastructure, like traffic lights. Vehicle speed and the distance to other vehicles can be adjusted immediately in response to conditions on the road. Voice recognition allows drivers to communicate with a virtual personal assistant to schedule meetings and send text messages without taking their hands off the wheel while the vehicle's navigation system guides the car through traffic. Everything a person needs is at their command.
The first truly driverless car will be a game-changer. Advanced driver assistance systems (ADAS) are bringing self-driving up to a Level 2 autonomy, but automakers still need to work on vehicles and consumer perceptions before we arrive at Level 3, where the automated system primarily monitors the environment, let alone Level 5, where no human intervention is required. Full autonomy is projected to arrive by 2030 at the earliest, according to a McKinsey report.
Car connectivity will be the foundation of autonomous vehicles. But don't expect to see widespread acceptance and production of driverless cars for at least another decade due to the need for a connected infrastructure and advancement of other technologies, such as V2V.
Already, companies are thinking of cars like two-ton computers rather than a machine to deliver people from point A to point B. In the past, software for critical issues, functional power train vehicle operations breaking, transmission and more never entered the thought process.
Tesla has expanded the limits of traditional automotive software. As a newcomer to the automotive industry, they took an entirely different approach to automotive engineering, designing a computer network and then building vehicular firmware around it. Meanwhile, the traditionally dominant companies focus first on building a solid, effective mechanical electrical vehicle and then wire a computer through it. Still, we're seeing what can be done with software beyond its conventional limits.
Subscribe to the Jabil Blog
Sign up for weekly updates on the latest trends, research and insight in tech, IoT and the supply chain.
2. Telematics Will Assess Driver Behavior and Car Function
Automotive telematics play a vital role in assessing driver behavior for a wide range of purposes, from determining a more accurate insurance premium to learning more about when and where people drive. Dealerships value telematics for their ability to monitor vehicle diagnostics and smart maintenance service. Supplied with data about the consumer's tire pressure, engine performance mileage on their car and more, dealerships can send out incentives to bring that customer into the dealership or – better yet – do automatic scheduling.
Other companies and industries are already seeing the benefits of preventative maintenance. As a supplier of temporary power generation and temperature control equipment, Aggreko has been called to provide cooling or heating mobile units in entertainment venues as well as emergency situations, such as hurricanes. If the equipment fails, it could lead to devastating consequences. Therefore, the company has been using connectivity for preventative maintenance for a long time to ensure optimal performance.
This same principle applies to automotive. No one wants to find a dead car battery the morning of an important meeting or for the engine to start sputtering while they're cruising on the highway.
Preventative maintenance will vastly improve the reliability, durability and resale value of vehicles, thereby extending their value and longevity, as well as transform how consumers manage their vehicles.
Telematics will also help automakers design a car best suited for their customers' preferences. It is estimated that between 60 and 80% of cars sold in 2017 contained installed telematics; however, the market for connected car packages continues to focus on premium vehicles. By 2022, 75% of connected car packages will be sold as part of smaller, less expensive cars.
3. AI Interfaces Are Key to Making Sense of Data
Artificial intelligence (AI) will play a key role in telematics by turning data into action. With the increasing use of sensors and other technologies that collect data, AI will be key to making sense of all data points. Some automobiles already use AI for Level 3 autonomous driving, but for the industry to reach Level 5, major enhancements need to be made to the car as well as the infrastructure.
Although many people associate AI primarily – if not entirely – with self-driving vehicles, AI will play a dominant role in the functionality of connected cars regardless of their level of autonomy.
Building upon technology that, for now, is confined to smartphones or smart speakers, automotive OEMs will provide AI software in a vehicle's infotainment system, allowing it to serve as a virtual personal assistant with the ability to respond to voice commands and questions. Drivers and passengers will be able to ask the car where the nearest brunch place with gluten-free options is and the car can offer a useful reply.
AI will also be pivotal to key driver assistance programs. For instance, an AI-enabled smart navigation system will be able to identify and alert the driver of pedestrians and other obstacles, such as stopped cars, thus increasing road safety.
4. Vehicle-to-Vehicle (V2V) Connectivity Will Improve In-Traffic Communication
V2V technology, as the name implies, allows vehicles on the road to "talk to each other" by sharing data on speed, road conditions and other factors through an ad-hoc network created among vehicles. V2V combined with V2I – commonly known as vehicle-to-everything" (V2X communication) - will make it possible for vehicles to communicate with each other as well as infrastructure such as smart traffic lights. The immediate benefit is that it will help avoid crashes, but much larger benefits include easing traffic congestion and improving the environment. It is expected that all new cars on the road will have V2V technology installed by 2023 and that V2X technology will follow along shortly thereafter.
5. Sensor Applications Are Growing
Already, as people merge, turn or back up, they're becoming accustomed to sensors on the side and back of their car that signal if they're at risk of hitting something. But this helpful guide is only the tip of what sensors are capable of.
Sensors such as LiDAR, radar, cameras and ultrasonic are already significantly impacting auto safety, security and vehicle maintenance costs, but connected sensors will take this even further. They will monitor and regulate a car's operation and provide the ground for autonomous driving by sharing important data in demanding applications, such as engines and brake and transmission systems. For instance, right now, sensors can analyze data such as weather and temperature and warn the driver of possible driving conditions like icy roads. Connected sensors in a fully automated, AI-enabled vehicle will use that information to help it drive safely and determine when to start braking.
The future for sensors is now, and it is only a matter of how they are integrated into AI and connected car technologies that will determine their possibilities.
6. 5G Will Be Ubiquitous
In the past year, we've seen 5G edge into reality. While mainstream adoption is still on the horizon, telecom companies like Verizon, AT&T, Sprint and T-Mobile have rolled out initial launches of this advanced wireless network.
5G will be up to 100 times faster than 4G; while 4G has peak speeds of 50Mbps, 5G is expected to ascend to 20Gbps. In addition, 5G technology will reduce latency from 50ms to 1ms. The speed and the latency of 5G will be a quantum jump from 4G. It's not just another iterative improvement; it's revolutionary. It will drive increases in the coverage, capacity and density of wireless networks.
5G will cause the capabilities of many industries (manufacturing, healthcare, retail, aerospace and defense, just to name a few) to burgeon to an incredible degree. In almost all industries, it will enable or enhance automation, data collection and analysis, problem-solving, artificial intelligence and more.
It also presents a plethora of business cases and opportunities for automotive. In fact, Jabil's survey of 204 stakeholders directly involved in 5G network development revealed that connected cars will be one of the long-term drivers of 5G. Gartner confirms this, predicting that 94% of cars will be connected to 5G in 2028.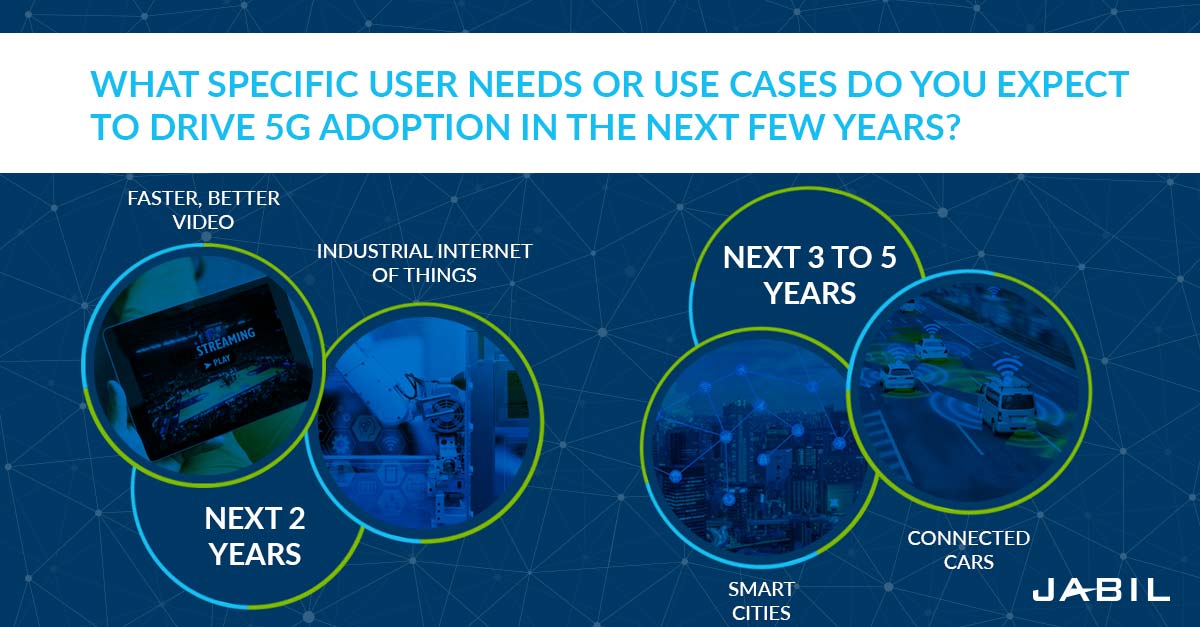 By 2023, a quarter of cars on the road will be connected. 5G will greatly enhance the connectivity of vehicles, making every aspect of the connected car faster and more efficient.
7. Brain-to-Vehicle Technology May Be the Future of Vehicle Operation
Brain-to-Vehicle (B2V) technology uses a device to imperceptibly measure brain wave activity, which is analyzed by the vehicle's autonomous systems and used to predict and eventually anticipate driver behaviors. Although the current status of supporting technologies indicates that widespread adoption of B2V technology is still a ways off, CES 2020 did showcase an impressive array of products that rely on brainwaves to operate: a prosthetic hand, electrotherapy treatment for depression, a padded headband to help you sleep and more. These connected devices offer hope for the future of automotive.
B2V technology may not be for everyone. In a vehicle equipped with something like Nissan's B2V system, drivers use a headset dotted with electrodes that either press directly against a person's scalp or come as close as possible. However, predictions are that B2V application can help drivers avoid accidents caused by abrupt lane changes and other unsafe driving practices.
For the first time, by integrating AI and Internet access into the way we travel, the concept of human mobility is being engineered in alignment with the human experience -- the communities in which we live and the way we interact with the world around us. Not all the automotive trends that excite us today will survive the challenge of taking a bold vision into the future. However, the ideas that move from trend to reality will have a major impact on how we live our lives. In the future, the automotive design as we know it today will be a relic and freedom of the road will take on an entirely new meaning. Every automaker is on the road to make this future mobility a reality.
Download the Automotive Product Development Trends Survey Report
Insights from over 200 automotive OE and Tier 1 decision-makers on technology adoption, opportunities and challenges.