Automotive Industry Life Cycle Analysis: Shorter Timelines
Automotive is changing. Cars are becoming more connected, autonomous driving is on the rise and electrified vehicles are becoming a viable alternative to gas-powered engines. But as the sophistication of software, sensor components, wireless networks and embedded intelligence has evolved at a blinding pace, how are automakers faring? An automotive industry lifecycle analysis shows that product development timelines are about to be shortened even further.
The latest automotive industry trends show that players in the market increasingly face the challenge of adapting business models, product development frameworks, supply chains and manufacturing operations in order to leverage the potential value of a fast-emerging reality. Further, we are seeing traditional industry players and technology vendors gearing up to drive transformational technology innovation in the industry.
The Automotive Industry Has New Time-to-Market Expectations
In 2017, Jabil partnered with Dimensional Research to conduct an Automotive and Transportation Product Development Cycles survey of automotive decision-makers. At the time, 68% of auto manufacturers affirmed that their automotive industry lifecycles for products were under two years. By our 2018 Managing Automotive Technology Trends study, that number grew to 71%. The biggest jump was in the 12-to-18-month range, which rose from 23% to 27%, bringing the automotive product development cycle closer to consumer electronics. Download the full survey report.
Automotive Industry Life Cycle Analysis - Product Development and Launch Cycles Have Shortened
Our automotive industry lifecycle analysis showed that 56% of respondents agree that lifecycles have been shortened in the last five years. This should come as no surprise, based on the convergence of automotive technologies and consumer electronics. With fully connected and self-driving cars on the horizon, cars will become more reliant on electronic components. This will shorten the lifecycle of automobiles.
Consumer electronics tend to have significantly shorter lifecycles than traditional automotive. With the Internet of Things, the average lifespan of today's electronics varies from 1.5 to 13 years, with most only surviving four to five years. That has complicated obsolescence planning and forced professionals in every industry to reconsider their approach to end-of-life (EOL) forecasting, aftermarket parts, refurbishing, remarketing, recycling and EOL extension models through repair and maintenance.
But the merging of transportation and electronics isn't the only factor in shorter go-to-market timelines. Respondents also listed the following:
needs to meet consumer or user demand
advances in technology
working with expert suppliers and partners
consolidation of vehicle platforms
more efficient supply chains
convergence of automotive and consumer electronics
expanded manufacturing capabilities
COVID-19 Slows Down Automotive Innovation
Of course, pre-pandemic expectations and trends have turned upside down with the supply chain impact of COVID-19 across all industries. When it comes to automotive, the pandemic will likely slow the speed of innovation. Although vehicle sales are expected to increase by 1-5% in 2021 to compensate for the drop, the dip of automotive research and development budgets will have a direct short-term effect on innovation.
In an IHS Markit study, one in four respondents indicated that they are postponing projects that are already at six months of maturity and almost 20% expect projects that have been in the works for a year to be temporarily shelved. When it comes to projects that are at an early or conceptual stage, almost a quarter of respondents expect delays by one year and a little more than 10% predict more than one year.
This doesn't negate the importance of pre-pandemic trends, but it may slow down their progress; if we conducted a survey similar to the 2018 one today, current launch cycles may not be so aggressive, but we expect the pace to pick up again as other factors continue to push for shorter automotive timelines.
say they are postponing projects that are already at six months of maturity due to COVID-19 (Source: IHS Markit)
Subscribe to the Jabil Blog
Sign up for weekly updates on the latest trends, research and insight in tech, IoT and the supply chain.
New Technologies Are Changing the Pace of Innovation in the Automotive Industry
Through the convergence of electronics and automotive technology, the industry has been flooded with new entrants over the last decade. More than three-quarters of our 2018 survey participants saw their go-to-market timelines shorten because of new entrants. However, Tier 1 automotive suppliers admit to being more affected by this than automotive OEMs.
Our survey results reflect this sentiment. In 2017, 51% of respondents agreed that Tier 1 suppliers would be the ones to drive transformational technology innovation. While 39% of 2018's respondents believe Tier 1 suppliers are still the leaders in this area, there has been a significant jump of trust in technology vendors. In the latest survey, nearly a quarter of the participants affirmed their belief that tech vendors with experience in consumer electronics and user experience will drive innovation, compared to only 7% the previous year.
Given the unfamiliarity of the territory and the opportunities at stake, it is no surprise that collaboration is becoming the byword for innovation. Beyond the limitations caused by the global pandemic, automakers are building research and development centers in Silicon Valley and partnering with technology giants from consumer markets. Many automotive OEMs are also considering the design and assembly resources of contract manufacturing partners like Jabil that specialize in combining the rapid innovation and product introductions associated with consumer electronics with the rigorous engineering, testing manufacturing and reliability demands of the automotive industry. Download the Whitepaper: Accelerating Electrified Vehicle Production Through Risk-Mitigating Partnerships.
Whether Detroit or Silicon Valley ultimately dominates the race, both will face some universal challenges along the road. The electronic components, software and networks powering tomorrow's cars will all be held to a far higher standard than those that revolutionized the mobile phone industry. Not only must they perform reliably in the harsh automotive environment, they must perform flawlessly as far as passenger safety is concerned. Designing, testing and manufacturing new component technologies is also a product development challenge for all players – especially as the race to market is so critical to competitive success.
That isn't the only challenge; 30% of respondents believe automotive product development cycles have been lengthened. They chose high research and development costs, government and safety regulations, longer test cycles and other factors as their reasoning.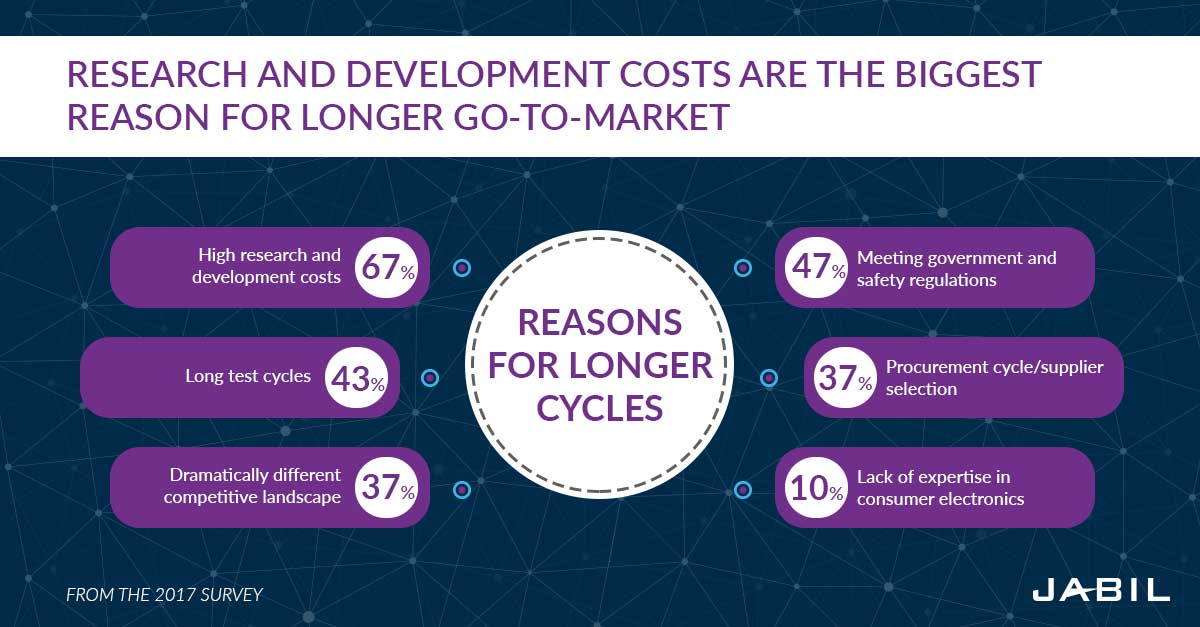 Challenges in Shortening Automotive Industry Development Cycles
Although our research points to most automotive product development cycles shortening for companies of all sizes, it also appears that some are having issues keeping up with the changes. There are challenges all companies face in compressing their product development cycles. The supply chain was one of the biggest challenges.
In a September 2020 Jabil Special Report: Supply Chain Resilience in a Post-Pandemic World, Dimensional Research surveyed 105 automotive OEM decision-makers about the impact of COVID-19 on the automotive supply chain and their company's risk management practices. When asked about their supply chain strategy for the next two years, automotive decision-makers clearly prioritized supply chain resilience and risk management. Past disruptions – especially the pandemic – have highlighted the need for supply chain vigilance.
Automotive supply chain managers can better prepare for these inevitabilities by dual- or multi-sourcing, incorporating supply chain visibility with predictive capabilities, building a technology roadmap while managing costs and outsourcing risk. Jabil's Vice President of Global Supply Chain for Automotive and Transportation François Monnet and I elaborate on this in our article Why Risk Management is Essential to the Automotive Supply Chain.
Although we may be a few more years away from fully autonomous vehicles, cars are becoming more sophisticated than ever before. Additionally, many major automotive players – such as GM, Ford and more – have declared their intentions to focus on the manufacturing of electric vehicles. With automakers relying on electronic components as much as traditional technology manufacturers, they will contribute to – and be negatively affected by – the ongoing component shortages. To weather these shortages, strategic relationships are key.
One of the most efficient ways to overcome supply chain challenges is to work with an external partner who can offer additional resources and expertise. In fact, likely due to the catastrophic impact COVID-19 and ongoing shortages, 57% of supply chain respondents stated that they are now more likely to work with partners who can absorb risk more effectively and have more flexibility.
A manufacturing partner can identify parts or components that should be avoided, either because of the product lifecycle or lack of geo-redundancy. This partner can provide extensive visibility into the supply chain ecosystem, support product demand forecasting and adjust production lines. But most importantly, it can reduce risks while delivering tremendous efficiencies, allowing the OEM to focus on its core competencies.
If automotive industry trends from the last five years are any indication, product development cycles are expected to shorten even further. In fact, two out of three automotive manufacturers believe their product life cycles will get faster in the next five years. This means automotive manufacturers must be proactive to solve the challenges they are facing in compressing their go-to-market timelines.
The automotive industry is at a crossroads, which is always rife with both risks and opportunities. It will be interesting to see how the next decade unfolds for the automotive industry. Big changes – and shorter automotive industry lifecycles – are ahead.
Download the Managing Automotive Technology Trends Survey Report
Insights from 126 automotive OE decision-makers on technology adoption, opportunities and challenges.