Automotive Industry Life Cycle Analysis: Shorter Timelines
Over the last decade, the Consumer Electronics Show (CES) has come to be known as one of the world's biggest auto shows, showcasing the automotive industry life cycle for various products and features. At each event, there is significant excitement about current and future innovation in the automotive industry – and CES 2019 was no exception. From autonomous vehicles to flying cars, CES showcased many of the latest industry trends and systems that will define the cars of the future, including advanced driver-assistance systems (ADAS), all powered by technologies cameras, radar, LiDaR and connectivity. An automotive industry life cycle analysis shows that timelines are about to be shortened even further.
Connectivity is not a new concept to the industry. GM's OnStar platform enhanced driver safety and convenience nearly two decades ago. The emergence of smartphones and Bluetooth also introduced a sort of proxy version of automotive connectivity, expanding options for infotainment and navigation for motorists. However, as the sophistication of software, sensor components, wireless networks and embedded intelligence has evolved at a blinding pace, the new infrastructures promise to change the game again for the connected car.
The latest automotive industry trends show that players in the market increasingly face the challenge of adapting business models, product development frameworks, supply chains and manufacturing operations in order to leverage the potential value of a fast-emerging reality. Further, we are seeing traditional industry players and technology vendors gearing up to drive transformational technology innovation in the industry.
In December 2017, Jabil sponsored an Automotive and Transportation Product Development Cycles survey, focusing on the practical impact of the changing landscape on today's automotive and transportation companies. In the study, we completed an automotive industry life cycle analysis, examining trends around time-to-market, challenges in addressing innovation and the expected impact of consumer technology companies entering the industry. In December 2018, we conducted the Managing Automotive Technology Trends survey, asking some follow-up questions and repeating others from the original survey to determine how quickly the auto industry is transforming. Download the full survey report.
Subscribe to the Jabil Blog
Sign up for weekly updates on the latest trends, research and insight in tech, IoT and the supply chain.
New Time-to-Market Expectations for the Automotive Industry
When we conducted the initial study, 68 percent of auto manufacturers affirmed that their automotive industry life cycles for products were under two years. In the last year, that number has steadily grown to 71 percent. Notably, the biggest jump was in the 12-to-18-month range, bringing the automotive product development cycle closer to consumer electronics.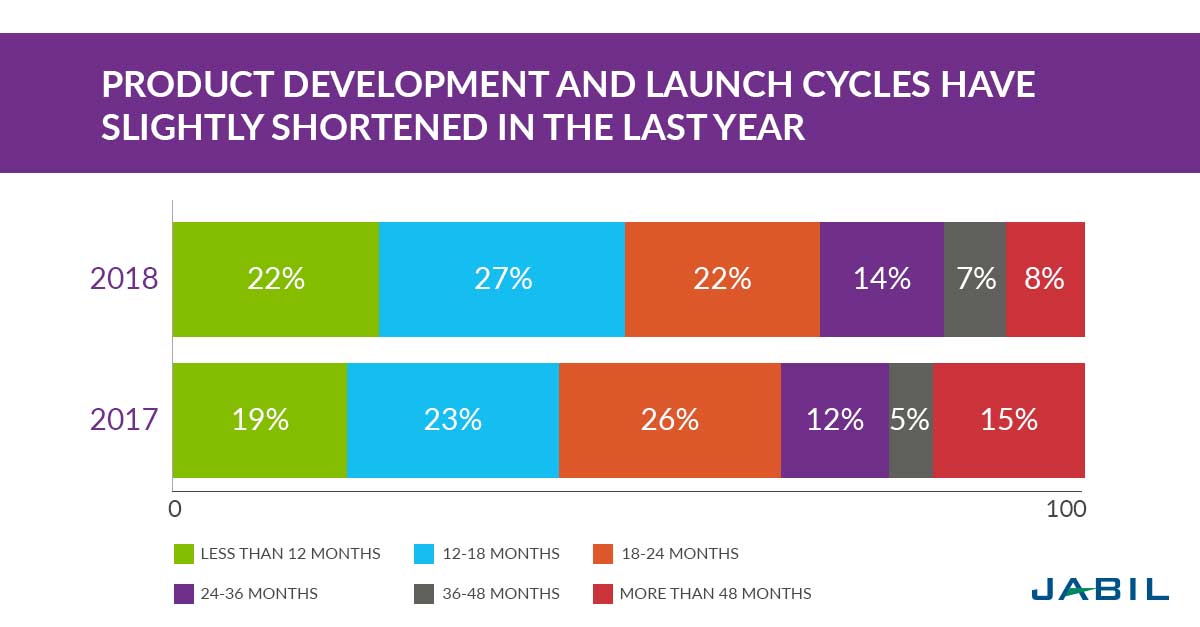 Our automotive industry life cycle analysis shows that 56 percent of respondents agree that life cycles have been shortened in the last five years. This should come as no surprise, based on the convergence of automotive technologies and consumer electronics. Consumer electronics tend to have significantly shorter product development cycles compared to traditional automotive.
When we examine the reasons behind shorter go-to-market timelines, respondents chose the following as the top reasons: needs to meet consumer or user demand, advances in technology and working with expert suppliers and partners. Other reasons for shorter automotive industry life cycles include consolidation of vehicle platforms, more efficient supply chains, the convergence of automotive and consumer electronics and finally, expanded manufacturing capabilities.
On the contrary, 30 percent of respondents believe automotive product development cycles have been lengthened. They chose high research and development costs, government and safety regulations, longer test cycles and other factors as their reasoning.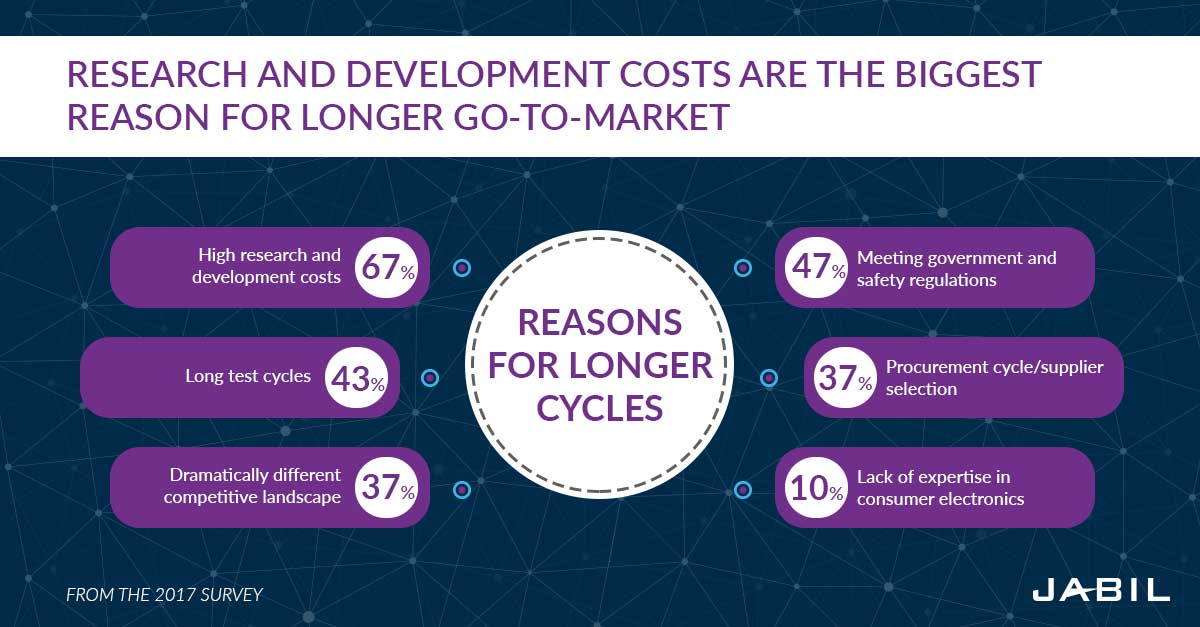 Challenges in Shortening Automotive Industry Life Cycles
Although most automotive product development cycles have been shortening for companies of all sizes, it also appears that they are having issues keeping up with the changes. Regardless, there are challenges all companies face in compressing their product development cycles with testing, supply chain and manufacturing taking the top three spots.
If automotive industry trends from the last five years are any indication, product development cycles are expected to shorten even further. In fact, two out of three automotive manufacturers believe their product life cycles will get faster in the next five years. This means automotive manufacturers must be proactive to solve the challenges they are facing in compressing their go-to-market timelines.
New Technologies are Changing the Pace of Innovation in the Automotive Industry
Through the convergence of consumer electronics and automotive technology, the industry has been flooded with new entrants over the last decade. Once again, 76 percent have seen their go-to-market timelines shorten because of new entrants. However, Tier 1 automotive suppliers admit to being more affected by this than automotive OEMs.
The latest survey results reflect this sentiment. In 2017, 51 percent of respondents agreed that Tier 1 suppliers would be the ones to drive transformation technology innovation. While 39 percent of this year's respondents believe Tier 1 suppliers are still the leaders in this area, there has been a significant jump of trust in technology vendors. In the latest survey, nearly a quarter of the participants affirmed their belief that tech vendors with experience in consumer electronics and user experience will drive innovation, compared to only 7 percent a year ago.
Given the unfamiliarity of the territory and the opportunities at stake, it is no surprise that collaboration is becoming the byword for innovation. Automakers are building research and development centers in Silicon Valley and partnering with technology giants from consumer markets. Many automotive OEMs are also considering the design and assembly resources of contract manufacturing partners like Jabil that specialize in combining the rapid innovation and product introductions associated with consumer electronics with the rigorous engineering, testing manufacturing and reliability demands of the automotive industry.
Whether Detroit or Silicon Valley ultimately dominates the race, both will face some universal challenges along the road. The electronic components, software and networks powering tomorrow's cars will all be held to a far higher standard than those that revolutionized the mobile phone industry. Not only must they perform reliably in the harsh automotive environment, they must perform flawlessly as far as passenger safety is concerned. Designing, testing and manufacturing new component technologies is also a product development challenge for all players – especially as the race to market is so critical to competitive success.
The industry is at a crossroads, which is always rife with both risks and opportunities. It will be interesting to see how the next decade unfolds for the automotive industry. Big changes, and shorter automotive industry life cycles, are ahead.
Download the Managing Automotive Technology Trends Survey Report
Insights from 126 automotive OE decision-makers on technology adoption, opportunities and challenges.