Concentrates: Big Opportunity in a Small Package
Imagine a world where brands have the opportunity to significantly decrease the amount and number of disposable plastic products that damage our environment. This vision is within reach and can be realized with the help of Consumer Packaged Goods (CPG) brands, driven by concentrates.
To learn more about the possibilities with concentrates that drive sustainability and e-commerce value by enabling consumers to reconstitute products with common tap water, we interviewed Jason Foster, CEO and Founder of Replenish, a packaging pioneer that's changing how liquid-based products are packaged, purchased and shipped. Replenish recently partnered with Jabil Packaging Solutions to help them bring their Reusable Dispensing System to the CPG market.
What are Concentrates in Packaging?
In the formulations of products companies sell, there are active and non-active ingredients. A concentrate is a version of the active ingredients that are needed for a product—whether that be in powder or liquid form.
Concentrates are the answer to an age-old packaging problem: the fact that many consumer products are overwhelmingly made up of water. In fact, a typical bottle of cleaner is 90 percent water and less than 10 percent actual ingredients. Even though we already have water available at home, companies are packaging and shipping these products in disposable plastic bottles that are often used once and thrown away.
"You have all of this plastic wrapping around this bulk of water and we're boxing it up, putting it on trucks and transporting it through the supply chain. We're starting to see the impact of that, where our oceans and environment are negatively being impacted by plastic," explains Foster.
Concentrates make it easy to decrease our environmental footprint while delivering an even better product experience. Instead of buying a new bottle of cleaner each time you're running low, simply attach a new refill pod to your reusable bottle and fill it with water. These refill pods contain a concentrated form of the product's active ingredients. Concentrates enable companies to package and distribute products more efficiently (and for cheaper, too).
"Brands can reduce plastic, energy and pollution by 80-90 percent just by selling reusable bottles and concentrate refill pods," claims Foster.
Customers get a good deal out of this equation, too. Families who go through multiple bottles of cleaner each month can realize cost-savings by buying concentrates instead of the traditional product—not only in the per bottle price, but also in the high cost of shipping liquids.
Challenges on the Road to Concentrates Adoption
For e-commerce brands, the main obstacle is the pricing of concentrates. According a recent Jabil survey of packaging decision makers, 65 percent think that even though the concentrates are cheaper on a per use basis, the customer believes the traditional product is actually cheaper because they only look at the base price of a single unit. The concentrate, which provides multiple uses in a single pod, appears more expensive to the consumer because the consumer is not educated on the value inherent in concentrates. Nothing could be further from the truth. The math proves the value of multiple use every time.
"Companies often get scared to invest in behavior change. They don't want to take it on because of the cost and uncertainty involved. The profit margins might be higher, but they hate anything that creates a quarter of uncertainty," argues Foster.
The lack of mainstream adoption of concentrates is caused by a lack of education and previously established habits. Consumers are used to getting a new bottle every time they need more product—it's a practice that has been passed down to them, generation to generation. While chances are that most customers have not even heard of concentrates or understand the concept, they may not immediately see the additional benefits around making a sustainable shift in their purchasing decisions.
After all, from a psychological perspective, consumers are "rewarded" by their brain each time they repeat a known behavior. In order to unlock the potential value of concentrates, consumers need to be educated on concentrates and the benefits to be gained.
Subscribe to the Jabil Blog
Sign up for weekly updates on the latest trends, research and insight in tech, IoT and the supply chain.
Personalization through Big Data
However the status quo is changing. Customer preferences and expectations are shifting faster than before. In this new world, success is increasingly about creating a personalized relationship. This means every touch-point matters: from packaging that reflects an individual's tastes to a product that matches their consumption habits.
"Using concentrates with smart packaging, companies can collect consumer data and analyze consumption habits related to the product. This data can be used to develop a symbiotic relationship between consumers and brands," says Foster.
Some critics might say that it's way too expensive to provide all this personalization and customized experience for consumers. But "that's nothing compared to the billions of dollars that brands are spending each year on advertising, when in fact those brands could be putting the advertising right into the packaging itself, making it smarter with new sensors or allowing the consumer to design packaging that reflects their interest," explains Foster.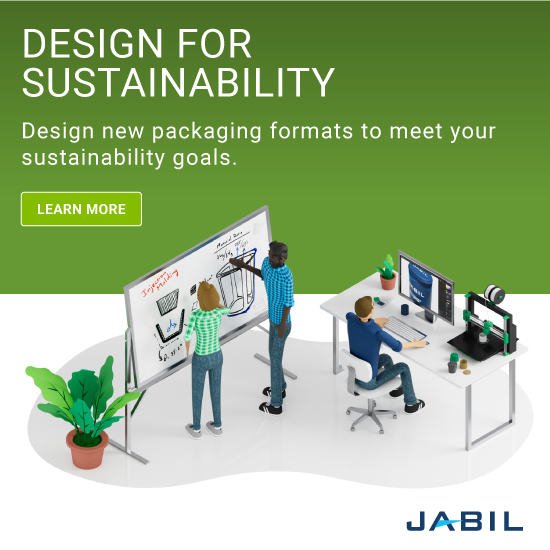 The Shift from Physical to e-Commerce
Delivering products through e-commerce channels provides a model for CPG brands to flourish. But this is only possible if they can keep the overhead low and shipping cheap. The goal is to eliminate the bulk and the weight.
"The sweet spot is staying under one pound. Anything under that weight is the most efficient frontier for shipping something in e-commerce. My job really is to figure out how much value I can deliver to the consumer and keep the weight under that amount," Foster exclaims. "Replacing pre-mixed products with concentrates and eliminating the water opens up a window of opportunity for unique solutions."
"If you don't eliminate the water, you'll never be able to make an e-commerce, direct to consumer channel as profitable as it could be for your company. The shipping is just too expensive relative to the gross margin of the product," argues Foster.
e-Commerce has also changed the very nature of how people shop. In a recent Jabil-sponsored packaging trends survey, 75 percent of packaging decision-makers agreed that convenience is the most common reason their customers shop online. But it's not only the convenience of the channel that drives customers. They shop online very differently than they would shop at the local supermarket. When they're online, the mindset is around value and convenience, while at the retail store, consumers are focused on cheap prices. Convenience, in this case, is key.
"As long as a brand can deliver enough value to consumers, the overall price point isn't the same barrier as it would be in a traditional purchase setting," says Foster.
So, next time you're planning a CPG product launch, consider concentrates as an additional option. You can expand your portfolio through concentrates without hurting your profit margins.
"The whole market does not need to move to concentrates, but making it 5-10 percent of your packaging arsenal is a powerful idea," says Foster.
Take laundry detergent for example. On average detergent is sourced in three forms: liquid, powder or pods. Many consumers are open to having multiple forms of the same product. It's all about delivering an experience that meets the customer's needs, whether or not they know about it. Nielsen confirms this finding in their research, stating that "manufacturers should consider how they could modify or expand their product offerings to better serve diverse consumer needs."
Breaking the habitual culture of disposability that has become the norm for consumers. By combining e-commerce with concentrates, companies can seize the compelling value proposition of sustainability, efficiency and cost savings . . . and build data-driven value through unprecedented consumer insights. Sounds like a clear win-win.
E-Commerce Packaging Trends Survey Report
Insights from 208 packaging decision-makers at companies that manufacture consumer goods, food and beverage, industrial, consumer health products and electronics.