Protecting the Health and Well-Being of our Employees
At Jabil, our top priority is to make sure our people go home safely every day.
Our customers, investors and suppliers are incredibly important to us, too. But the extraordinary skills and contributions of our 225,000+ team members around the world are truly the engine that propels our business.
So, when the novel coronavirus first emerged in Wuhan, for us, it was personal. We have hundreds of colleagues working in Wuhan and thousands more across China, and we knew we had not a moment to spare to respond swiftly and methodically to protect them.
By the end of February, we had invested $53 million into taking care of our Chinese colleagues amid the COVID-19 outbreak, and our efforts paid off. Thankfully, we had suffered no casualties and our operations were back online soon after the threat was managed.
We received commendation from Chinese media for our extensive safety measures, and our experience with the crisis in China gave us a playbook to use for our other regions as the virus progressed into a global pandemic. I thought it would be useful to share some of the critically important aspects of our response that began back in January.
What is Jabil Doing to Protect Its Employees from COVID-19?
It is no small challenge to reduce the risk of virus transmission consistently across our 100+ sites around the world. To that end, we have implemented several health and safety measures in accordance with guidelines from the U.S. Centers for Disease Control and Prevention (CDC). These include:
Enhanced building sanitation protocols 
Daily health and temperature screenings for everyone entering our facilities  
Social distancing protocols and tools 
Increasing personal hygiene requirements and tools, like hand sanitization stations 
Limiting access to sites, which includes having employees whose work is not building-dependent work from home 
Sharing educational materials aimed to help prevent the spread of COVID-19
Continuous and multi-disciplinary communication to our employees has been crucial. On our internal website, we provide employees with education on COVID-19 along with a list of recommended safety procedures. Most of our sites also have posted signs reminding employees of best practices to keep themselves, their coworkers and their workplaces safe.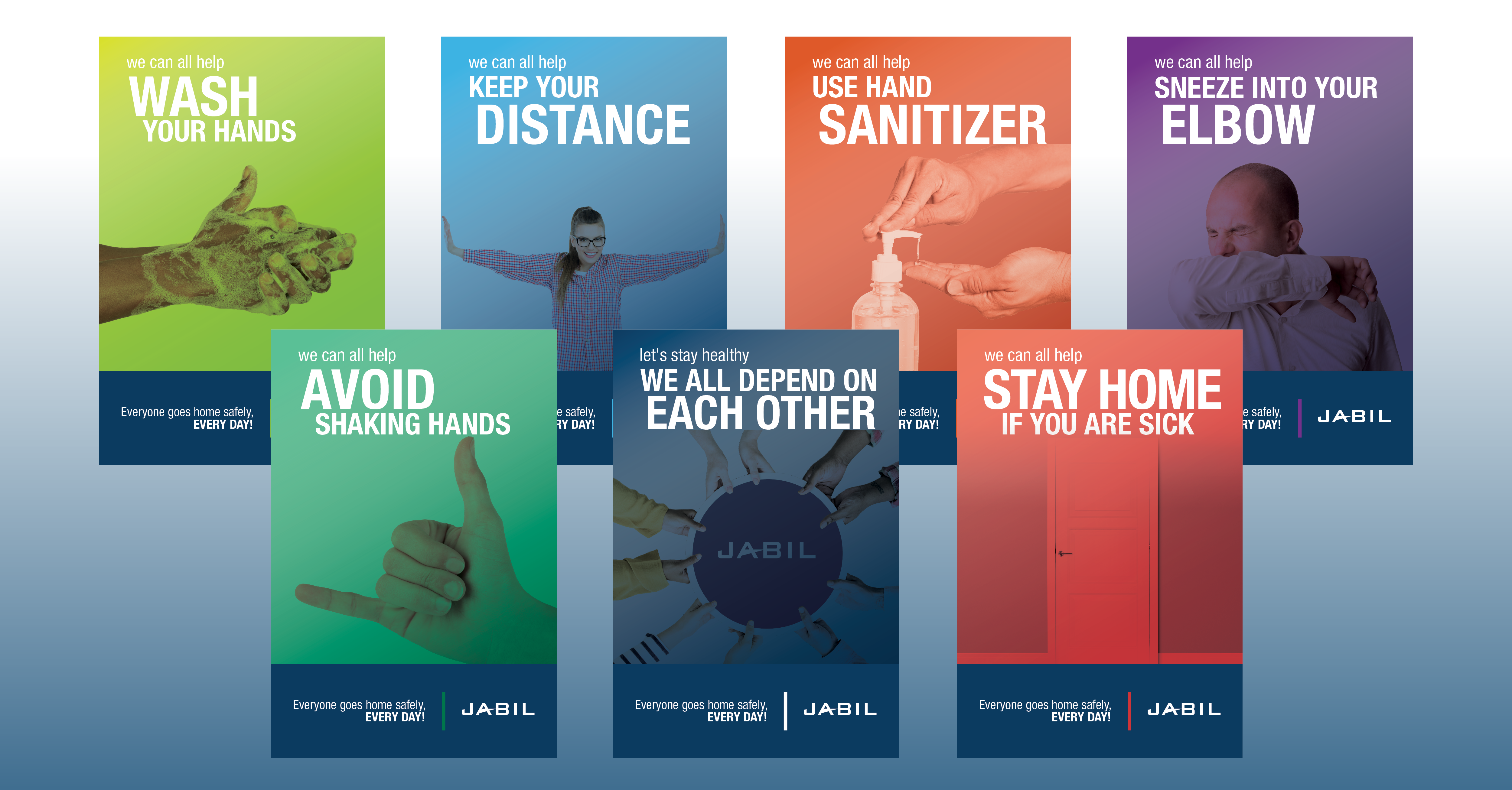 We are doing the best we can to reduce the number of people required to be in the workplace, but Jabil's manufacturing solutions are in critical demand. We support many vital infrastructures, such as healthcare and consumer goods packaging. Jabil has encouraged all employees whose job is not building-dependent to work from home. In some geographies, only employees working specifically on healthcare solutions are onsite.
Supplies Were Threatened, We Made Our Own
As COVID-19 spread internationally, hand sanitizer flew off of store shelves, both physical and virtual. This has led to inflated prices, limits on the number each customer can buy at a time and an all-around shortage.
With the supply of hand sanitizer dwindling, our team in Chengdu stepped up to the challenge with ingenuity, deciding to make their hand sanitizer. They tackled the problem with such excellence and determination that within days of coming up with the idea, we were making enough hand sanitizer to supply the entire site. After that, we ramped up production in other areas of the world.
We confronted a similar problem with protective face masks. Before COVID-19, masks were not needed for all our jobs in every facility. Now, our employees are required to wear two or three face masks every day. We are now internally producing masks to ensure our employees have the personal protective equipment they need to work safely and prevent virus transmission.
Our People Are Our Power
We are all in this together. The world is relying upon critically needed products, devices and technologies to help us solve this pandemic, and our people are building millions of them as we speak. That is why Jabil's people are our greatest asset, and why we do everything we can to protect them.
I have been truly inspired by our colleagues who are on the front lines making essential goods and healthcare products, colleagues making supplies to keep the rest of us safe and colleagues who are helping out in their communities outside of work.
Amid this crisis and the urgency to act, the way our people have responded has been nothing short of extraordinary. Although, I have worked here long enough that I didn't expect anything less. At Jabil, our people are our power, and we are stronger together.