As Pandemic Wanes, the Need for PPE Continues
As of June 2021, vaccination rates are rising and the rate of COVID cases are dropping in most countries. However, the need for vigilance in preventing spread, and defending against new variants or other illnesses remains. Healthcare workers and other industrial workers still need personal protective equipment (PPE) as they tend to curtail the spread of the virus and protect against other illnesses or particulate.
To respond to this need for our own employees and the communities where we operate, Jabil and our medical device subsidiary, NP Medical, have been manufacturing high performance face masks at several facilities. Applying our expertise, automation and dedication to quality, we have the capacity to make and ship millions of masks each month.
In highest use among frontline medical workers are the disposable blue face masks or surgical masks shown in the video and image below. The NP Medical nPro™ surgical masks are FDA-Cleared, Berry Amendment compliant and designed to protect both patients and healthcare worker from the transfer of microorganisms, blood and body fluids and airborne particulates. They are 3-ply disposable masks with comfortable, adjustable elastic ear loops.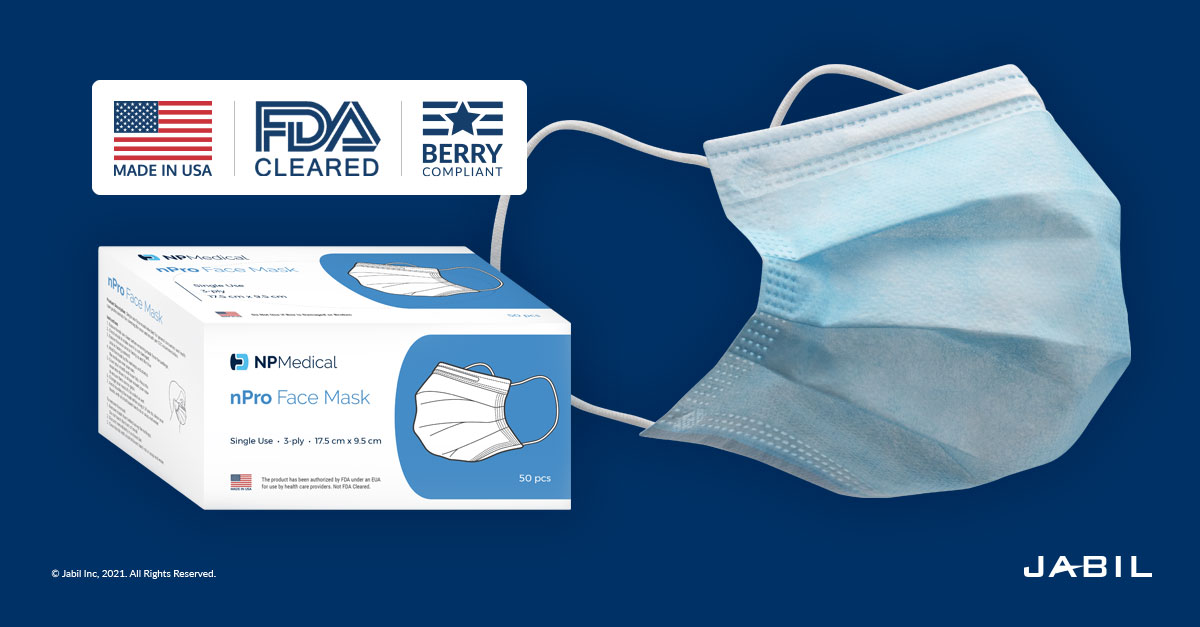 Our factories in Memphis, Tennessee and Gurnee, Illinois have already begun producing masks – an operation which will scale to a target of 1.6 million single-use face masks per day. Jabil's scale and expertise provides a path forward and, if needed, can ramp up to manufacturing over 2 billion face masks per year.
Key to Success: Collaboration
Necessity may be the mother of invention, but it goes hand-in-hand with collaboration. The success of these projects has been built upon cooperation across Jabil and NP Medical as well as with crucial partners in healthcare.
Jabil's customers have been key in bringing the problems our way in the first place and working together to find and build solutions. For example, another customer has asked us to help produce large numbers of face shields for hospitals.
Not only is Jabil as a whole working to make a difference in the communities and countries where we operate, but Jabil employees are also stepping up as individuals to make a difference in their communities and alleviate the stress put on healthcare professionals. To answer different local needs, Jabil and NP Medical have applied their expertise in materials, 3D printing, automation and supply chain processes.
Jabil is working with local and state governments, educational organizations and large companies to offer our capabilities in producing high-volume orders of Berry Amendment compliant, FDA-cleared PPE.