New COVID Variant Heightens Continuing Need for PPE
While studies are ongoing, multiple independent analyses have determined that new SARS-CoV-2 variants are presenting within populations in the United Kingdom, various continental European countries, as well as South Africa and Brazil.
The variant known as B.1.1.7, has been identified in at least three states in the United States. Although it is not expected to be resistant to current vaccines, it does appear to be more easily transmissible than the early strain of the coronavirus. Countries across the globe, from Scotland to Thailand, have issued stricter lockdowns in the last weeks of December 2020 and into January of 2021 in response to these concerning spikes in cases.
Initial estimates from investigations project the new COVID variants to be between 30% and 70% more contagious, numbers which are extremely concerning to epidemiologists and others in public health. More than ever, our collective and individual actions to stop the spread are critically important.
Throughout the global coronavirus pandemic, a shortage of personal protective equipment (PPE) has been a pressing challenge. Healthcare workers need PPE as they tend to those afflicted with COVID-19, and individuals across the world are wearing protective masks to curtail the spread of the virus.
As of September 2020, about 90% of PPE in the U.S. Strategic National Stockpile had already been distributed to state and local governments. And it's estimated that 129 billion (with a B!) disposable face masks are being used every month around the world.
To respond to this need for our own Jabil employees and the communities where we operate, Jabil and our medical device subsidiary, NP Medical, have been manufacturing high performance face masks at several facilities. Applying our expertise, automation and dedication to quality, we have the capacity to make and ship millions of masks each month.
In highest use among frontline medical workers are the disposable blue face masks or surgical masks shown in the video and image below. The NP Medical nPro™ surgical masks are FDA-Cleared and designed to protect both patients and healthcare worker from the transfer of microorganisms, blood and body fluids and airborne particulates. They are 3-ply disposable masks with comfortable, adjustable elastic ear loops.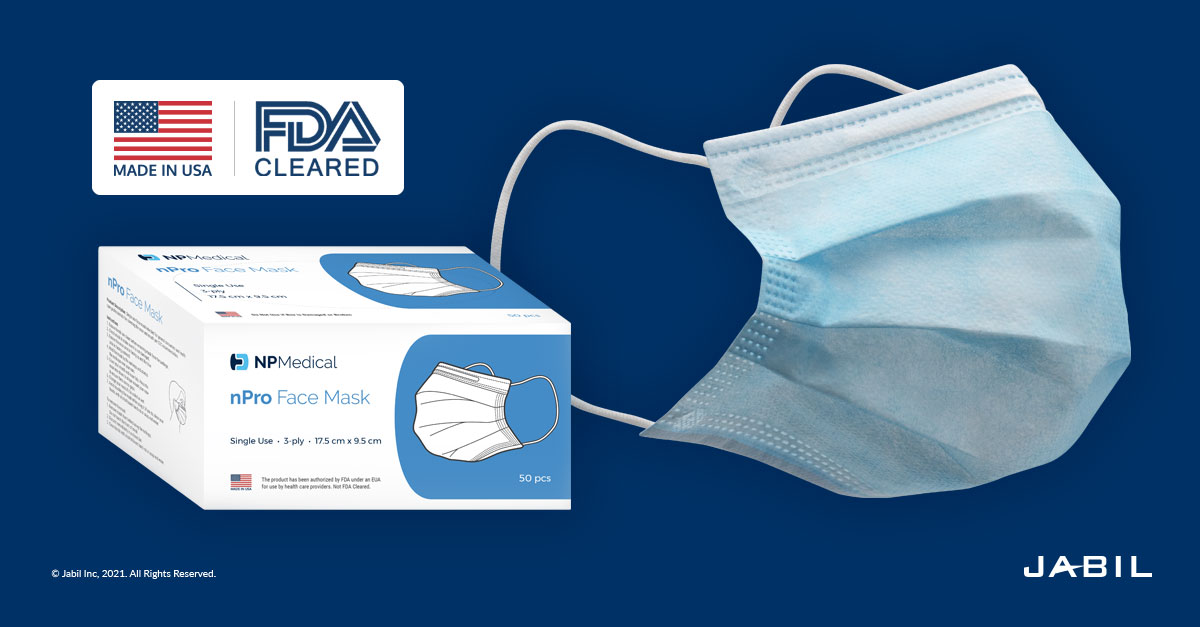 Since the coronavirus first emerged in Wuhan in December of 2019, Jabil has kept one priority above all others: the safety of our employees. Although protective masks were not standard for most Jabil workers before COVID-19, we quickly realized that wearing them would be necessary to protect employees who work in close contact with others inside buildings with potentially limited ventilation.
In the U.S., Jabil has launched a substantial face mask manufacturing operation to address the demand for face masks and other PPE. There is an eagerness and urgency within the country to support re-opening in parallel with the benefits forthcoming from effective vaccination programs.
Our factories in Memphis, Tennessee and Gurnee, Illinois have already begun producing masks – an operation which will scale to a target of 1.6 million single-use face masks per day. Jabil's scale and expertise provides a path forward and, if needed, can ramp up to manufacturing over 2 billion face masks per year.
Learn more about the FDA-Cleared surgical masks made in the USA.
Key to Success: Collaboration
Necessity may be the mother of invention, but it goes hand-in-hand with collaboration. The success of these projects has been built upon cooperation across Jabil and NP Medical as well as with crucial partners in healthcare.
Jabil's customers have been key in bringing the problems our way in the first place and working together to find and build solutions. For example, another customer has asked us to help produce large numbers of face shields for hospitals. We are now actively collaborating on a high-volume production plan with the goal of producing, together with our customers, more than 5,000 face shields per week.
Not only is Jabil as a whole working to make a difference in the communities and countries where we operate, but Jabil employees are also stepping up as individuals to make a difference in their communities and alleviate the stress put on healthcare professionals. To answer different local needs, Jabil and NP Medical have applied their expertise in materials, 3D printing, automation and supply chain processes.
In these months ahead, while we await the benefits of mass vaccination and immunization, Jabil is working with local and state governments to offer our capabilities in producing high-volume orders of FDA-cleared PPE made in the USA.