Finding a Quicker Path to Commercialization
In the Consumer Packaged Goods (CPG) industry, capturing market share and margin while trying to stay relevant is a critical challenge. "Profit margin improvements based solely on ferocious cost cutting can be short-lived and ultimately leave companies unprepared to take advantage of marketplace opportunities," states a 2017 Consumer Packaged Goods Trends report by strategy&.
In addition to focusing on their cost base to drive continual efficiency, CPG companies must also be measured and sophisticated in how they manage and improve the top line. This all begins with deepening their understanding of consumer trends, shopping habits and technology innovations.
Add to this the difficulty of the New Product Introduction (NPI) process and things can get even more complex. According to the Harvard Business Review, 75 percent of CPG and retail products fail to earn even $7.5 million during their first year. In fact, less than three percent of new products exceed first-year sales of $50 million – a benchmark for successful launches.
How can CPG companies lay their claim to the position of innovator? More important yet, how can they ensure they are not just next in line, or worse, irrelevant?

Time-to-Market in New Product Introduction
CPG companies spend millions of dollars and countless hours of labor in development, engineering, advertising and other areas for NPI. After all, they have to:
Develop the right product
At the right price
In the right channel
For the right customers
With the right promotion
At the perfect time
It goes without saying that launching a new product is no easy feat – it can take several years - which significantly affects time-to-market. Everything from capabilities in first-time-right design and engineering for volume production and digital prototyping capabilities can impact time-to-market.
With an increasingly impatient marketplace that requires instant gratification, speed is essential. Even in a relatively smooth NPI process, despite having identified the right innovation opportunity, there's still the very real risk of missing the mark by launching too late.
Then how do you beat your competition to market to deliver a compelling brand and product experience that enables the company to increase market share and margin? How do you decrease your time-to-market in the NPI process?
The Traditional Path to Commercialization in New Product Introduction
There are three attributes to the "right" product: desirability, viability and feasibility. In theory, if there's sufficient demand for a product that's technically feasible to make and is viable for business success, it should be successful, right? Alas, that assumption is likely too simple.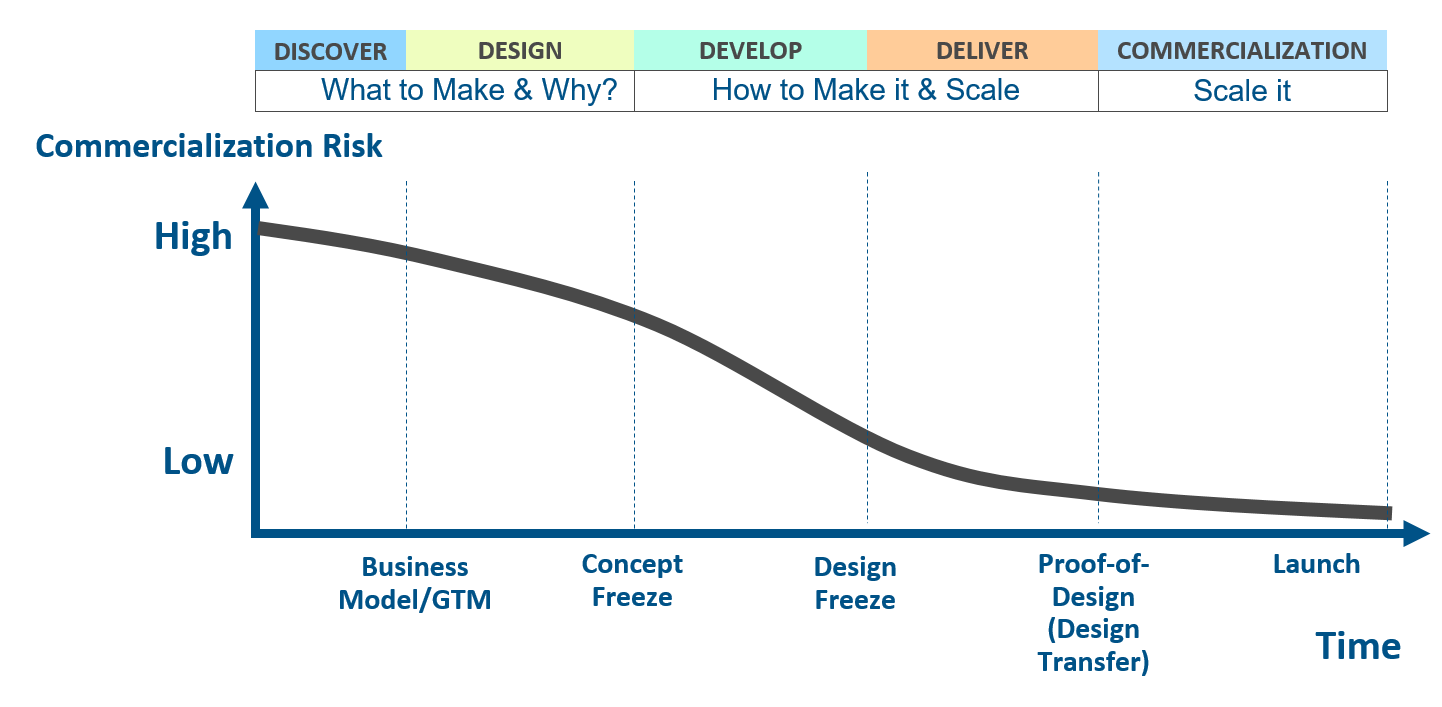 As with most projects, cost is one of the most important considerations (and usually, limitations). The longer the duration of the NPI project, the higher the costs become. This is why there must be advance planning and careful deliberation before taking on a new NPI project. The following steps outline some key considerations in an NPI project.
Discover
The discovery phase of NPI is the most important. It is, after all, about evaluating trends, personas and pain points, while considering new technologies that can accelerate the go-to-market strategy. Despite all the information CPG companies have on hand, most have no idea if their new product will be successful. Failure rates for new products hover at 60 percent and two-thirds of new product concepts don't even launch. A successful discovery phase must begin with some of these key questions:
What is the business model and value proposition?
What are the markets, channels and market introduction timing?
Who are the users and personas?
What new technology may be required?
What new manufacturing process or operating model is required?
What new partners are required?
What core requirements and regulatory pathways must be established?
What is the go-to-market strategy?
Design
After the roadmap for the new product has been mapped out in the discovery phase, the design phase is where true feasibility is measured. We recommend that CPG companies plan to spend significant time in this NPI phase focusing on:
Creating concepts for delivering on business model and value proposition
Gathering Initial verification that concept(s) deliver on the target user needs
Determining manufacturing feasibility
Vetting and selecting new technologies
Aligning and engaging with new partners
Adding details to core requirements
Aligning on a single concept path for commercialization
Affirming go-to-market strategy and costs targets
Agreeing on a launch schedule
Subscribe to the Jabil Blog
Sign up for weekly updates on the latest trends, research and insight in tech, IoT and the supply chain.
Develop
As CPG companies move into the develop phase of the NPI process, their focus should shift to how to actually make and scale the product. In this phase, we recommend focusing on:
Exhaustive design inputs
Proof-of-concept
Verification of the primary core functionality
Validation that user needs are met
Design for manufacture validation and verification that costs are on target
Deliver
One step closer to launch, we recommend that CPG companies that make it to the delivery phase pay close attention to:
Proof-of-design
Exhaustive design verification
Initial proof-of-process
Final quote for production
Design transfer/lock
Commercialization
When CPG companies reach this step, it's time to exhaust the proof-of-process and start producing at scale. The traditional path to commercialization in the NPI process begins with a high level of commercialization risk.
In this traditional path, commercialization is longer and the risk is only mitigated to an acceptable level in the deliver phase. How can CPG companies accelerate reduction in commercialization risk early? How can they accelerate product introduction?
Join Martin Johnson from Jabil Packaging Solutions and Toriono Granger from Radius Innovation and Development to understand how you can build a durable first-mover advantage, reduce risk and accelerate the NPI process to launch before your competitors can catch up.