How to Win the Product Time-to-Market Race
New Product Introduction is important and expensive in the Consumer Packaged Goods segments, especially if you want to beat your competitors in time-to-market. Just ask the likes of Henkel, Procter & Gamble, Coca-Cola and Frito-Lay (to name a few) who spend millions of dollars and countless man hours in product and packaging engineering and advertising just to launch a new solution to their "new" hungry consumers.
The average cycle for a new product introduction can run anywhere from three to five years. As hard as it is to believe, sometimes it's even longer! So it goes without saying that this significantly affects time-to-market. And in the race to capture hearts, minds and taste buds before the competition beats them to it – even the minimum three years is too long!
It's no wonder then that speeding time-to-market is such a critical requirement for the world's leading consumer brands. Win the race to the shelf and you gain a near-guaranteed advantage over the competition from the start. It's also no wonder that this is exactly what our Value Added Packaging Survey results reflected. Jabil Packaging Solutions sponsored a survey of 200+ decision makers representing a variety of roles in a broad range of companies who all buy packaging – and the results were fascinating!
The second most important consideration in packaging purchases – second only to price – was a supplier's ability to improve time-to-market through offerings such as extended design, prototyping and tooling capabilities. Indeed, a notable 51% favored time-to-market as a purchasing priority.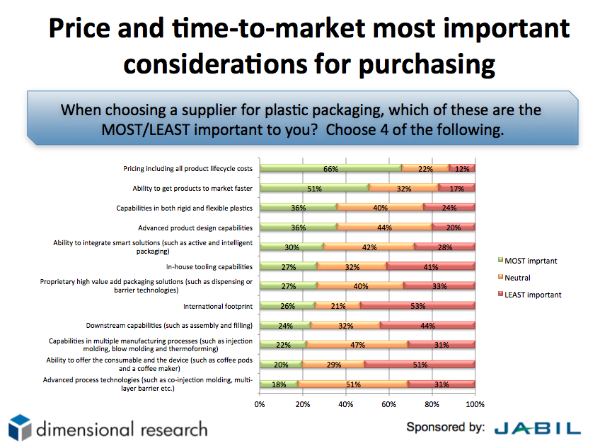 Expertise and capabilities that help brands achieve the Holy Grail of speed are a tall order. Everything from capabilities in first-time-right design and engineering for volume production to digital prototyping capabilities and 3D printing expertise can impact time-to-market. And modular tooling steals the show when it comes to production gains, diminishing the cost and requirement to build new plastic injection molds to deliver custom, volume packaging for a differentiated customer experience. Even supply chain orchestrationgets in on the fun – supporting near-shoring analysis to enable delivery of the solutions to the customers faster than off-shoring ever could. Take the ocean out of the equation and the months just melt away!
Platform design and modular tooling, connecting and overlapping phases of the development cycle to eliminate stop gaps, and integrating new tools for acceleration made possible by game-changing 3D printing technology and digital prototyping help decrease time-to-market significantly. No matter the segment – from home and beauty care to consumer health – the tools are there to accelerate innovation.
Subscribe to the Jabil Blog
Sign up for weekly updates on the latest trends, research and insight in tech, IoT and the supply chain.