Break the Bottleneck: Global Logistics in a Disrupted Supply Chain
After the global logistics and freight industry was hit hard by the Great Recession in 2008, they took one lesson into the next decade: Optimize. Get lean, and get efficient. The trucking, rail, air cargo and maritime industries grew slowly but steadily, integrating new supply chain technologies to maximize efficiencies and keep costs down rather than add significantly to their fleets or warehouse footprint. Keeping operations tight and resisting the urge to expand too quickly helped logistics companies successfully navigate small global logistics disruptions as they came — like lower-than-expected demand, the rise of e-commerce and increasingly common weather phenomenon.
When COVID-19 first hit and demand fell off a cliff, it seemed logistics companies had made the right call by not massively expanding capacity post-recession. Then, as consumers started spending the money they would have spent on events, trips or restaurant meals on goods, that outlook quickly changed.
The bottleneck that has developed at the Ports of Los Angeles and Long Beach in California, collectively responsible for processing about 40% of U.S. imports, is perhaps the best visualization of the logistics breakdowns the pandemic has caused. In October 2019, ships moved smoothly into the ports, dropped off their contents and moved out. Two years later, ships are piling up in the Pacific Ocean, sitting at anchor off the California coast for an average of 13 days waiting to dock at one of these ports. Shipments across the ocean have dropped from an on-time average of about 80% to 35% (as of late November 2021). On shore, the amount of cargo coming in far outweighs the amount of labor available to unload it and truck it to warehouses, stores and consumers, causing another pileup.
of container ships are on time, as of November 2021
The massive disruption in logistics is one of the driving factors behind the current global supply chain crisis. Disasters like tsunamis and hurricanes have challenged the industry before, but their impacts have been somewhat localized. This crisis is different. Though it is driven primarily by demand from U.S. residents, the crush of goods into North American ports is causing a ripple effect on supply chains and logistics operations everywhere.
OEMs, retailers and logistics companies are being forced to make shipping decisions that would have never even been on the table. Temporary fixes, like keeping the Ports of Los Angeles and Ports of Long Beach running 24/7, might provide some relief, but an imbalance of supply and demand, plus labor shortages, could limit their effectiveness.
Unclogging the logistics pipeline will take time and patience. In the long term, companies must think about how best to optimize global logistics to prepare for the next inevitable disruption.
First, though, let's dive deeper into the disruptions within each piece of global logistics. A bottleneck in any one of these segments — from port closures to labor shortages — would have an impact on the others. A bottleneck in all of them is grinding the system to a near halt.
How Is COVID-19 Disrupting Logistics?
The pandemic is truly at the heart of every supply chain and logistics challenge we face today. Outbreaks of the virus itself are still causing problems for logistics operations worldwide.
According to the CFOs who participated in CNBC's Global CFO Council survey for the fourth quarter of 2021, COVID-19 is the biggest external threat to their businesses — more than cyberattacks, inflation or supply chain issues. While the availability of vaccines, vaccination rates and impact of particular variants all play a role in the effects of the virus on different parts of the world, strict quarantine rules in some regions are periodically closing off important logistics hubs with little to no notice.
For example, in August 2021, a single COVID-19 case at China's Port of Ningbo, the third-busiest port in the world, shut down a terminal responsible for processing 25% of the cargo that passes through the port for two weeks. Then in October, one employee at Hong Kong International Airport's cargo terminal tested positive for the virus, causing a temporary workforce reduction of about 25% and creating significant delays of both imports and exports. As a main hub for logistics into the Americas, this only added to the congestion.
These are just two examples of COVID-19 outbreaks adding to shipping delays. As the virus persists, so too will control measures that require quarantines, reduced workforces or complete shutdowns of logistics operations.
The persistence of COVID-19 has also impacted one of the main ways cargo is carried from point A to point B. Consumers may not realize it, but when their checked bag must be brought on a later flight because the cargo hold is full, it's probably not because the plane has too much luggage on it; instead, it's carrying thousands of pounds of goods alongside passengers' suitcases.
Before the pandemic, commercial airlines carried about 40% of global air cargo. As of October 2021, some international travel restrictions are still in place and not all consumers are ready to travel, so the airline industry is still in recovery. Passenger airplane belly cargo capacity is still down 43% from 2019 levels, putting more strain on land and sea transportation to get components and products to the next step in the supply chain.
less capacity is available for belly cargo on passenger airplanes in 2021 compared with 2019
How Are Labor Shortages Disrupting Logistics?
As in most industries, logistics is dealing with a labor shortage across all of its segments. From long-haul truck drivers to longshoremen to warehouse pickers, there's a need for skilled and manual work across the board to move freight through the supply chain.
The labor gap in trucking started before the pandemic. In 2020, the American Trucking Association reports that the truck driver shortage was a little below 60,000; that number has risen to 80,000 in 2021. One million new drivers would need to be recruited in the next decade to replace retiring drivers, drivers who leave voluntarily and to keep up with industry growth. The ATA says it has been challenging for trucking companies to recruit women, who make up just 7% of truck drivers, and younger drivers, as federal law mandates commercial truck drivers be at least 21 to cross state lines.
At ports, railroads and warehouses, a lack of long-haul truck drivers has slowed down the ability to load and unload product. When they arrive at ports, truckers do not know how long they will be waiting to pick up their next load of cargo, and they are not paid while they wait. This system is leading many drivers to take last-mile delivery jobs instead of long-haul.
Consequently, the average dwell time of a container, or the amount of time it sits at a port before being loaded onto a truck, has increased from under three days pre-pandemic to about six days in October 2021. A lack of longshoremen has added to the bottleneck at ports, where they are responsible for using massive cranes to lift the metal containers off a docked ship and place them onshore for a truck or train to pick up.
Warehouses are feeling this same constraint. As of July 2021, the warehouse and transportation industry had a record-high 490,000 job openings; that doesn't even account for the tens of thousands of seasonal positions logistics companies tack on for the holidays. Retail robots and other automated systems have eased the strain on warehouses, especially for repetitive tasks like picking and packing.
For the transportation industry, however, the disparity between the supply of labor and the demands of consumers is merely adding to the snarls on the roads, at the ports and in the oceans.
How Are Transportation Issues Disrupting Logistics?
For the past nearly two years, instead of spending money on a 10-day cruise or some other type of experience or service, consumers have spent their expendable income on physical goods — sending demand soaring. Between 2020 and 2021, U.S. retail imports rose 18%, jumping from 22 million TEUs (20-foot equivalent units, or the size of a container ship) to 26 million. For context, the growth between 2019 and 2020 was less than 2%, and there was a slight dip in imports between 2018 and 2019.
retail imports growth between 2019 and 2020
retail imports growth between 2020 and 2021
In turn, suppliers, OEMs and retailers need to move more components and products across continents to keep up. This is again complicated by the fact that belly cargo capacity isn't expected to return to pre-pandemic levels until 2024.
Unsurprisingly, this is causing huge pressure on companies at every part of the supply chain. The CEO of McCormick & Company told CNBC that transportation and logistics is currently the company's greatest limiting factor, causing them to lower their earnings forecast for the year.
Perhaps the transportation challenge generating the most headlines is the container ship problem. As previously discussed, containers are now sitting at anchor and in ports across Europe and North America much longer than they typically would (10 to 13 days as opposed to one day, if that, in the "before times"). The overwhelming flood of goods coming from Asia into the Americas is primarily causing the backlog of containers, along with the shortage of truck drivers to pick up those goods.
Also playing a role is the equipment shortage — specifically, a chassis shortage — at ports. Empty containers are being returned to the yards where truckers originally picked them up and then sitting on chassis for days, waiting for an available container ship to take them back to Asia. Alternatively, truckers are bringing the containers to warehouses that are already at capacity. Instead of just dropping the container, the trucker drops the container with the chassis still attached. Without chassis to attach them to trucks, containers are sitting even longer at ports — adding another slowdown to the logistics equation.
Just as there aren't enough chassis, there aren't enough containers in the world to keep up with consumer demand. The containers that are in use are being sent back empty to Asia to pick up new loads quicker. There's currently a 40% imbalance in trade, meaning only 40 out of every 100 container ships are sent back with exports. The rest are either waiting to be unloaded or are sent straight back to Asia to maximize profits.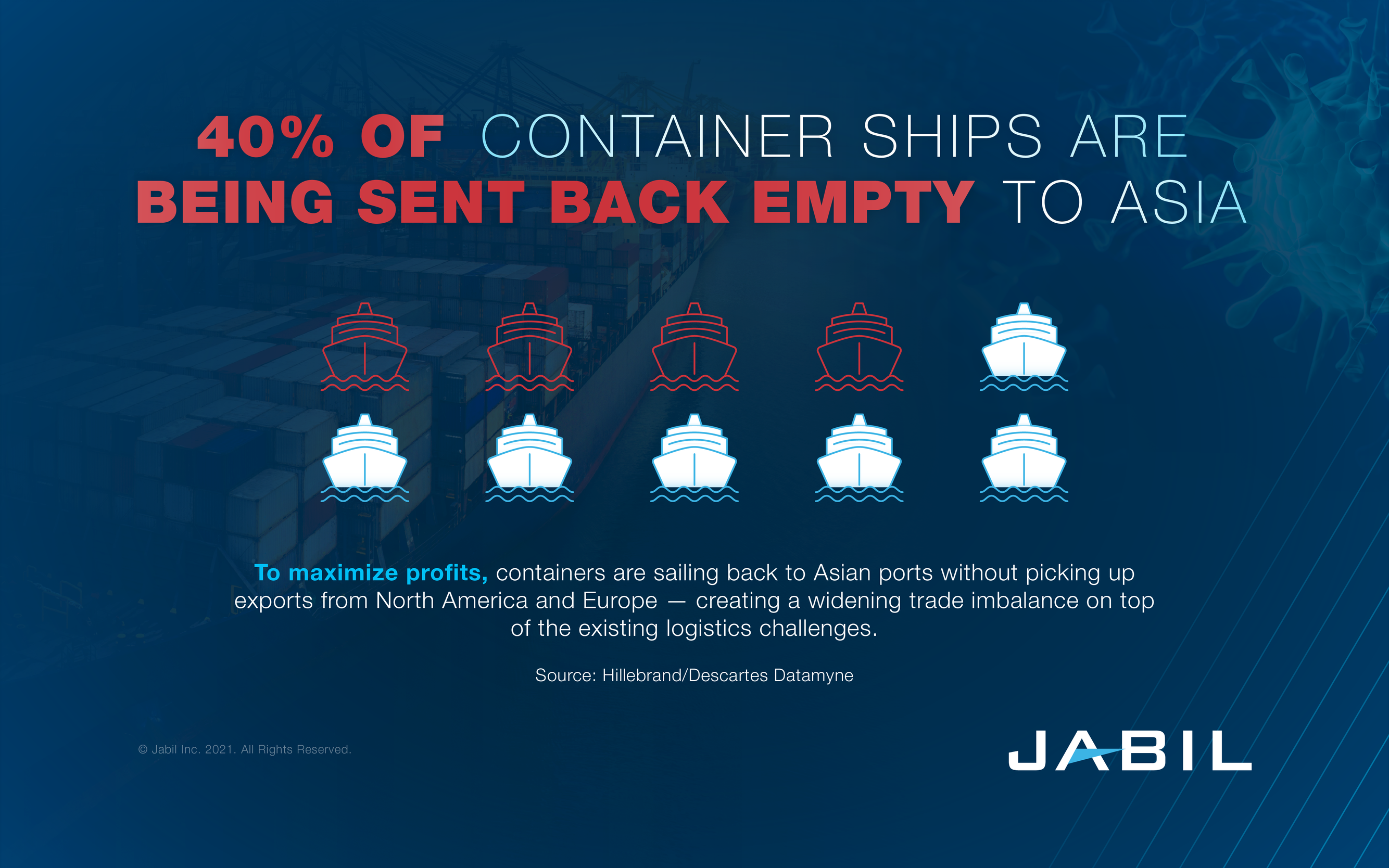 At the end of October 2021, according to the U.K.-based maritime research firm Drewry, the spot freight rate from Shanghai to Los Angeles was about $11,000; the reverse route cost about $1,300. It was even more drastic between Shanghai and Rotterdam; $14,000 going west and $1,600 coming east. For shipping companies, the choice to forgo the relatively small potential profit they could make from picking up imports in North America or Europe is an easy one. The import and export imbalance this decision is causing is yet another never-before-seen problem of the supply chain and logistics crisis.
Logistics professionals are also moving shipping lanes as necessary to avoid clogged routes. Shipping companies are pivoting to smaller ports as large ports become too backed up to take on more cargo. The CEO of the Port of Hueneme, a small port just north of Los Angeles, told NPR that she receives multiple inquiries a day from companies looking to reroute their cargo from their larger Ports of Long Beach or Los Angeles. Some ports, like the Port of Oakland and the Port of Jacksonville, have even volunteered to take on more shipments to relieve the burden of busier ports.
Companies are also being forced to look at options that they previously would have never considered but, considering the port backups, could result in getting components or products to their next destination faster. Instead of importing a product in Oakland, California, and flying it to Louisville, Kentucky, that might mean shipping it into Mexico and trucking it up to Kentucky. The Port of Long Beach, California, one of the two busiest ports in the U.S., partnered with the Utah Inland Port Authority to move cargo to Salt Lake City in blocks of containers via rail — instead of by truck, one container at a time.
Some individual retailers are going to extraordinary lengths to get their products to warehouses and store shelves in a timely fashion. Major brands like The Home Depot, Walmart and IKEA have chartered their own container ships, an absolutely unheard-of phenomenon before this supply chain crisis. For these retailers, the cost of the ships is relatively small compared to the potential lost revenue if the products don't make it to consumers — especially in time for the lucrative holiday season.
New logistics challenges seem to arise every week, if not every day — from an oil spill off the coast of Los Angeles to a container ship blocking a major trade route for 10 days. Demand will eventually level off, and the supply chain will return to some kind of normal in the coming years. As logistics professionals, we must analyze and optimize our systems for the best and worst of times.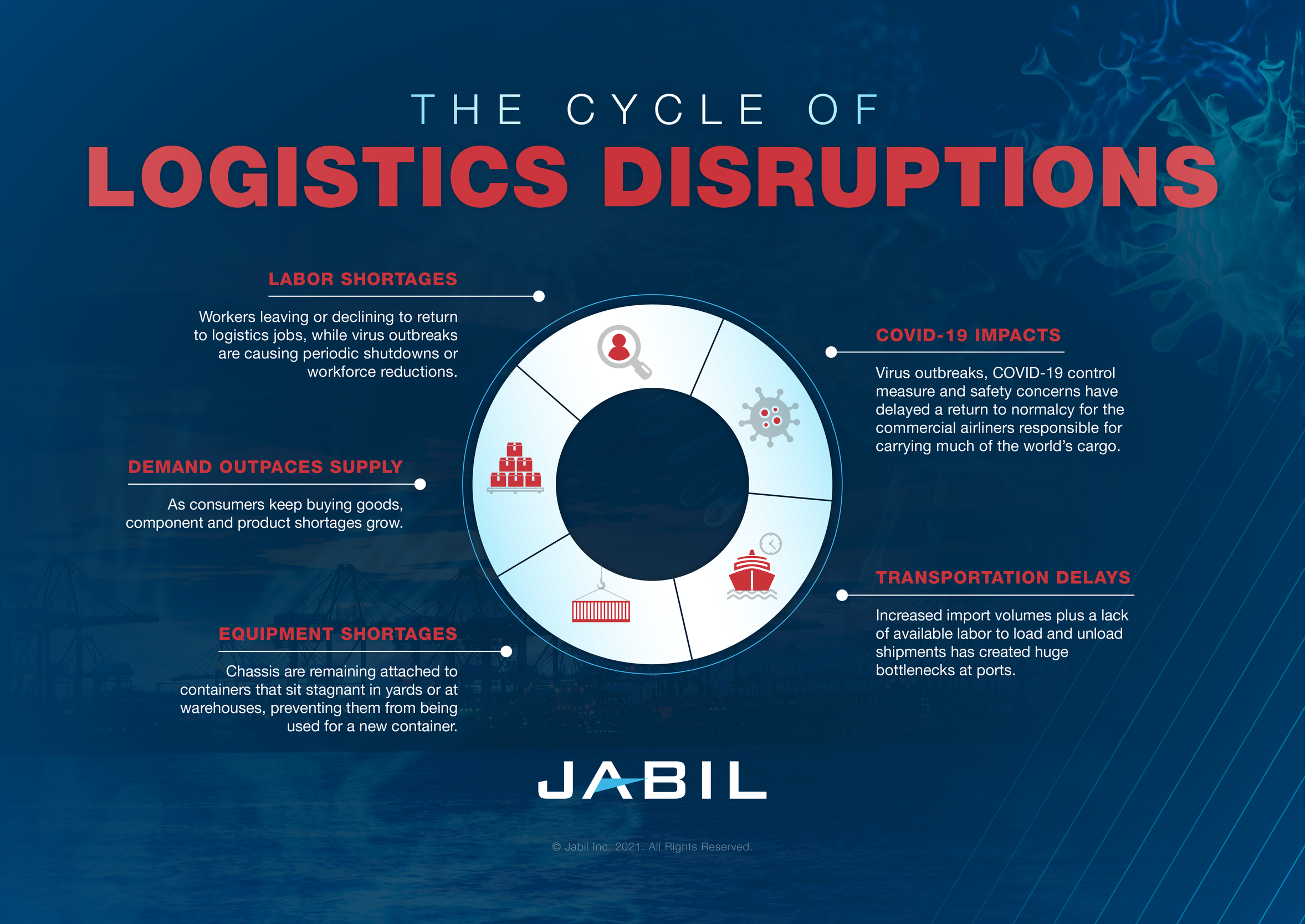 How Can We Optimize Global Logistics in a Highly Disruptive Supply Chain?
At Jabil, we describe the supply chain in terms of its people, processes and technology. The right combination of these three elements is the foundation for a successful, resilient supply chain — and an optimized logistics strategy.
People
Individuals with the expertise to collect, analyze and act on data are key to making logistics decisions, especially when the waters are rough. If you have two possible routes, what are the transit times of each? When is the product needed at the destination? What is the tonnage and value of the shipment? What is the on-time percentage of the logistics carrier in question, and what technology are they using Answers to all these questions will help you achieve the ultimate goal of logistics: improve on-time delivery, reduce the cost of the shipment and reduce the transit time of the shipment.
These answers can also help improve the experience of logistics and warehousing workers. In warehouses, knowing when and how much product to expect will help create more accurate and reliable employee scheduling; fewer shifts will need to be canceled or scheduled at the last minute. Long-haul truck drivers can plan to show up to a port when a container is ready to be unloaded and not be stuck waiting. An optimized transportation management strategy, from choosing the right driver to analyzing route options to minimize slowdowns, can help improve the retention rate of truckers and begin repairing the industry's labor shortage.
Communication with your carriers and logistics partners is critical to know what lies ahead, from container availability to pricing increases. Good partnerships prevent your company from getting burned when a carrier needs to decide where a container ship is sent or who gets space on it.
Processes
Processes can help reach the logistics goal of on-time deliveries, lower-cost shipments and quicker transit times. The name of the game is visibility. Businesses want the same level of information about the status and location of their goods in production as consumers do about theirs on the way to the mailbox.
From a logistics perspective, this looks like the ability to know not only which container ship your components are on, but where on the ship they're sitting, exactly when they make it to the port, when they're unloaded, and where they are in the warehouse. Gaining the level of visibility companies want into the logistics process takes a sophisticated digital system of sensors or tags to indicate where shipments are at any given point.
With end-to-end visibility, logisticians can use predictive analytics to design optimized routes and more accurately forecast what's to come for a company's shipment. For example, if it's determined a particular route is the optimal one using predictive analytics, those analytics could also be used to predict that what would normally be a 65-day transit time will actually be 90 days because of port congestion. A logistics as a service partner can offer technologies and expertise to support the efforts of an in-house supply chain and procurement team.
Technology
Thanks to technology, how cargo moves could soon be changing. FedEx is one of a few companies testing autonomous delivery trucks; the company's route runs between Houston and Dallas, Texas.
The pandemic accelerated the already-growing use of automated robots in warehouses for repetitive activities like picking and packing. While there's been extensive discussion about automation and artificial intelligence in manufacturing to create the factory of the future, I think the same could be said for the "port of the future."
Ports are just beginning to invest in automation and other digital technologies, a consideration that could grow with the increasing longshoreman shortage. A 2021 report from the International Transport Forum found that only 53 container terminals worldwide have automated capacities, or 4% of global container capacity. Currently, most automated systems are found in the container yard, to lift or stack containers. Before adopting automated or digital technologies at random, ports should first analyze their pain points to determine where those systems could most benefit their operations.
With people, processes and technology in place, logistics will be the final link in your resilient supply chain.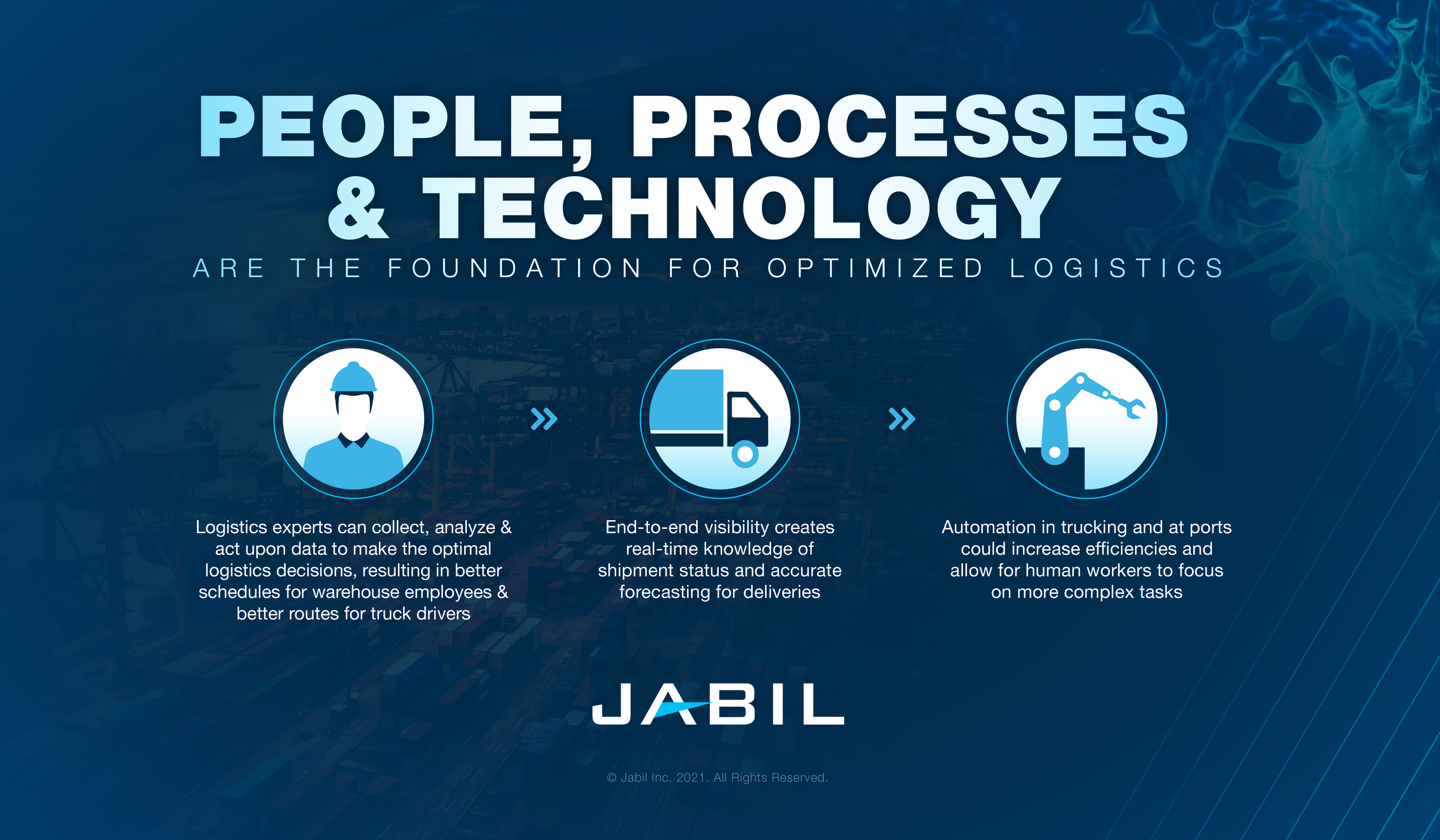 How Do Optimized Global Logistics Contribute to Supply Chain Resiliency?
A resilient supply chain doesn't break when it's tested. It bends, then quickly bounces back. Optimizing global logistics by making them predictive and proactive is crucial to building a supply network that can withstand the next disruption.
First, work with your shipping partners early on pricing and agreements. Setting up three-year agreements, rather than short-term deals, locks in pricing so you know what's coming down the pipeline in the months ahead. By having those agreements in place, you're creating partnerships you can lean on. The freighters you're working with likely know their routes better than anyone; ask them questions, learn from them, and work with them to find creative solutions when logistics issues arise.
Then, like you would have multiple suppliers for a component, have multiple supply route options. Changing ports, putting three or four modes of transportation together to move products: These are not steps we would have taken before March 2020, but the pandemic has likely forever changed how we approach logistics.
Be flexible. Be creative. Most importantly, be proactive. With a visible, predictive logistics plan in place, not even a container ship stuck in the Suez Canal can send your supply chain off course.
How can Jabil's supply chain team help your business? Contact us today.