Break the Bottleneck: Global Logistics in a Disrupted Supply Chain
After the global logistics and freight industry was hit hard by the Great Recession in 2008, they took one lesson into the next decade: Optimize. Get lean, and get efficient. The trucking, rail, air cargo and maritime industries grew slowly but steadily, integrating new supply chain technologies to maximize efficiencies and keep costs down rather than add significantly to their fleets or warehouse footprint. Keeping operations tight and resisting the urge to expand too quickly helped logistics companies successfully navigate small global logistics disruptions as they came — like lower-than-expected demand, the rise of e-commerce and increasingly common weather phenomenon.
When COVID-19 first hit and demand fell off a cliff, it seemed logistics companies had made the right call by not massively expanding capacity post-recession. Then, as consumers started spending the money they would have spent on events, trips or restaurant meals on goods, that outlook quickly changed.
Bottlenecks developed at the Ports of Los Angeles and Long Beach in California, collectively responsible for processing about 40% of U.S. imports, and provided a visual representation of the many logistics breakdowns caused by the pandemic. When delays were at their worst in fall 2021, ships piled up in the Pacific Ocean and average time at anchor grew to 18 days, according to Bloomberg. Shipments across the ocean dropped from an on-time average of about 80% in 2019 to 35% (as of late November 2021). While these challenges were headline grabbing, they have been somewhat resolved. Ships are now waiting only two days, on average, to dock at the Ports of Los Angeles and Long Beach. However, according to Seabury, global carrier schedule reliability remains around an all-time low of 35.9% (as of April 2022).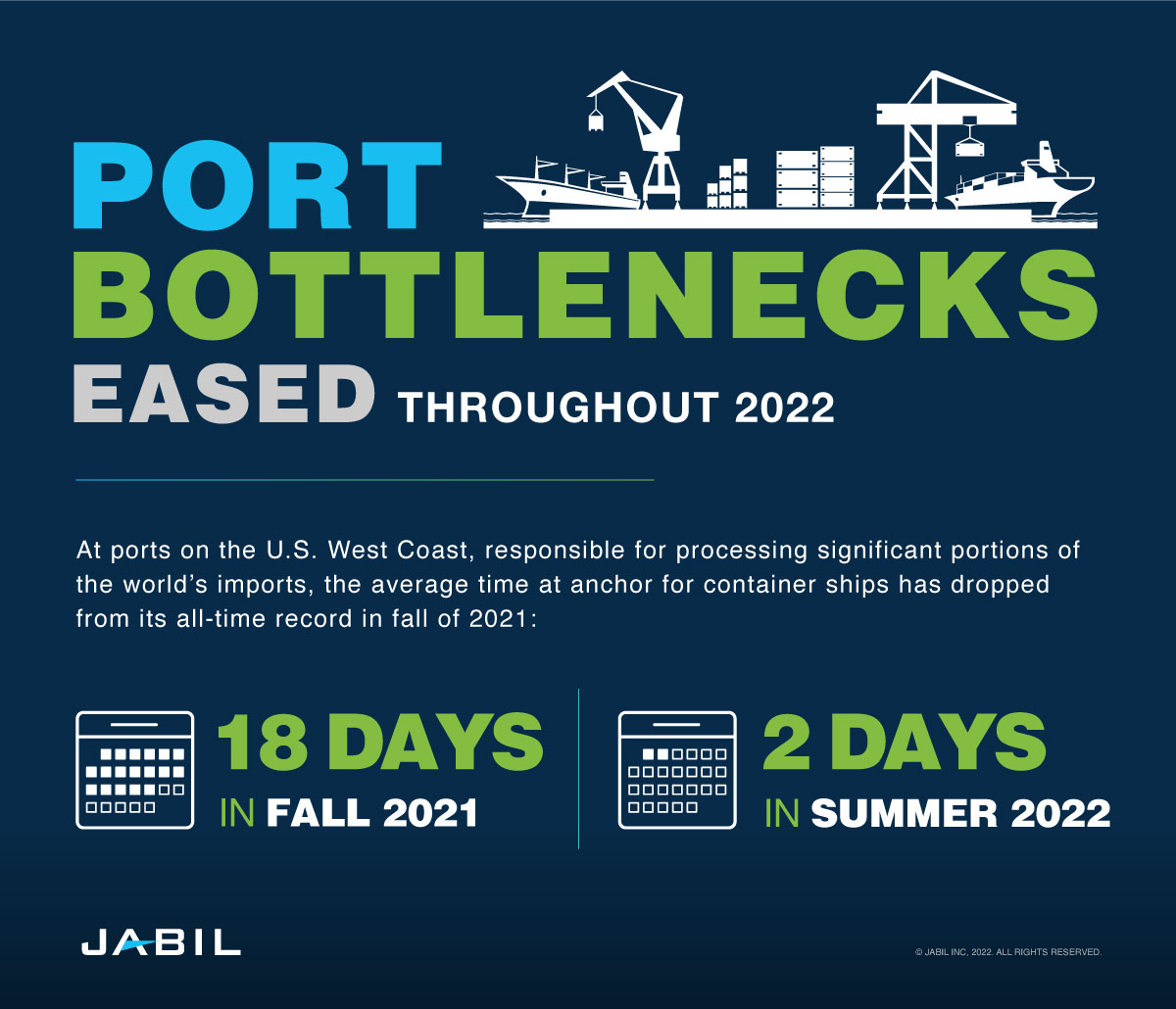 The port breakdowns were just one dimension of the massive disruption in logistics that is helping to fuel the global supply chain crisis. Disasters like tsunamis and hurricanes have challenged the industry before, but their impacts have been somewhat localized. This crisis is different. Driven primarily by demand from U.S. residents, the crush of goods into North American ports has caused a ripple effect on supply chains and logistics operations everywhere.
OEMs, retailers and logistics companies are being forced to make shipping decisions that would have never even been on the table. Temporary fixes, like keeping the Ports of Los Angeles and Ports of Long Beach running 24/7, might have provided some relief, but an imbalance of supply and demand, plus labor shortages, could limit their effectiveness. Additionally, ongoing COVID-19 outbreaks and subsequent lockdowns, as well as the Russian invasion of Ukraine, are putting additional pressures on an already stressed system.
Some companies are anticipating that these so-called "COVID-era" logistics challenges we've faced may last longer than we had hoped. In a global supply chain survey Jabil conducted in partnership with IndustryWeek in January and February 2022, 41% of supply chain professionals surveyed across a wide range of industries said they believe delayed shipments will continue beyond the pandemic. A full quarter expect to see travel restrictions and port closures extend into the future as well.
Unclogging the logistics pipeline will take time and patience. In the long term, companies must think about how best to optimize global logistics to prepare for the next inevitable disruption.
First, though, let's dive deeper into the disruptions within each piece of global logistics. A bottleneck in any one of these segments — from port closures to labor shortages — would have an impact on the others. A bottleneck in all of them is grinding the system to a near halt.
How Is COVID-19 Disrupting Logistics?
The pandemic is truly at the heart of every supply chain and logistics challenge we face today. Outbreaks of the virus itself are still causing problems for logistics operations worldwide.
While the availability of vaccines, vaccination rates and the spread of the omicron variant have all played a role in the effects of the virus on different parts of the world, strict quarantine rules in some regions are periodically closing off important logistics hubs with little to no notice. More than a quarter (28%) of respondents in the Jabil survey said they've rerouted logistics in the past year to avoid border closures.
These shutdowns can be caused by small outbreaks, like when one employee at Hong Kong International Airport's cargo terminal tested positive for the virus in October 2021, causing a temporary workforce reduction of about 25% and creating significant delays of both imports and exports. As a main hub for logistics into the Americas, this only added to the congestion. But the biggest challenge posed by the virus is major outbreaks that lead to widespread shutdowns of entire ports and cities, like the shutdown of Shanghai in April 2022. The two-month lockdown was the most significant in China since the onset of COVID-19 and had ramifications across the supply chain.
Though Shanghai's port remained open during the shutdown, transportation of cargo became challenging and contributed to an already growing backlog of exports. Shipping networks between Asian countries were particularly delayed this spring, creating extended disruptions of raw materials and semi-finished goods that exacerbated manufacturing shortages.
These are just two examples of COVID-19 outbreaks adding to shipping delays. As the virus persists, so too will control measures that require quarantines, reduced workforces or complete shutdowns of logistics operations.
The persistence of COVID-19 is also driving extensive delays and cancellations in the commercial air market. Before the pandemic, commercial airlines carried about 40% of global air cargo. As of June 2022, some international travel restrictions are still in place and virus-related flight cancellations have become the norm in countries with little or no restrictions, so the airline industry has yet to fully recover. However, passenger airplane belly cargo capacity is approaching normal levels, down only 6% from 2019 levels.
Once products and components land, though, finding enough labor to get them to the next step of the supply chain is another challenge compounding the logistics problem.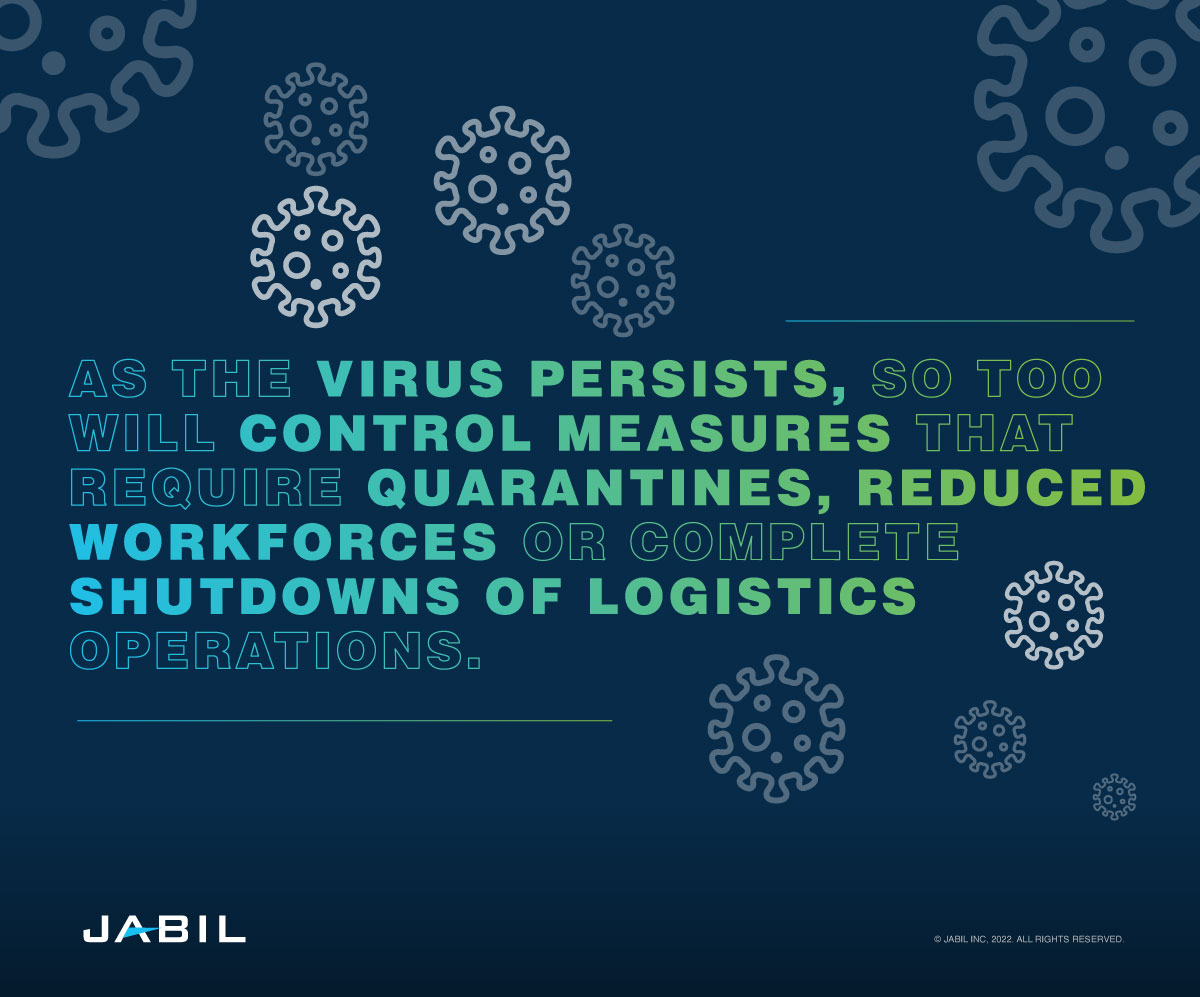 How Are Labor Shortages Disrupting Logistics?
As in most industries, logistics is dealing with a labor shortage across all segments. In the Jabil and IndustryWeek survey, 60% of respondents said they had experienced moderate or significant negative impacts from labor costs or shortages during the pandemic. From long-haul truck drivers to longshoremen to warehouse pickers, there's a need for skilled and manual work across the board to move freight through the supply chain.
The labor gap in trucking started before the pandemic. In 2020, the American Trucking Association (ATA) reports that the truck driver shortage was a little below 60,000; that number rose to 80,000 by October 2021. One million new drivers would need to be recruited in the next decade to replace retiring drivers, drivers who leave voluntarily and to keep up with industry growth. The ATA says it has been challenging for trucking companies to recruit women, who make up just 7% of truck drivers, and younger drivers, as federal law mandates commercial truck drivers be at least 21 to cross state lines.
At ports, railroads and warehouses, a lack of long-haul truck drivers has slowed down the ability to load and unload product. When they arrive at ports, truckers do not know how long they will be waiting to pick up their next load of cargo, and they are not paid while they wait. This system is leading many drivers to take last-mile delivery jobs (driving for logistics providers like FedEx, UPS or Amazon) instead of long-haul.
Consequently, the average dwell time of a container, or the amount of time it sits at a port before being loaded onto a truck, has increased at U.S. West Coast ports from under three days pre-pandemic to just over six days through April 2022, the most recent month for which data is available. A lack of longshoremen has added to the bottleneck at ports, where they are responsible for using massive cranes to lift the metal containers off a docked ship and place them onshore for a truck or train to pick up. This shortage has contributed to a new high in dwell time for containers being loaded onto rail — 9.6 days.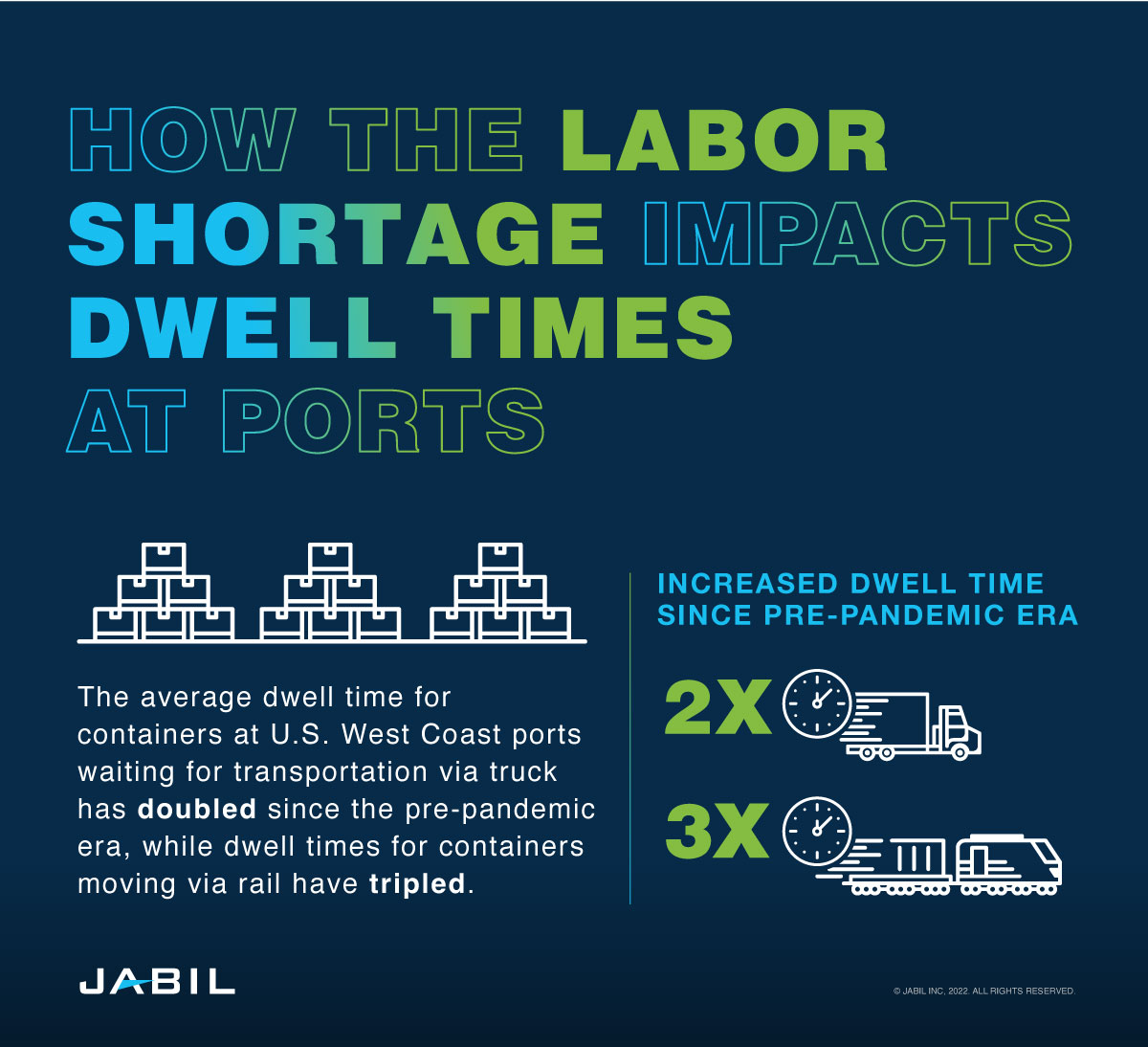 Warehouses are feeling this same constraint. As of April 2022, the warehouse and transportation industry had a record-high 575,000 job openings; turnover rates are high in the industry, and there are signs that some companies may have tapped out the potential warehouse labor force. Retail robots and other automated systems have eased the strain on warehouses, especially for repetitive tasks like picking and packing.
For the transportation industry, however, the disparity between the supply of labor and the demands of consumers is merely adding to the snarls on the roads, at the ports and in the oceans.
How Are Transportation Issues Disrupting Logistics?
For more than a year, instead of spending money on a 10-day cruise or some other type of experience or service, consumers spent their expendable income on physical goods — sending demand soaring. Between 2020 and 2021, U.S. retail imports rose 18%, jumping from 22 million TEUs (20-foot equivalent units, or the size of a container ship) to 26 million. For context, the growth between 2019 and 2020 was less than 2%, and there was a slight dip in imports between 2018 and 2019.
The National Retail Federation expects the strong growth rate will hold for 2022, with U.S. imports setting a monthly record in May 2022. However, that same month, sky-high inflation and a return to pre-COVID services like travel, entertainment and dining out caused consumer spending on goods to drop for the first time in the calendar year, meaning pandemic-era demand could finally be cooling off.
Still, demand's current rate has meant suppliers, OEMs and retailers need to move more components and products across continents than ever before to keep up. Unsurprisingly, this is causing huge pressure on companies in every part of the supply chain. The fact that transportation and logistics issues are keeping CEOs up at night hasn't changed; what those issues look like, however, has.
The container ship problem generated endless headlines in the fall of 2021, and for good reason. Containers sat at anchor and in ports across Europe and North America for 10 to 13 days as opposed to the typical one day. The overwhelming flood of goods coming from Asia into the Americas primarily caused the backlog of containers, along with the shortage of truck drivers to pick up those goods.
Also playing a role was the equipment shortage — specifically, a chassis shortage — at ports. Empty containers were returned to the yards where truckers originally picked them up and sat on chassis for days, waiting for an available container ship to take them back to Asia. Without chassis to attach them to trucks, containers are sitting even longer at ports — adding another slowdown to the logistics equation.
While S&P Global Commodities at Sea reports that vessel capacity between Asia and the U.S. East Coast increased 25% between the beginning of 2022 and the previous year to relieve some of this pressure, one persistent transportation challenge driving demand is container ships sailing fully or partially empty back to Asia. As of May 2022, the Freightos Baltic Index average price for a 40-foot container ship going from ports in China to the West Coast was over 10 times more expensive. The difference between ships going from China to the Mediterranean is similarly drastic. For shipping companies, the choice to forgo the relatively small potential profit they could make from picking up imports in North America or Europe is an easy one. The import and export imbalance this decision is causing is yet another never-before-seen problem of the supply chain and logistics crisis.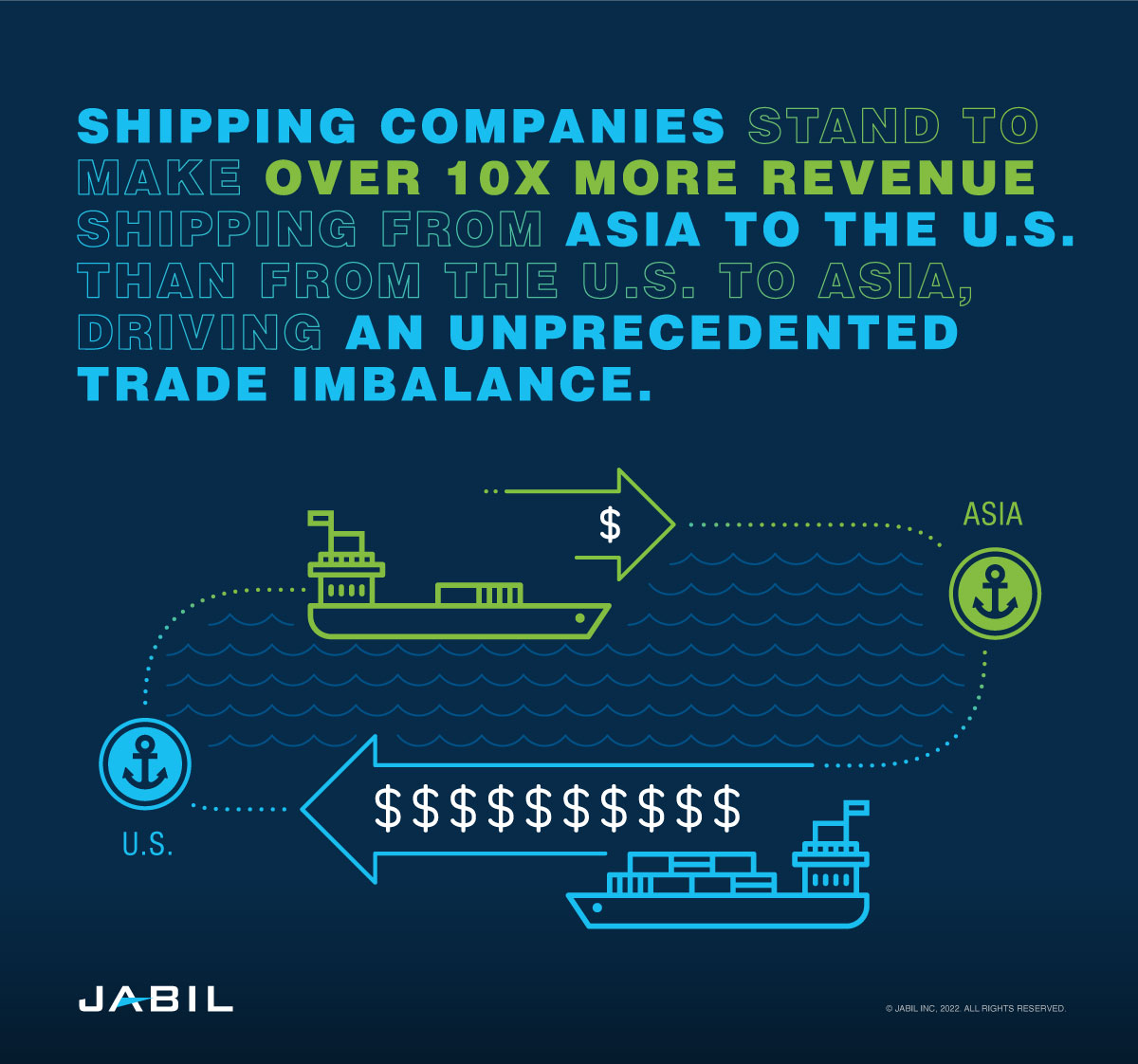 Logistics professionals are also moving shipping lanes as necessary to avoid clogged routes. Shipping companies are pivoting to smaller ports as large ports become too backed up to take on more cargo. The CEO of the Port of Hueneme, a small port just north of Los Angeles, told NPR that she receives multiple inquiries a day from companies looking to reroute their cargo from their larger Ports of Long Beach or Los Angeles. Nearly half (47%) of Jabil and IndustryWeek's survey respondents said they have identified new options for international shipping within the past year or plan to do so in the next 12 months.
Companies are also being forced to look at options that they previously would have never considered but, considering the port backups, could result in getting components or products to their next destination faster. Instead of importing a product in Oakland, California, and flying it to Louisville, Kentucky, that might mean shipping it into Mexico and trucking it up to Kentucky. The Port of Long Beach, California, one of the two busiest ports in the U.S., partnered with the Utah Inland Port Authority to move cargo to Salt Lake City in blocks of containers via rail — instead of by truck, one container at a time.
No matter the mode of transportation, the cost has increased dramatically throughout 2022 thanks to the spike in oil prices. In just the first quarter of 2022, Walmart said it spent $160 million more on fuel than anticipated, while Target added $1 billion to its transportation and freight forecast for the year to account for rapidly growing prices. Shippers are now paying record fuel surcharges as diesel's price relative to gasoline continues to increase. Compared to freight, the fuel surcharge's share of the total shipping cost for ocean shipping has climbed to 13%, up from 3% at the start of the year.
While diesel inventory is lower than usual, the pain at the pump is one of the many impacts the Russian invasion of Ukraine has had on logistics.
The Russian blockade of Ukraine's southern ports and economic sanctions of Russia has made transporting commodities like wheat, corn, neon gas (a critical component in semiconductors) and oil much more difficult or impossible. Ocean shipping in the Black Sea is unavailable, rail routes from Europe to China through Ukraine or Russia are no longer available and closed air space over certain areas of the two countries has introduced new hurdles to air travel. It is unclear what the full scope of logistics challenges from the conflict will be, but at Jabil, our decisions prioritize the safety and security of our employees in Ukraine.
New logistics challenges seem to arise every week, if not every day — from an oil spill off the coast of Los Angeles to a container ship blocking a major trade route for 10 days. Demand will eventually level off, and the supply chain will return to some kind of normal in the coming years. As logistics professionals, we must analyze and optimize our systems for the best and worst of times.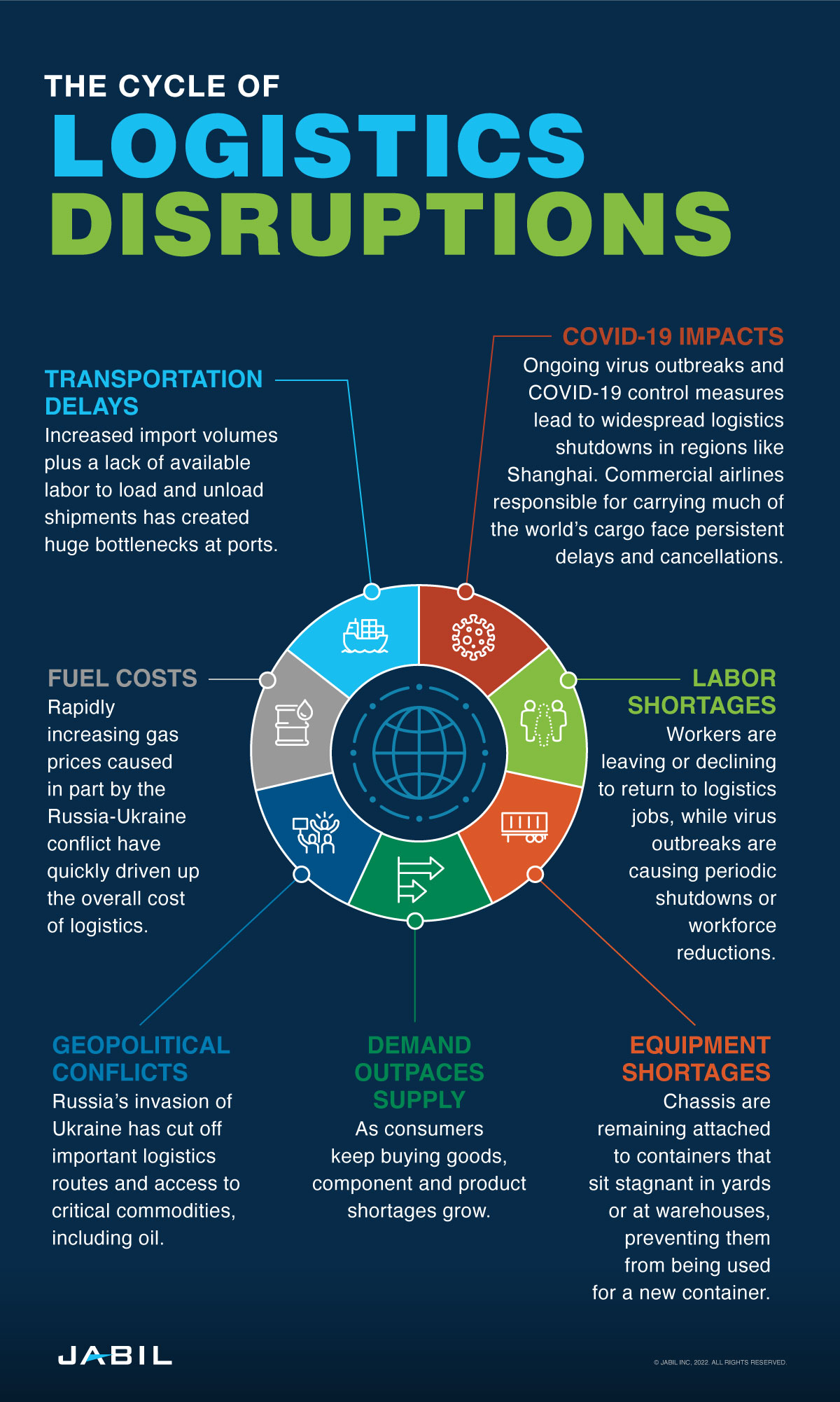 How Can We Optimize Global Logistics in a Highly Disruptive Supply Chain?
At Jabil, we describe the supply chain in terms of its people, processes and technology. The right combination of these three elements is the foundation for a successful, resilient supply chain — and an optimized logistics strategy.
People
Individuals with the expertise to collect, analyze and act on data are key to making logistics decisions, especially when the waters are rough. If you have two possible routes, what are the transit times of each? When is the product needed at the destination? What is the tonnage and value of the shipment? What is the on-time percentage of the logistics carrier in question, and what technology are they using? Answers to all these questions will help you achieve the ultimate goal of logistics: improve on-time delivery, reduce the cost of the shipment and reduce the transit time of the shipment.
Achieving the goals of lower logistics costs and effective logistics management starts by improving the experience of logistics and warehousing workers. In warehouses, knowing when and how much product to expect will help create more accurate and reliable employee scheduling; fewer shifts will need to be canceled or scheduled at the last minute. Long-haul truck drivers can plan to show up to a port when a container is ready to be unloaded and not be stuck waiting. An optimized transportation management strategy, from choosing the right driver to analyzing route options to minimize slowdowns, can help improve the retention rate of truckers and begin repairing the industry's labor shortage.
According to Jabil and IndustryWeek's survey, technology has played a crucial role in putting logistics labor where it needs to go. Almost a quarter of respondents (23%) said they implemented a transportation management system during the pandemic to improve supply chain performance, while 24% are considering implementing one in the next 12 months. Similarly, 21% implemented a warehouse management system during the pandemic, and 22% plan to introduce one in the next year.
Communicating with carriers and logistics partners can give you even more information to prepare for what's ahead, from container availability to pricing increases. Good partnerships prevent your company from getting burned when a carrier needs to decide where a container ship is sent or who gets space on it.
Processes
Processes can help reach the logistics goal of on-time deliveries, lower-cost shipments and quicker transit times. The name of the game is visibility. Businesses want the same level of information about the status and location of their goods in production as consumers do about theirs on the way to the mailbox.
From a logistics perspective, this looks like the ability to know not only which container ship your components are on, but where on the ship they're sitting, exactly when they make it to the port, when they're unloaded, and where they are in the warehouse. Gaining the level of visibility companies want into the logistics process takes a sophisticated digital system of sensors or tags to indicate where shipments are at any given point. Almost half (49%) of survey respondents said they have deployed third-party tools and services to provide real-time data on capacity and mode (air, ocean, truck, rail) availability within the past year or plan to do so in the next 12 months.
With end-to-end visibility, logisticians can use predictive analytics (something 77% of respondents plan to invest in within five years) to design optimized routes and more accurately forecast what's to come for a company's shipment. For example, if it's determined a particular route is the optimal one using predictive analytics, those analytics could also be used to predict that what would normally be a 65-day transit time will actually be 90 days because of port congestion. A logistics as a service partner can offer technologies and expertise to support the efforts of an in-house supply chain and procurement team.
Technology
The pandemic accelerated the already-growing use of automated robots in warehouses for repetitive activities like picking and packing. Survey respondents also showed interest in automated logistics technology investments over the next five years, including transportation management systems (76%), warehouse management systems (75%) and track-and-trace solutions (72%). While there's been extensive discussion about automation and artificial intelligence in manufacturing to create the factory of the future, I think the same could be said for the "port of the future."
Ports are just beginning to invest in automation and other digital technologies, a consideration that could grow with the increasing longshoreman shortage. A 2021 report from the International Transport Forum found that only 53 container terminals worldwide have automated capacities, or 4% of global container capacity. Currently, most automated systems are found in the container yard, to lift or stack containers. Before adopting automated or digital technologies at random, ports should first analyze their pain points to determine where those systems could most benefit their operations.
With people, processes and technology in place, logistics will be the final link in your resilient supply chain.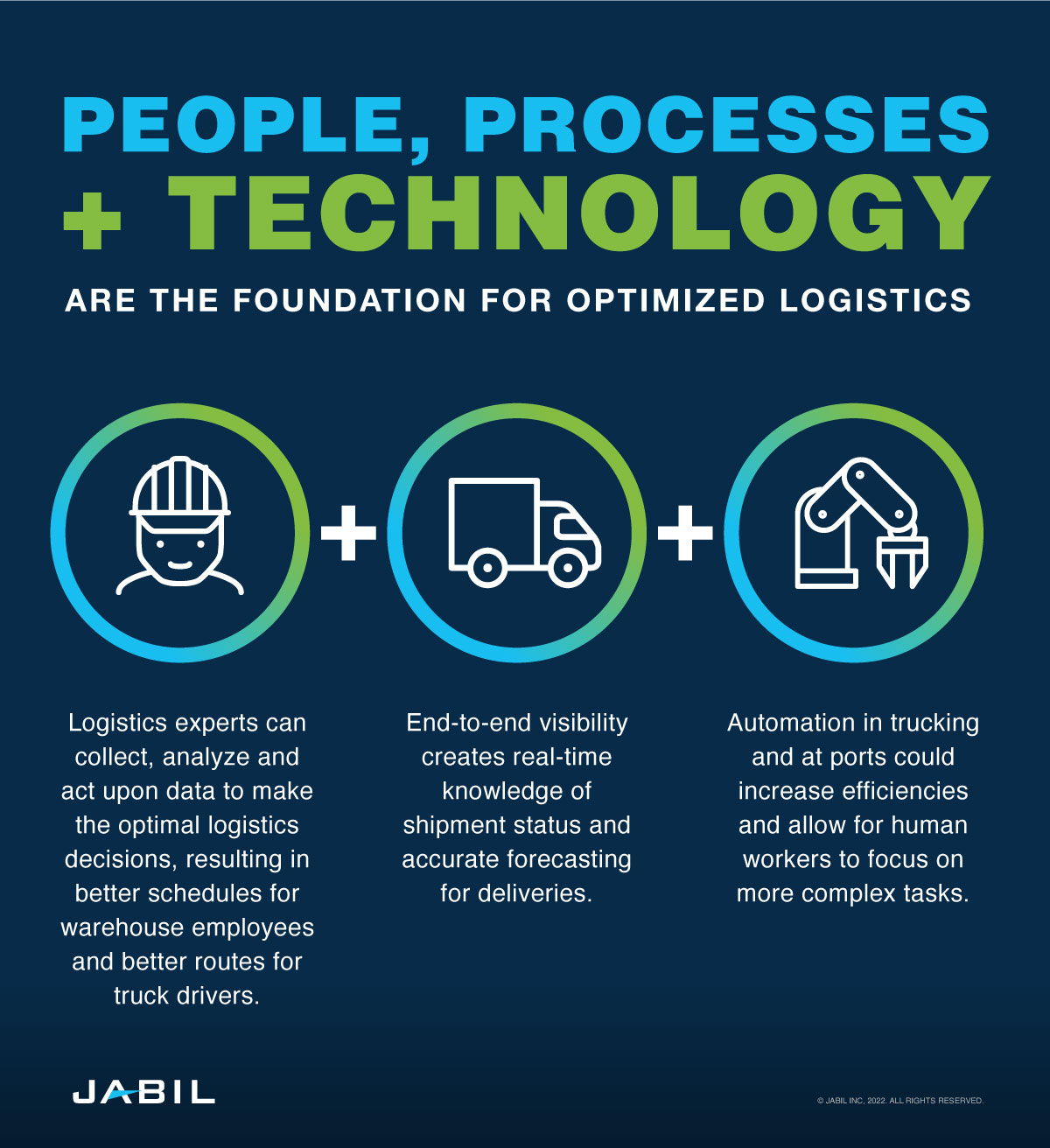 How Do Optimized Global Logistics Contribute to Supply Chain Resiliency?
A resilient supply chain doesn't break when it's tested. It bends, then quickly bounces back. Optimizing global logistics by making them predictive and proactive is crucial to building a supply network that can withstand the next disruption. Two-thirds of Jabil and IndustryWeek survey respondents rated logistics management as a 4 or 5 on a scale of 1-5 measuring its importance to optimizing the effectiveness of supply chain resiliency.
First, work with your shipping partners early on pricing and agreements. Setting up three-year agreements, rather than short-term deals, locks in pricing so you know what's coming down the pipeline in the months ahead. By having those agreements in place, you're creating partnerships you can lean on. The freighters you're working with likely know their routes better than anyone; ask them questions, learn from them, and work with them to find creative solutions when logistics issues arise.
Then, like you would have multiple suppliers for a component, have multiple supply route options. Changing ports, putting three or four modes of transportation together to move products: These are not steps we would have taken before March 2020, but the pandemic has likely forever changed how we approach logistics.
Be flexible. Be creative. Most importantly, be proactive. With a visible, predictive logistics plan in place, not even a container ship stuck in the Suez Canal can send your supply chain off course.
Global Supply Chain Readiness Report: The Pandemic and Beyond
Insights from over 700 decision-makers at OEMs across seven key industries that pinpoint how the pandemic has been impacting supply chains and how organizations are changing in response.