Why In Store Retail Analytics are Critical
Retailers today must keep up with ever-changing customer expectations by improving the customer experience across every channel. Consumers expect a shopping experience that is personal, informative and convenient. One way to accomplish is through in store retail analytics.
The right retail data holds the mystery to customer loyalty. It's no wonder that the exhibit halls of the National Retail Federation are crowded with hundreds—if not thousands—of companies with products that provide data and analytics solutions. All retailers want this key competitive advantage. But how do you bring this whole ecosystem together to fuel your desired business outcomes?
E-commerce retailers have a much easier time gathering individual customer data. Web technology makes it possible for online retailers to not only track what a consumer purchased and when, but it also can track where the user is shopping from in terms of both physical location and device used.
Additionally, web technology tracks how the shopper reached the site, what other items the consumer looked at on the site and how long the consumer spent shopping on the site. When this information is associated with an IP address or a shopper's store account, the retail website can send the consumer-targeted emails and website ads, customized deals and suggested products. This serves a dual purpose: the consumers will have an easier shopping experience because they are presented with the products they are likely searching for, and the retailer can generate more sales from related-item purchases and repeat business.
That, of course, is retail heaven.
But it is much harder to reach this nirvana with in store retail analytics. At best, most stores can track consumer behavior through loyalty programs, which can link purchases to specific individuals. Otherwise, the stores can track item sales to see which products are the most popular. However, this does not track an individual shopper's physical path to purchase, including what else he or she looked at before arriving at the register. As a result, brick-and-mortar retailers are limited in the number of ways they can offer a customized, convenient shopping experience to every customer without in store retail analytics technology.
Subscribe to the Jabil Blog
Sign up for weekly updates on the latest trends, research and insight in tech, IoT and the supply chain.
Retailers Slow to Upgrade Customer Analytics Technology
There are multiple technology innovations available to help retailers learn more about their shoppers through in store retail analytics, but so far only the biggest corporations have the financial means to test and implement the latest options. In an industry where profit margins can be razor-thin, there is no place for big missteps.
Only 16% of surveyed senior-level retail executives reported that their stores have up-to-date shopper-tracking capabilities, according to the 28th Annual Retail Technology Study: Wake Up Call for Digital Transformation by Retail Info Systems and Gartner. Another 33% plan to upgrade their shopper-tracking capabilities within the next two years, and 42% have no plans to update their technology. Similarly, only 10% have up-to-date location-based sensing for marketing or communication in place, 49% plan to upgrade their technology within the next two years and 40% have no current plans to invest in such technology.
By comparison, most of the participants said they are spending their technology budgets on customer relationship management and personalization management, mobile devices for associates and in-store pickup and return options. It's true that retail business success depends more than ever on data and its power to personalize shopping experiences but those that don't capitalize on the latest technological innovations will be left behind.
Despite this slow progression toward the latest retail analytics and reporting technology, all of the respondents to Jabil and Dimensional Research's The 2020 Future of Retail Technology study agree that technology innovation is essential to meet the expectations of today's shoppers and improve store performance. Such investments will help stores improve shopping efficiency and deliver a more customized experience. In fact, without the right retail technology at hand, ultimate personalization won't be possible in physical stores.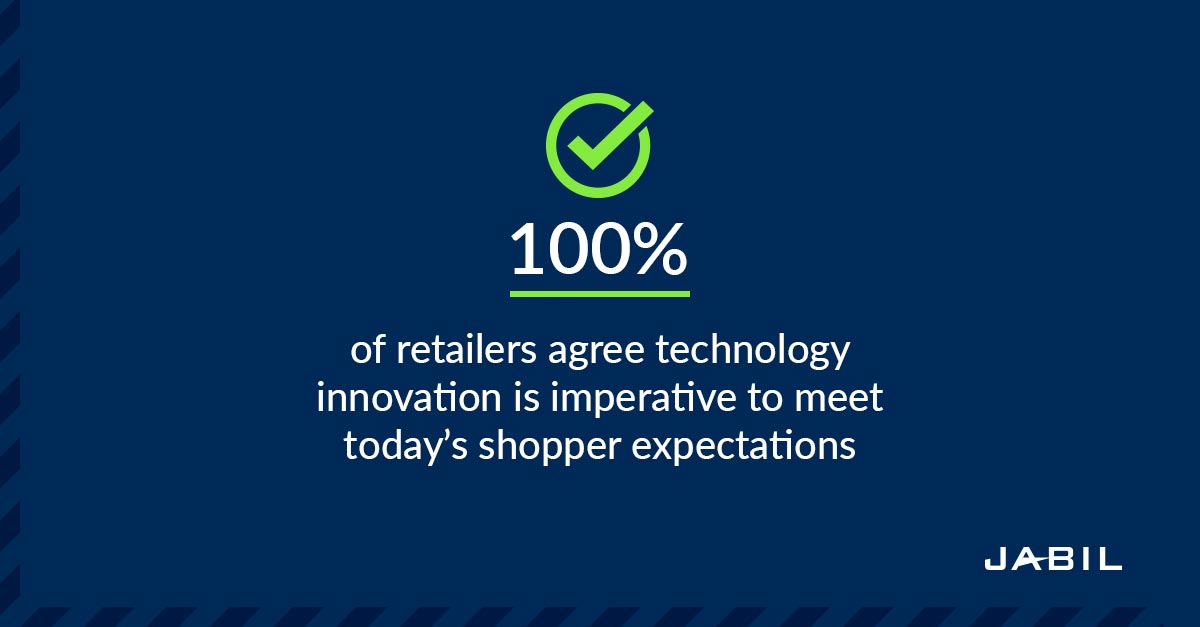 Upgrading Brick-and-Mortars for Optimized Retail Data
Operational agility, customer satisfaction and retention, resource optimization and continuous improvement are all essential for retail success today. But achieving any one of your goals in these areas relies on real-time feedback from all the various touchpoints.
Thankfully there is no shortage of technology solutions you can incorporate into your physical store to transform it into a data haven. The real question is: where to begin?
It's unrealistic to think your physical store's digital transformation will happen overnight. This work requires a well-thought-out plan that includes clear objectives and a clear technology roadmap, along with an ecosystem of partners and vendors who can bring your vision to reality. In fact, they may even be a vital asset in building your plan. Considering that 93% of retailer decision-makers say that their technology investment plans have evolved in just the last two years, it's important to bring in your stakeholders into the conversation as early as possible. Technology is only one part of your overarching strategy, and the best retail solution is not a one-size-fits-all.
Below are some technologies you can utilize in your brick-and-mortars to collect in store retail analytics:
One store type that's been sweeping retail conversations is Amazon Go. At these cashier-less stores, customers enter by scanning a barcode found in the Amazon Go app on their smartphones, shop for the items they want and then exit without needing to stop to pay. Hundreds of cameras throughout the stores track the customer journey, including what they pick up, put back on the shelf or end up taking with them. Each product also has a large, camera-friendly code that the cameras can read to know exactly what item has been taken. Computers then combine this information with data from the shelf's weight sensor to confirm that a product has been removed. As shoppers exit the store, they are automatically charged for their purchases, and they even receive notifications telling them how quick their shopping trips were.
This combination of computer vision, deep-learning algorithms and sensor fusion creates a quick, convenient shopping experience for consumers, who are increasingly time-poor. In addition, this technology creates a shopping environment more akin to e-commerce in terms of potential analytics, as this system can track where in the store a specific consumer went, what items he or she picked up and what items he or she ultimately purchased. Ultimately, Amazon uses some of the technologies we outline in the above image but does it in a fashion that meets their business objectives.
Investing in the Future of In Store Retail Analytics
We live in a data-driven culture. Information is available to us anywhere and anytime. The tough part of the equation is making sense out of the data that's available to us. As retailers, you can invest in and integrate new technologies into your store but the bottleneck of not knowing what to do with that data can sink your plans.
We know data will help retailers make better decisions, improve the efficiency of their retail operation, generate more customer engagement and help us deliver a better customer experience. But interpreting data into actionable insight is possibly retail's biggest challenge today. In fact, when asked about their biggest technology implementation challenges in the Jabil survey, retailers listed the following as one of their top two issues: insufficient skill set to gather and manage big data.
To make better sense of the data they are collecting, nearly half of retail decision-makers in the recent Jabil survey are investing in, or at least have plans to invest in, some type of retail analytics and reporting technology. Specifically:
50% are investing in data visualization
49% are focusing on location-based mobile targeting
45% have plans to expand their big data efforts
44% will invest in in-store sensors
44% are looking to implement machine learning and artificial intelligence
When new data analytics and reporting technologies are combined, they could potentially collect thousands of data points about a single shopper during a given visit. Retailers will need the best data visualization software to analyze these data points and highlight the meaningful insights. Actionable data from visual analytics can help inform supply and demand decisions, reduce costs, create more revenue, influence quality improvements, accelerate process efficiencies and create better shopping experiences that meet consumer preferences.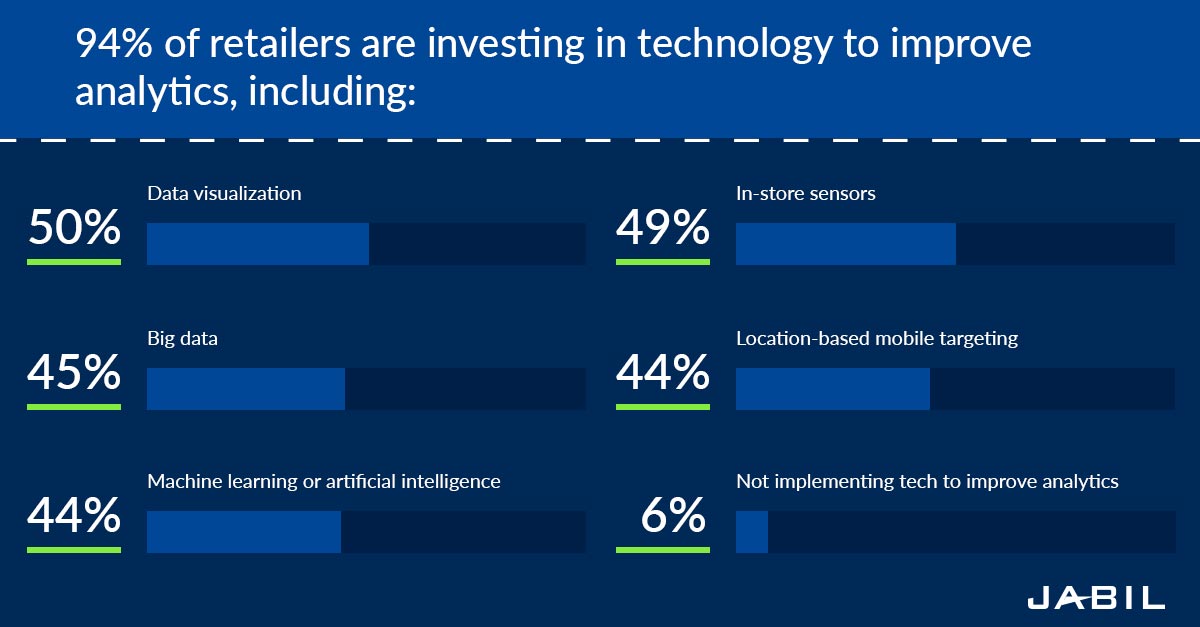 Location-based mobile targeting could help bring more consumers into stores and also guide them around the stores to find promotional items. More than 70% of retail marketers already have some sort of location-based advertising strategy in place to drive foot traffic, according to research by Blis, WBR Insights and Future Stores. Half of the surveyed retailers noted that consumers who already are near a given store are more receptive to receiving mobile promotions in real-time. About two-thirds of surveyed retailers also offer a local product or inventory search and interactive maps to help shoppers who are in the store or are nearby.
Big data analytics also can help drive purchases. For example, if a shopper with a store's app typically buys a specific item every shopping trip, the app could use the store's big data to recognize this and remind the consumer to pick up that item, thus driving continued purchases. In addition, if these insights are shared with a consumer packaged goods company, the retailer and food or beverage manufacturer could partner on cross-promotions to send shoppers targeted coupons to encourage them to try new brands or to pick up complementary items, such as hot fudge to top ice cream.
Machine learning and artificial intelligence can help store staff fill in customer service gaps to offer a better, more convenient store experience. For example, automated kiosks coupled with smart lighting systems could help guide shoppers to specific items they are searching for when activated through a smartphone. Data gathered by these kiosks can shed light on which items are popular and which items might be hard to find. Other robots can help stock shelves, face products and do other mundane tasks that might get skipped or postponed while the staff focuses on other customer service efforts. Plus, shoppers likely will welcome this added technology in the stores. Consumers today are very tech-savvy and are accustomed to dealing with interactive technology. As a result, they want an interactive retail experience that embraces technology.
To say that in store retail analytics and reporting technology will be critical to the future of retail would be an understatement. Analytics is fundamental for a retailer to drive business, whether the goal is to sell more items, increase profits, offer better customer service experiences or all of the above. Retail data analytics and reporting can help store managers track and accommodate traffic flows, optimize product placement, encourage consumers to try new products or different brands and offer a seamless store experience that is closer to an e-commerce environment. Retailers need to invest in data analytics and reporting technology today so that they can gather actionable insights and deliver the store experiences desired by the consumers of tomorrow.
Download the 2020 Future of Retail Technology Survey Report
Insights from 306 global retailers on their technology investments, omni-channel strategies, technology implementation experiences and more.