Retail Technology is Transforming a $26 Trillion Industry
Modern retail technology is changing everything about shopper expectations and retail operations. Instead of straggling into a harsh, florescent-lit store and herding themselves into sluggish checkout lines, consumers can order a product from their phone and have it delivered to their doorstep, or they can place an order at home, drive to a pick-up location, grab their product and leave. The customer journey is becoming increasingly varied and personalized - customization that shoppers have come to expect.
E-commerce is booming. Growth projections estimate that by 2023, retail sales will exceed $29.7 trillion worldwide. Already, 40% of Americans say online shopping has become an integral aspect of how they acquire goods and services. Furthermore, e-commerce-enabled sales are expected to surpass in-store sales by 2024. Retail is an industry that never stops moving and must adjust to evolving customer expectations in real-time.
Retailers realize that they need to leverage technology on a global scale before they become irrelevant. However, given the array of opportunities (and equal number of challenges), it can be difficult to determine where to start.
In 2018, Jabil partnered with Dimensional Research to field an online survey of more than 300 retail decision-makers responsible for their organization's operational technology. A range of questions were asked, including current plans, opportunities and challenges associated with retail technology innovation. Two years later, Jabil conducted a follow-up survey to track ongoing trends and better understand the current state of retail technology. Download Jabil's 2020 Future of Retail Technology Report.
Here are the biggest takeaways:
Who is Investing in Digital Transformation?
Realizing the need to develop and implement technology in order to improve their operations, service and shopping experience, 10% more retail decision-makers have indicated they are undergoing a digital transformation initiative in 2020 than in 2018, taking this to almost 90% of retailers with an initiative.
of retailer decision-makers say their company has a digital transformation initiative, a 10% increase since 2018
The larger the company, the more likely it is to be heavily invested in going digital. While only 18% of companies with 500-1,000 employees indicated that they have a major digital transformation initiative, almost 50% of companies with more than 1,000 employees have one. Companies with a broader operational reach are also far more likely to have a major digital transformation initiative, implying that serving diverse customers widely with a consistent brand message is another factor driving this focus.
Technology Investment is Necessary to be Competitive and Profitable
If retailers and brands want to create a sustainable, profitable business, technology investments are a must. There is widespread agreement that technology is needed to remain competitive and build personalized and convenient experiences. This knowledge drives retailers' plans to invest in technology and how much they are willing to invest.
Because of the notoriously thin margins for retailers, anything that goes wrong in the retail supply chain can chip away at profit margins. Therefore, the right technology fit can make a huge impact on retailer profits. In fact, more than 80% of participants say that retail technology has the potential to add millions of dollars to their company's profits.
Retail decision-makers are strategizing ways to optimize their business through technology. They plan to leverage technology in the three primary areas of retail: operations and efficiency, data and analysis and customer experience.
Technology Will Cut Profit Leakage by Improving Retail Operations and Efficiency
As retailers transform their operations to embrace an omnichannel strategy, inventory becomes increasingly difficult to forecast and track. Retailers must juggle managing inventory in the store while also predicting who will buy online. Ensuring that their online presence accurately reflects the in-store inventory may also be a problem. A customer that shows up at the store expecting to pick up an e-commerce order will not be happy to discover that the item is unavailable, though this happens regularly for many retailers.
Many companies are working to develop machine or computer vision in stores. This technology — already used in the cutting-edge Amazon GO stores — can record how customers interact with a product, such as picking it up and putting it in a basket or putting it back down or moving it to another shelf. It helps retailers handle business operations like shelf management, inventory data collection and compliance as well as spot suspicious behavior and monitor theft.
The average U.S. store operation has an inventory accuracy of only 63%. In a manufacturing setting, this would be catastrophic to revenue; in a retail setting, this is detrimental to customer experience and basket size. Inventory distortion (including shrinkage, stockouts and overstock) is also estimated to cost retailers $800 billion a year globally.
Inventory accuracy management can also take a significant toll on operating costs, so it makes sense that inventory accuracy systems far outranked any other focus area when survey participants were asked if their company was implementing or considering technology that would improve operations and efficiencies. Theft reduction ranked second. Analytics to optimize channel and product inventory just below that, emphasizing the focus on perfecting inventory tracking.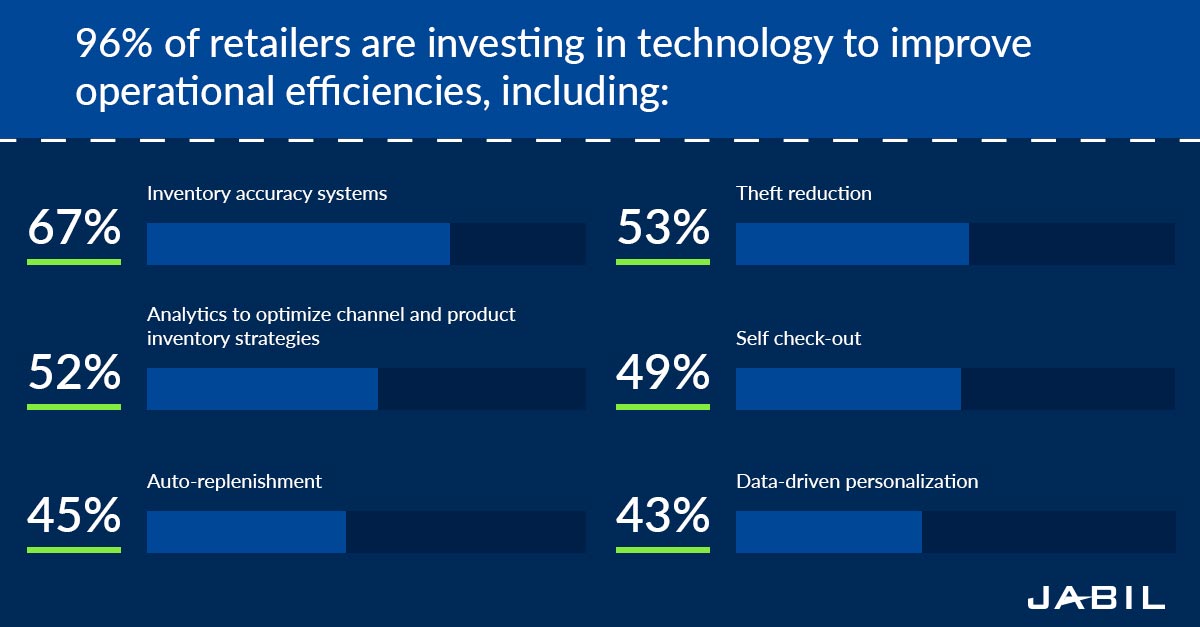 Retailers are starting to give this mundane and tedious task to a more efficient source: autonomous retail robots. For example, Badger Technologies' autonomous robots are already patrolling hundreds of grocery stores, scanning shelves to see if items need to be restocked or if they have been placed on the wrong shelf. An autonomous robot analyzes the shelves through sensors and cameras to report this data in a consistent matter, so stocks can be replenished, immediately. This offers significant improvements to a company's bottom line if revenue is improved even by a single percentage point.
Retailers Need to Sell Experiences
In the past, businesses only had two options: sell products or sell services. Now, businesses have to offer more than that. They need to sell a unique shopping experience. And, that is what we saw when survey participants were asked what area has benefitted the most from technology investments, we saw a clear winner: customer experience. 95% of retail decision-makers have seen positive impacts from overall technology investments and implementations.
of retailer decision-makers say their technology investments have impacted customer experiences positively
In a 1998 article, B. Joseph Pine II and James H. Gilmore hailed the beginning of the "experience economy." To illustrate what this economic evolution looks like, Pine and Gilmore describe an episode of a TV show in which a character decides to become the best taxi driver in the world. He serves sandwiches and drinks, offers tours of the city and even serenades his passengers. His customers responded positively and were clamoring for a drive in his taxi - not for the driving service, which did not improve at all - but for the experience he provided.
Entertainment isn't just for theaters and amusement parks anymore. Using "shoppertainment" or "entertailing," retailers are learning to use stores to bolster customer participation and connection.
"Economists have typically lumped experiences in with services, but experiences are a distinct economic offering, as different from services as services are from goods," Pine and Gilmore write. "Commodities are fungible, goods tangible, services intangible and experiences memorable."
Retailers agree that a positive experience builds loyalty. In fact, 80% of people stop doing business with a company because of poor customer experience. Meeting consumers' high expectations includes optimizing operational efficiencies through technologies, implementing more automation and higher levels of convenient and personalized shopping experiences.
Subscribe to the Jabil Blog
Sign up for weekly updates on the latest trends, research and insight in tech, IoT and the supply chain.
Retailers Can Better Strategize with Data and Analytics Technology
Retailers invest considerable thought into the design of a store, the shelf layout, the selection of merchandise to keep in stock and similar deliberations. Despite this strategic planning, the store environment is inherently chaotic. At various times of the day, the volume of foot traffic rises and falls, with consumers moving around and shuffling products. This makes it difficult for a store manager to know exactly what is happening on any shelf at any given time.
Ninety-four percent of retail leaders said that their company is implementing or considering using technology to improve analytics. While there is no clear technology "winner" to improve analytics, retail brands are faced with the challenge of picking solutions, gathering hundreds or even thousands of data points and then having to translate that into actionable insight to achieve business value. This continues to be an ongoing challenge and priority for the industry.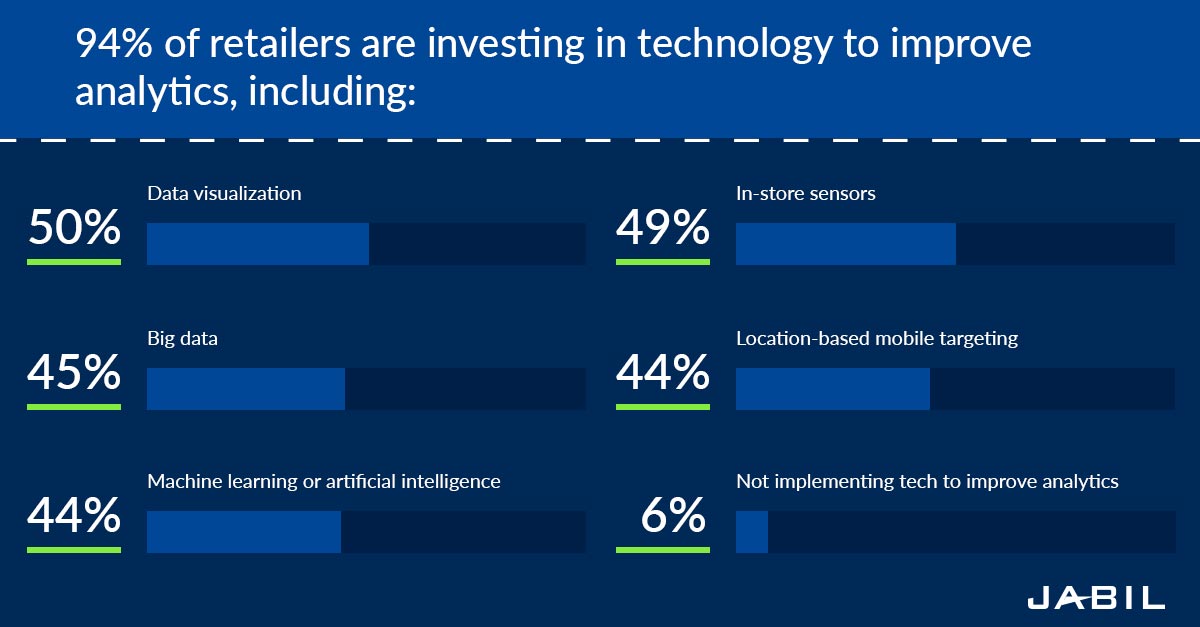 In a retail context, this information can be used to improve the strategy behind a brick-and-mortar location by informing store management what areas get the most traffic, what shelves receive the most attention and what products need to be restocked most frequently. Recording this type of information can help determine the most effective store layout and ensure the most relevant customers are receiving the company's messaging about promotions, new products and more.
Move the Products Closer to the Customers
Through retail tech, the industry is consistently moving closer to the consumer. Whereas in the past shoppers used to have to drive to a fixed physical location to purchase goods, e-commerce brought both inventory and payment into their homes, making shopping easier and more convenient.
The latest business model that retail decision-makers cite as most interesting to investigate is home integration, which includes automatic reordering and usage tracking. These features make shopping effortless and more efficient for the customer - they don't even need to think about reordering necessities like laundry detergent or dishwashing liquid. Instead of scrambling to the store after realizing that they ran out of a product, they can find the product delivered and waiting for them on their doorstep. Even compared to two years ago, retailers' interest in home integration development has risen almost 10%.
of retailer decision-makers say their company is investing in home integration such as automatic reordering or usage tracking
Another way to encourage the direct-to-consumer model is the possibility of implementing smart packaging. This goes beyond being a means to keep a product safe. Intelligent packaging can communicate with the outside world, using diagnostic and indicator functions to monitor its contents to keep the buyer informed on the status of their product. Although still in the early stages of development and implementation, this burgeoning market offers a plethora of possibilities and promises to make online shopping even more convenient and more sustainable.
Additionally, acceptance of self-serve kiosks is growing; 55% of survey respondents stated that kiosks are now broadly accepted as a point of sale (POS) for delivering high-end products. This solution creates opportunities to strategically place self-serve kiosks in non-store locations. It also improves the customer experience outside the home but still bring the products closer to the natural intersections of where customers work, live and play. For example, a sunglass brand could set up a self-serve kiosk or smart vending machine next to the beach in summer!
Opinions and perceptions remains split on high-end kiosks.
Customers still don't want to buy from high-end solutions from a kiosk.
Kiosks have evolved and are now broadly accepted as a POS for high-end solutions.
Retailers are Shifting Focus from Online to Omni-Channel
In today's shopping landscape, consumers expect their retail experience to be seamless across all channels. They crave an information-rich, personalized approach to retail that allows them to get what they need with minimal obstructions, effort or human interaction. Retailers recognize this and have turned their investments to deliver an omni-channel experience.
In 2018, 47% of respondents said they were investing in online and in-store technologies equally and one-third said they were focused mostly on e-commerce and online technology. This year, participants shared that they have focused their investments to a balance of in-store and online technologies to deliver a better cross-channel customer experience. Now, 57% responded that they are investing equally in both in-store and online technology; 22% answered that they are primarily investing in e-commerce and online technology; and 18% are mostly investing in in-store technology.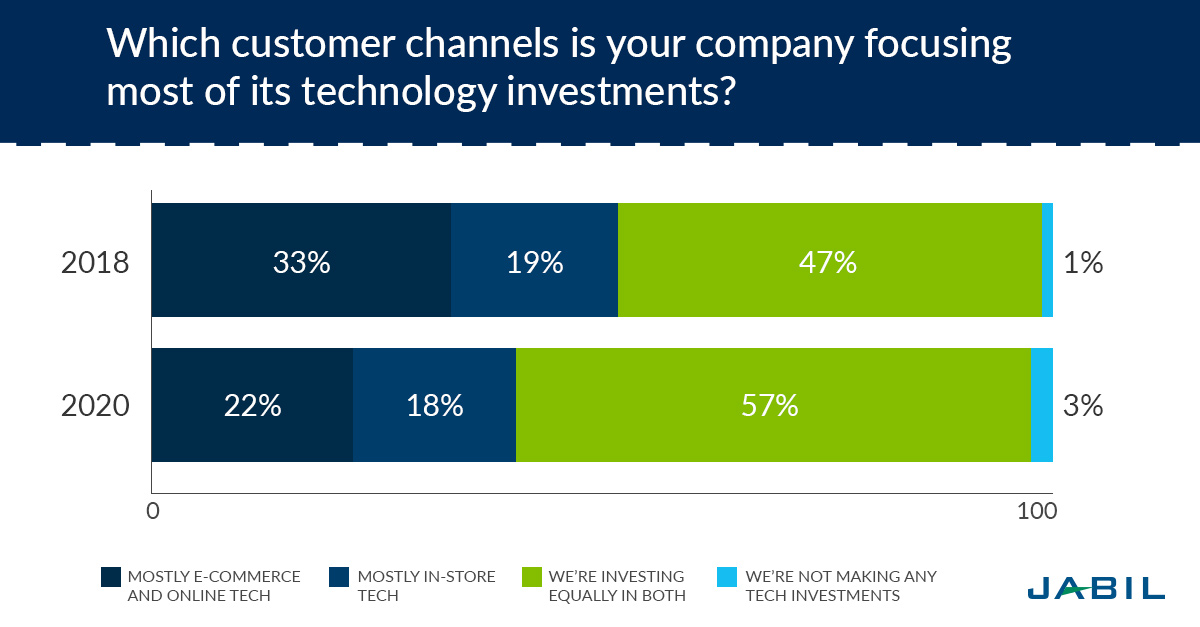 In many cases, after a brick-and-mortar store added an online division, they figured out quickly that their value proposition to customers was moving in separate directions, and in some cases, there was competition between the two channels. Conversely, many digitally native brands did not originally see the need for a physical space, but shopper tastes have been evolving to embrace showcasing and physical portals to e-commerce. As a prime example, the world's largest online market, Amazon, has stepped into the physical realm.
Amazon announced in September 2018 that it opened a new Amazon 4-star store, a physical retail location that only sells items customers have rated four stars or above on the platform. Its Amazon Go store melds together physical and digital elements, using cameras and machine vision to track what customers pick up. Since then, they have expanded their physical operations to 21 stores with three more in the works, making it clear that its intends to make an impact goes far beyond our digital screens.
On average, companies with strong omni-channel customer engagement retain almost 90% of their customers, compared to a third of companies with weak omni-channel engagement. Furthermore, 90% of customers expect consistent interactions across channels. Omni-channel is not becoming standard; it is the standard.
Taking a closer look at the survey results, we found that companies with international operations are the most likely to deploy online and in-store technology equally. Strategically, this integration allows them to increase brand recognition and customer loyalty by expanding their reach, while also optimizing the tangible experience and traditional services.
We can already see this concept being utilized in many chain stores in the U.S., such as BestBuy, Lowes or Target, which offer collection points for online ordering at the front of the store, thereby repurposing the brick and mortar to support the online channel.
Retailers Lack Confidence in their In-House Abilities
In 2018, 29% thought that their current organizational structure and partner relationships were fully capable of delivering needed technological innovation. Their confidence in their own expertise is rising as this number has grown over the last two years. Now, 37% affirmed that they strongly believe their existing organizational structure and partner relationships are fully capable of delivering needed technology innovation. Although still evolving, companies are clearly making an effort to strengthen their personal knowledge and capabilities, especially when it comes to emerging technology. However, despite this spike in confidence in their existing structure, our survey did not indicate any improved confidence in their in-house capabilities to innovate and implement new technology.
In fact, 85% participants admitted to facing challenges with technology innovation. The most problematic factors cited were the insufficient skill set to gather and manage big data, system integrators that lack experience with component technologies and a lack of clarity about the status of technology.
In 2020, only a third of survey respondents recognized the advantages of working with a range of technology sources. When asked about the best way to develop or implement technology, just over 30% said the best approach is to work with a manufacturing solutions provider. A little over 20% said it is to buy existing solutions from an electronics company, while 10% maintained it is to build in-house expertise to do it themselves. In addition, 36% say a mix of these practices are necessary to leverage the entire ecosystem's expertise.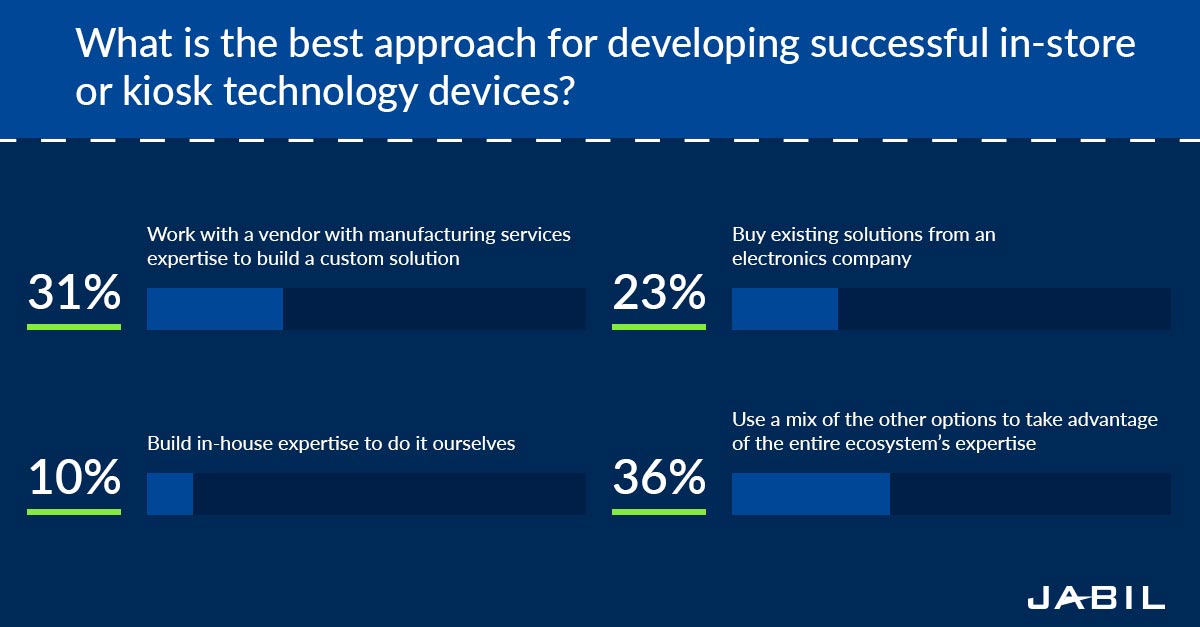 The retail environment has already experienced major disruptions due to consumers' complex and changing needs resulting from unprecedented technology deployment. As retail solutions grow in capabilities and popularity, retail innovators focused on investing in technology can improve both the customer experience and their own operations. Technology will give retail decision-makers the ability to connect physical and virtual spaces, understand and respond to challenges in real-time and deliver increasingly personalized and convenient experiences that build brand loyalty.
Download the 2020 Future of Retail Technology Survey Report
Insights from 306 global retailers on their technology investments, omni-channel strategies, technology implementation experiences and more.