Three Sustainable Packaging Trends Shaping the Future
In 1955, Life magazine published an article entitled "Throwaway Living." The article celebrated disposability, hailing it as a sign of progress, a promise that someday chores like washing dishes will become an antiquated form of drudgery. However, the term "throwaway society" now has an unfavorable – almost sinister – connotation as we have witnessed the destructive effects of unrecycled plastics on the environment.
For the first time in a decade, global economic growth and prosperity are on the rise in nearly every major region of the world. However, with it has been a correlative spike in both production and waste, and this trajectory is expected to move upward. In 2016, cities across the world generated over 2 billion tons of waste and that number is expected to grow to almost 3.5 billion by 2050, according to The World Bank. Plastic packaging makes up nearly half of all plastic waste generated globally, and only less than one-fifth of it is recycled. In fact, the largest modern market for plastic is the packaging industry, according to National Geographic.
Through sustainable packaging, manufacturers aim to bring about the circular economy. As the name implies, the goal of the circular economy is to bend the linear "take, make, waste" model into a continuous loop, where packaging materials can be reused or regenerated into new products. This will extend the usefulness of each product, extract maximum value while it's in use and recover or recycle the product after it has exhausted its service life.
Jabil recently conducted a survey of 204 packaging decision-makers involved in a variety of industries, including food and beverage, personal care and home care. All participants had a packaging or sustainability role at a consumer-packaged goods company with revenues of $50 million or more. The survey posed a range of questions about sustainability progress and goals as well as specific approaches to achieve sustainable packaging. Download the full survey report.
Here are three of the most prominent sustainable packaging trends:
Business Strategy and Environmental Concerns Spur Ambitious Goals
Many packaging stakeholders do feel a humanitarian desire to diminish or eliminate waste in order to improve our environment and protect its natural beauty and resources for future generations, and their drive toward sustainable solutions reflects this. More than half of survey participants asserted that genuine concern for the environment is spurring their company to invest in sustainable packaging.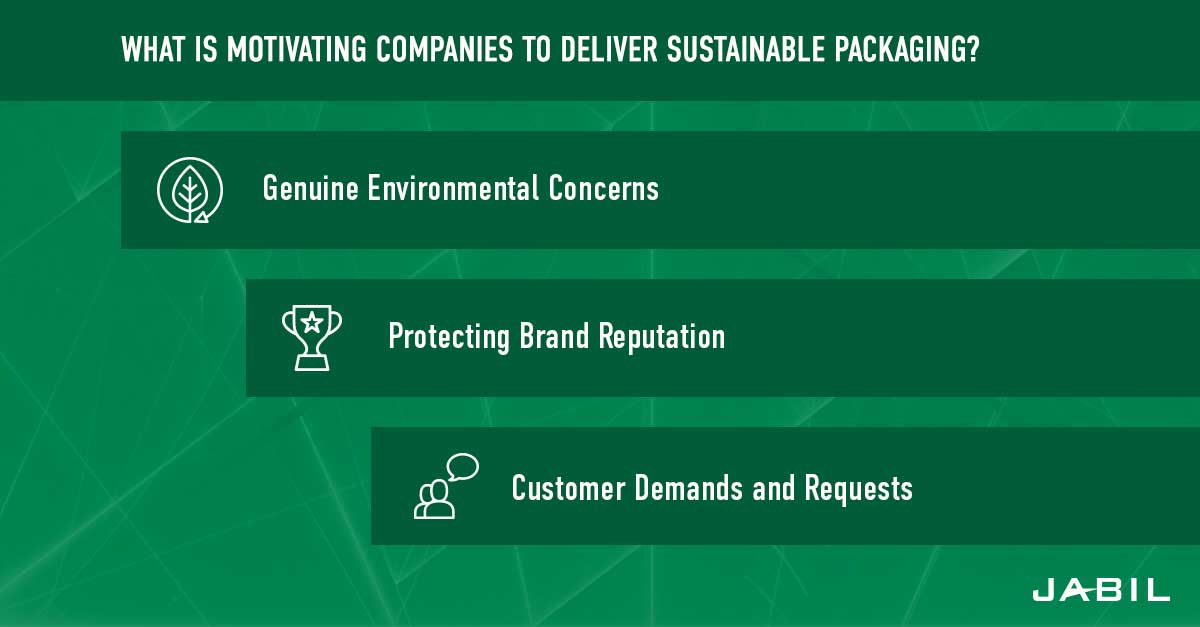 However, while companies are motivated to defend the environment as a philanthropic endeavor, it is also a strategic business and marketing decision designed to maintain a positive brand reputation. Understandably, this is a top-of-mind issue of internal stakeholders and a key driver in companies' sustainability programs.
Partially due to media exposure of the harmful effects of plastics on the environment, consumers are becoming more aware and passionate about the impact packaging is having on the earth. Consumer advocacy is pushing corporations, municipalities and even national governments to act. Thus far, we've seen bans on plastic straws, bags, single-use coffee cups and other non-recyclable products, more interest in reusable products and an effort to expand the availability of curbside recycling and education on the need and options for sustainability.
Subscribe to the Jabil Blog
Sign up for weekly updates on the latest trends, research and insight in tech, IoT and the supply chain.
As consumers have become more eco-conscious, they have become leery of companies that do not offer sustainable packaging. When consumers see a brand's logo on packaging that has washed up on the beach or crumpled beside a forest trail, it instills a negative – and sometimes unfair – perception of the company's dedication to environmental preservation.
Aligning with our previous finding that brand protection is top-of-mind for most companies, as leaders in their business and industry, so is managing public perception of their brands. Companies worth more than $20 billion are especially concerned with protecting their brand reputation, as their colors and logos are more easily recognizable, and they face extra pressure from customers to offer sustainable options. However, more charitable motives trail just behind it.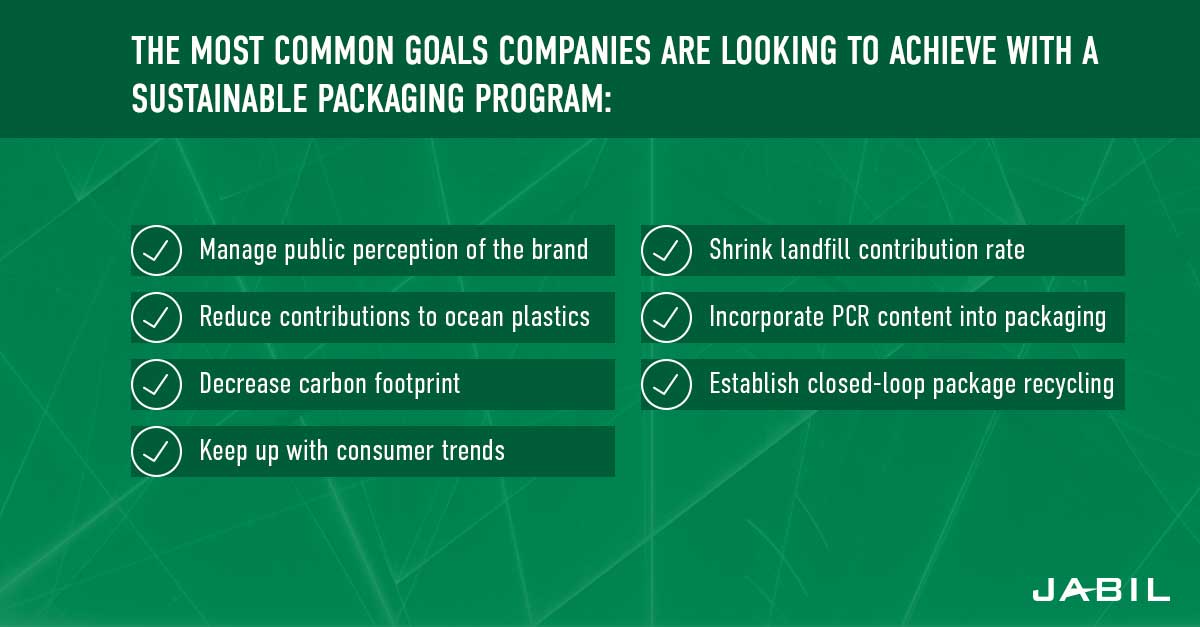 According to the Ocean Conservancy, every year, 8 million metric tons of plastics enter the ocean, piling on the estimated 150 million metric tons already swirling in oceans around the world, roughly the equivalent of dumping one New York City garbage truck full of plastic into the ocean every minute of every day for a year. For these reasons, more than half of survey respondents indicated that one of their goals is to reduce ocean plastics.
Just under half of participants affirmed that one of their top goals is to reduce their carbon footprint. While switching from plastics to metals or glass may be a better move for ocean plastics, it could be catastrophic for carbon emissions. Compared to the current alternative materials, plastics generate less than half the amount of CO2 emissions. From production to distribution to end-of-life, plastic packaging is more efficient in terms of greenhouse gas exudation than metal or glass.
Based on our survey results, 2025 will be a landmark year for sustainable packaging. A little over 40 percent foresee implementing new materials and sustainable strategies within five years. Already, companies are strategizing ways to build a circular economy with sustainable packaging, including leveraging biodegradable or compostable materials and redesigning packages to eliminate or reduce waste.
Although any progress will positively impact the environment, different challenges will exist, depending on the solution. When considering post-consumer recycled content, there can be changes in aesthetics, and finding clean streams of material will be critical. When choosing compostables, on the other hand, we must evaluate product performance and consumer access to composting facilities. Manufacturers will also have to contend with the inevitable operational challenges associated with large-scale packaging format changes. In Jabil's documentary, The Sustainable Packaging Revolution, we explore insights from the world's leading materials suppliers.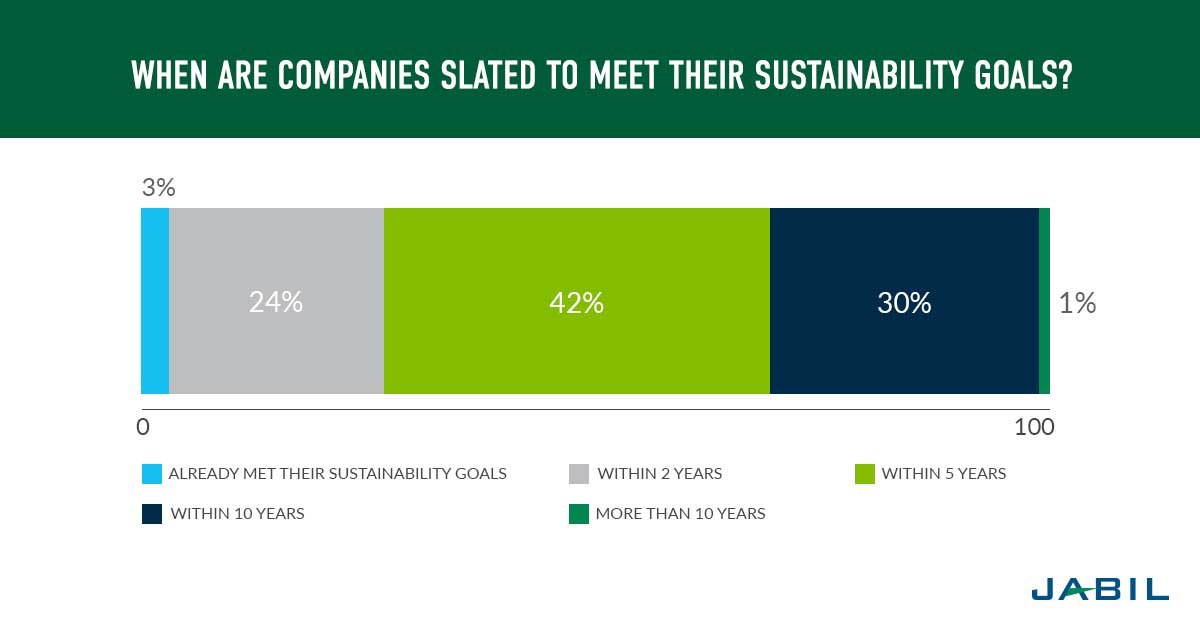 Sustainability Challenges Abound
Just under 95 percent of survey respondents said that they face challenges with delivering sustainable solutions, the biggest risk being the shortage of technical solutions. While there is extensive work from suppliers and brands to develop new materials and high optimism for the future, the challenge remains to produce alternative solutions that are simultaneously eco-friendly, cost-effective and as protective or easy to use as existing solutions.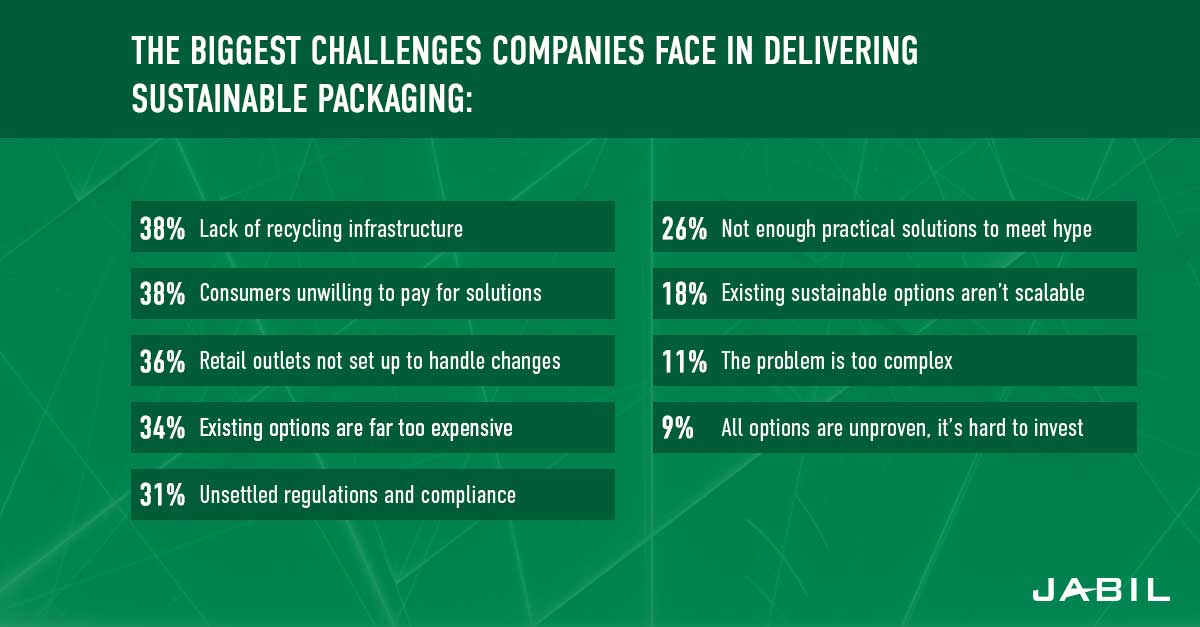 One of the biggest challenges survey respondents cited was inadequate recycling infrastructure. Separating and sorting the different plastics is a difficult and imperfect process. The types of plastics that can be extracted are limited, and factors such as mixed materials, multiple component assemblies, caps, labels, or food contamination can render a package unrecyclable.
Furthermore, right now, some sustainable solutions are costlier and 34 percent of those surveyed cited that the high cost of sustainable packaging was a leading deterrent in leveraging degradable or reusable packaging. Despite consumer awareness of the need for sustainability, 38 percent of stakeholders reported that they struggle to get customers to accept the higher price tag.
Understandably, companies are also concerned about a decrease in packaging performance and aesthetic quality. Most are not willing to trade down on these characteristics for a more sustainable option. Food and beverage and household cleaner companies are particularly adamant that sustainable packaging options must provide at least an equal level of protection as their current materials.
Packaging for food and beverages is especially subject to government regulations designed to preserve the integrity of the product and prevent the transfer of any substance that may adversely affect consumers' health or compromise the composition, taste or scent of the goods. Although the methods of measurement and exact standards vary from country to country, safety criteria remain rigorous globally.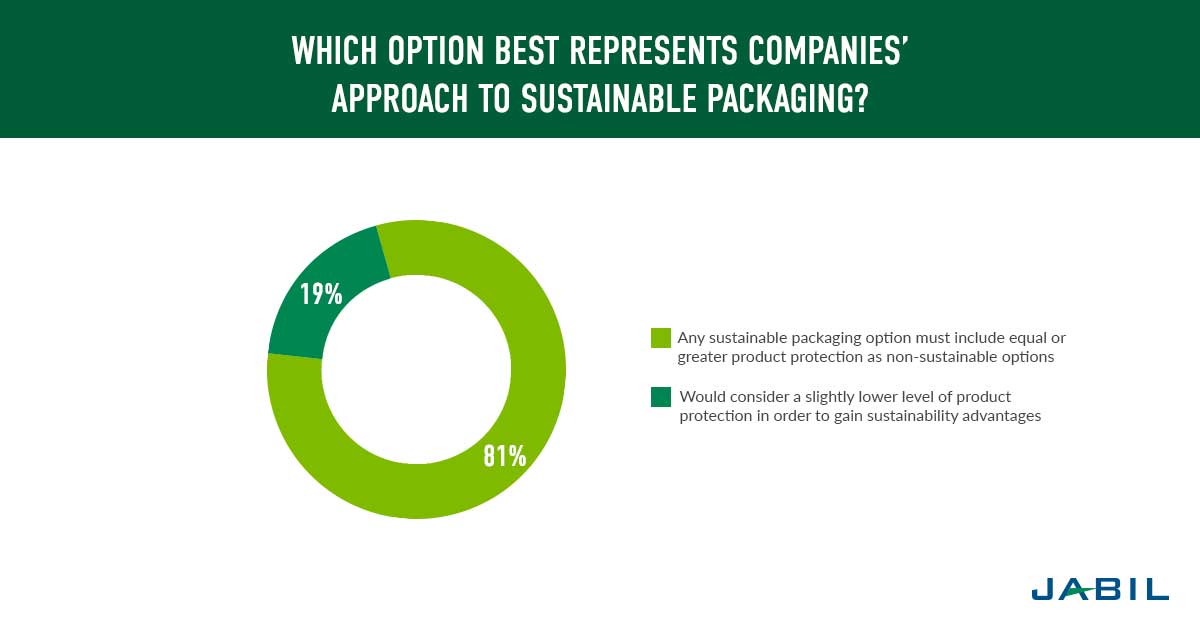 Although navigating regulations and compliance for packaging was not the biggest challenge, for the 31 percent of participants who reported facing this issue, it has been the most difficult to manage, particularly for manufacturers of health and hygiene products or household cleaners. With regulations varying from city to city, and since brands cannot customize their packaging to accommodate the requirements for individual metropolitan areas, governments and municipalities will have to work in tandem to create a consistent standard.
Unfortunately, it is a little-known fact that plastic packaging requires a fraction of the natural resources and energy compared to alternative substrates. Calculating the carbon footprint and evaluating a Life Cycle Analysis helps us understand the total environmental impact of any packaging solution. Carbon dioxide and other greenhouse gases can be emitted at several points throughout the package lifecycle: manufacturing the raw materials, fabricating the packaging system, transporting the finished systems, the use phase (including refurbishment and reuse) and end-of-life. Solving these problems requires a holistic approach to evaluate every element in the manufacturing, supply, distribution, and usage of these products.
Almost half of survey respondents said that one of their sustainable packaging goals is to decrease their carbon footprint, although only 24 percent consistently calculate carbon emissions when considering packaging options. By performing a carbon impact assessment, and understanding where they land on the scorecard, brands receive a more accurate and actionable view of their sustainability profile.
There is No Simple Solution, But Brands are Taking Action
Companies are taking several different approaches to sustainable packaging solutions. According to our survey, most companies prefer to improve their current packaging formats, rather than develop entirely new ones. New solutions, such as innovative materials, require increased investments in time, resources and knowledge.
By improving the sustainability profile of their current packaging, enterprises may hope to make their current offerings and process more efficient while avoiding a complete overhaul of their current systems. Just over 60 percent of participants are aiming to make their current packaging options more recyclable while 55 percent are redesigning their packages to reduce weight.
When it comes to implementing sustainable solutions, we have a problem. But by "we," I don't just mean brands and packaging solutions companies; real progress lies somewhere in a collaboration between social science, environmental science, civic engineering, politics and corporate and consumer responsibility.
The additional resources and expertise that partners provide can be helpful in achieving any goal, but they will be more than just helpful in creating sustainable packaging solutions; they will be an absolute necessity. No single entity can tackle this problem by themselves; developing the circular economy will require cooperation among solution providers, CPG's, municipalities, retailers, NGO's and individual consumers.
This issue has a diverse set of variables that flux from geography to another. Europe has the most mature and efficient recycling system in the world and sets the global standard in terms of recycling and composting access. Many European governments encourage recycling by driving accessibility, adequate funding, financial incentives and performance targets for local governments.
But they only represent a fraction of the global population. China, Vietnam, the Philippines and Indonesia are the top sources of plastic garbage reaching the ocean. This problem will not be solved without global partnerships spanning across the entire value chain.
The road to sustainability is not straightforward, simple or quick. Everyone has a role to play. It is a massive undertaking that will only be resolved by bridging various industries, civic and organizational leaders and consumers. It will require an overhaul and improvement of the current manufacturing and packaging processes, recycling infrastructure, government services, retail outlets and more. Creating sustainable packaging solutions will not be easy, but many brands have already voiced and begun to act on public commitments to sustainability. They are ready to face the challenges and do their part in ensuring optimal health for every living being – humans, animals and plants – and providing a brighter, safer future for the planet. And we, at Jabil, are committed to help them get there.
Download the Sustainable Packaging Trends Survey Report
Insights from over 200 packaging decision-makers at global enterprises on their sustainable packaging goals, initiatives and challenges.