Why IT is the Foundation of a Digital Enterprise
World-class infrastructure matters to your digital transformation. Do you have what it takes?
Manufacturing is changing thanks to lower barriers to entry for funding, production, fulfillment, and service. But real gains are being achieved through other catalysts as well. One of the most critical drivers of manufacturing disruption is increased value to the customer. That's what IT brings to the digital enterprise as it takes on an even larger role in transforming the manufacturing value chain.
A manufacturing digital enterprise is one where all processes, from the supply chain and factory floor to logistics functions, are securely and robustly connected in real-time, at all points along the manufacturing cycle. And it's all made possible by digital transformation.
Digital Transformation Begins with Infrastructure
While much of the hype around digital transformation is typically focused on dramatic product and production innovations, reaping the many benefits of the transformation require investments to existing infrastructure.
The infrastructure that you need to connect customers, suppliers, devices, and employees that allow them to communicate, collaborate and work effectively is the network. That is the central nervous system of what's going on in the organization. This system must be able to manage the increasing scope of data and help you translate that data into actionable insights in real-time. Therefore, these systems can't rely on disparate products that don't communicate effectively.
Jabil's 2018 Digital Transformation Trends Survey reveals that 76 percent of product companies are affected by limitations with existing infrastructure. More importantly, 73 percent of those affected state that they have had to delay their plans or have been unable to support them due to infrastructure issues.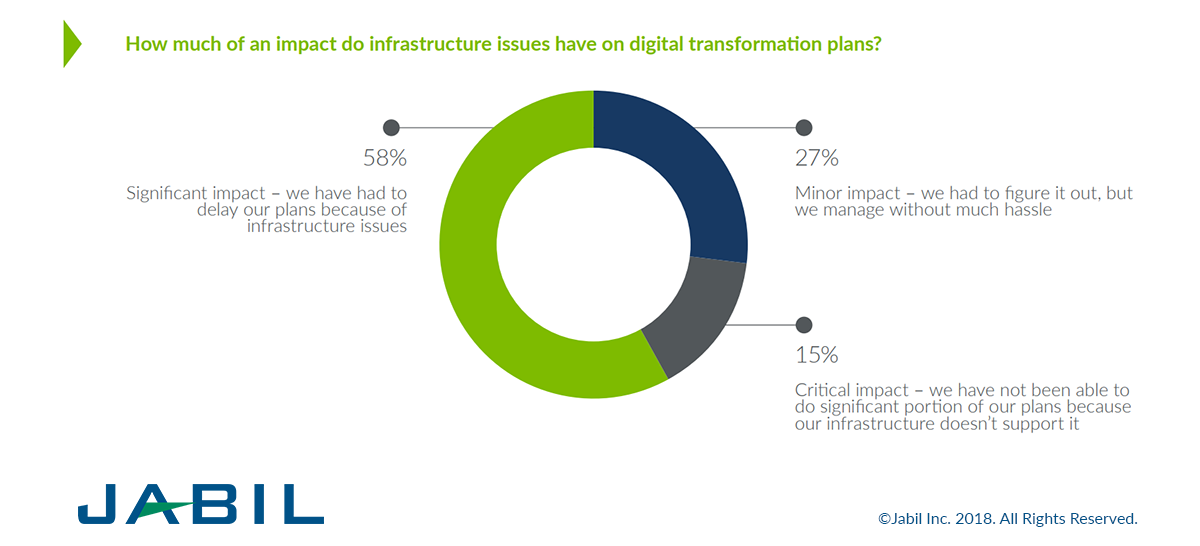 It's important to note that companies are making the right moves to prepare for their digital transformation. Ninety-nine percent of respondents shared that they were making investments in internal and partner ecosystems including cloud, mobility, big data, analytics, artificial intelligence and enterprise solutions. Fifty-four percent of them shared they were making significant investments in their infrastructure needs to support a digital transformation.
System Currency and Modernization Have a Major Impact on Operations and Digital Success
The current reality comes with many expectations: production availability, improved cybersecurity, rapid scalability, agility via real-time access and integration with data. We believe there are five technology enablers that can help you meet expectations:
Core Systems: Without solid, reliable core systems like an Enterprise Resource Planning (ERP) tool and a solid Human Resources Information System (HRIS), companies cannot hope to make the leap to a digital enterprise. Core systems ensure solid, reliable operations and the production of complete, accurate data needed to compete on the digital playing field.
Cloud Solutions: The cloud offers flexible, scalable, reliable solutions that allow companies to be nimble and responsive to customer needs while operating cost-effectively.
Connectivity and Mobility: Connectivity and commitment to a mobile-first experience are required to ensure customers can interact anytime, anywhere, securely and effectively.
Information and Analytics: Data is the lifeblood of digital companies because it is the source of all knowledge about what customers do and, more importantly, what they might do in the future. Effective analysis of data can reveal never-before-seen insights and relationships that can lead to product design innovations, new marketing strategies, and operational improvements.
Artificial Intelligence and Automation: Advanced technologies like artificial intelligence, automation and even augmented reality can reap rewards of more rapid product development and increased productivity as employees are relieved of menial tasks and available to perform more value-added work at a faster pace.
Sensors Play a Critical Role in Digital Transformation
In many ways, IT provides the foundational piece of the Smart Factory as well, providing a secure, efficient and widely connected information pipeline capable of delivering real-time insights to everyone along the manufacturing journey. For the customer, this value is transformational, providing insights that deliver shorter time-to-market, increased product quality and lower costs through digital supply chain optimization.
Thanks to the ease through which sensor networks can capture and communicate data, information about machine health, component quality, process irregularities and much more can be captured continuously throughout the manufacturing process. Furthermore, all of this information can be analyzed to help customers make better decisions about the entire production cycle.
In the digital future, it is IT operations that will ensure communication networks are optimized for sensor data collection, communication, and analysis.
Using Real-Time, Actionable Data for Digital Success
Then, there is the data opportunity. As digital enterprises begin to gather and store information about operations, products, suppliers and more, they build a digital library of information with incredible value to the organization. Again, we look to IT to help harvest the data in order to bring forward meaningful, actionable insights that have the potential to transform the way we do business.
With the explosion of sensor data connected at the edge of the network in real-time, the next logical step is to understand the data. That's where Big Data Analytics can help. Connected through secure networks, sophisticated analytics make use of past data to provide insights and predictions about the future state throughout production.
However, IT isn't just about networks, sensors and data. It is also about people. Next-generation enterprise systems will incorporate social networks to enable better employee communication and collaboration, transforming how people work in the front office and on the factory floor.
After all, Jabil's Digital Transformation Survey reveals that 74 percent of respondents find the most challenging changes are not technological, but cultural and organizational. Perhaps with a world-class infrastructure, even these changes could be eased.
What World-Class Infrastructure Delivers
Early and proactive investments in infrastructure deliver unparalleled benefits along the digital transformation path, including:
Increased manufacturing and design speed of products through simulation
Productivity gains through automation and bots; fewer error-prone, more data-driven decisions
Customized and differentiated products delivered through custom builds leveraging augmented reality
Enhanced quality leveraging artificial intelligence, resulting in higher yields with fewer defects
Better employee communication and collaboration
Jabil's 2018 Digital Transformation Report