A Wind Energy Case Study: Envision
Imagine a world where every single person has access to clean, secure and affordable energy. With recent technological advancements in the wind energy industry, that picture may not be too far off.
The global wind turbines market registered a market value of $44.74 billion in 2017 and is expected to grow to $47.83 billion in 2022, according to Global Data. This is largely due to the increased activity within the Asia Pacific (APAC) and Europe & Middle East regions. In the U.S. alone, wind energy is set to grow 36 percent, with a 69 percent drop in costs between 2009 and 2018.
These global investments in wind power are spurring the industry on to rapid growth. Wind farms are helping power markets around the world prioritize self-sufficiency, energy security and the need to address issues surrounding climate change.
Increased global investments in smart energy solutions, such as wind turbines, make sense. Smart wind turbines are one of the most effective technologies used to generate renewable power, producing more energy while reducing maintenance costs. In fact, some new wind turbines feature exclusive technology that includes sensor-enabled controls to optimize their performance and energy generation in harmony with the environment.
Envision, a smart energy solutions company headquartered in Shanghai, is at the forefront of this industry innovation.
"We are creating wind turbines with a brain," explained Lei Zhang, founder and CEO of Envision Group. Using hundreds of sensors, advanced control algorithms and AI predictions, Envision's technology lets wind turbines accurately perceive their own status and environmental conditions to ensure maximum power generation and longer service life. This software-defined turbine approach surpasses the technological limitations of traditional wind turbines while boosting wind power generation efficiency by 15 percent.
Empowering Wind Energy Innovations
In bridging the gap between digital and physical energy systems, Envision is driving a global transition to smart, clean and abundant energy. As a result, wind farm operators benefit from greater visibility and control over environmental and other external factors that can impact turbine performance. But this innovation doesn't happen in a vacuum.
"In the wind business, it's all about quality, reliability and cost-efficiency," said Kane Xu, Global VP, Envision, India. "When you think about turbines sitting in rural areas—on mountaintops or in the ocean—there must be a quality system in place that enables you to achieve the highest levels of performance."
To usher in a new era of renewable energy, Envision sought a partner to support the company's go-to-market strategy at unprecedented speed and scale. That's when Envision turned to Jabil.
For engineering and production at such a high scale, it is essential for companies to have a New Product Introduction (NPI) system in place to increase work efficiencies. The implementation of NPI management systems helps companies manage employees' work progress and the manufacturing process flow. Envision had many moving parts in designing wind turbines and creating a seamless supply chain strategy. But with Jabil's help, Envision launched its own NPI management system with full power production testing, value engineering and complete supplier management.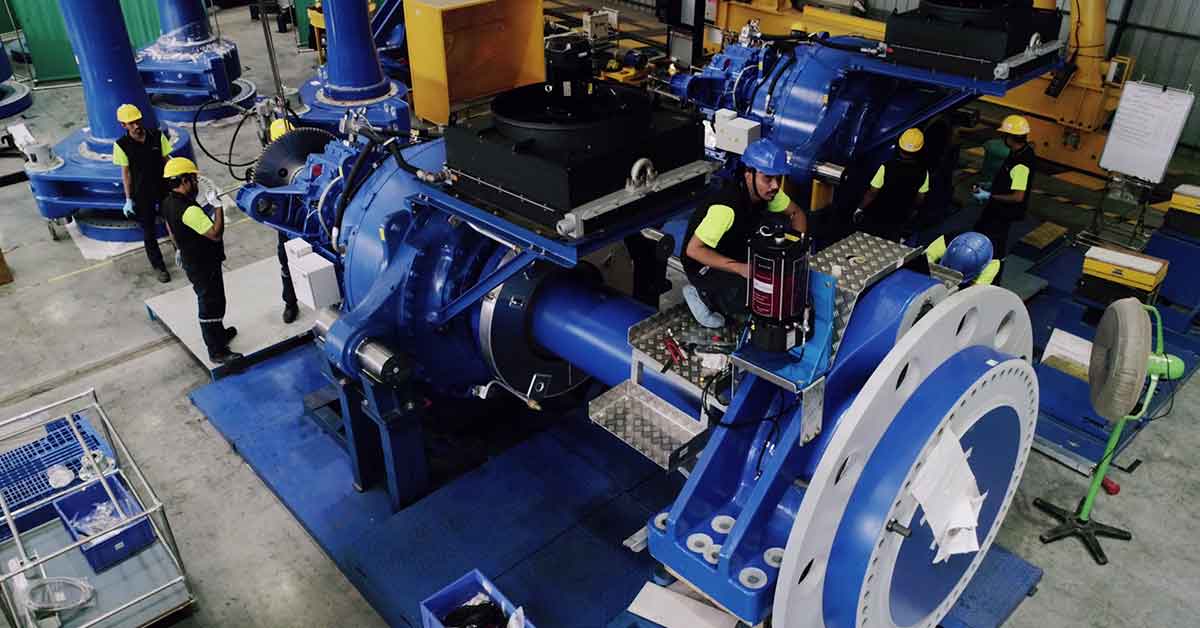 Unlocking Innovation through Collaboration
By 2030, wind energy will account for nearly 15 percent of global electricity generated, according to Frost and Sullivan. As the wind energy economy becomes stronger, markets are beginning to emerge across the world, specifically in Mexico, Brazil, Russia and India. Due to a decline in wind energy costs and the minimal risk for developers, India is the most ideal country for expansions. Since the country is the second largest territory for Envision, aggressive expansion plans drove the strategy to align localized supply chain and manufacturing resources.
In its desire to expand to other regions, the Envision team quickly realized the importance of a localized supply chain strategy. The close collaboration with Jabil and a shared culture of innovation resulted in the decision to open a new India-based manufacturing facility dedicated to Envision.
In only five months – a record-breaking speed in the manufacturing world – Jabil stood up an entire factory with the ability to produce up to 300 wind turbines annually. "For Jabil's industrial and process engineering teams, building this capability at this large a scale and this fast is something we hadn't done before," said Scott Gebicke, global head of Jabil's energy, industrial and building group. "We did it together with Envision."
Additionally, the opportunity to handle manufacturing and assembly in India led to additional cost efficiencies, enabling Envision to reduce the cost of making wind turbines by up to 30 percent. "The team did a great job to ramp the new factory from producing zero to 50 wind turbines in just three months," Zhang said.
The future of wind energy is strong. In addition to onshore wind farms, there's also a massive opportunity for offshore wind farms, and the potential for power generation on the open seas is even greater than on land, where uneven geography slows the wind. From massive wind farms spanning across the great plains to mini-wind turbines used to power a single home, the wind power industry will only gain momentum. Smart energy solutions will soon become the norm and retaining energy will become easier and safer for the environment.