Facing Headwinds: Resiliency in the Wind Energy Supply Chain
The wind energy industry has experienced rapid growth over the past years, with a record capacity of 93 GW installed globally in 2020. But to truly alter the course of climate change, bolder action is needed.
At the September 2021 United Nations (U.N.) energy summit, national governments committed to building an additional 698 GW of clean energy by 2030. Two months later, at the U.N.'s COP26, the Net Zero World Initiative was launched to provide policy support, at least $10 billion in funding and new jobs for clean energy projects between 2022 and 2024.
Taking the next steps toward a future powered by wind energy starts by building a resilient supply chain.
Disruptions in the Wind Energy Supply Chain
Because wind energy is part of the larger global supply chain, it has felt some impacts from COVID-19 control measures, labor shortages and supply-demand imbalances. March 2020's COVID-19 factory shutdowns caused initial constraints in the supply chain, with depressions in materials like semiconductors and printed circuit boards (PCBs) — some of which continue to be driven by the overall increased demand for these components in industries like automotive and consumer electronics. As of November 2021, PCB lead times are averaging 20 to 22 weeks, driven by shortages in epoxy resin, copper and glass fiber.
Still, as component shortage challenges continue into 2022 and beyond, supply chain constraints could spread, and proactive measures will help keep renewable energy OEMs ahead of potential bottlenecks.
Besides the availability of components, another challenge in the wind energy supply chain has been pricing. Prices for metals like steel, copper and aluminum have jumped exponentially since the beginning of 2020, driving up the necessary spend for parts like structural components (tower, castings and internal steel parts) as well as bus bars and cables, which requires a strategic approach and purchasing power to minimize the impact.
Build Resilience in the Wind Energy Supply Chain by Expanding the Approved Vendor List
The best way to navigate these challenges is to create a supply chain that is both predictive and proactive — that is to say, a supply chain that is resilient to tests thrown its way.
The wind energy supply chain is highly specialized, requiring intimate knowledge of parts, where to get them and how to transport them. In turn, a finely tuned group of people, processes and technologies can find and minimize the at-risk areas of the supply chain while maximizing efficiencies along the way. And in order to strengthen your supply chain, you first must grow it.
The first step to creating a stronger supply chain is expanding the number of approved component suppliers on the bill of materials (BOM) with suitable alternatives. Finding alternative components increases the flexibility of your supply chain while decreasing the overall risk. As we've seen throughout the pandemic, when a supplier in one region is suddenly mandated to shut down for weeks at a time, having multiple vendors makes it simpler to switch your order over to an existing supplier than scrambling to develop a relationship from the inception.
By including multiple suppliers in your BOM from the beginning of the design process, you can price out the most cost-effective option before you move to manufacturing. An expanded approved vendor list (AVL) can also be beneficial as parts reach their end-of-life; more suppliers on the AVL means there's a greater chance that potential replacement parts already exist in your supply chain ecosystem.
Finally, an expanded AVL can protect your supply chain from fluctuations in the global market.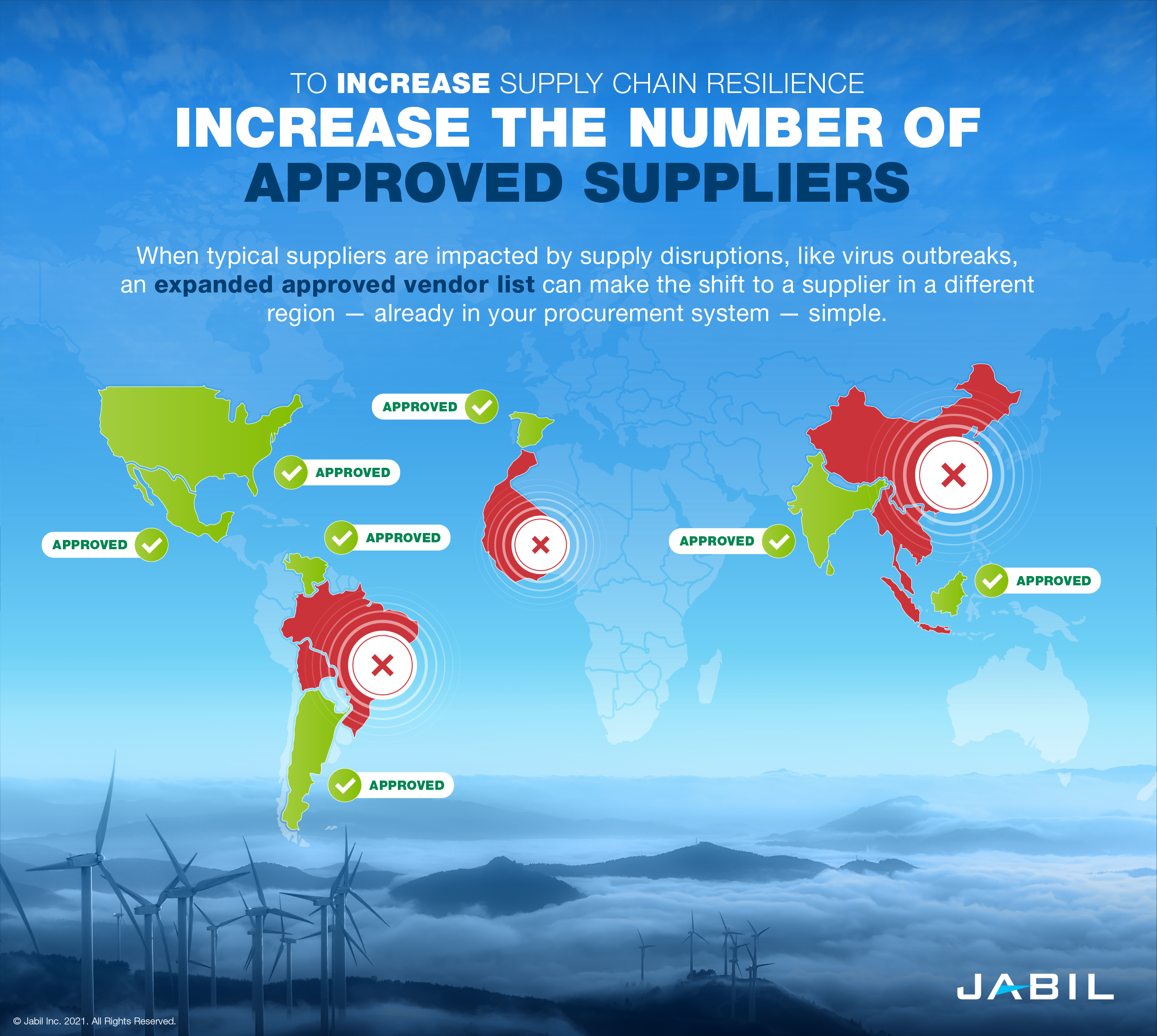 Whether you're expanding into emerging markets or just looking to relocate your sourcing, a localized supply chain (and even sub-supply chain) is beneficial for managing wind energy's highly specialized components.
Localizing the Wind Energy Supply Chain
Localization is particularly important for high-level mechanical parts like cabinets and cables. Lead times are much shorter when suppliers are in the same country, and shipping for complex parts (or travel, on the part of supplier relationship managers) is simplified. Some countries, like Russia and Brazil, even require a certain degree of localization within the wind energy supply chain.
Beyond the cost and time-efficiency benefits, a localized supply chain is a more sustainable supply chain. International freight transport is responsible for 30% of all transport-related CO2 emissions, representing 7% of total global CO2 emissions. Shipping components across shorter distances means it can help OEMs reduce their carbon footprint and move closer to reaching their emissions and sustainability targets. It could also enable improvement in reusable packaging, as Jabil is using at multiple sites. By putting an emphasis on sustainability from the top, wind energy OEMs are setting an example for their entire supply chain — from suppliers to logistics partners — to follow suit.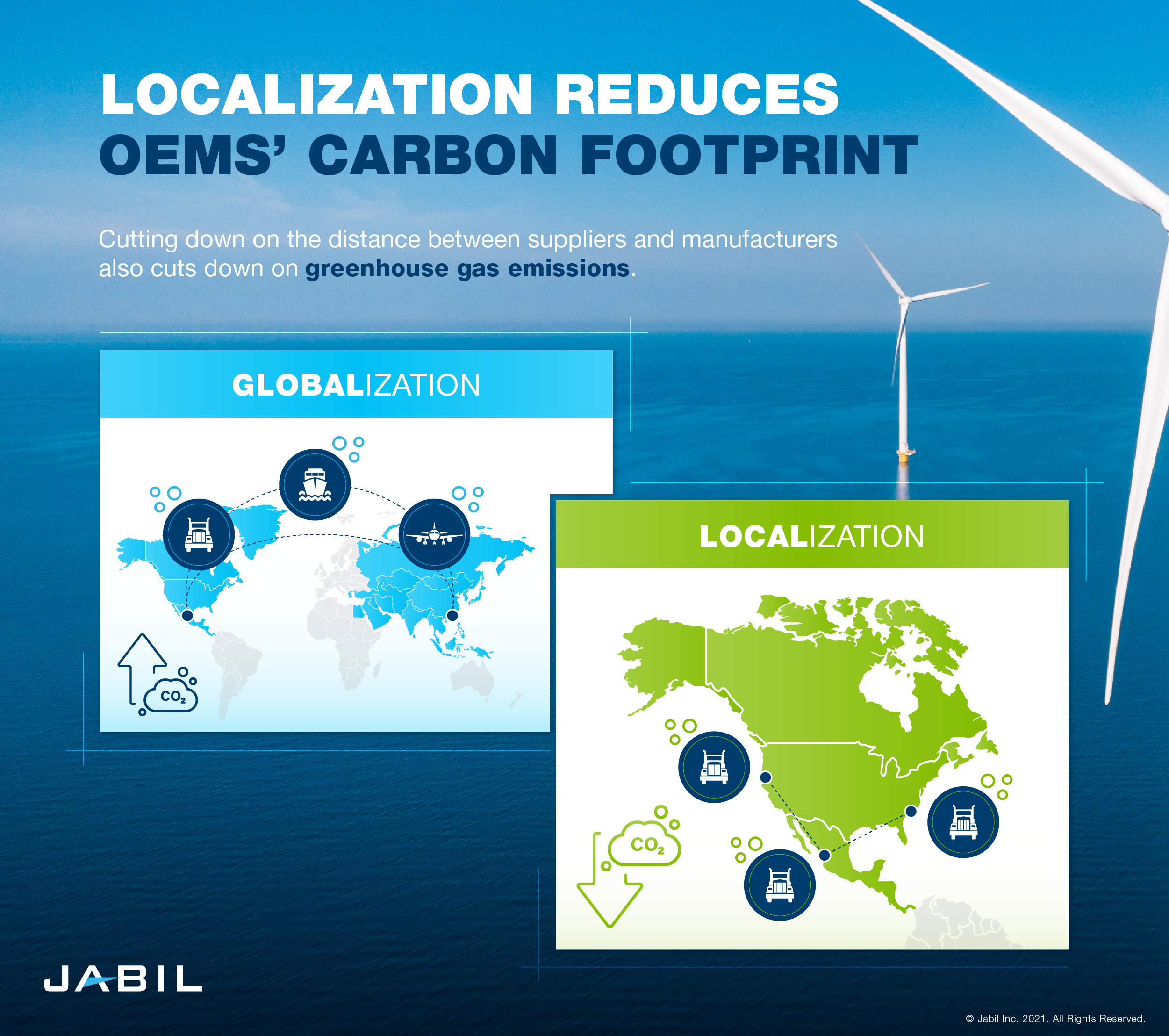 Designing with Supply Chain Resilience in Mind
When designing new systems, wind energy OEMs can identify potential problems and new opportunities from the start by considering how their products will impact and be impacted by their supply chain. A few core principles can help OEMs design toward the goal of supply chain resilience by the early involvement of an experienced manufacturing solutions provider like Jabil:
Design for Cost (DfC): This concept is a systematic approach to controlling the costs of the developed. The basic idea is that costs are designed "into the product" even from the earliest concept decisions, as it is difficult to change during a later stage of the product's lifecycle.

Design for Manufacturing (DfM): This is the process of designing or engineering a product in order to facilitate the manufacturing process in the most efficient way to improve its manufacturing costs and quality.
Design for Quality (DfQ): This is a set of principles that encompasses a multi-faceted approach to product design that ensures a product will last long and work reliably in service.
Partnering with a Manufacturing Services Provider to Strengthen the Supply Chain
While manufacturing service providers are typically brought on for their manufacturing capabilities, what they can really bring to the table is their industry expertise from a component level on up to create solutions, systems, equipment and material selections at the most effective cost — also known as value engineering.
What does this look like for the wind industry? For one, localizing as much of the supply chain as possible. At Jabil, our launch of WTG critical electric mechanical systems resulted in the localization of over 70% of the bill-of-material (BOM) costs by developing strategic supplier relationships for key commodities.
We've talked at length about the importance of having multiple suppliers. Manufacturing service providers have the supplier relationships necessary for finding replacement components that meet OEM specifications to expand the AVL and increase supply chain flexibility.
How can Jabil's energy team help your business? Contact us.