Global Supply Chain Management: 8 Market Forces Creating Complexity
In today's digitally driven marketplace, the importance of efficient supply chain management becomes more obvious. The world is getting much smaller and the food you eat, the car you drive and the mobile device that holds your world together have increasingly complex global supply chains. Few products, if any, have single geography supply chains.
Raw materials may come from one region, with sub-assemblies built in another and often shipped to the consuming geography for assembly to lower cost and create flexibility. The United States is the fifth largest exporter of rice in the world, and those supply chains serve 120 different countries. It doesn't get simpler than rice. Simply put, the world runs on a global supply chain.
Although many products look like their supply chains are unique and independent, very few are. This lack of knowledge obscures the risks inherent in an increasingly linked and integrated global economy. At an increasing pace, the lack of understanding of the interdependent global supply chains creates negative business impacts that are often hard to fix once they have occurred. It is a great way to learn about your supply chains but very expensive.
You may believe that the electronics and resin in your infusion pump are safe—as the supplier only manufactures healthcare products—but, you are likely competing with manufacturers of cars, phones and even toys. I'm consistently surprised by the number of companies that focus and invest heavily to make their factories incredibly efficient only to have them sit idle while they wait for a 10-cent part.
Often business leaders are focused on what is happening locally or within their own industry and not calculating the impact other geographies and industry will have on their own.
When the original iPad launch went beyond expectations, it was a nightmare for everybody else depending on the same suppliers of passives and semiconductors (think white goods, automotive and healthcare, among others).
In the EMS business, we see every industry, appreciate the significant overlap between sectors and innately plan around these global market forces. It is the nature of our business to think globally or fail.
In today's landscape, your ability to manage complexity is critical and obvious, but those that do not focus on creating speed throughout their supply chains are destined to become the "smartest" failures. It is no longer just about knowing, it is about knowing before others do and reacting before the problem is common knowledge. Simply put, supply chain management intelligence and speed can make or break your company.
8 Market Forces Increasing Global Supply Chain Risk
"Change is the only constant" seems to be a consistent mantra, but with one exception: today it happens much faster. And the best way to win the speed game is to start before anyone else. But in order to "go faster," you need to be aware of the market dynamics impacting global supply chain management.
In Jabil's Special Report: Supply Chain Resilience in a Post-Pandemic World, participants listed a diverse set of market forces:
Pandemic disruptions (COVID-19)
Supply constraints
Increased demand
Global trade and tariff issues
Labor shortages
Global logistics constraints
Higher labor costs
Rapid technology transitions
These eight (especially the first one) global supply chain challenges complicate things. Keep in mind that some of these forces have been in place a long time, whereas others are just emerging.
Download the Special Report: Supply Chain Resilience in a Post-Pandemic World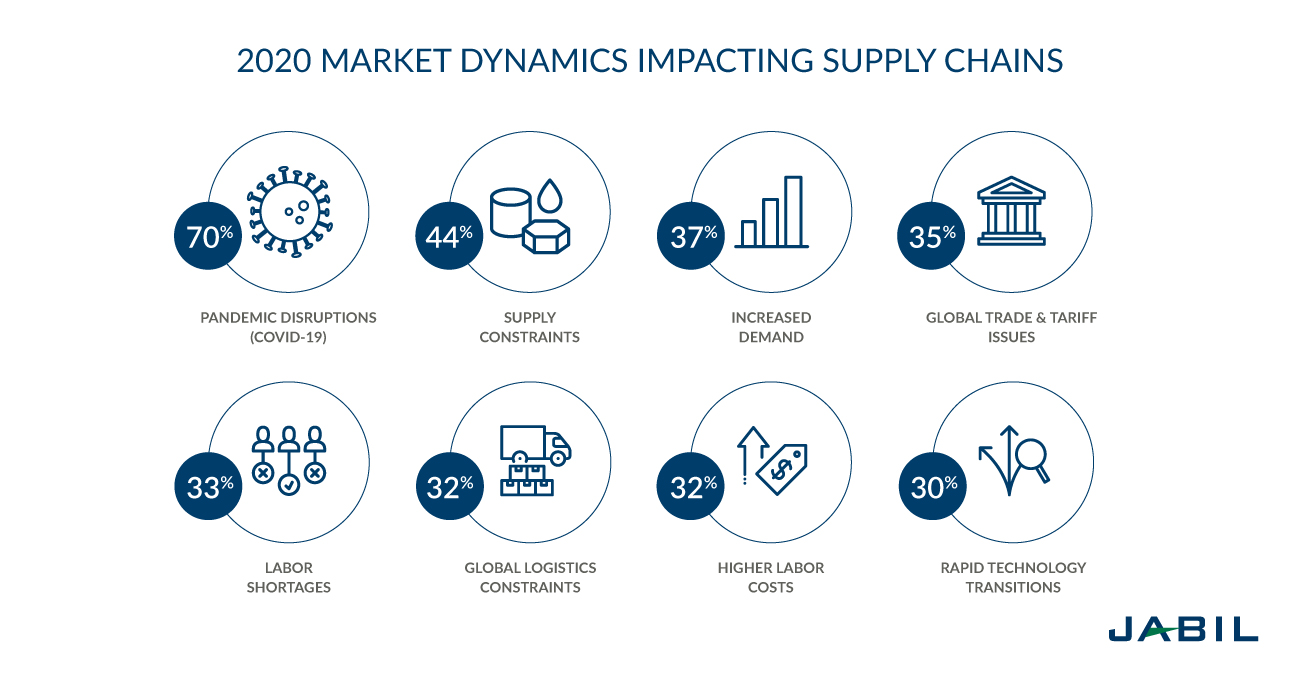 Here's what they mean and how they impact supply chains worldwide:
1. Pandemic Disruptions Related to COVID-19
Without a doubt, the supply chain impact of the coronavirus has been one for the books. In fact, 66% percent of supply chain decision makers in Jabil's special report say that COVID-19 has had the biggest supply chain impact in the last decade.
In previous years, as businesses have struggled with component shortages, global trade uncertainty and logistics constraints, COVID-19 has amplified these challenges to completely new levels.
As worldwide lockdowns, new waves of the virus and other pandemic related issues arise, global enterprises and small businesses alike navigate their way through these turbulent conditions.
2. Component Supply Constraints
The years 2017 and 2018 saw electronics demand dramatically outstrip supply, causing lead times for commodity devices like capacitors, resistors, diodes, transistors and memory to stretch as long as 60 weeks.
On the supply side, the shortage was spurred by insufficient growth in component capacity and production. In addition, pandemic-related needs have unveiled more challenges as priorities have shifted. These component shortages have made a drastic impact on global supply chains. According to Jabil's survey, 98 percent of product brands say global sourcing and materials issues have impacted their company in the last year. Some of those impacts include:
Delays in production delivery or time-to-market (62 percent)
Smaller profit margins (46 percent)
Revenue loss (42 percent)
Global sourcing issues, unfortunately, have translated into direct financial impact as well. Six out of 10 participants said that their companies have seen losses of more than $50 million, with two out of 10 saying their companies experienced $100-$500 million in losses.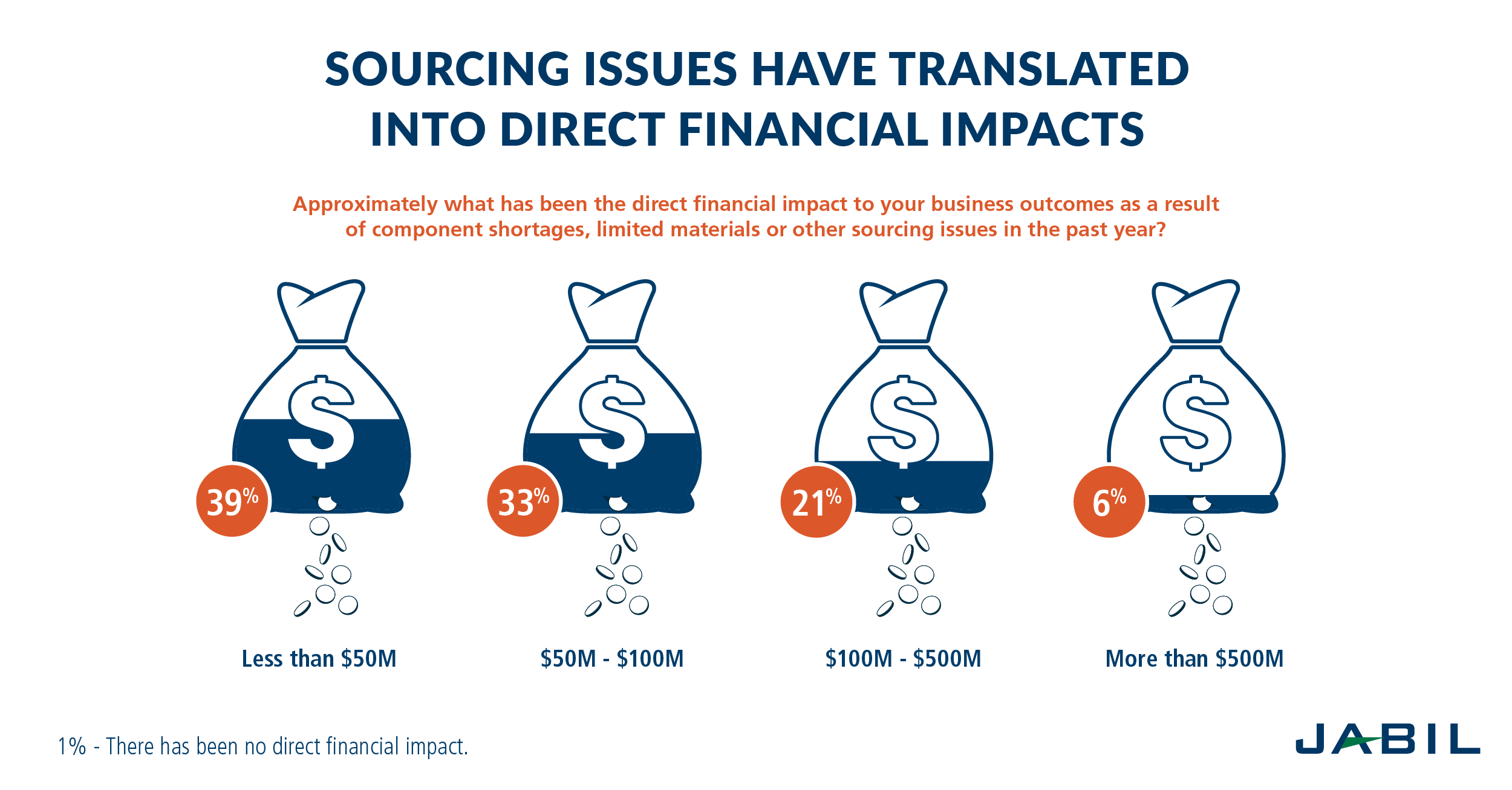 3. Demand Expansion
Consumer demand for electronics has been fueled by the pandemic as well, as many schools and offices have closed their doors to in-person activities. With the current state of the pandemic, the global economy's ascent back to pre-pandemic levels remains uncertain, according to the International Monetary Fund. The "new normal," therefore is changing our daily needs as well.
At the same time, as the Internet of Things (IoT) finds mainstream hold, there is increasing demand for more connected devices, wireless technologies and data centers, just to name a few.
The expansion of the IoT into new value steams within industries like healthcare and industrial products as well as the increasing content with industries like automotive, simply translates into an increasing demand for many electronic commodities. There really is no need for "new products" to increase the demand, just legacy products with new technology like continuous glucose monitoring and autonomous cars. As a result, the electronics market continues to outgrow the global economy.
4. Global Trade and Tariff Uncertainty
Jabil survey participants listed trades and tariff implications and reducing supply chain costs as their top business and technology challenge in 2019, but today these uncertanties are lower on the list of priorities.
A quick resolution of the global trade issues could lead to increased certainty among business leaders, buyers and increased purchasing activity.
The value of an intelligent global supply chain tied to a well-positioned global manufacturing network allows a balance between cost and risk and allows speed, should you need to migrate your business due to these uncertainties.
5. Labor Shortages
The outdated perception that global supply chain management is still primarily a low-paying purchasing job prevents many young professionals from considering it as a career. The fact that only a handful of universities offer appropriate courses and most of them are in the United States compounds this issue. As a result, there is a global shortage of qualified individuals ready to step into such roles today.
A graduating engineer envisions a career in manufacturing more often than in supply chain. In reality, companies like Jabil employ entire teams of engineers to help manage its supply chain. It's a skill set that is in very high demand.
Managing the supply chain is increasingly becoming a career track in big companies today, involving professionals with job titles such as director of finance – supply chain or advanced purchasing engineer, all the way up to the C-Level with Chief Procurement and Chief Supply Chain Officers. Anyone holding a role with commercial acumen can create a very successful and rewarding career in supply chain.
6. Global Logistics Contraints
As waves of the pandemic made their way through the world, global logistics became increasingly difficult to navigate. Especially in early to mid 2020, logistics changes took place overnight, with countries putting in new protocols with little to no notice.
As a result of these turbulent changes, supply chain managers had to take urgent actions such as:
Quickly identifying new international shipping options
Identifying additional options for "last mile" deliveries
Re-routing to avoid border closures
Therefore it should come as no surprise that half of the Jabil survey participants agreed that addressing logistics interruptions was a focus for their supply chain resilience program.
7. Higher Labor Costs
Another factor driving the pricing and availability issues of recent years is the long-term increase in labor expenses in China, a key electronics manufacturing region. Nearly half of the Jabil survey participants said that higher labor costs were impacting their company's global supply chain.
China's average annual wages rose by nearly 63 percent between 2011 and 2016, according to the country's National Bureau of Statistics. The long-term impact of China's one-child-per-family policy has created a slowdown in population growth and a decline in the workforce, resulting in rising wages and labor costs.
The Chinese government predicts that the total available workforce in China—which stood at 900 million people in 2017—will likely drop to 700 million by 2030. As a result, companies with manufacturing operations in China need to keep this top-of-mind as they expand the assembly of their product lines as part of their global supply chain.
8. Rapid Technology Transitions
Beyond the pandemic, makers of several critical components are shifting their manufacturing resources away from low-margin legacy parts and toward more advanced and higher cost devices. As a result, legacy devices continue to be difficult to source in the memory, passive and discrete segments.
One of the most critical legacy-part shortages is in the multi-layer ceramic capacitors (MLCC) segment. MLCC suppliers have increased production of higher capacitance, smaller case-size parts and decreased manufacturing of older, larger less efficient products.
This means that even though MLCC supplies have improved overall, manufacturing has increased only for more advanced parts. As a result, buyers sourcing legacy MLCCs are experiencing continued tightness in supply.
What does this mean for the global supply chain? Those with more data, intelligence and speed are going to have an advantage.
If you keep track of the global markets and your company's specific needs, you're going to make more informed decisions than those who don't keep a pulse on ongoing (and upcoming) trends. And those companies that use the data to not only chase old parts but to evolve their products into new technologies based on that intelligence, will reduce their supply chain risks dramatically.
Subscribe to the Jabil Blog
Sign up for weekly updates on the latest trends, research and insight in tech, IoT and the supply chain.
Amid Today's Market Dynamics, Speed and Tenacity Matter
Even without the market forces we've discussed, global supply chain management is complex enough. In an effort to manage supply chain risk around market forces, OEMs participating in the Jabil survey said they have taken the following steps in the past few years:
Adopted new technology
Revised approved vendor list
Evaluated multivendor sourcing strategies
Passed on price increases to consumers
Expanded EMS partnerships
Relocated manufacturing footprint
Relocated manufacturing
Ended sourcing partnerships
Invested in lobbying to influence policy
Eliminated markets
Although these tactics represent diverse options across the supply chain landscape, adopting new digital platforms leads the pack. But as an industry, we must be careful in the selections we make. I see many companies spending their money on "digital" solutions without properly identifying the problem to solve. Being digital is the wrong goal. Solving problems digitally is the right one.
Still 95% of Jabil survey respondents said that better technology decision-making today will help their end-to-end supply chain strategies in the long-term.
From a strategic perspective, current market volatility has required changes as well. OEMs say they've made the following changes to their manufacturing and supply chain strategies:
59 percent have begun to include risk management plans for potential price fluctuations in their strategy
44 percent are investing in supplier contingency plans to enable their business to quickly pivot to different supplier partners for materials and parts
44 percent have put in place or are exploring "lift and shift" manufacturing scenarios to optimize their lowest landed cost strategies
39 percent are building additional layers of redundancy and diversity when choosing suppliers
Regardless of the strategic or tactical actions you're taking to manage risk within your supply chain, the first question you should be thinking of is "what does my supply chain strategy need to solve for?"
Having a "localized" supply chain is no longer a good answer. Having a global network that can be leveraged across products and customers is a fundamental requirement today.
Regardless of where the end markets are, it is nearly impossible to have the most efficient lowest risk supply chain without having assets globally. The key is to always evaluate the complexity of the product and supply with the cost.
Special Report: Global Supply Chain Resilience in a Post-Pandemic World
Insights from over 700 supply chain decision-makers at OEMs with more than $500 million in revenue on how they are managing their global supply chains in light of COVID-19 and other market dynamics.