Modern retail technology is changing everything about shopper expectations and retail operations. Instead of straggling into a harshly florescent-lit store and herding themselves into sluggish checkout lines, consumers can order a product from their phone and have it delivered to their doorstep, or they can place an order at home, drive to a pick-up location, grab their product and leave. Shopper experiences are increasingly varied and personalized – customization that customers have come to expect.
In today's shopping landscape, consumers expect their experience to be seamless across all channels. They crave an information-rich, personalized approach to retail that allows them to get what they need with minimal obstructions, effort or human interaction.
E-commerce is booming. Growth projections estimate that by 2022, e-commerce revenues will exceed $638 billion in the U.S. alone. There may be as many as 2.14 billion digital buyers worldwide by 2021. Already, 40 percent of Americans say online shopping has become an integral aspect of how they acquire goods and services. Furthermore, e-commerce sales are expected to surpass in-store sales by 2024. Retail is an industry that never stops moving and must adjust to evolving customer expectations in real-time.
Retailers realize that they need to leverage technology on a global scale before they become irrelevant. However, it can be difficult to determine where to start. What are the biggest opportunities? What areas should retailers focus on? What challenges do they need to address? What will be the most beneficial new business models? Who should they partner with and trust to help navigate the confusing technology landscape?
Jabil partnered with Dimensional Research to field an online survey of more than 300 retail decision makers responsible for their organization's operational technology. A range of questions were asked, including current plans, opportunities and challenges associated with technology innovation. All participants were decision makers involved in the strategy, budget, selection or success of retail technology at the companies, including in-store operations, customer experience and analytics. Download Jabil's Future of Retail Technology Report.
Here are the top ten ways we found retail technology is transforming the industry:
For Retailers, E-commerce is Just the Beginning
Almost all retailers indicated that the e-commerce boom is just the beginning of major changes in retail operations as innovations continue to transform the shopping landscape; 70 percent indicated that the modern approach to retail will continue to radically transform.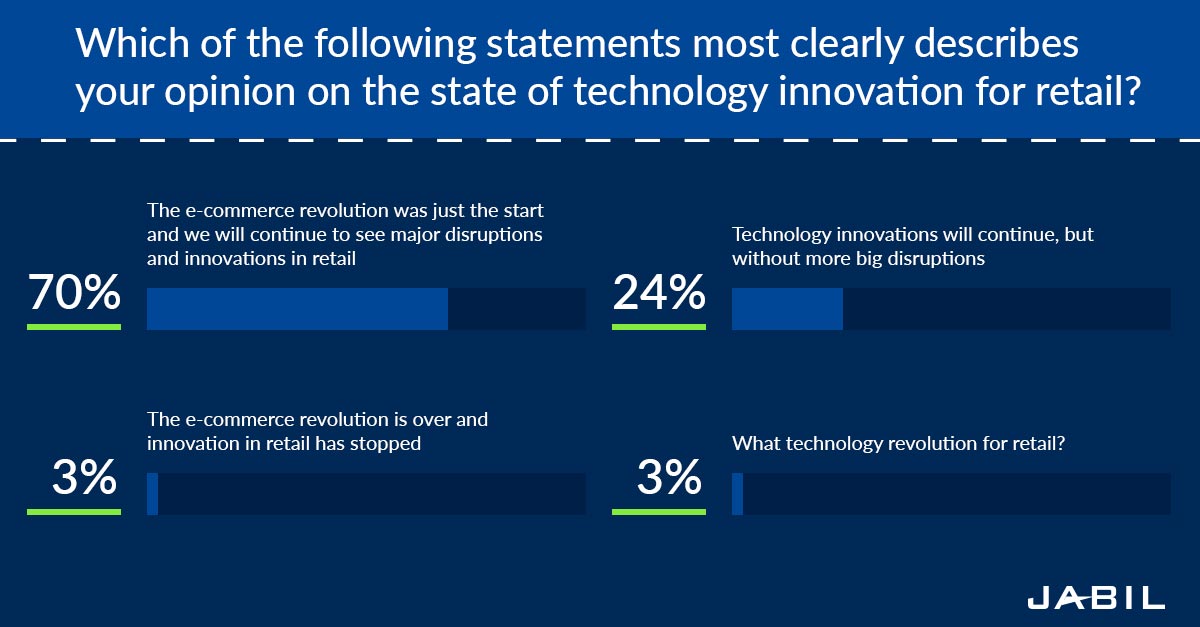 Recognizing the advantages of an omnichannel strategy, almost half of retailers responded that they are currently investing equally in online and in-store technology. However, of the companies that are choosing to focus more on one channel than the other, they are much more likely to lean toward online and e-commerce rather than the technology that will enhance the traditional retail experience. This may be because most retail businesses started as brick and mortar and are now working to build a digital footprint. In addition, starting an e-commerce business has fewer barriers-to-entry compared to a physical store.
In many cases, after a brick and mortar store added an online division, they figured out quickly that their value propositions to customers were moving in separate directions, and in some cases, there was competition between the two channels. Conversely, many online retailers did not originally see the need for a physical space, but shopper tastes have been evolving. Amazon announced in September 2018 that it opened a new Amazon 4-star store, a physical retail location that only sells items customers have rated four stars or above on the platform. The company is increasingly moving into the physical world, making it clear that its presence goes far beyond our digital screens.
According to a shopping behavior survey of 46,000 customers by the Harvard Business Review, 7 percent were online-only shoppers, while 20 percent were store-only shoppers. The remaining participants, or 73 percent, used multiple channels during their shopping journey. Omni-channel retail isn't becoming a standard, it is the standard.
Delving deeper into survey responses, we found that large companies, especially those with international operations, are more likely to lean toward an equal division between online and in-store technology deployment. Strategically, this integration allows them to increase brand recognition and customer loyalty by expanding their reach, while also optimizing the tangible experience and traditional services.
You can already see this concept being utilized in many chain stores in the U.S., such as BestBuy, Lowes or Target, which offer collection points for online ordering at the front of the store, thereby repurposing the brick and mortar to support the online channel.
Digital Transformation is Prevalent in Retail
Retailer investments tell us that retailers recognize how technology can improve their operations; 99 percent of survey respondents stated that technology innovation is important to their future success, and almost four out of five companies affirmed that their company has a digital transformation initiative.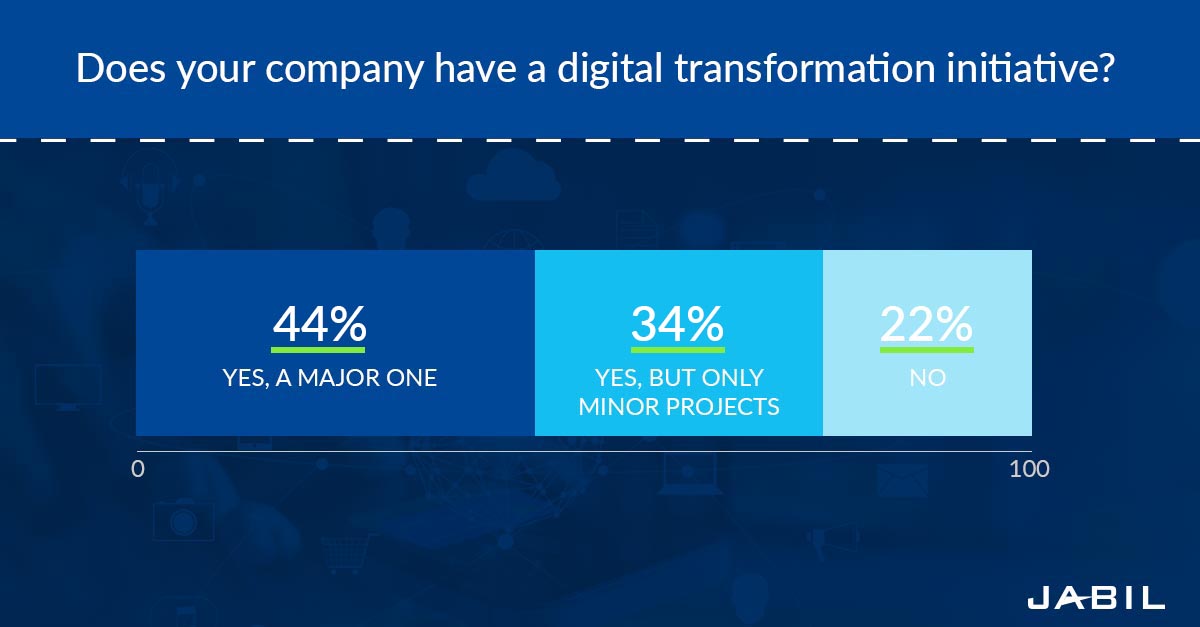 Operational reach affects how likely a retailer is to undergo digital transformation. The broader the reach of a company, the more likely it is to launch a digital transformation initiative. Fifty-one percent of companies that operate internationally said that they would likely initiate a major digital transformation, as opposed to 48 percent of companies that operate nationally and 31 percent that operate regionally. Serving diverse customers with a consistent brand message appears to be driving this focus.
Technology Investment is Necessary to be Competitive
Ninety-five percent of survey participants predicted an increase in financial investments into technology, with larger companies more likely to increase their spending more dramatically. While only 38 percent of companies with 500-1,000 employees indicated that they expect to raise their spending by more than 10 percent over the next two years, 49 percent of companies with 1,000-5,000 predicted they would, and 58 percent of companies with more than 5,000 employees responded that they would.
These financial investments reflect the overarching trend: the need for retail technology is catapulting more retailers to action. In our survey, 98 percent of retail decision makers responded that retail companies that want to remain competitive need to invest in technology that increases their efficiencies; 95 percent stated that personalized and convenient retail experiences build loyalty; and 100 percent affirmed that technology innovation is imperative to meet the expectations of today's shoppers.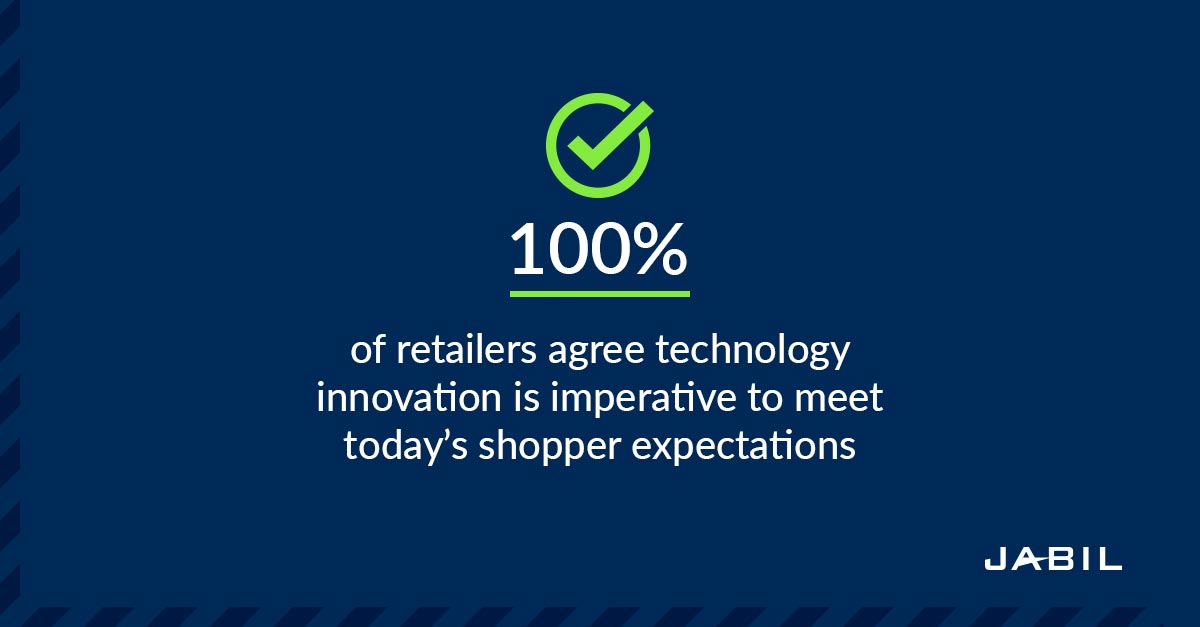 Retailers May Struggle to Implement New Technology
Despite their optimism about the importance of technology, only 29 percent thought that their current organizational structure and partner relationships were fully capable of delivering needed technology innovation.
With only 16 percent expressing confidence, technology executives were the most likely to be skeptical their team possessed the ideal level of expertise to successfully implement such investments. This was followed by concern from store managers who work directly with the employees who would manage the day-to-day use of those technologies.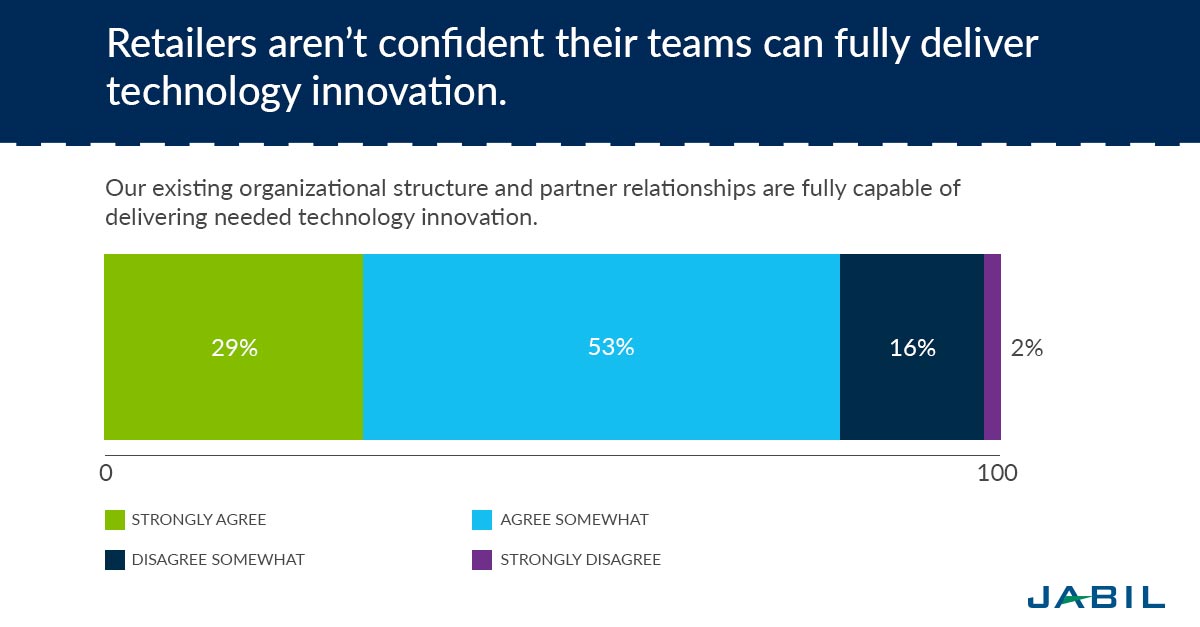 When asked directly about their organization's in-house capabilities to implement technology, only 17 percent were fully confident that their team had the knowledge and resources to do so.
Retailers Need Help with Technology Innovation
Given retail decision-makers' concerns regarding their current ability to implement new technological changes, it should not come as a shock that 87 percent face challenges with technology innovation. The most problematic factors cited were the insufficient skill set to gather and manage big data, system integrators that lack experience with component technologies and a supply chain without expertise in component technologies.
When asked about potential partnerships, 94 percent indicated that external help would be important in boosting retail innovation. Respondents admitted to needing help in software capabilities first and foremost, such as analytics, marketing platforms, and systems integration. The second area decision-makers indicated needing support was with technology infrastructure (servers, network, cloud, security, etc.), followed by hardware capabilities (beacons, kiosks, smart signage, robots, etc.) and supply chain.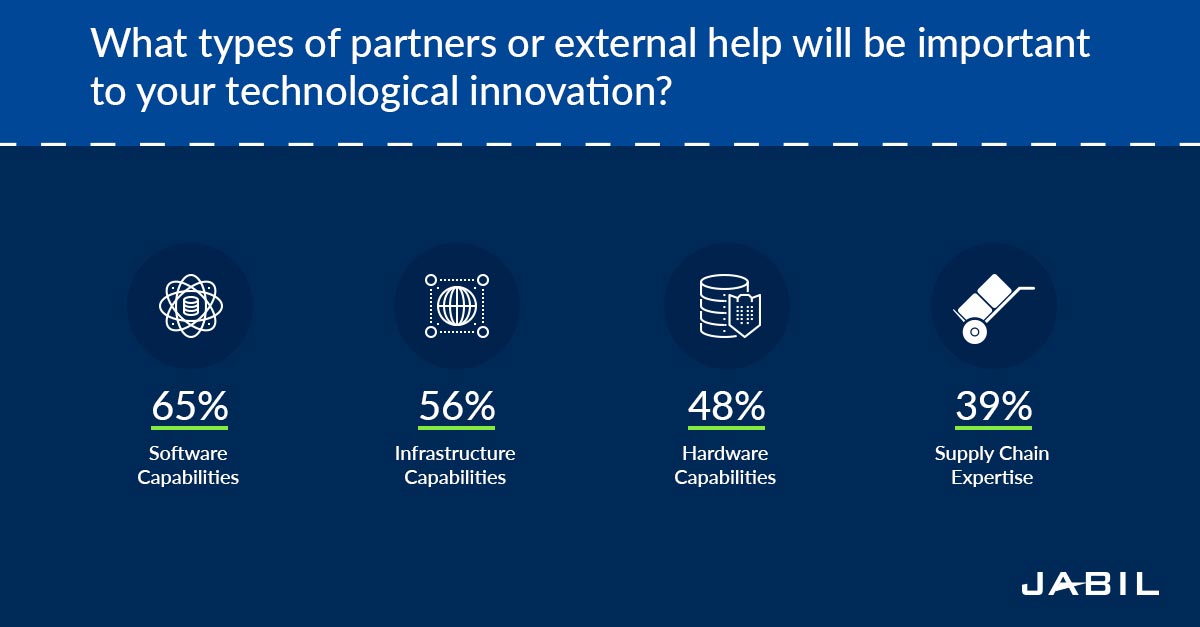 Wide Range of Motivations for Technology Investments
At the end of 2017, more than 6,700 planned store closures were announced, surpassing the all-time high of 6,163 store closings that followed the financial meltdown of 2008. While an external economic force caused the 2008 closures, the recent closures were a result of changing consumer shopping behaviors and changes in retail technology. However, it is not simply closings as more than 3,400 new stores opened in 2017. Retail decision-makers are strategizing ways to optimize their business through technology, including new store formats and footprint to address changing customer shopping patterns.
Companies are motivated to invest in technologies for a wide range of business goals. The top reason decision-makers cited was to improve operations and efficiencies. Operating ratio is a significant factor in any business, and retail – especially grocery retail – is a tight-margin business. Technology can improve operations and efficiency in a variety of areas.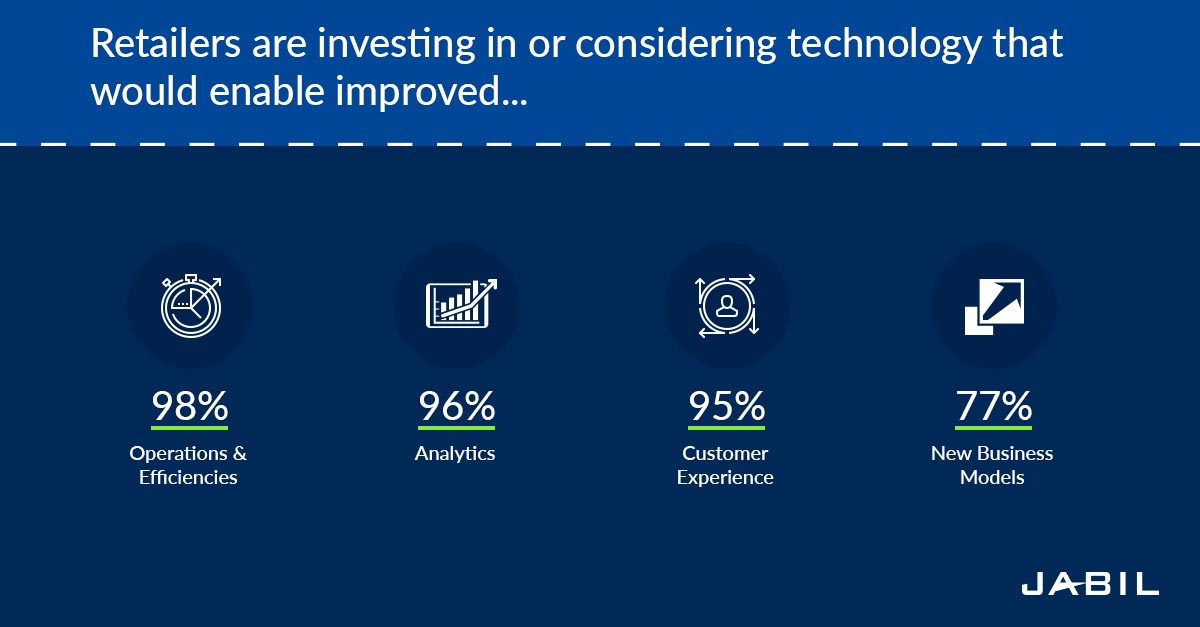 Retailers also perceive technology as being valuable in bettering analytics and data, enhancing customer experiences and creating new business models.
Technology Can Improve Retail Operations and Efficiency
As retailers transform their operations to embrace an omnichannel strategy, inventory becomes increasingly difficult to track. Retailers must juggle managing inventory in the store while also predicting who will buy online. Ensuring that their online presence accurately reflects the in-store inventory may also be a problem; if a customer shows up at the store expecting to pluck a product they saw online right off the shelf or pick-up his online purchase, that customer will not be happy to discover that the item is unavailable.
Inventory accuracy management can take a great toll on operating costs as well as impact gross sales, so it makes sense that inventory accuracy systems far outranked any other option when survey participants were asked if their company was implementing or considering technology that would improve operations and efficiencies. The second-top priority cited is also linked to addressing an inventory-related pain point: analytics to optimize channel and product inventory strategies.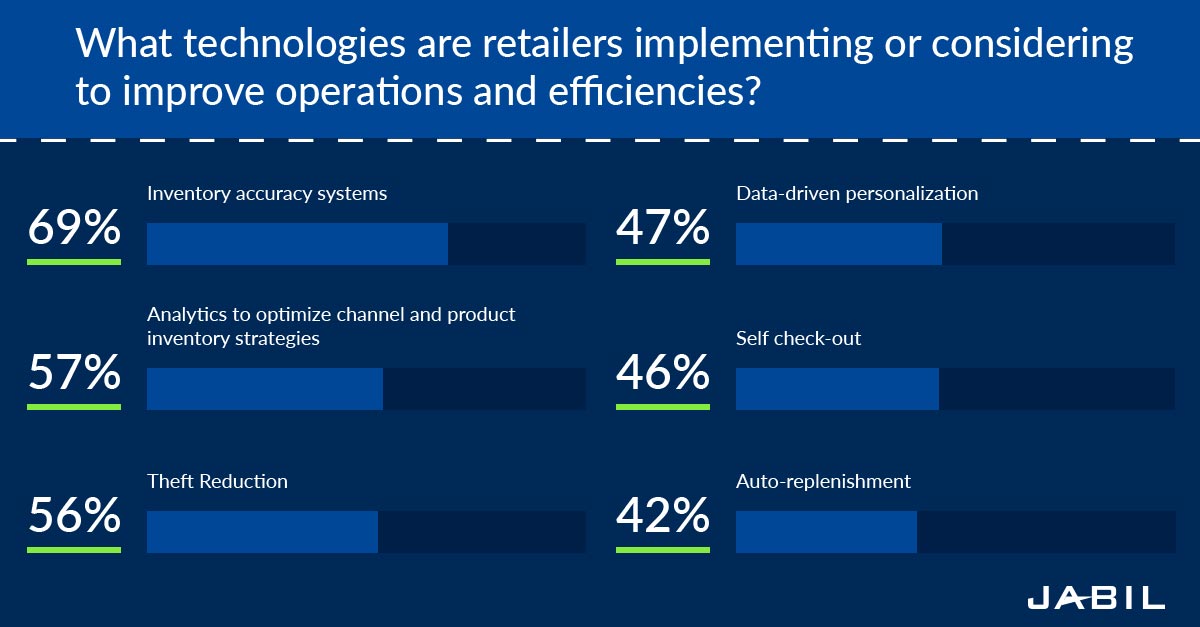 Technology Can Improve the Customer Experience
As previously mentioned, overall, retailers agree that disruptions will continue. Decision makers just aren't sure how, which prompts the question: how do you figure out which path or paths to take? What we see most often is that decision makers are choosing to invest in the customer experience.
In fact, companies are making the optimization of customer experience worthy of an executive position. Walmart, for example, recently hired a "chief customer officer," a C-Suite position aimed to ensure its digital and in-store businesses stay in lock-step with each other and the customer remains at the center of all operations. Even online brands like Warby Parker have the same mindset as they move into brick and mortar. The underlying strategy is to engage customers in a frictionless manner at a core level in hopes of boosting engagement, sales and margins.
The most popular way among industry decision makers looking to improve the customer experience is to take an omni-channel approach, which I discussed earlier. Fifty-six percent of respondents favor implementing personalized interactions, which aligns with our earlier finding about the importance of personalization. Macy's Executive Chairman Terry Lundgren said, "The whole concept of personalization is simply on steroids right now. It's all about the consumer in that one moment in time. We're doing anything we can do to connect directly with consumers and make shopping convenient for them."
A manifestation of this mindset can be seen in the fact that 55 percent of survey participants support utilizing delivery innovations such as lockers, same-day delivery and click-and-collect to pick up online purchases in store, closely follows for third.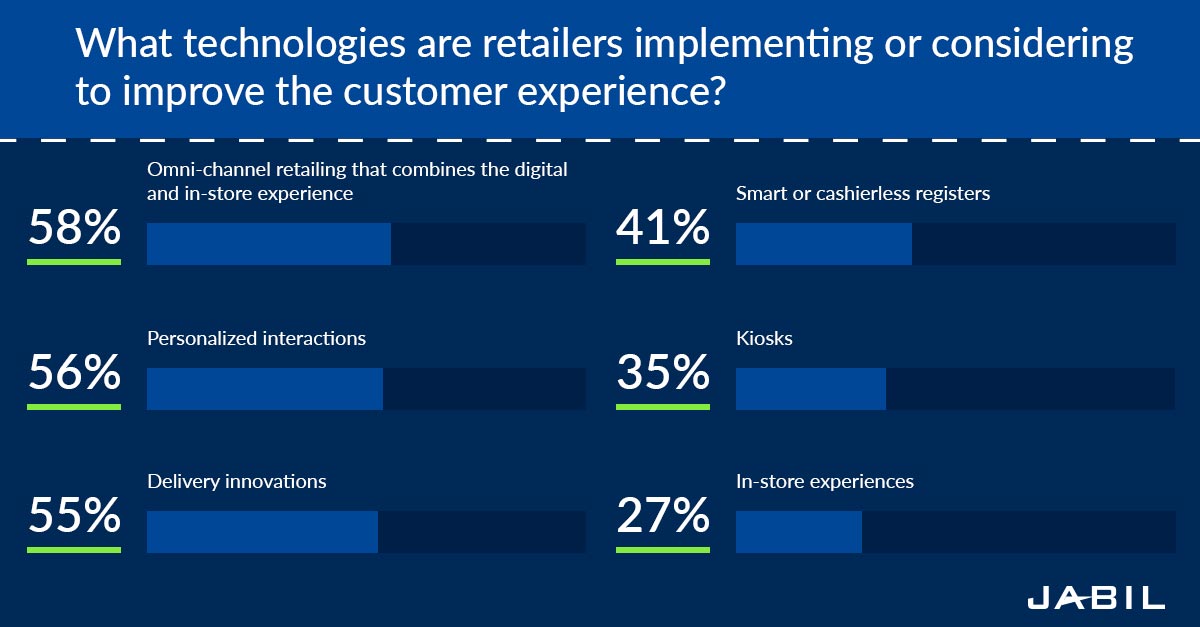 Retail Technology Can Improve Data and Analytics
Retailers invest considerable thought into the design of a store, the shelf layout, what merchandise is stocked there and similar deliberations. Despite this strategic planning, the store environment is inherently chaotic. At various times of the day, the amount of foot traffic rises and falls, with consumers moving around and shuffling products. This makes it difficult for a store manager to know exactly what is happening on any shelf at any given time. Better data tracking can help retailers significantly in pinpointing factors like when and where foot traffic is the highest and what products need to be restocked.
Ninety-six percent of retail decision-makers said that their company is implementing or considering using technology to improve analytics. The most highly prioritized technique was data visualization, followed by location-based mobile targeting. Big data and in-store sensors, hovering around 50 percent of respondents, were roughly equal.
In a retail context, this information can be used to improve the strategy behind a brick and mortar location by informing store management what areas get the most traffic, what shelves receive the most attention and what products need to be restocked most frequently. Recording this type of information can help determine the most effective store layout and ensure the most relevant customers are receiving the company's messaging about promotions, new products and more.
At 41 percent, "machine learning or artificial intelligence" was the lowest-ranked option, possibly because the machine or device retains information to improve its own performance, whereas most of the other choices provide employees and management with raw data that can be utilized in a variety of ways to enhance the customer experience and strengthen brand loyalty.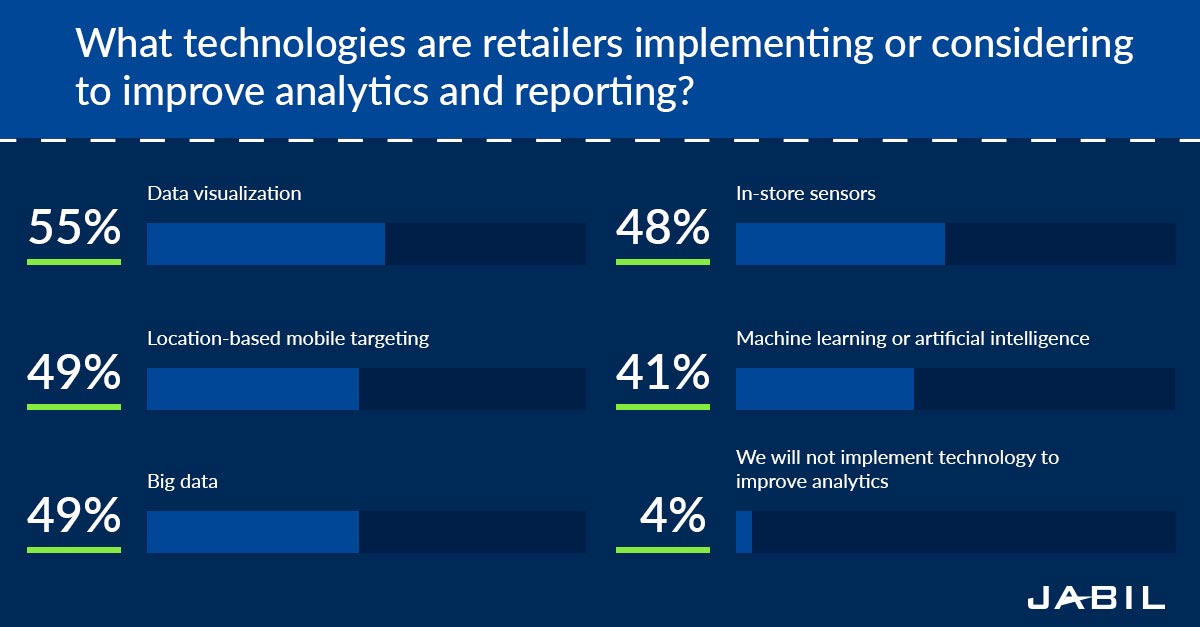 Technology Opens New Retail Business Models
Through technology, the industry is consistently moving closer to the consumer. Whereas in the past shoppers used to have to drive to a fixed physical location to purchase goods, e-commerce brought the inventory to brose and payment at the cash register into their homes, making shopping easier and more convenient.
The latest business model that retail decision makers cite as most interesting to exploring is home integration, which includes automatic reordering and usage tracking. These features would make shopping effortless and more efficient for the customer -- they wouldn't even need to think about reordering necessities like laundry detergent or dishwashing liquid. Instead of desperately scrambling to the store after realizing that they ran out of a product, they would find the product delivered and waiting for them on their doorstep.
Other business models will improve the customer experience outside the home, such as brand boutique showcases within existing stores or experiential venues and self-serve kiosks in non-store locations.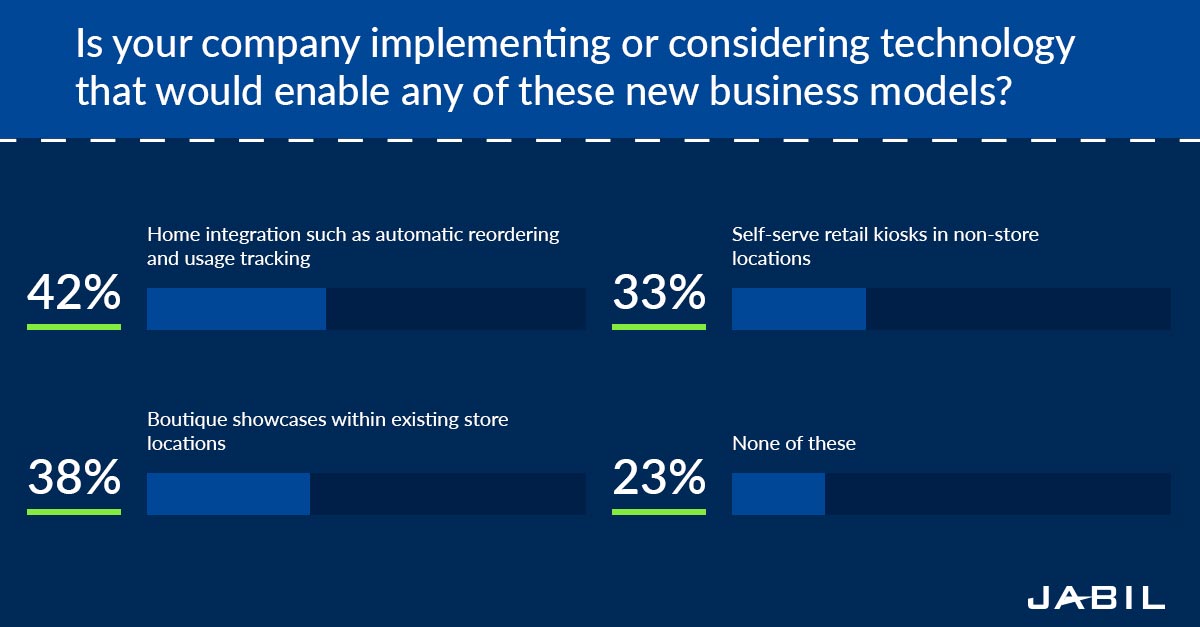 The retail environment has already experienced major disruptions due to consumers' complex and changing needs resulting from unprecedented technology deployment. As retail technology grows in capabilities and popularity, retail innovators focused on investing in technology can improve both the customer experience and their own operations. Technology will give retail decision-makers the ability to connect physical and virtual spaces, understand and respond to challenges in real-time and deliver increasingly personalized and convenient experiences that build brand loyalty.