3D Printing Applications in Manufacturing: A New Age
Additive manufacturing is currently the purest digital manufacturing technology available. It doesn't require tooling or fixturing and has near-zero switching costs in moving a file from one printer to another and from one location to the next. That's a radical departure from how manufacturing has been done over the last two centuries. Now 3D printing applications in manufacturing are transforming several industries.
With investments being made across the additive ecosystem, 3D printing has permeated nearly every step of the production process. Over the last two years, practical applications have expanded dramatically, according to Jabil's 2019 Additive Materials and 3D Printing study, a survey of over 300 professionals responsible for 3D printing at manufacturing companies.
Prototyping is still the most popular application overall; however, other 3D printing applications in manufacturing are on the rise. For example, the number of respondents using 3D printing for production parts has nearly doubled since late 2017, growing from 27 percent to 52 percent. Among the industries we surveyed, consumer electronics is using 3D printing for this purpose the most. Meanwhile, the automotive industry frequently uses 3D printing for bridge production, with 57 percent affirming that they do so. Medical devices are leading in jigs, fixtures and tooling, as well as research and development. Finally, the transportation industry is most likely to use 3D printing for repair and maintenance.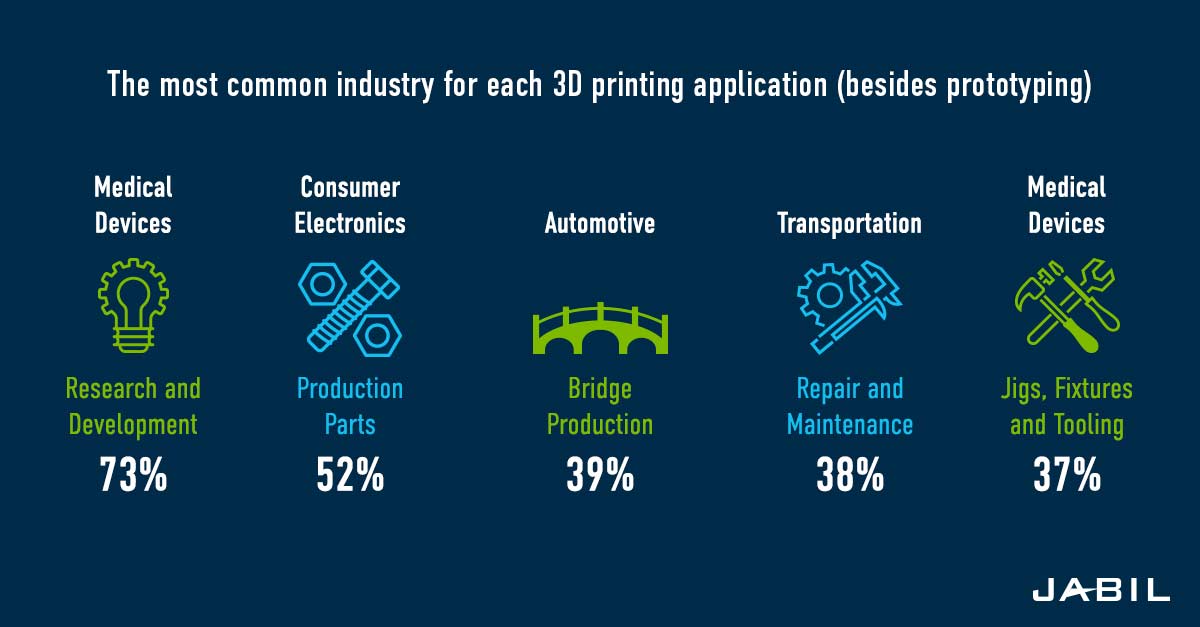 The reasons for increasing 3D printing applications in manufacturing are compelling. Nearly all respondents report that 3D printing is faster than traditional manufacturing. In fact, 25 percent report that it can be as much as 20 times faster, but most report that it is at least twice as fast. During a time when speed-to-market is essential, additive manufacturing can deliver numerous benefits in this arena.
In addition, participants report that 3D printing can enable manufacturers to lower production costs, handle one-off jobs more efficiently, increase response times on production line issues, remove tooling needs as a manufacturing bottleneck and support distributed manufacturing.
Of course, the exact benefits derived from 3D printing depend on the technology utilized. Here's how some key industries are using additive manufacturing today:
3D Printing: The Antidote to Medical Engineering Limitations
The Jabil survey found that medical devices and healthcare engineers were the most excited about the design freedom allowed by 3D printing, with 69 percent of surveyed individuals reporting this benefit. Jabil engineers, who were not interviewed as part of the survey, have experienced this benefit firsthand.
Jabil's Healthcare Division set out to build a proof-of-concept pressure-sensing heart catheter from scratch. The initiative, called "Project Under Pressure," involved multiple different teams from across the company, but the additive manufacturing team made arguably the biggest difference in the timeframe of the project.
Innovating a Connected, Minimally Invasive Device
3D printing speeds up the prototyping process, which can give engineers more opportunities to adjust and perfect a given part. For this project, the additive manufacturing team was tasked with printing the plastic housing for the heart catheter. In traditional manufacturing, this part would be outsourced to a machining, tooling or injection-molding company. Each prototype would take two to five weeks to create, carrying a sizeable price tag. In most cases, engineers are not satisfied with the first prototype and can go through three to four iterations before they find the best option. With the help of 3D printing, the Jabil team was able to reduce each iteration to a day. Once the part was printed, the team would test it and make design revisions that could be printed the next day.
The heart catheter was not created through additive manufacturing, as it is currently challenging for medical device manufacturers to create products that meet the quality standards required for Class III devices. However, in the very near future, the team plans to produce the catheter using 3D printing.
In the Jabil survey, medical companies reported that they mostly use 3D printing for prototyping. About 60 percent said they use it for R&D and production parts, and about half reported using it for bridging design and production, repairing parts and creating tooling. In addition, 85 percent of respondents say that, at most, half of their 3D printing operations are for producing functional or end-use parts.
Reaching New Heights in Aerospace with 3D Printing
Like medical equipment, aerospace and defense parts must be made to rigorous standards and offer high quality, precision and reliability. Aerospace and defense original equipment manufacturers (OEMs) are finding that 3D printing can not only meet these criteria but also deliver lighter, more cost-effective parts.
The aerospace industry has been embracing 3D printing for years. In 2012, Airbus decided to adopt the technology to help fill gaps in its production. Teams installing systems on the first Airbus A350 XWB realized they did not have enough of the removable brackets that go between the aircraft's systems and structure. Having these products traditionally manufactured would have significantly delayed the project, so engineers opted to 3D print the parts instead. Within two months, the engineers were able to propose the idea, create and manufacture prototypes, and evaluate them on a flight-test aircraft, Airbus representatives recount.
A year later, the company had 3D printed 1,300 parts, which saved 44-100 days on the bracket supply lead time, depending on the bracket. In April 2014, one of Airbus' 3D-printed parts took flight on a commercial Airbus aircraft for the first time. The part was a small panel installed behind the crew seat to keep the seat belt in place, but this was a significant step forward for Airbus' 3D printing.
Over the last decade, the popularity of 3D printing has taken off in the aerospace industry. Companies use it to produce spare parts, parts that are needed in small quantities and parts that are needed on-demand.
Engineers at Boeing also report that they are enjoying the new design possibilities 3D printing enables. "Design configurations that had once been un-producible were now possible," wrote Richard Aston, senior technical fellow. "This new capability enabled engineers to 'think additively' and be creative in the development of structural solutions."
In the years to come, more aerospace and defense companies will expand their use of 3D printing. In fact, the aerospace 3D printing market is expected to climb at a compound annual growth rate of about 27 percent to more than $3 billion by 2022, according to MarketsandMarkets. That is why it is important to be involved in the creation of standards for 3D printing applications in manufacturing in this industry. By getting the deep know-how and details on industry expectations, we can work toward innovating the technology and all its benefits for this industry.
Subscribe to the Jabil Blog
Sign up for weekly updates on the latest trends, research and insight in tech, IoT and the supply chain.
Transportation Industries Find Most Repair Uses
The Jabil survey showed that 3D printing applications in the transportation industry are evenly spread across all use types explored — namely prototyping, bridging prototyping and production, production, tooling, repair, and research and development. Notably, the transportation industry was the most likely of all the surveyed industries to use 3D printing for repairs, with 55 percent of transportation industry respondents reporting the use case.
To illustrate, British rolling stock leasing company Angel Trains, engineering consultancy ESG Rail and 3D printing technology company Stratasys are using the manufacturing method to produce replacement parts for broken pieces that have become obsolete, including an arm rest, a grab handle and a seat-back table. 3D printing allows railway companies to print parts on demand and in small quantities for the limited number of cases in which the parts are needed. This, in turn, will help reduce the whole-life cost of the vehicles and allow them to remain in service longer.
Deutsche Bahn also is using 3D printing to repair broken pieces and replace parts that have become obsolete. "When we buy trains, we get the service level agreement for delivery of spare parts for around 15 years," says Stefanie Brickwede, head of additive manufacturing at Deutsche Bahn and managing director of Mobility goes Additive. "After that time, we look for the parts on the world market and we cannot get them." To date, the Germany-based railway company has printed more than 6,000 parts for 110 different uses. Replacement parts have included tube fixtures for display lights used inside the train's electronic onboard information system, but the company also is using the technique to make coat hooks, steering wheel covers, headrest frames, braille signs and even parts for coffee machines, the article reports.
Looking ahead, GE Transportation is aiming to 3D print as many as 250 different locomotive components by 2025, if early tests of the products prove satisfactory. The company plans to use the technology to create more compact engine components so that there will be room for a battery on its upcoming hybrid battery-diesel trains. Plus, GE Transportation leaders expect that the technology will allow the company to build simpler parts as well. Dominique Malenfant, vice president of global technology, offers the example of an engine heat exchanger, which typically contains 2,000 individual sub-components, joints or welds. If 3D printing can produce this part as one unit, these potential areas of failure could be eliminated, he explains.
Jabil Sites Adopt 3D Printers
We take additive manufacturing very seriously at Jabil and believe it has unlimited potential in the future. At Jabil's Auburn Hills, Michigan-based facility, for example, a constant focus on continuous improvement has led to the exploration of new technologies for addressing high-mix, low-to-medium volume manufacturing requirements.
To better address smaller batch sizes and reduced product lifecycles, the Auburn Hills team was early to evaluate and validate the use of additive manufacturing applications. Historically, machine shops played a significant role as they were the predominant source for fixtures, jigs and other tooling needed for production. However, it could take up to three weeks for a simple tool, and even two months for a more complicated part.
Fueled by the promise of bringing products to market faster, the Auburn Hills team explored 3D printing for producing tooling, fixtures and jigs in-house. Today, the site is achieving upward of 30 percent reductions in the cost of tooling and an 80 percent decrease in the time to produce final tools and fixtures. Read the full case study.
Additive Manufacturing Use Cases Evolve with the Technology
These examples are just snapshots of how these industries are using 3D printing. Jabil research shows that each of these industries is using 3D printing for many purposes and usage will only keep growing.
Nearly all respondents to the Jabil survey said they expect their companies' overall use of 3D printing to increase in the next two to five years, with 39 percent expecting this amount to increase five-fold or more. This is up from just 23 percent in 2017. Similarly, nearly all respondents expect their companies' use of 3D printing for production parts to increase in the next three to five years, with 35 percent expecting it to increase five-fold or more. This is up from just 25 percent of respondents in 2017.
Of course, as uses increase and new 3D printing applications in manufacturing are discovered, even more benefits will be unlocked. These opportunities will encourage smaller companies to experiment with new 3D printing applications and ultimately change their approaches to design, manufacturing and production. In the near future, 3D printing will be an established production practice across industries and transform how companies of the world manufacture their products.
Download the Current State of Additive Materials and 3D Printing Survey Report
Insights from 308 individuals responsible for decisions around 3D printing at manufacturing companies on technology adoption, opportunities and challenges.