3D Printing Trends: Five Major Developments
3D printing has been around for over 30 years, but now it's ready for mainstream manufacturing. From the 1950s to the 1980s, the U.S. manufacturing industry was very labor-intensive, low-tech and centered on individual strength and stamina.
Today, time is our most precious commodity. Competitive pressures and evolving business models mean companies must shrink development cycles and move in the right direction with speed and agility. With a new class of better-performing machines, more materials available and greater ability to deliver parts that are true to their mechanical properties, 3D printing is transforming manufacturing.
From its conception, 3D printing has had the potential to change the way goods are manufactured. The possible benefits have strategic implications: flexibility, time-to-market, customization, distributed manufacturing and much more. Although challenges remain, the opportunities of 3D printing are worth pursuing.
As a follow-up to a 2017 study, Jabil sponsored a new 3D printing trends survey, focusing on forecasting where additive manufacturing is headed while looking at current realities. Conducted by Dimensional Research, the survey contains insight from more than 300 participants responsible for decisions around 3D printing at manufacturing companies and reveals the experiences and opinions of professionals who are "in the trenches." Download the most recent report.
How are Companies Using 3D Printing Today?
While three decades of 3D printing may not seem particularly long in comparison to traditional manufacturing methods, additive manufacturing has been highly transformative in a wide range of industries.
The results we gathered earlier this year contrast sharply with the information we gleaned during the fall of 2017. Over the course of a year, 3D printing utilization has skyrocketed. Our most recent research clearly demonstrates an upward trajectory of the popularity and applications of additive manufacturing.
Two years ago, when our participants responded to how their companies were using 3D printing, the most popular answer (by far) was prototyping. In fact, at the time, nearly 7 out of 10 respondents affirmed so. In comparison, approximately a quarter said they were using additive manufacturing for production parts, bridge production or jigs, fixtures and tooling. In the time between the two studies, other use-cases have soared.
Today, more than half say they use 3D printing for production parts and nearly four out of 10 use it for bridge production, repair or jigs, fixtures and tooling. While the "research and development" option was not provided in the 2017 survey, it was the most commonly included "other" response at the time. This year more than half affirmed that they use additive manufacturing for research and development.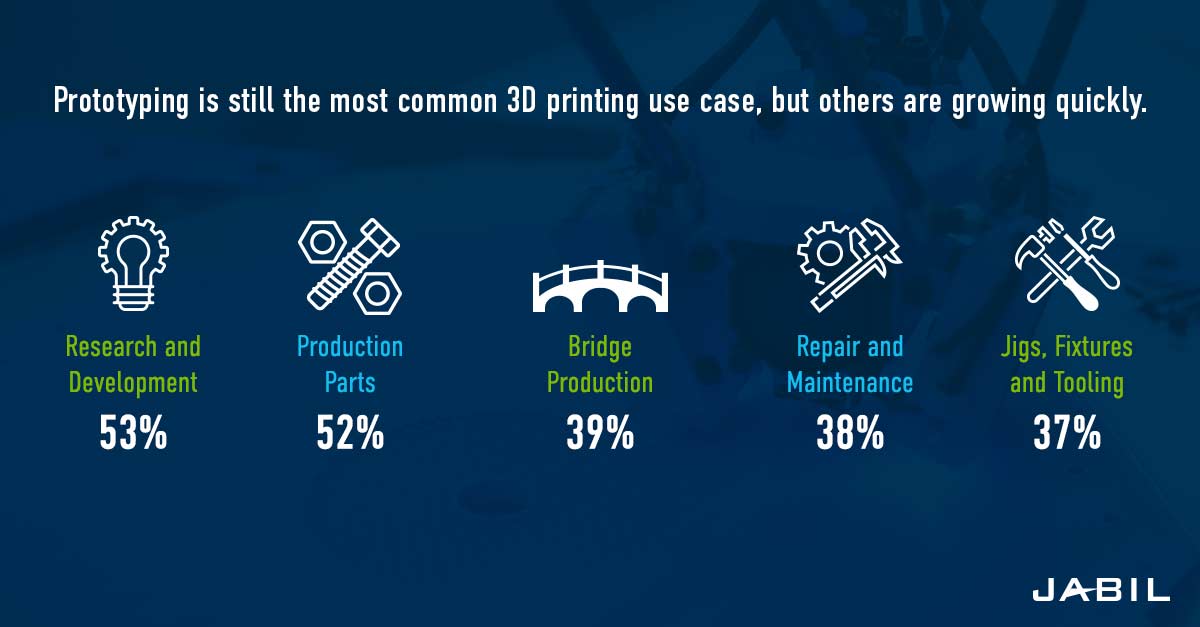 While prototyping remains the most accepted use of 3D printing in the majority of industries, production through 3D printing presents an incredible opportunity. Medical and dental markets have already begun embracing 3D printing as a full-scale production process and are reaping the benefits. The U.S. hearing aid industry converted to 100 percent additive manufacturing in less than 500 days, according to the Harvard Business Review.
Today, 96 percent of participants say they use 3D printing to produce functional or end-use parts. The levels at which they do, of course, varies. Only 12 percent say they use additive manufacturing for producing at least 50 percent of their functional or end-use parts. Six out of 10 participants say they use 3D printing to produce less than 25 percent of their functional or end-use parts.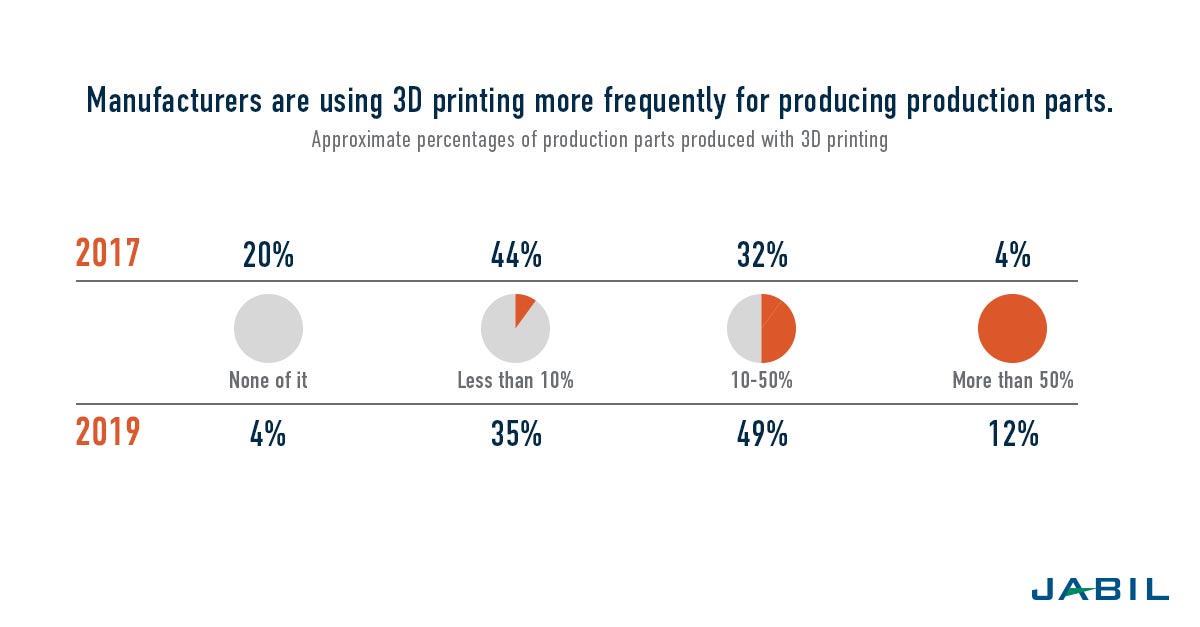 The strides made in 3D printers are empowering companies to experiment with previously impossible applications. As the cost for 3D printers decreases and the speed at which they can help a company scale production increases, they will become more accessible to transform the entire manufacturing industry.
More 3D Printing Utilization Expected in the Future
The outlook for the future of 3D printing is extremely positive. The manufacturing stakeholders involved in decisions around 3D printing expect significant growth. Ninety-six percent of manufacturers polled expect their use of 3D printing to grow within the next five years.
Most participants said they expect their company's use of 3D printing to at least double in the timeframe. Nearly half expect their use to double, while nearly four out of 10 expect the increase to be dramatic (five times or more). In addition to the growing acceptance of the practice industry-wide, once again, the accessibility of the technology will drive this growth.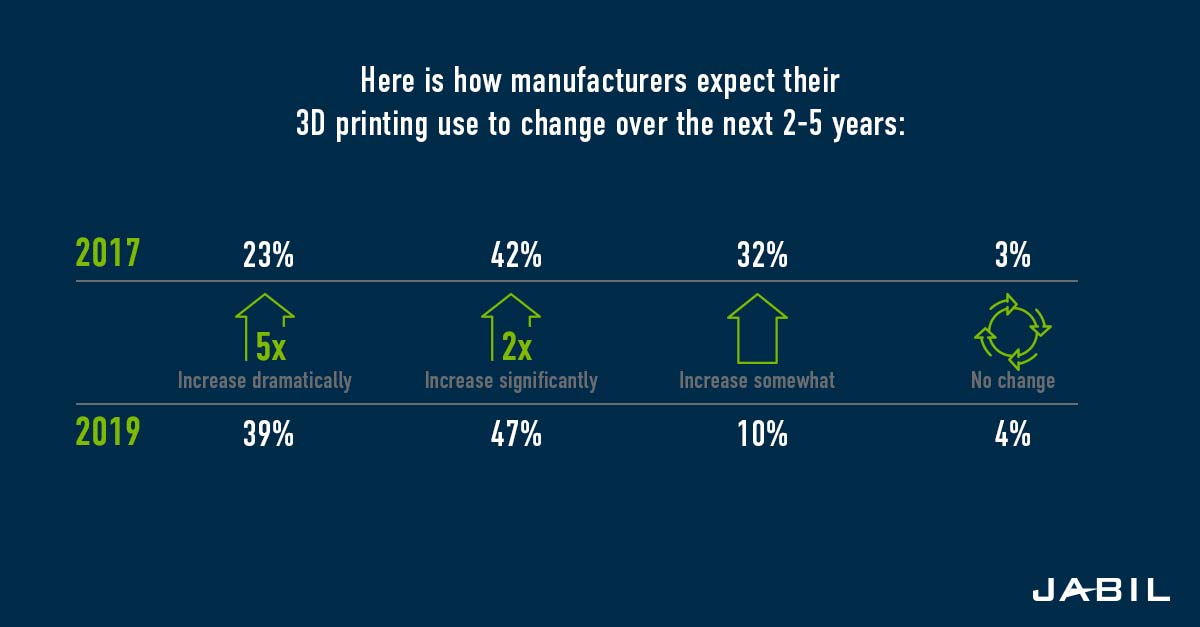 From a company-size perspective, larger companies are getting on board with the numerous benefits of additive manufacturing. As a result, 52 percent of larger companies (more than 5,000 employees) say they expect their 3D printing use to grow dramatically in the next two to five years.
While companies aim to grow their overall 3D printing use, expectations are set high to use it for productions parts or goods. Seventy-nine percent of respondents expect their additive manufacturing use for production parts to at least double within the next five years.
Additive Manufacturing is Transforming Industries
Personally, I believe 3D printing will do to manufacturing what the internet did to retail. We're starting to see early indications of this worldwide, but it is only a matter of time until additive manufacturing completely transforms how products are designed, manufactured and delivered.
In 2017, half of survey participants believed that 3D printing would change the way they think and operate, while 43 percent said it had already changed the way they work. Today, nearly six out of 10 participants say that additive manufacturing has already changed the way they think and operate, while 38 percent still believe they haven't felt the full seismic shift. A mere 3 percent say it wouldn't impact their industry. We'll see how the next few years unfold.
Subscribe to the Jabil Blog
Sign up for weekly updates on the latest trends, research and insight in tech, IoT and the supply chain.
Brands are Reaping 3D Printing Benefits
We frequently discuss the benefits of additive manufacturing, including:
Faster time-to-market of new ideas

Innovation in product design and performance

Speed production times

Increased customization and personalization

Design freedom

Cost reduction

Reduce warehousing needs by printing on demand
All these benefits are beyond concepts today. Within the last two years, we've observed real-life proof points shine. For example, HP and Jabil collaborated to answer an age-old question: can you 3D print a 3D printer? After validating that certain parts met precision, property and strength requirements, the team evaluated the difference between using 3D printing instead of traditional methods. The results were more than staggering.
By utilizing additive manufacturing, we saw breakeven points climb up to 40,000 units from 5,000 units with traditional practices. And most importantly, we were able to go through 19 design iterations for a part in the time it would take us to do one with traditional methods. Earlier we talked about the importance of speed in today's business landscape. If that's not the proof in the pudding, then I don't know what would be.
The survey participants echo this sentiment as well. A quarter of them say they can produce production parts or jigs, fixtures and tooling with 3D printing more than 20 times faster than conventional approaches. Another 48 percent say it is at least two to 10 times faster.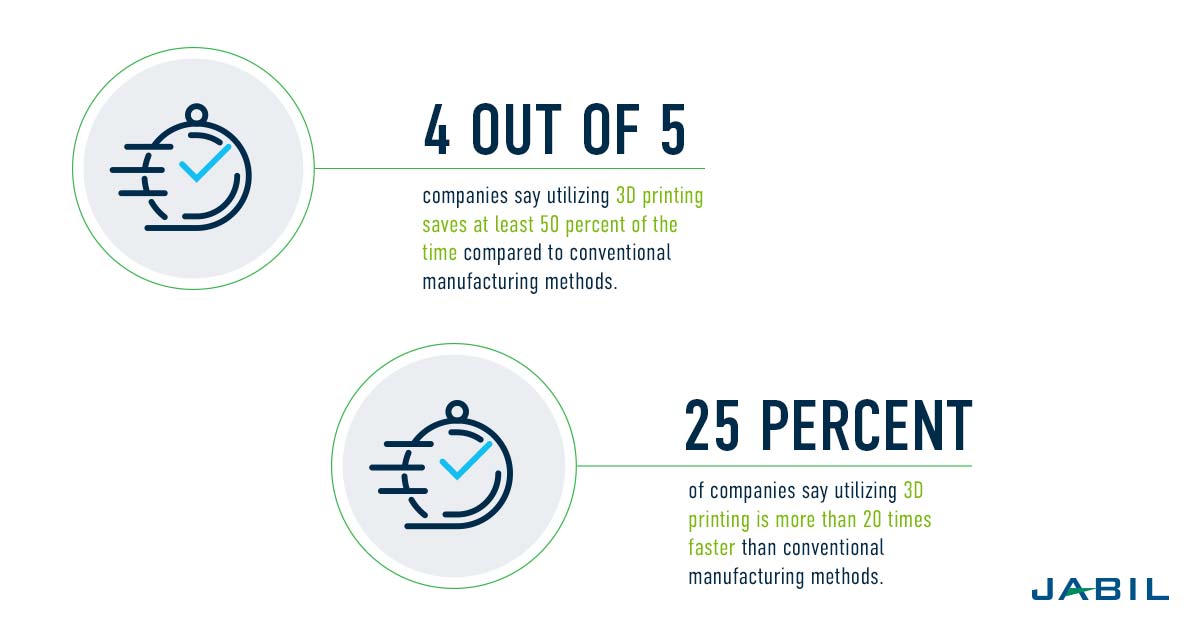 Time savings are one thing, but cost savings are a whole other arena. Within the same experiment, we were able to realize cost savings of 86 percent for a given part. 3D printing also made that same part 70 percent lighter. Besides lowering time-to-market and cost barriers, additive manufacturing gave us tremendous design flexibility.
Still, There are Challenges to Overcome
Despite the bullish attitudes toward 3D printing growth, challenges are evolving as well. Whereas two years ago the biggest challenges were the cost of pre- and post-processing, cost of system equipment, lack of expertise and cost of materials, the challenges have shifted. Today, participants list the cost of materials, part-quality and system equipment to be the most dreaded obstacles.
When we focus specifically on 3D printing for production, many of these issues resurface. Materials, workforce issues and process issues still prevent companies from doing more 3D printing in production today, but the extent to which these challenges have impacted companies have changed. The biggest issue our industry needs to tackle next is in materials.
Download the Current State of Additive Materials and 3D Printing Survey Report
Insights from 308 individuals responsible for decisions around 3D printing at manufacturing companies on technology adoption, opportunities and challenges.
Jabil Additive Manufacturing
Click 'Learn More' to explore all of Jabil's Additive Solutions.