The Biggest 5G Problems and Solutions
Published on February 26, 2019
Similar to when Daft Punk's 2001-hit "Harder, Better, Faster, Stronger" first came out, the 5G vision seems to be playing on a loop with no indication of stopping. After all, who doesn't want better, faster and stronger wireless coverage? All industry players and countries are driving full force to become viewed as first adopters of 5G technology. But there are 5G problems and solutions to account for on the way to adoption.
China is set to spend $411 billion on 5G mobile networks from 2020 to 2030 and LG released one of the first to launch a 5G smartphone in February 2019. Many other companies, including wireless service providers and equipment vendors, are also making big moves in the industry to declare their win. But why is there a rush to do so?
First adopters embracing 5G could sustain more than a decade of competitive advantage, according to Deloitte. History has shown, early adopters of prior generations of wireless technology were often rewarded with broader macroeconomic benefits. However, 5G will reach so much beyond core wireless technology – unlike previous generations, 5G has the potential to influence all aspects of our lives. Consequently, there is no shortage of hype. First adopter benefits are at stake.
According to Jabil's 5G Technology Trends report, which surveyed over 200 telecommunications stakeholders, 60 percent believe 5G will be mainstream within the next two years. However, more than half are still in the architecture/planning stage in developing their 5G network solutions. Download the full report.
This means that while most discussions centralize on the tangible benefits of 5G networks and the numerous possibilities they could enable, actual deployments are in their infancy. The truth is, it's time for a reality check. There is much work to be done even after the first adopters claim the 5G "win."
Three Big 5G Problems and Solutions
1. 5G Technology – The Scope is so Broad
We're all quite aware by now of the main objectives postulated by "5G Triangle" - enhanced Mobile Broadband (eMBB), ultra-reliable low latency communications (URLLC) and massive machine-type communications (MTC).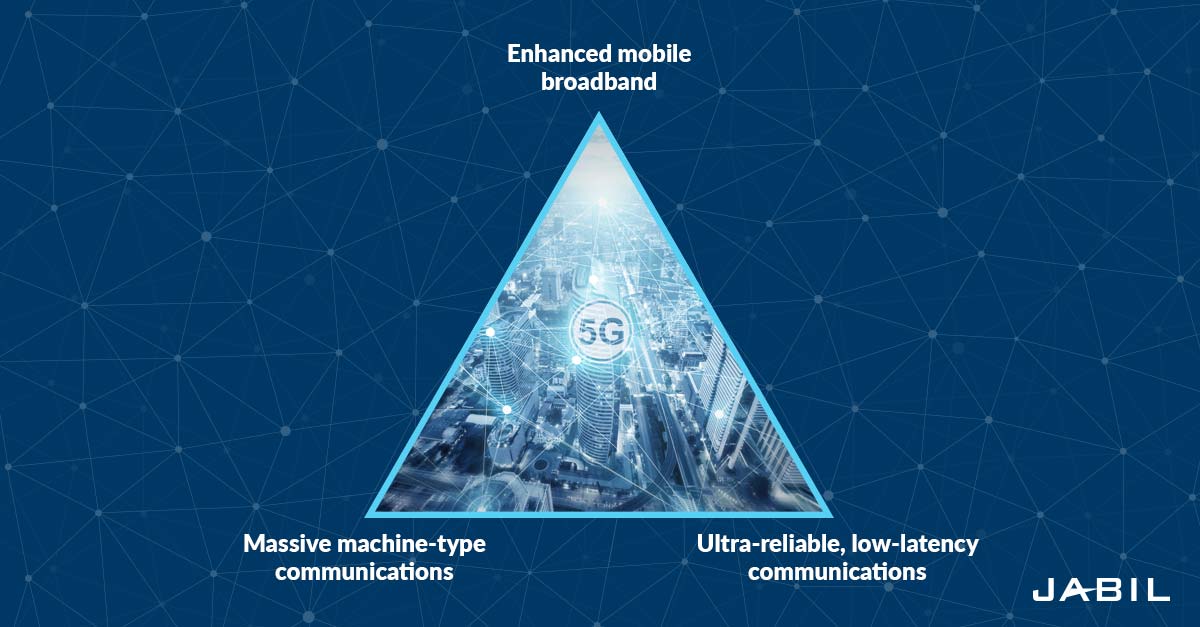 It is fine to state these three main missions clearly, and it is inspiring to imagine the capabilities that they will provide. However, it is important to understand the complexity behind these objectives. There are actually more than a dozen different technologies under development as part of 5G, including Massive MIMO (Multiple Input Multiple Output), 5G NR (new radio), beam-forming, millimeter wave, network slicing and more. While there is some overlap across these technologies, just by the numbers, it's complicated. Telecommunications stakeholders from the Jabil survey agree. Fifty-three percent say that 5G is dramatically more complex than prior generations and 47 percent say it is difficult to find people with the needed expertise, which is adding to the issue.
Compounding the problem, not every operator may want to deploy all the available technologies. For example, one operator may prefer to deploy millimeter-wave small cells, aiming for dense, ubiquitous coverage. Meanwhile, another operator may feel that millimeter-wave technology may not mature quickly enough and instead focus on IMO and beamforming technologies. In just this simple example, it can be seen that investment will be split across different technologies. When this is extrapolated across more than 100 operators globally, and more than a dozen technologies in the 5G "tool-box", it is easy to imagine how investment can be diluted, and focus could be distracted.
2. Economics – Where is the "Killer App"?
Recall as the industry transitioned from 3G to 4G, wireless subscribers couldn't pull $20 more per month out of their wallet fast enough to sign up for 4G service. 4G had a focused, and singular mission: high-speed data. The benefits were clear to the consumer, and the difference was dramatic.
However, there has yet to be a clear identification of exactly what in 5G will entice consumers to pay that extra $20 more per month. Without new, and increased revenues streams it will be difficult to offset the costs of new 5G network deployments. According to Forbes, most consumers don't know 5G is about to launch, aren't keen on the new standard and aren't excited about it. Consumer interest is expected to pick up only after 5G proves itself.
Some believe that new use cases from automotive to healthcare and smart cities to the industrial Internet of Things will fuel the deployment of new 5G networks. Indeed, the foundational capabilities of 5G will enable such novel wireless use cases. However, economic success in this space will require substantially more than technological innovations. New business models and novel revenue sourcing ideas will be essential.
While no "killer app" has been identified for 5G at the moment, 88 percent of the respondents from Jabil's 5G survey agree that 5G is needed to enable the next killer app. This chicken and egg dynamic will be interesting to watch…
3. Uncertainty – When will Technology Mature?
Another interesting issue to consider is the large disparity in the maturity of the various technologies in the 5G "tool-box". For example, MIMO is quite mature and provides improved performance already in 4G networks, whereas mmWave is still arguably in its infancy.
This can create quite a problem. Forty-nine percent of the respondents from the survey indicate that the availability of spectrum will be a substantial issue, and much of the new spectrum being made available by regulatory agencies for 5G is in the millimeter-wave range. About one-third of survey respondents say that the available 5G equipment does not fit their needs and another 44 percent say they lack the tools for testing and managing 5G. Clearly, the same rich ecosystem available at sub-6 GHz still needs to be built for the new millimeter wave spectrum.
Another aspect of technology maturity is cost. IMO systems are more than an order of magnitude more complex than traditional radio systems. While these systems can provide a 2.5x performance improvement, it will be quite some time before they are available for 2.5x the cost of a traditional system. The open nature of the 5G network architecture will no doubt provide opportunity and economic benefit, however the costs of integrating and operating such open networks have yet to be fully understood.
Subscribe to the Jabil Blog
Sign up for weekly updates on the latest trends, research and insight in tech, IoT and the supply chain.
The Good News about 5G Problems and Solutions
When considering the complexities behind the three objectives defined by the 5G Triangle, all is not bleak and cause for concern. Those complexities also present significant opportunity.
One fundamental trend of the 5G architecture is toward open networks. In parallel, the industry is beginning to see new spectrum usage models, such as CBRS (Citizens Broadband Radio Service) in the US, providing a tiered licensing structure. These trends will make it easier for new entrants to play in the 5G space. Not only will this provide diversity of ideas, it can also help to improve the focus on and investment in the broad and varied set of technologies in the 5G "tool-box".
Perhaps more important will be the appearance of new business models, enabled by 5G. We can look to the past and understand how 4G technology enabled OTT ("over the top") vendors to provide innovative offerings. Extrapolating this forward, considering the technology capabilities, and open nature of 5G networks, a very bright and interesting future of innovative business models can easily be imagined.
Collaboration is the Key to Address 5G Challenges
It is often debated whether 5G will be evolutionary or revolutionary? The answer, undoubtedly, is that 5G will be both. Fundamentally, 5G technology will be largely evolutionary – one example of this is the planned codependence of 5G on 4G networks. The truly revolutionary aspects of 5G will be seen in the business models that will develop.
Almost every survey respondent indicated that they will need support from their partner and supplier ecosystem in addressing 5G problems and solutions. In terms of their primary needs, respondents selected the following: cost-effective equipment, more standardization between vendors for interoperability and expertise in 5G deployments.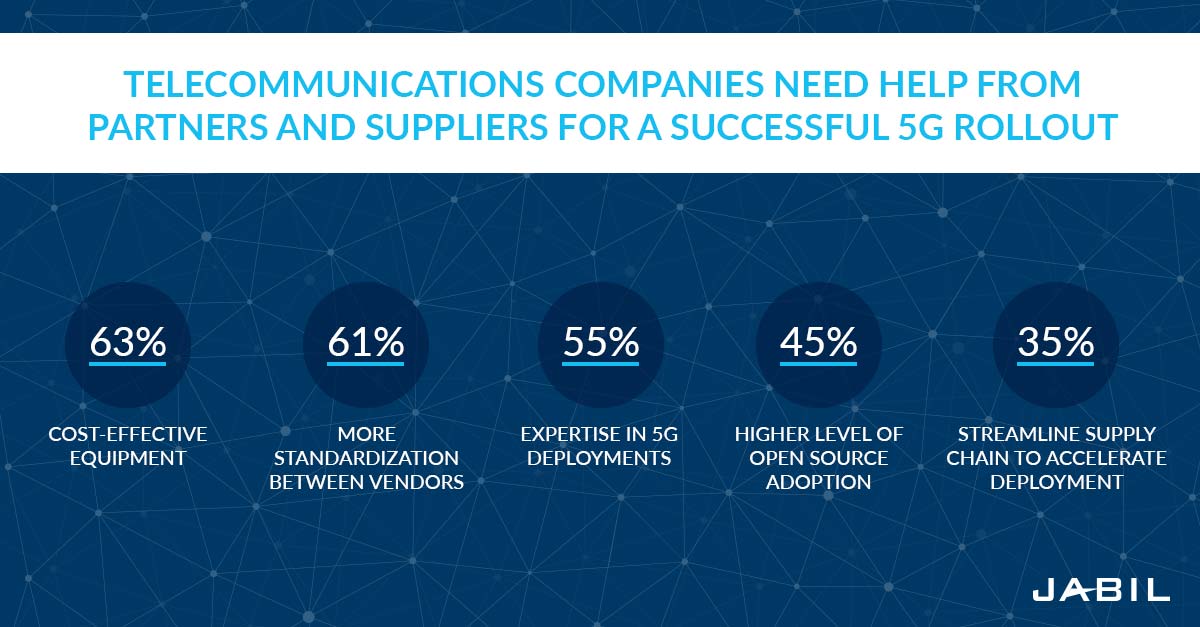 The opportunities are clear, however the challenges of 5G are difficult and not necessarily in plain sight. There is complexity of mission, complexity of technology, complexity of economics, and complexity associated with uncertainly. Further, the traditional, linear business model prevalent in wireless historically will transform. The 5G world will have an influx of new players, and companies might find themselves customers, suppliers, and partners all at the same time.
Given this, the successful players in the 5G space will be exceptional at collaboration and will play active roles in a broader ecosystem. The long-term success of 5G will depend on this. We must work harder, better, faster, and stronger.
Download the 5G Technology Trends Survey Report
Insights from 200 telecommunications decision-makers on 5G adoption, predictions, opportunities and challenges.