3 Ways Brands are Building a Circular Economy with Packaging
The United Nations adopted the 2030 Agenda for Sustainable Development in 2015, which includes 17 sustainable development goals to support people, the planet and prosperity. While governments were the main signatories, many NGOs and corporations also jumped on board to make this 2030 vision a reality.
The 17 goals were designed to address everything from gender equality to poverty to quality education. But from the perspective of brands that produce goods, perhaps the most important goal is #12: Responsible Consumption and Production. The targets within this vision include achieving sustainable management and efficient use of natural resources, substantially reducing waste generation, promoting sustainable procurement practices and more.
As the level of consumption and waste has grown, the damage to the environmental and social landscape has become clearer. Corporate sustainability is not a trend or a "nice-to-have." It is an essential part of doing business in today's landscape. For product brands, that means many things. But from a packaging perspective, it means aiming for a circular economy.
A circular economy means evolving from our current extractive industrial model into one that is focused on designing out waste and pollution, keeping products and materials in use and helping natural systems regenerate, according to the Ellen MacArthur Foundation. In a circular economy, brands work within the concept of four Rs: reduce, recycle, reuse and rethink.
According to Jabil's Sustainable Packaging Trends survey of more than 200 packaging decision-makers, 57 percent of brands have either made good progress or have a fully mature sustainable packaging program. Download the full survey report.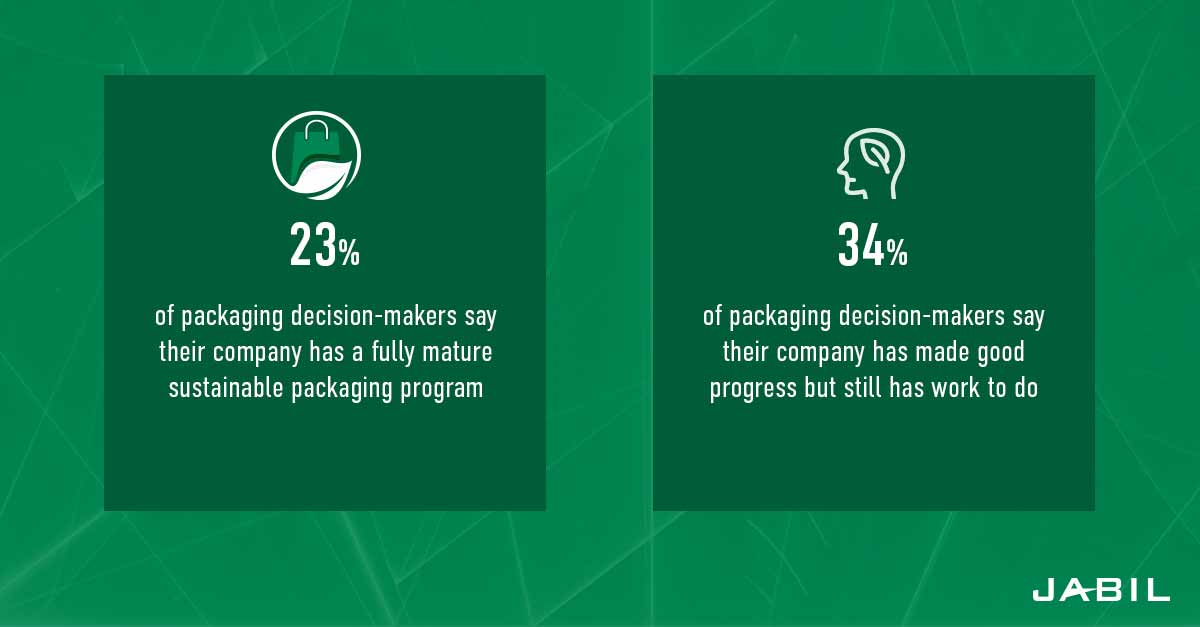 It is clear that stakeholders realize the magnitude of the challenges ahead and are making big commitments to ensure they play their part in tackling them. In fact, 53 percent of participants from the Jabil survey say their company has clearly defined goals with measurable targets. Here are some of the common goals brands have set for themselves to accelerate their move toward a circular economy:
100 Percent Recyclable, Reusable or Compostable Packaging
Each year, the world collectively produces more than 300 million tons of plastic. Plastic recycling rates, however, hover at a high of 30 percent in Europe, just 9 percent in the U.S. and less than 1 percent in much of the developing world, according to the National Geographic.
Smarter, more purposeful packaging design can absolutely lift these numbers, so it's encouraging to see several leading brands announce their intentions to make their packaging 100 percent recyclable, reusable or compostable by specific dates, typically 2025.
For example, in January 2017 Unilever committed to ensuring that 100 percent of their plastic packaging would be designed to be fully reusable, recyclable or compostable by 2025. Their new target builds on their previous goals to halve the waste associated with the disposal of their products and increase the recycled plastic content in their packaging to 25 percent by 2025. Other companies such as Colgate-Palmolive and AB InBev have demonstrated similar 2025 ambitions with commitments of 100 percent recyclability or returnability across various product categories. While these packaging redesign efforts will not be a panacea, they will undoubtedly have a large impact on global recyclability rates.
It is important to note that making these changes is like turning a battleship. Everything that touches a package is designed for high-volume, high-speed and precise efficiency. When you start interrupting these efficiencies, you must be prepared to make substantial investments across the supply chain. Fully implementing a regular packaging format change can take up to three years under the best of circumstances, but making major transformations are complex, intricate and expensive.
Subscribe to the Jabil Blog
Sign up for weekly updates on the latest trends, research and insight in tech, IoT and the supply chain.
Eliminating Extra or Unnecessary Packaging
For both retail and e-commerce consumers, it's a common experience to find newly purchased products wrapped in several different materials, most of which end up in the trash can. As brands have shifted from shelves to shipments, over-packaging to ensure safe delivery has become common. To overcome the waste associated with this type of non-critical packaging, brands are also committing to eliminating extra or unnecessary packaging.
Amazon was perhaps one of the pioneers in this field. In 2008, the company introduced its frustration-free packaging programs, designed to reduce waste, keep products safe and provide a great packaging experience to their customers. As a result, in 2017 alone, they reduced packaging waste by 16 percent and avoided 305 million shipping boxes.
Similarly, Mondelēz International pledged to eliminate 65 million kilograms (approx. 143 million lbs.) of packaging material worldwide by 2020. The brand is committed to using the right amount of materials to keep its products fresh and safe, while minimizing additional packaging ending up as waste. This is all a part of Mondelēz's long-term, zero-net waste packaging target.
Another innovation toward this goal has come from a new type of retail: zero-waste grocery stores. In this type of environment, goods are stored in dispensers that are collected into "packaging" that consumers bring from home. Born out of consumer frustrations on plastics' environmental impact, these stores aim to end packaging waste altogether. While the concept began in Europe more than a decade ago, according to Smithsonian Magazine, it's been spreading globally. Still, these types of stores have their own set of challenges (think food waste) but provide an alternative to over-packaging.
Help to Improve the Recycling Infrastructure and Educate Consumers
The obstacles around recycling are plenty: regulations differ from one geography to another and consumers aren't always in the loop with what to recycle and how. While recent trends show that consumers are more likely to buy products with eco-friendly or recycled materials, the reality is that recycled materials can't be used if there isn't enough supply. Brands are committing to solving this issue in two ways: help improve the recycling infrastructure and educate customers.
A decade ago, Coca-Cola introduced a fully recyclable package made from up to 30 percent plant-based materials but made the announcement in 2018 that they were ready to take things further. In an ambitious plan named "World Without Waste," the brand will focus on the entire packaging lifecycle to collect and recycle the equivalent of every bottle or can it sells globally by 2030.
Like many others, PepsiCo also focuses on designing sustainable packaging options but recognizes that recycling infrastructure and the education are vital to involve all the stakeholders. To support their goal to improve recycling rates, the company launched PepsiCo Recycling, an initiative "working in local communities to implement various on-the-go programs and partnerships to improve recycling infrastructure and raise awareness." In Poland, for example, PepsiCo partnered with Coca Cola, Nestle and Danone to increase the amount of PET bottles collected and recycled across the country.
Corporate Sustainability Begins with Leadership
In the Jabil survey, when we asked participants whether their company would be able to meet their sustainability goals, only a third were fully confident in their ability. Many of those who were not cited the lack of management leadership and budget.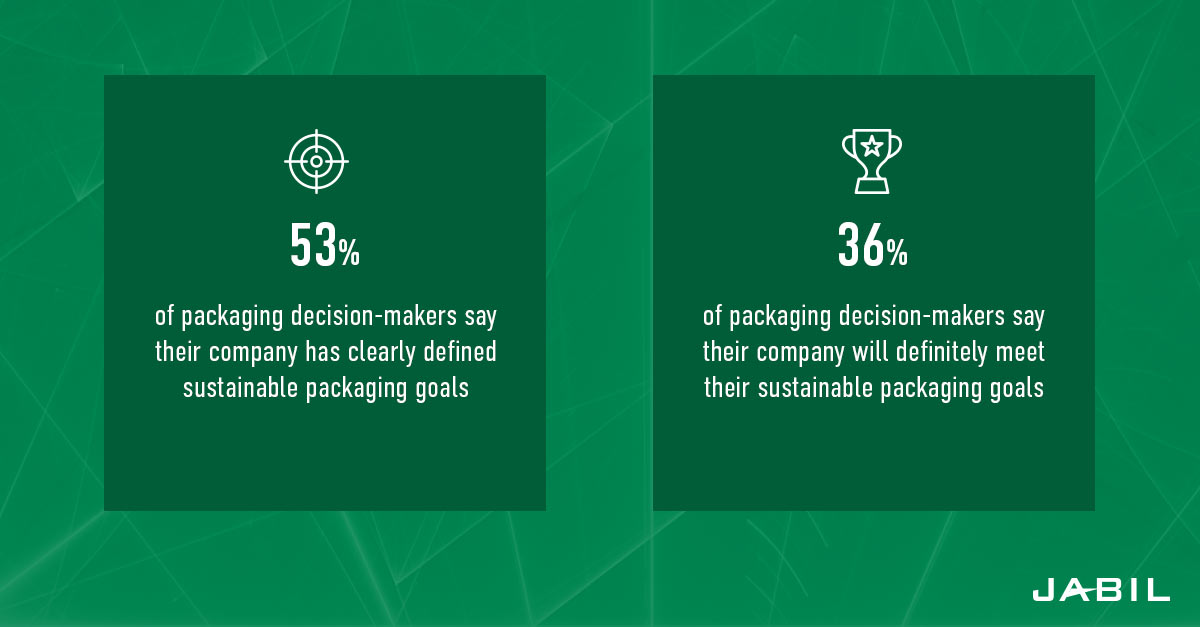 If a program lacks the leadership, funds, structure and resources, then the opportunity is wasted. The companies that back up their promises with a goal structure, people and resources are the ones who will pull their weight to make their pledges a reality.
The concept of the circular economy separates economic concern from ecological concerns and envisions products and ecosystems that are healthier in the long run. The planet is a finite resource, so our goal must be to develop a better system that uses less resources and recycles more of the content that goes into our packaging. When we limit the amount of net-new resources we're using, we also limit the amount of waste that ends up in landfills and oceans.
Earlier, I mentioned that there were four Rs in the reality we live in. The last one, Rethink, is where our biggest challenges as an industry lie. As packaging solution providers and consumer packaged goods companies, we must envision how packaging will be used, what it needs to do and how it is going to be reused and recycled. Packaging is only one of the many issues we must address in corporate sustainability, but it's certainly a good start. In Jabil's documentary, The Sustainable Packaging Revolution, we examine these concepts with the world's leading materials suppliers.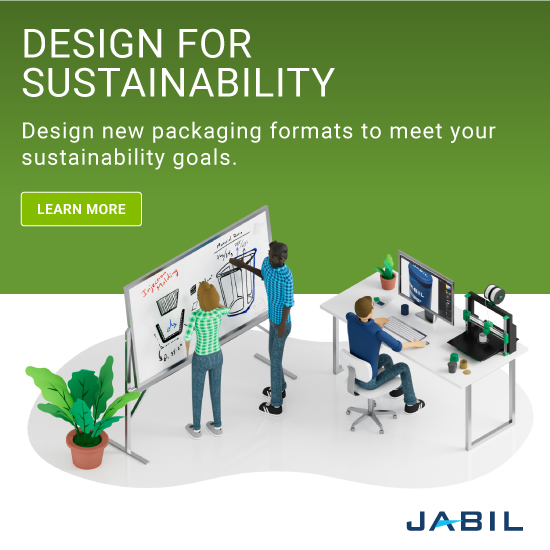 Download the Sustainable Packaging Trends Survey Report
Insights from over 200 packaging decision-makers at global enterprises on their sustainable packaging goals, initiatives and challenges.